Do you remember that chocolate chip cookie recipe I shared a few weeks back? You remember how it is now my go to Gluten Free Mix for cookies- well you might not have believed me then that it was truly a cup for cup for All Purpose flour but you will after reading this post. It makes the most fantastic homemade pie crust ever! Your in for a treat today because not only do you get my delicious recipe for crawfish pie but you get a true copycat gluten free recipe for a pie crust. 3 Steps to making this delicious pie crust and the best part is you can substitute the cup 4 cup flour mix for regular All-Purpose flour if you aren't into the gluten thang!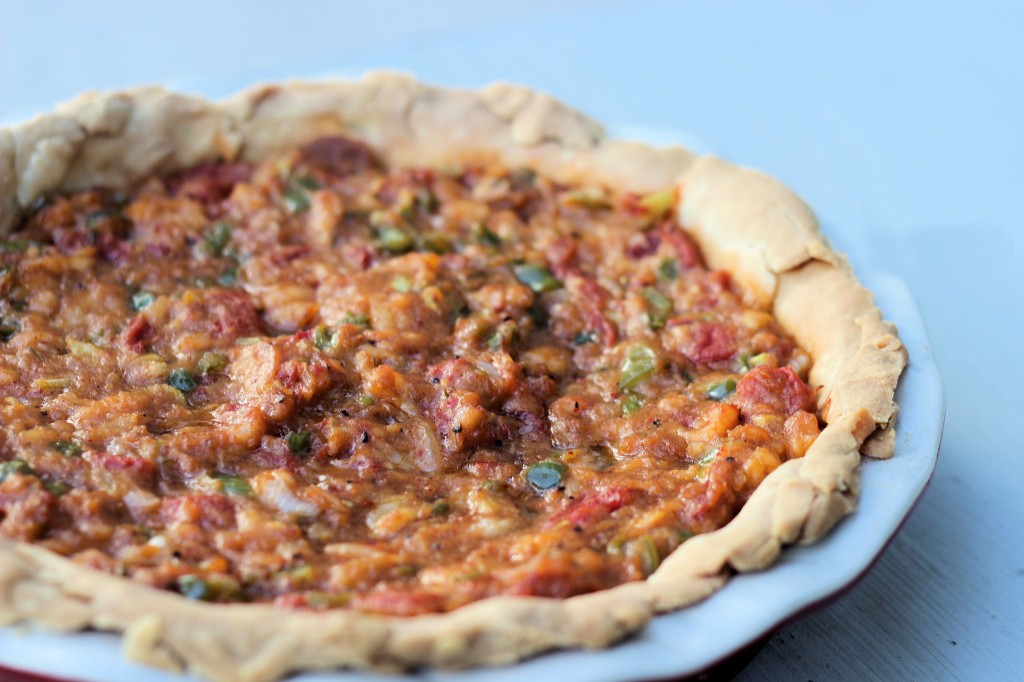 Your gonna be a rock star after you have this recipe in your arsenal so let's get to it! Now listen closely so you don't miss this- to make your pie dough: Mix together your gluten free flour blend (see notes in recipe) with your salt in a food processor- pulse 3 times. Add in your cold diced stick and a half of butter and pulse 30 seconds until the mixture is crumbly and resembles coarse sand. Now add in 3 TBSP of water and pulse until the dough forms into a ball. See you can do this!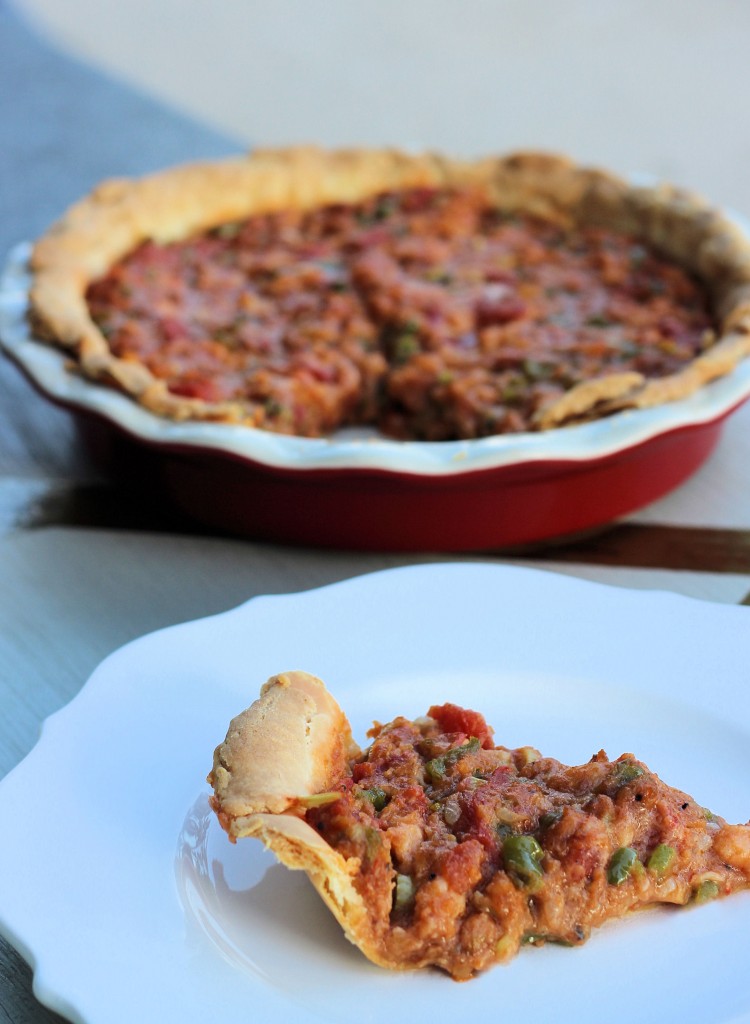 My crawfish pie filling is out of this world! Seriously guys- it rocks! Savory, buttery, spicy and comforting, it is a recipe that can easily be prepared for a pie crust, individual tartlets or get this- as a wonderful base to pasta by adding in more chicken stock and cream. Crawfish pie resembles its counterpart chicken pot pie but with a host of cajun spices that takes it to a whole different level. I have found a lot of people are intimated with cooking crawfish. Don't be that person!  They are as easy to cook, if not easier, than shrimp and you by all means can use either fresh or frozen tails. The latter is not as gorgeous as fresh, but it quite easy and very accessible. Crawfish pie has a wonderful balance of flavors and because it is quite dense and rich it is the perfect main to pair with a side salad or a variety of veggies.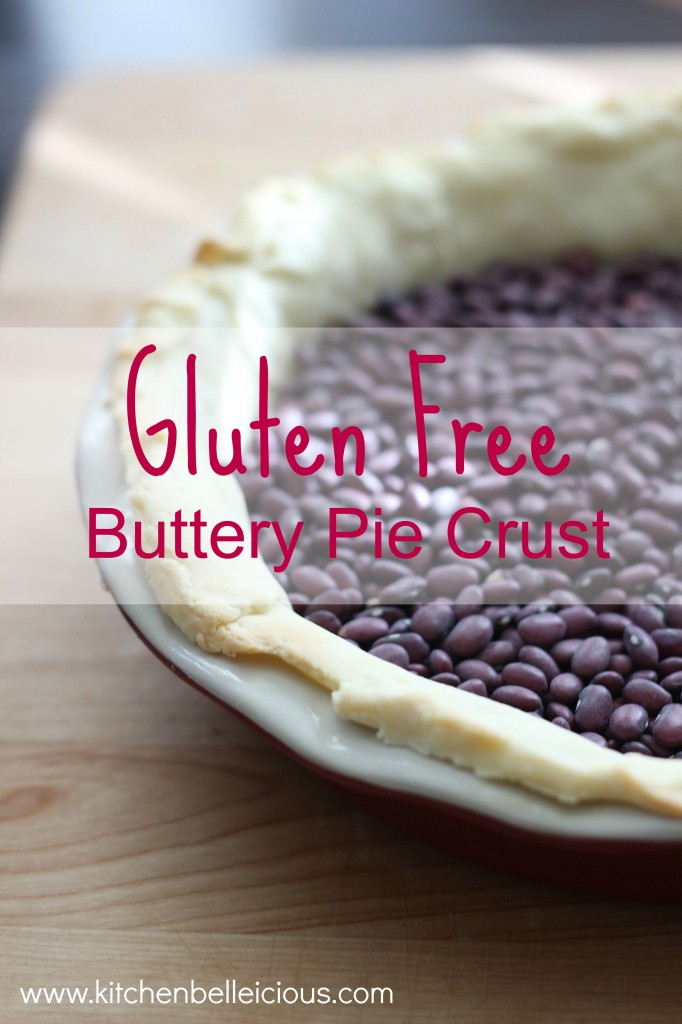 Cook's Notes:
To successfully pre-bake a pie crust without a filling using, it is very important to use some sort of baking weights such as dried beans, rice or store-bought pie weights. The weights allow for the crust to breathe during the baking process, to retain its shape and not slide down on the sides and to keep it from rising too much. If you are opting to skip the whole homemade version of the pie crust and make this crawfish pie with a store-bought pre-bakd crust (bc sometimes we just don't have the time do we!) then simply omit this step and head straight to the kitchen to whip up the filling!
Crawfish Pie with Gluten Free Buttery Flaky Crust
Author:
Kitchen Belleicious
Ingredients
For the Pie Crust:
½ cup salted butter, diced and chilled
1¼ cups gluten free cup for cup mix See my homemade mix by clicking on the link or alternatively you can use all-purpose flour
¼ teaspoon salt
3-4 TBSP ice water
For the Crawfish Filling:
1 stick unsalted butter
½ cup flour
1 small onion, diced
1 bell pepper, diced
2 stalks celery, diced
1 can of diced tomatoes
2 tsp minced garlic
1 lb. peeled crawfish tails (or one pkg frozen, thawed)
2 TBSP parsley
1 tsp salt
1 bay leaf
½ tsp cracked black pepper
1 tsp cajun seasoning
¼ tsp cayenne pepper
1 tsp Worcestershire sauce
1 tsp hot sauce
Instructions
For the Pie Crust:
Make sure your butter is COLD COLD COLD and diced! Combine your flour and salt in food processor. Pulse. Add the diced cold butter and pulse until it resembles coarse crumbs. Add 3 tablespoons of ice water and pulse until the dough forms a ball. Turn out the dough onto a lightly floured surface for rolling. Roll the dough to ¼ inch thickness and a few inches in diameter larger than your pie plate. Place the dough in pie plate and press to fit. Tuck under any overhang. Fill with pie weights and or dried beans and bake at 350 for 10 minutes. Set aside
For the Filling:
Make the roux by melting the butter in a medium cast iron skillet over medium to low heat. Add in the flour and whisk until it is incorporated. Cook, stirring frequently with a wooden spoon, until the roux is lightly browned, about 10 minutes. Then add the garlic, onions, celery and bell pepper and cook for a few minutes more until the roux becomes golden brown. Add in the seasonings, herbs, Worcestershire sauce and hot sauce. Stir to combine and allow to cook for another 10 minutes. Toss in the crawfish meat, stir and then spoon the filling into the prebaked pie shell. Bake at 350 covered for 30-40 minutes until the top is golden brown and set. Allow to cool before trying to slice and serve.