This post has been a long time in the making. Although I have put off writing it I haven't stopped thinking about it. In fact, over the past year  all I have done is searched and created and mixed and baked and eaten (someone has to do the dirty work) gluten free chocolate chip cookies until at last my husband exclaimed, "Can we have anything other than cookies for dessert"!!  Let's just say I have had chocolate chip cookies on the brain since finding out I might possibly be gluten sensitive. With my kitchen covered in a film of flour I couldn't and wouldn't stop until I found the best gluten free cookie recipe!
Why has this post been so hard for me to write? Well,  the best way I can put it to you is to think of the one thing on earth you love to eat the most. That one thing on earth for me is a chocolate chip cookie and being able to find a gluten free chocolate chip cookie that not only meets but exceeds my expectations and then being able to finally share with you all my results of a year long recipe battle sort of feels like the end of a chapter, like closing a good book you don't want to put down or stepping across that finish line.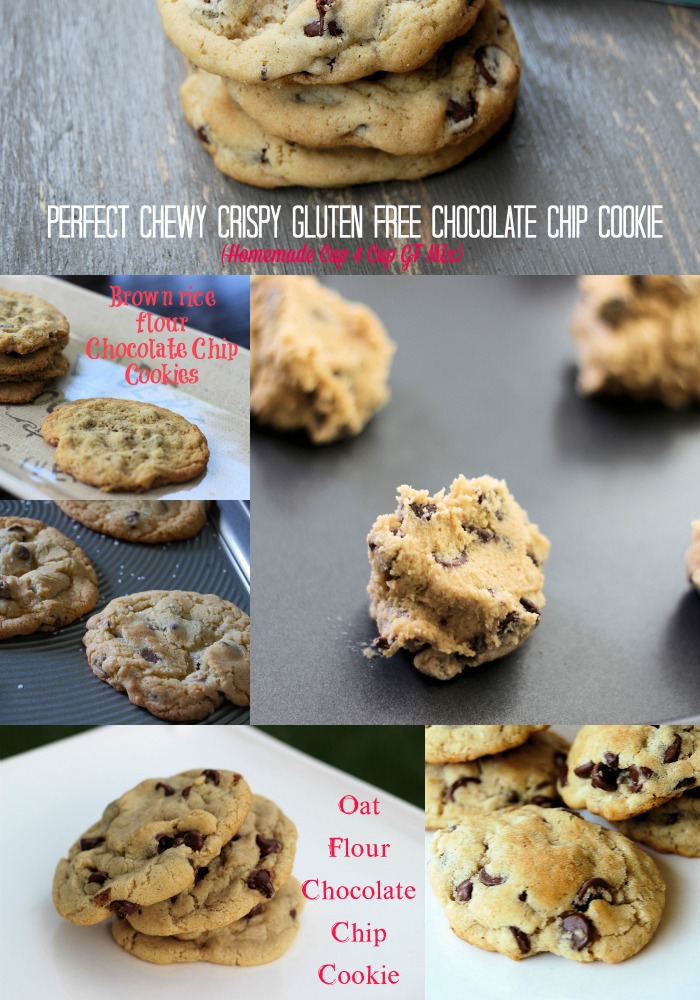 All I set out to accomplish was to find a gluten free chocolate chip cookie that DOESN'T taste like a gluten free chocolate chip cookie! At last- I found my favorite but 3 others came very close so I am going to lay them all out on the line for you today and let you bake and decide which one fits your bill!
There are 4 qualities that I look for in the perfect chocolate chip cookie (regardless if gluten free or not) 4 qualities that can make or break a chocolate chip cookie recipe:
1) Buttery Flavor
2) Chewy with Slightly Crispy Edges and Peaks on top (you know where the cookie has fallen in certain places on the top of the cookie but where it has fallen on either side is a slightly crispier edge- does anyone know what I am talking about??)
3) Perfect balance btw white sugar and brown sugar (the former presumably adding crunch, the latter a caramel flavor)
4) Perfect amount of salt
Cookie recipes start with the same basic ingredients: butter and sugar, vanilla, eggs, flour, salt, and some sort of chemical leavening. The key is to have the correct balance of moisture and flour content. Here in lies the problem for gluten free cookies. We must eliminate the standard all purpose flour and substitute it with the second best thing- gluten free flour. Finding the right gluten free flour mix is where the game begins. I have tested 3 different gluten free flour blends/sources for the recipes below. Oat Flour, Homemade Brown Rice Flour Mix (Alton Brown) and Homemade Cup 4 Cup Mix. Although the last is my favorite and hands down winner-Let's break down the different recipes so that you can choose for yourself which ones you like the most.
Oat Flour Cookies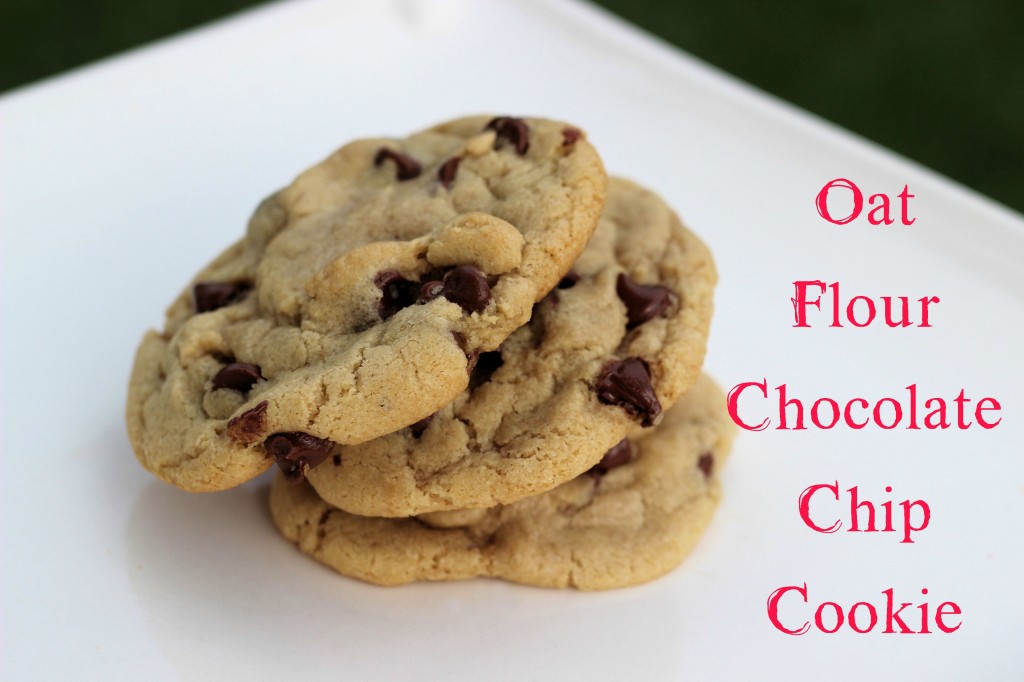 These are delicious. It is like having hints of oatmeal in every bite. The All Purpose Flour is substituted with Oat Flour andh _ GET THIS_ NO Xanthan Gum. The Oat Flour creates a nice chewy melt in your mouth cookie center and the edges are chewy (not crispy). The cookies have a nice depth of flavor and the texture of the cooled cookies is the same as cookies that just came out of the oven- meaning they break apart easily. Using Oat Flour alone for a gluten free cookie is much easier than most cookie mix recipes you will found and although it wasn't the winner it sure does hit the spot for a nice warm cookie when your time is limited.
Alton Brown Brown Rice Flour Cookies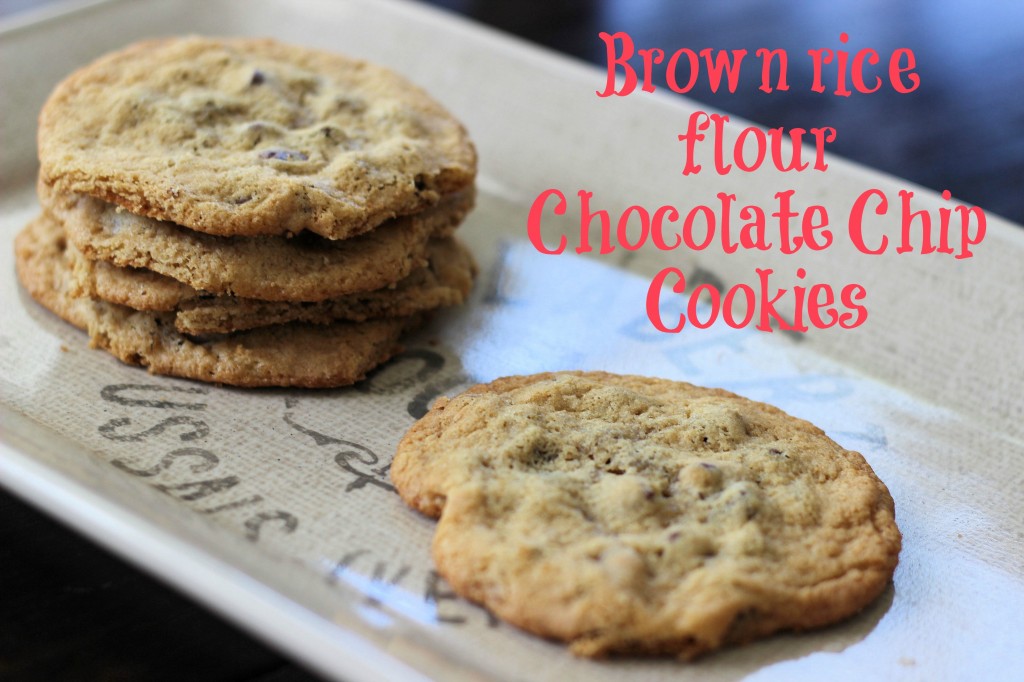 Brown Rice Flour is a staple in most gluten free recipes. Used alone it can create a dry, crumbly cookie but used in conjunction with other gluten free flours it can be just as dense, chewy and moist as any regular baked goods. The secret to this cookie recipe is in the cornstarch.  Alton Brown has came up with a fantastic gluten free cookie mix that  has the texture and flavor similar to that of Toll House cookies. It is somewhat of a hassle to get the ingredients together because I have found that the gluten free mix doesn't necessarily convert well to other baked goods but the time is worth it and the cookie is delicious. You wouldn't know you were eating a gluten free cookie.
Homemade Cup 4 Cup Cookie Mix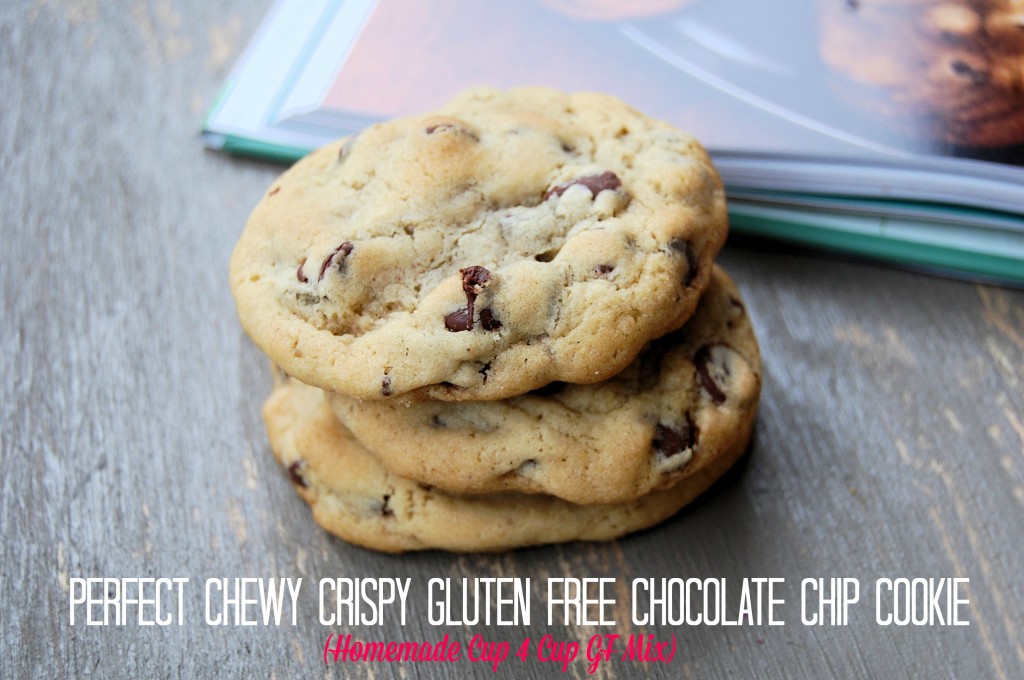 Oh Boy! Now this is where it's at. This cookie is AMAZING! AMAZING! I use my homemade Cup 4 Cup flour in EVERYTHING NOW! NO REALLY- EVERYTHING. I make cookies, brownies, cakes. I use it to season meat before frying, stir it into sauces and even make my pizza crust. It is perfect to me. The Cup 4 Cup Mix has a handful of ingredients but the great thing about it is once you make a big batch you can use that same flour in anything. If you find something you can't use it in please let me know and save me the time and energy:) LOL!
Now the cookies made with the Homemade Cup 4 Cup mix are chewy. They are dense. They are salty and sweet and crisp on the edges. I have found that by adding in a little gluten free bread flour that they even more resemble a bakery style cookie in terms of both of texture and flavor. Some like just chewy cookies, others like flat cookies but me.. I like a chewy center with hints of crispiness on top as well as on the edges. By combining gluten free bread flour and Cup 4 Cup flour you giving the cookie the best of both worlds, the bread flour makes the cookie dense and slightly crispy on the outside while the GF flour blend brings that chew texture we all love.It is hard to explain, I have been told I am rather difficult in my cookie "needs" but nonetheless that is how I like them. They most closely resemble an All Purpose Cookie in my opinion and now that I have found the ONE GLUTEN FREE RECIPE I will never go back:)
SEE BELOW FOR THE WINNER- CUP 4 CUP CHOCOLATE CHIP COOKIE RECIPE
The Best Gluten Free Chocolate Chip Cookie and the runner-ups
Ingredients
Homemade Cup 4 Cup GF Mix: It is more precise to measure by grams with this gf mix but I have also included cup measurements for those of you who do not have a scale.
Homemade Cup for Cup Mix courtesy of GlutenFree on a ShoeString
8 TBSP finely ground nonfat dry milk (80 grams)
1 cup plus 3 TBSP superfine white rice flour (180 grams)
10½ TBSP cornstarch (105 grams)
8¾ TBSP superfine brown rice flour (100 grams)
8½ TBSP tapioca starch/flour (85 grams)
2 TBSP potato starch (20 grams)
1 TBSP xanthan gum (10 grams)
Cup 4 Cup GF Cookies:
2 cups of Cup 4 Cup Mix
¾ cup GF Bread Flour ( I use King Arthur )
2 sticks butter, softened
½ cup sugar
1½ cups brown sugar
2 eggs
2 tsp vanilla
1 tsp baking soda
1½ tsp baking powder
1 tsp sea salt
14 ounces of semi-sweet chocolate chips
Instructions
Cream together your butter and sugars. Add in the egg and vanilla. Sift together the flours, baking soda, salt and baking powder. Slowly stir in the dry ingredients to the wet and mix well. Add in the chocolate chips and place in plastic wrap. Refrigerate for at least 2 hours. Bake in preheated oven at 350 for 10-12 minutes.