I'm back! Did you miss me? I am sorry I was out of pocket this past week. With family in town, playdates garlore (the kids are out of school) and a much needed spa trip (from hubby for my bday) I had no time for the computer. Well, I LIE! I made a little time to put the finishing touches on my new site(s):) Do you like? I made over Kitchen Belleicious, Belleicious Kids and added a new site Belleicious Baby. This has been a long time coming and something I have been wanting to do forever.
Last year you might remember I launched Belleicious Kids. At that time my son, who I called The Picky Eater, inspired me to create dishes that would taste delicious but mask the ingredients he so blatantly "says" he doesn't like. Times they are a changing and so is my son who no longer holds the title "World's Pickiest Eater". My joy has always been to cook and it is still my passion but cooking particularly for my toddler and baby has made its way to the top of the list and my only other desire is to share these recipes and dishes with you all! From homemade nutter butters, oatmeal pies, granola cups, popsicles and "fish tanks" I am constantly thinking of new fun delicious meals and snacks for kids. This is why I am starting over from scratch (if you don't mind) with Belleicious Kids. Think fun and exciting yet healthy and delicious! My motto for this blog is going to be, Anything  THEY can do I can do too! LOL! Funny, huh? It is intended to let the makers of those processed foods you find in the grocery store and fast food companies know that I and by that I mean, WE, can make anything you make (seriously, we can) and it will be just as tasty and 100% better for our kids! Now, listen closely..sometimes you just gotta have butter, sugar or All Purpose Flour! However, those ingredients do NOT have to be unhealthy and fattening to your kids when used and eaten in moderation. Just knowing how much of each ingredient you are putting into your kids food is comforting in itself. Oh, I am so pumped to show it to you!  There are only a few recipes on Belleicious Kids right now but in the weeks to come I will blow your mind away! Just you wait!
Belleicious Baby– my sweet son Connor who is now able to eat baby food inspired the launch of this site. My second son could not be more different than my first. He loves to eat. Mind you he is only 6/7 months old, he will eat any baby food I put in front of him and then some. With Connor's arrival I knew I wanted to make his baby food from scratch. I wanted my love for him and my love for cooking to come together and create the most delicious food to help him begin his little life with. Making your own homemade baby food definitely takes more time than walking down a store aisle and throwing baby food jars in the cart but it is so rewarding to see the look on your baby's face when they are introduced to new foods for the first time that actually TASTE like REAL food! By making your own you are able to be creative with ingredients and combinations let alone spices and seasonings (age appropriate). If you have a little one, if you are a grandmother or know someone who is expecting I would love for you to stop by Belleicious Baby and let me know what you think!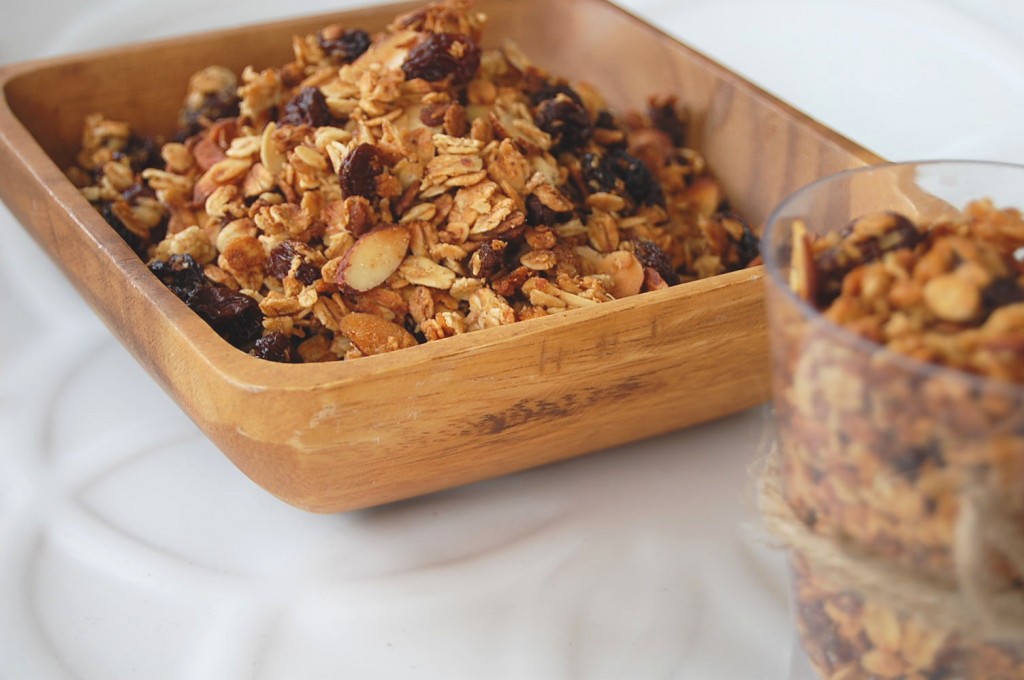 Now let's talk FOOD! Sweet, crunchy, slightly salty! I am a sucker for good granola. I want it sweet but savory, I want nuts, I want fruit, I want cinnamon, I want honey and I want it to be refreshing and I want it with milk- not yogurt but milk. Just enough milk at the bottom of the cup or bowl to slightly soak the oats yet leaving them still crunchy. When I am craving something other than my "chocolate chip cookies" I am craving granola! Good thing I have a recipe for it- right?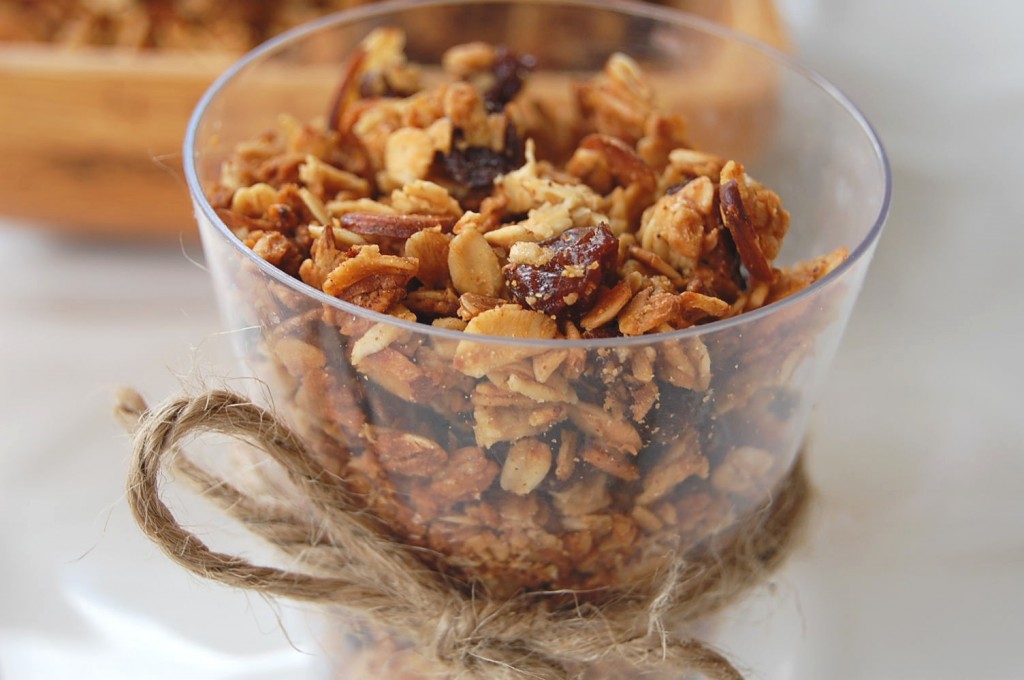 This granola is sweet and salty and addictive–but most importantly full of healthy nuts, whole grains, and seeds. If you are looking for a quick easy granola recipe then you have arrived!
I am so looking forward to catching up on all my favorite blogs! Get ready- I'm coming!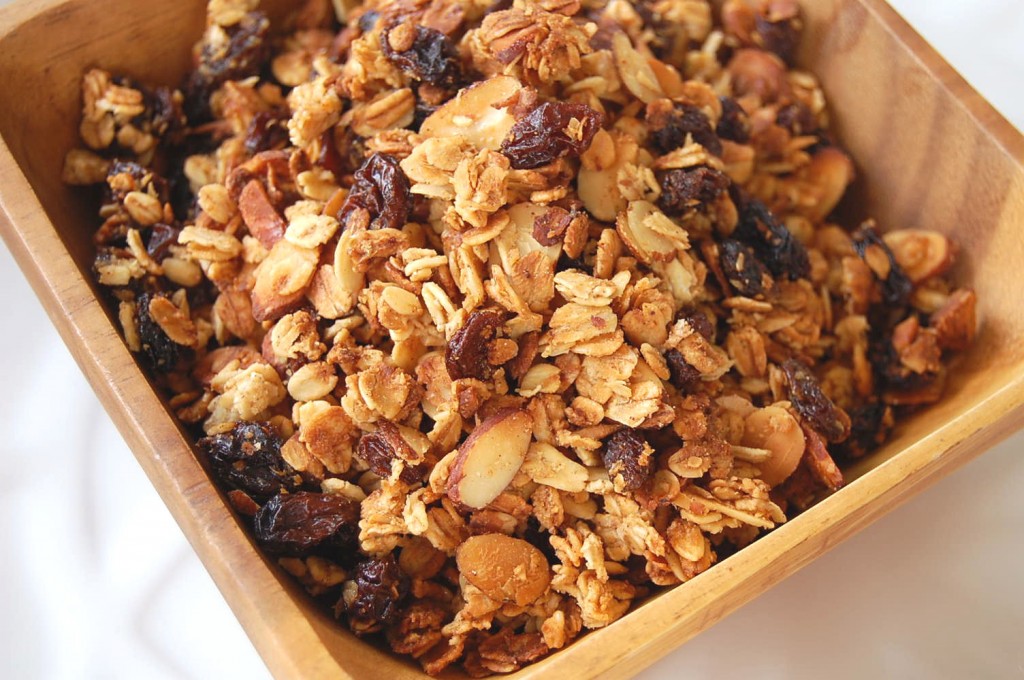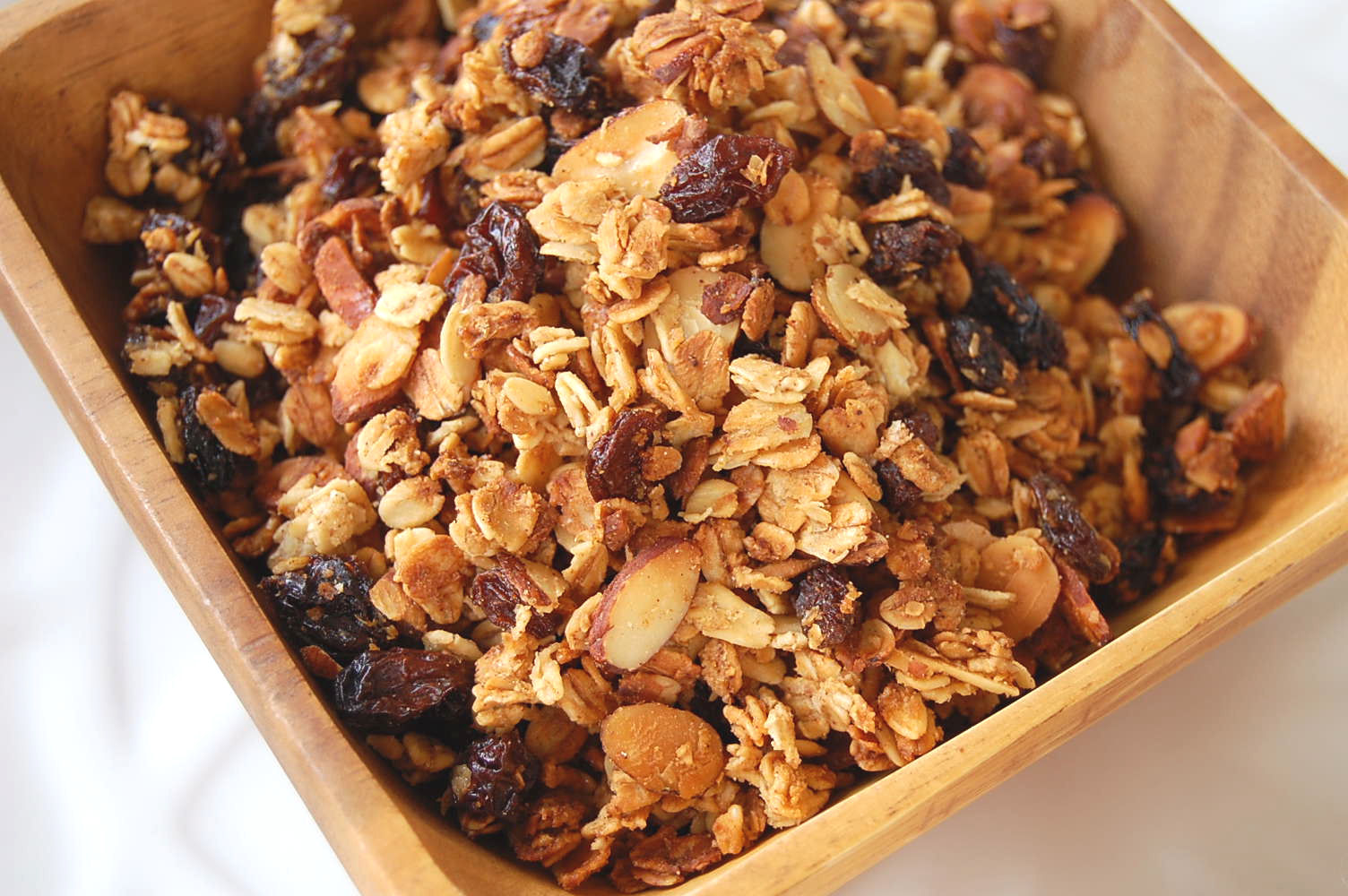 Cinnamon,Vanilla and Almond Granola
Ingredients
4 cups old-fashioned oats
⅓ cup apple juice
⅓ cup honey
⅓ cup canola oil
1 tsp. ground cinnamon
1 tsp. vanilla extract
½ tsp. salt
½ cup almonds
⅓ cup raisins
⅓ cup sunflower seeds
2 TBSP flax seed
2 TBSP brown sugar
Instructions
In a large mixing bowl, stir together the oats, nuts, sunflower seeds, flax seeds, brown sugar, raisins, cinnamon and salt. Whisk the oil, vanilla, honey and apple juice in a separate bowl or cup and then pour into the oat mixture until everything is coated.
Spread onto a large sheet pan. Bake, stirring occasionally until the mixture turns golden brown, approximately 30 minutes.Store cooled granola in an airtight container.
Notes
recipe adapted from The Barefoot Contessa cookbook