2018 is a new start for Kitchen Belleicious! I have been gone from the blogging scene for far too long! I miss it! I miss my fellow foodies! I miss sharing my cooking passion with others! So…. Consider this my welcome back post:) I plan to post frequently on the blog as well as Facebook so be sure to like my KB Facebook page!
First up my husbands favorite favorite meal! My Barbecue Shrimp. I've never really understood why people use the term "barbecue" for this dish bc both the ingredients and the taste do not lend itself to your typical bbq flavor but rather more of an herbed butter sauce but nonetheless it's called Barbecue Shrimp and I have the best recipe for it!
This is a must try recipe! Like as in try it today! I serve the shrimp with a big loaf of French bread (dip that bread all in the sauce and experience joy
😜) I promise You won't be disappointed:)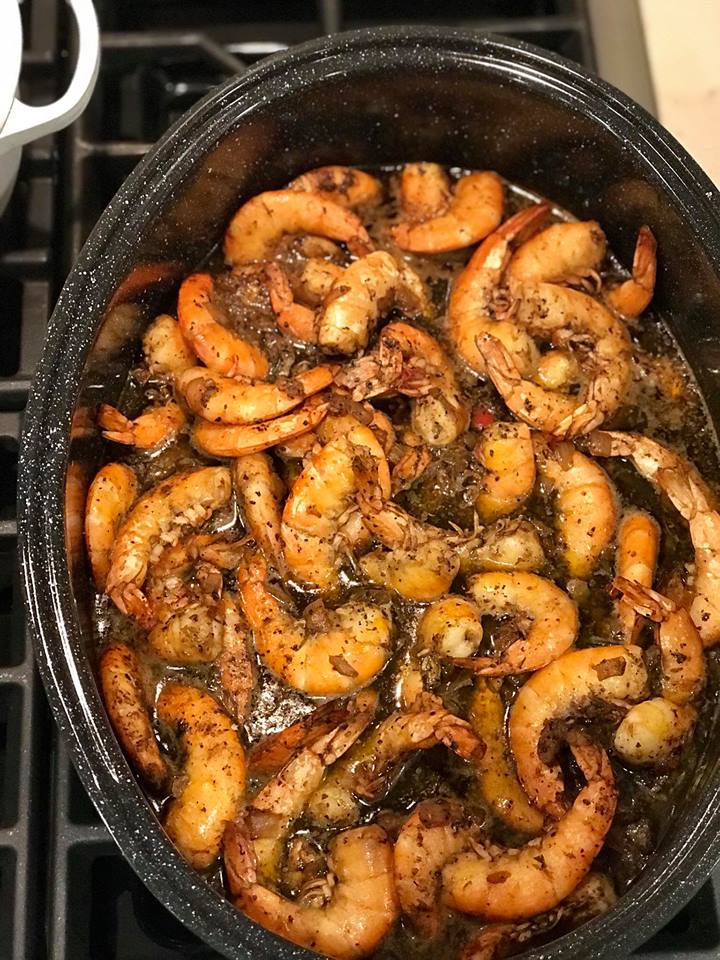 Barbecue Shrimp
Author:
Kitchen Belleicious
Ingredients
2½ lbs large shrimp
2 tsp olive oil
1 small onion, chopped
1 bell pepper chopped
3 stalks celery, chopped
1 TBSP chopped parsley
3 tsp minced garlic
1 tsp minced shallots (optional)
2½ sticks butter
¾ cup Worcestershire
½ cup dry white wine
1 bottle dark beer
2 tsp hot sauce
4 Tbsp brown sugar
3 TBSP of each dry seasoning: basil, thyme, oregano
1 TBSP rosemary
3 tsp salt
3 tsp cracked black pepper
Instructions
Season the Shrimp with 1 tsp each of salt and pepper and place in a large roasting pan. Preheat oven to 350.
Meanwhile, sauté the onion, celery, bell pepper, garlic, shallots and parsley in the 2 tsp of olive oil over medium to high heat in a large saucepan for 5-8 minutes.
Add in the butter and once melted, stir in the remaining ingredients including the remaking 2 tsp of salt and pepper. Leave the beer for last as you will want to slowly pour the beer into the pan stirring as you pour. Bring to a simmer for 15-20 minutes.
Pour the sauce over the shrimp making sure Ll shrimp are coated in sauce. It's okay if they are fully emerged!
Bake at 350 for 15-20 minutes until the shrimp are done (baking time may vary depending on the shrimp size) Enjoy!