Have I ever told you I am the daughter of a farmer? Yes Indeed, my sweet loving father and most amazing brother actually own a 3rd generation farm and grow corn, soybeans, wheat and rice. As a farmer's daughter you would think I would be patient in the growing process but I am like a kid in a candy store when I see my little plants budding with arrivals and I just want them to COME NOW not tomorrow or 2 months from now but NOW! Good thing I didn't take this up as a career. Why am I telling you all of this? Well, you see this year I planted my own zucchini, squash, onions, garlic, berries, lettuce, and lemons. I have to admit I have quite the green thumb lately my impatience is far from perfect. Although the onions, garlic and lettuce are overflowing, my zucchini and squash are taking their sweet little time. By that I mean they were gusty enough to show me a slight peak of their fruit early on in the growth stage all the while flat out knowing they weren't going to be ready for weeks and weeks to come! The Gall! That is until this past week. Lo and Behold, I look out into my garden and I see the most magical site- 2 Huge Zucchini's!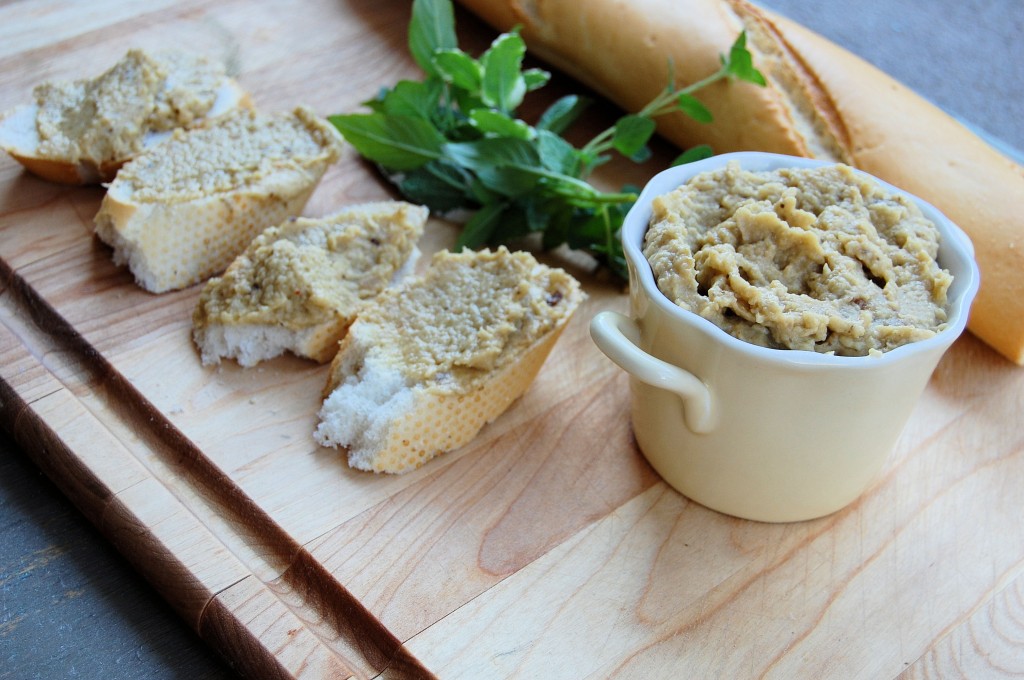 I think I may have tripped over my little one while screaming- "They are Ready, Let's Get Them!" After examining my specimen they were indeed in the perfect condition to be used in my grand scheme of what I like to call- Roasted Eggplant and Zucchini Spread. I got the recipe from a fabulous cookbook (Italian Home Cooking ) my SIL gave me (I keep mentioning family don't I?) This spread is the perfect answer when you need something quick and delicious. It packs in a ton of flavor and hits you with a delightful helping of vegetables and herbs!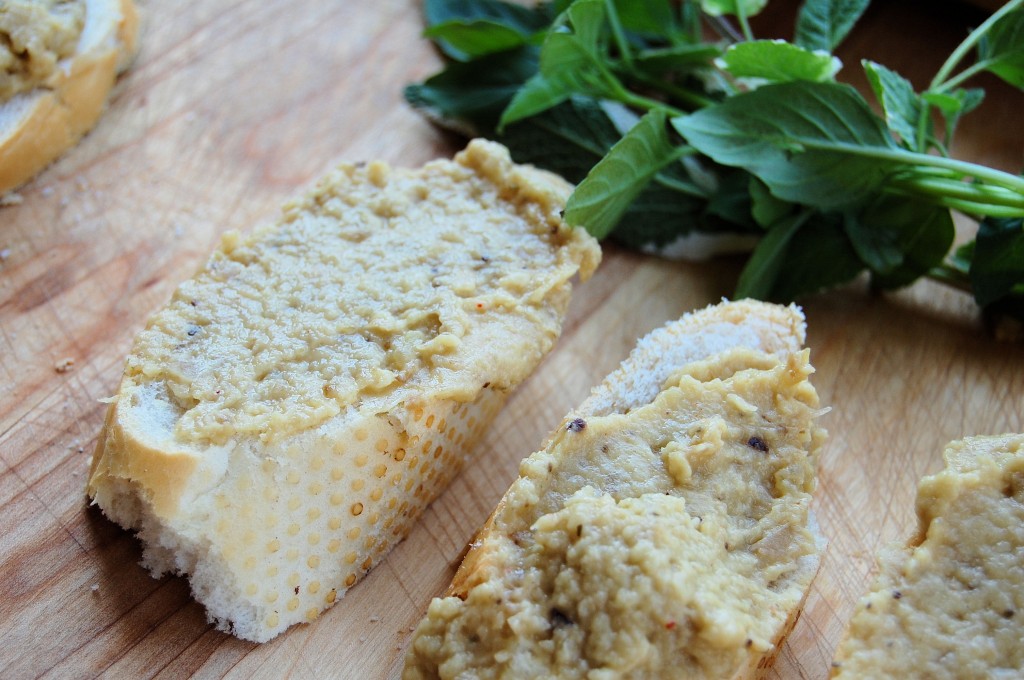 Zucchini with its sweet succulent and nutty flavor is the perfect way to begin the bounty of summer and who doesn't love Eggplant? They are two of the most popular vegetables and both are great simply baked but even better roasted and paired with amazing herbs and spices. Just popping your eggplant and zucchini in the processor is not going to do it for this recipe. Its a must that you roast the zucchini and eggplant first. It brings out the rich flavor of the two and makes for a intoxicating delicious dip. This spread resembles a hummus in a myriad of ways but the one difference is that the texture is not as smooth and creamy as that of hummus. It has a more grainy texture which is better for actually spreading (hence its name) on a piece of toast of bread rather than dipping into.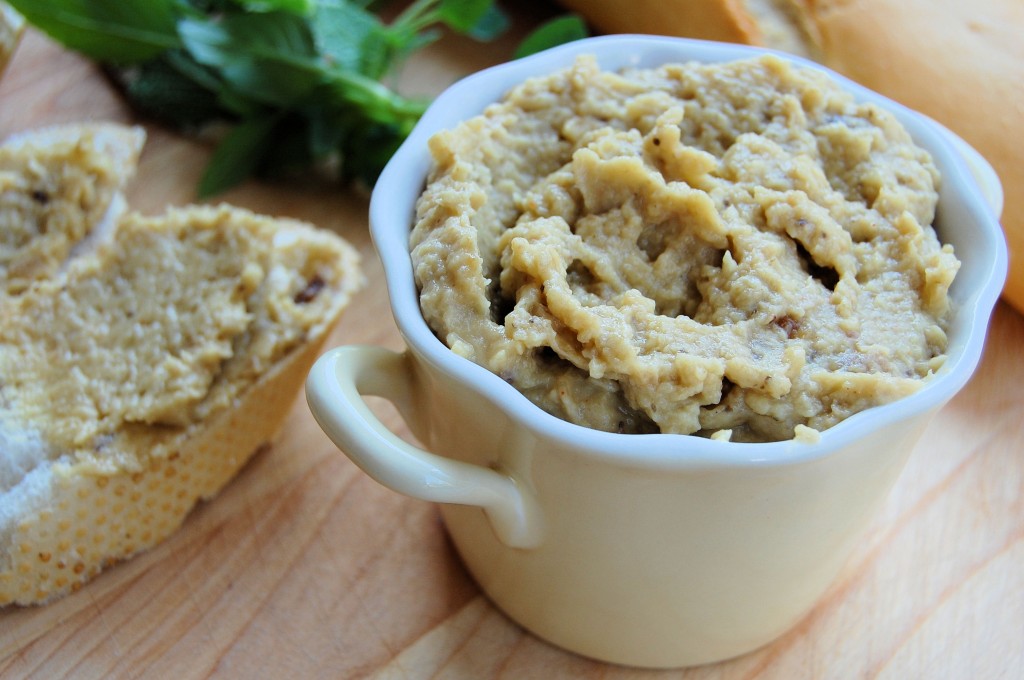 For your Memorial Day feast amongst the burgers and ribs and sausage whip up a nice healthy but utterly amazing spread for family and friends to munch on while the mains are still cooking. Did I mention both my boys loved this! They couldn't get enough. Now that right there should tell you everything you need to know- its DANG GOOD!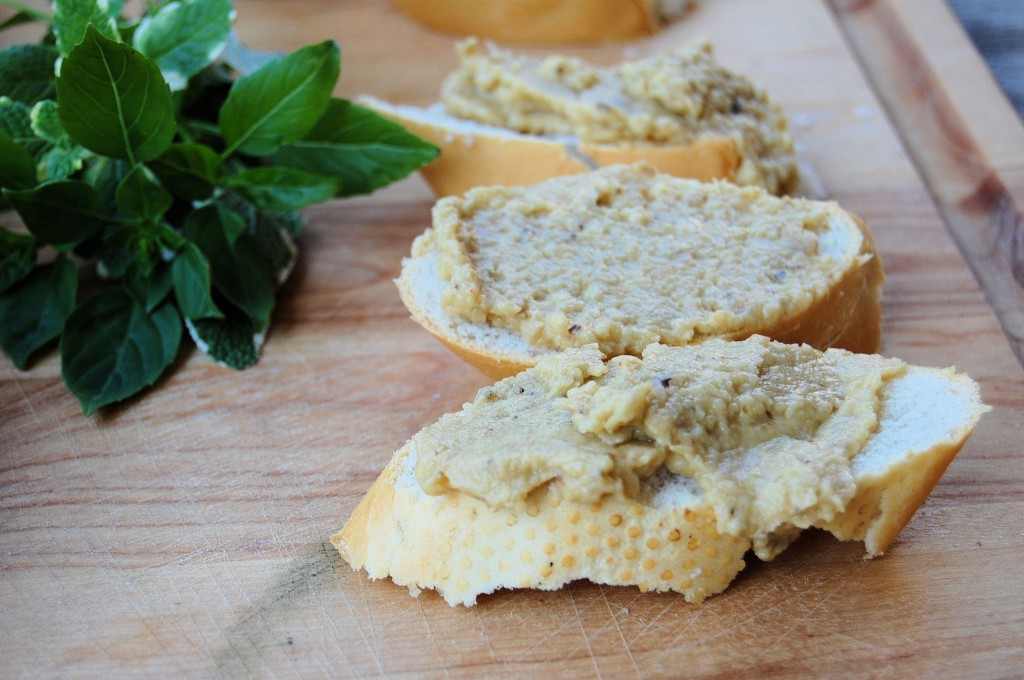 Roasted Eggplant & Zucchini Spread
Ingredients
1 large eggplant, sliced vertically, rinsed and patted dry
1 large zucchini, sliced vertically, rinsed and patted dry
½ cup olive oil
2 TBSP white wine vinegar
1 tsp salt and pepper each
1½ tsp minced roasted garlic
pinch of red pepper flakes
¼ tsp thyme
¼ tsp oregano
juice of half a lemon
Instructions
Remove the skin from your eggplant and zucchini then place both on a roasting pan or baking pan and drizzle each with olive oil and season with salt and pepper. Roast at 400 for 10-12 minutes. Remove and allow to cool.
Dice up the eggplant and zucchini and place into your food processor. Add in the remaining ingredients except for the olive oil. Pulse a few times until everything is smooth and combined. Now slowly with the processor running add in your olive oil- process one minute or until your desired consistency. Store in an airtight container in the refrigerator for up to a week ( if it lasts that long:)