Uncategorized
Shrimp, Zucchini and Pesto Gnocchi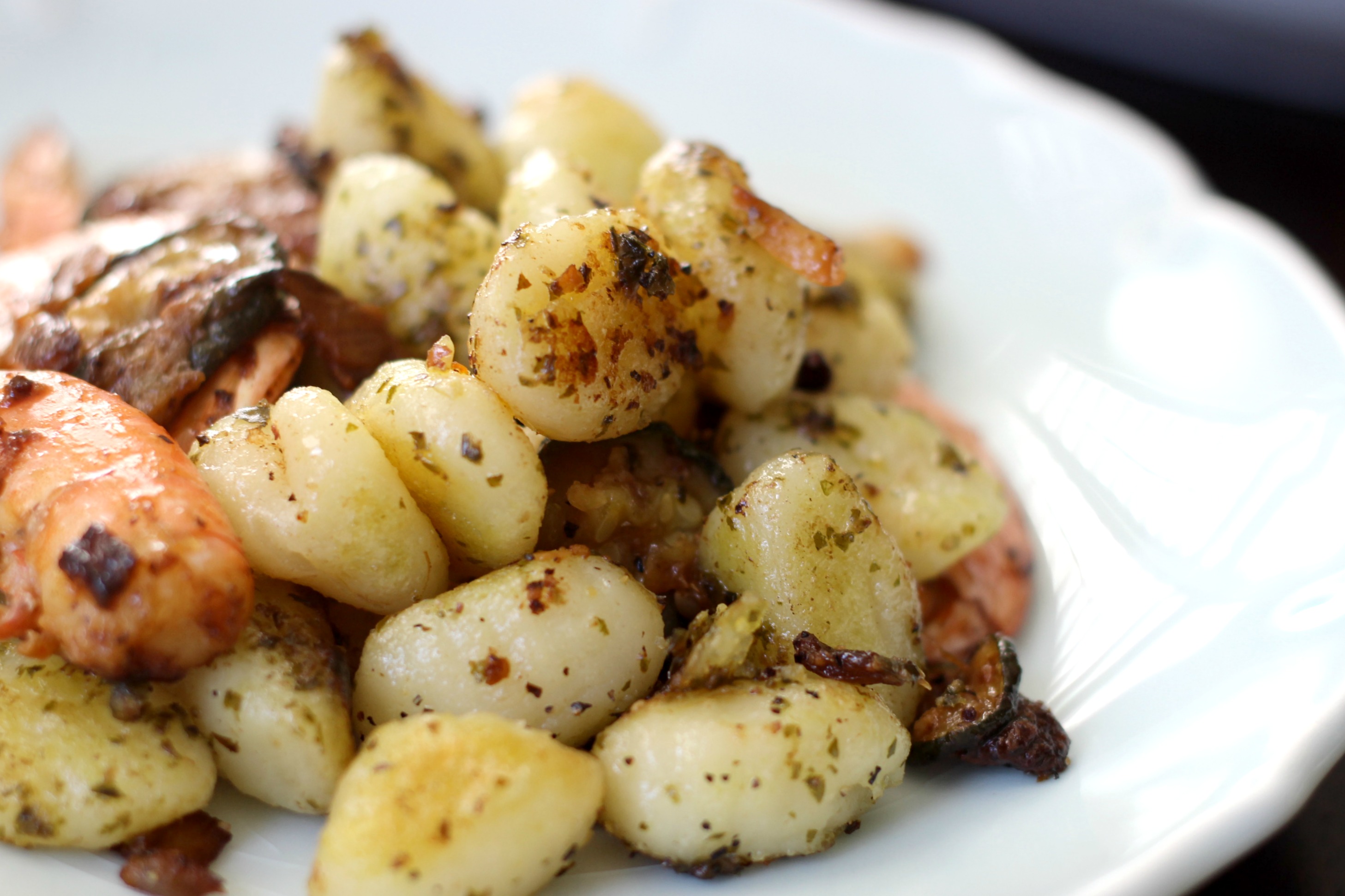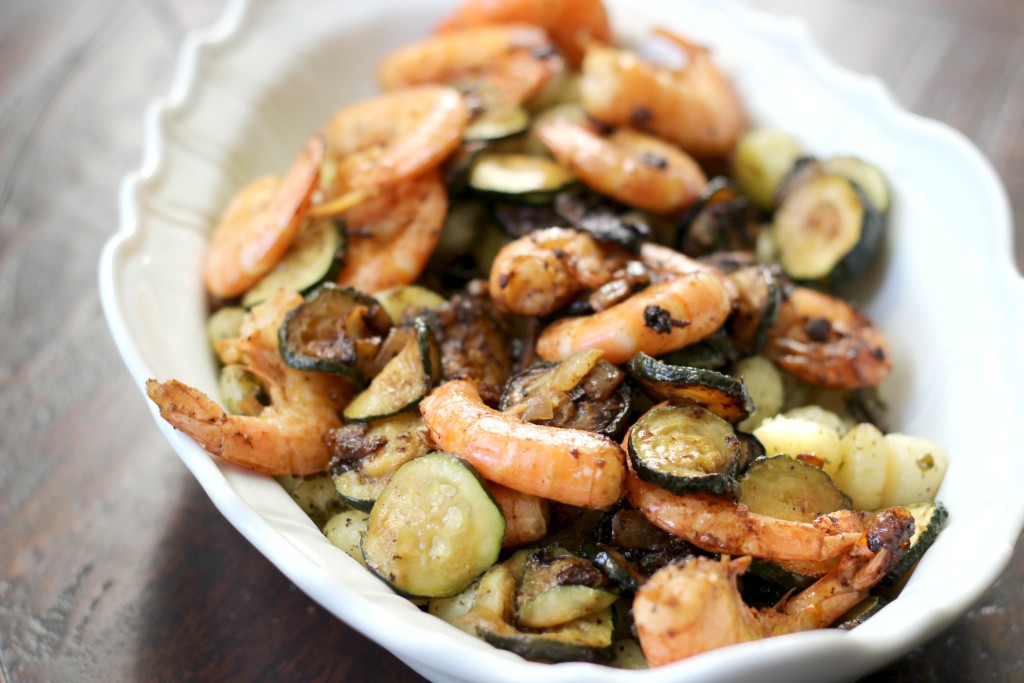 One of my favorite things about the spring is having an abundance of basil- which in turn means I have an abundance of pesto. You would be hard-pressed to find someone who loves pesto more than my husband. He adores it and for a good reason- he grew up eating the most fantastic pesto made by his mom. My mother-in-law has this pesto thing in the bag and I could pretend that my pesto is better than hers but I am not a liar:) and her's simple ROCKS!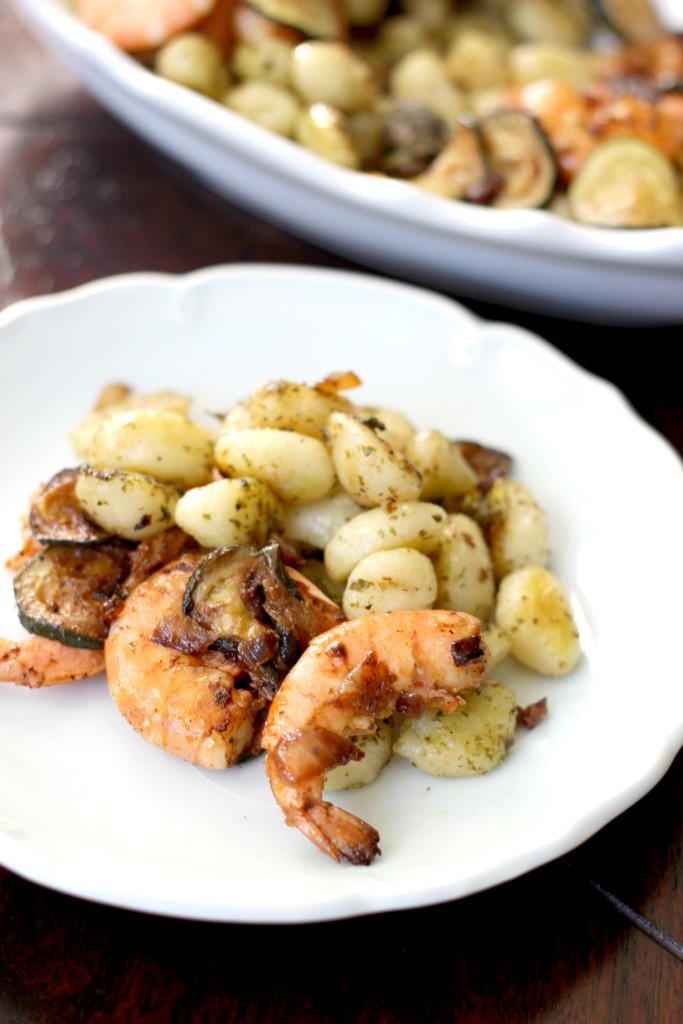 The reason I love this shrimp, zucchini and pesto gnocchi dish I am about to share with you is because it semi-homemade. The pesto was given to me by my MIL and the gnocchi (although I have a great homemade version here) is store-bought. Can I get a YEAH! Raise your hand if you would rather be in the kitchen during a beautiful spring day or outside playing with the kids and enjoying the weather?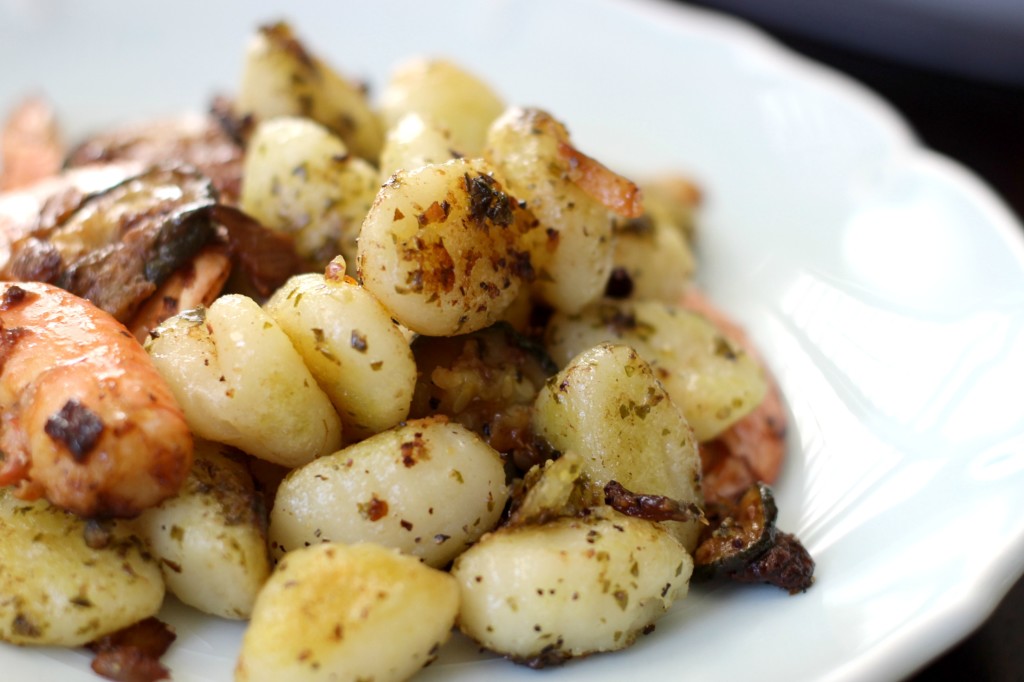 Some people tend to shy away from gnocchi because they prefer their potatoes stuffed, fried or mashed but the truth is potatoes are a wonderful stand in for pasta and much much MUCH easier to make. Although the gnocchi is pre-made there is one thing I like to do to these that adds a nice special touch. I like to pan-fry them for just a few minutes. I know it sounds weird to some but although I love a plain standard gnocchi recipe I simply adore it when the gnocchi has that slight crisp on the outside, much like a french fry. So…. after boiling the gnocchi per the package instructions I heat a small amount of oil in a large skillet and toss the gnocchi around and allow them to crisp up for a just a few minutes. It makes all the difference in the WORLD! The grilled shrimp and zucchini add that perfect touch and transform the pesto gnocchi into a main dish. The zucchini is sauteed along with shallots and garlic almost to the point where its getting brown and the shrimp are marinated in a bath of thyme, soy c until they are ready for the grill pan. Truly a dish to remember and one you will want to have over and over again.
Shrimp, Zucchini and Pesto Gnocchi
Author:
Kitchen Belleicious
Ingredients
½ cup of homemade or store-bought pesto
30 oz. of pre-made gnocchi or homemade
2 medium zucchini, washed and sliced
1½ lbs of fresh unpeeled shrimp
2 tsp minced shallots
1 TBSP minced garlic
3 TBSP of olive oil
1 tsp salt and pepper each
½ tsp crushed red pepper flakes
For the marinade:
3 TBSP of olive oil
2 TBSP of Worcestershire sauce
1 TBSP lemon juice
1 tsp salt and pepper each
1 tsp red wine vinegar
1 tsp ground thyme
4 TBSP butter, melted
Instructions
Mix together the marinade and toss it with the shrimp. Allow to marinate for 2 hours in the refrigerator.
Boil the gnocchi according to the package directions. Drain and set aside.
Heat 2 TBSP of oil in a large skillet. Saute the zucchini, garlic and shallots for 7-8 minutes on medium high heat until the zucchini is slightly charred. Add in the shrimp and cook for another 3-4 minutes until the shrimp shells are hot pink and the shrimp is opaque. Transfer the shrimp and veggie mixture into a large serving bowl. In the same skillet, heat 1 TBSP of olive oil and toss in the gnocchi, stirring it around until the gnocchi starts to turn brown around the edges.
Add the gnocchi to the shrimp and zucchini and toss with the pesto, salt, pepper and crushed red pepper flakes. Serve immediately.