Uncategorized
Sweet and Salty Bacon Topped Quiche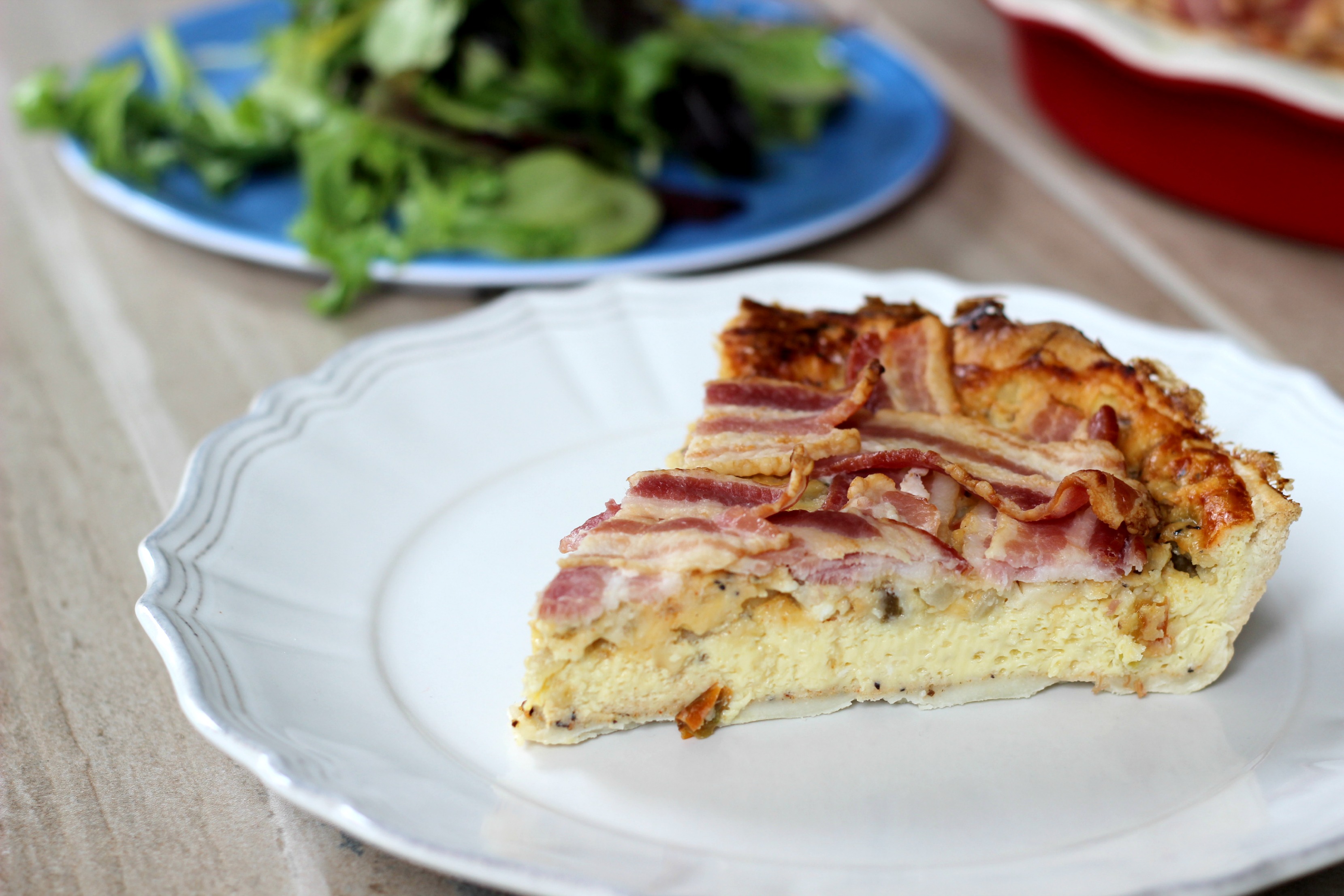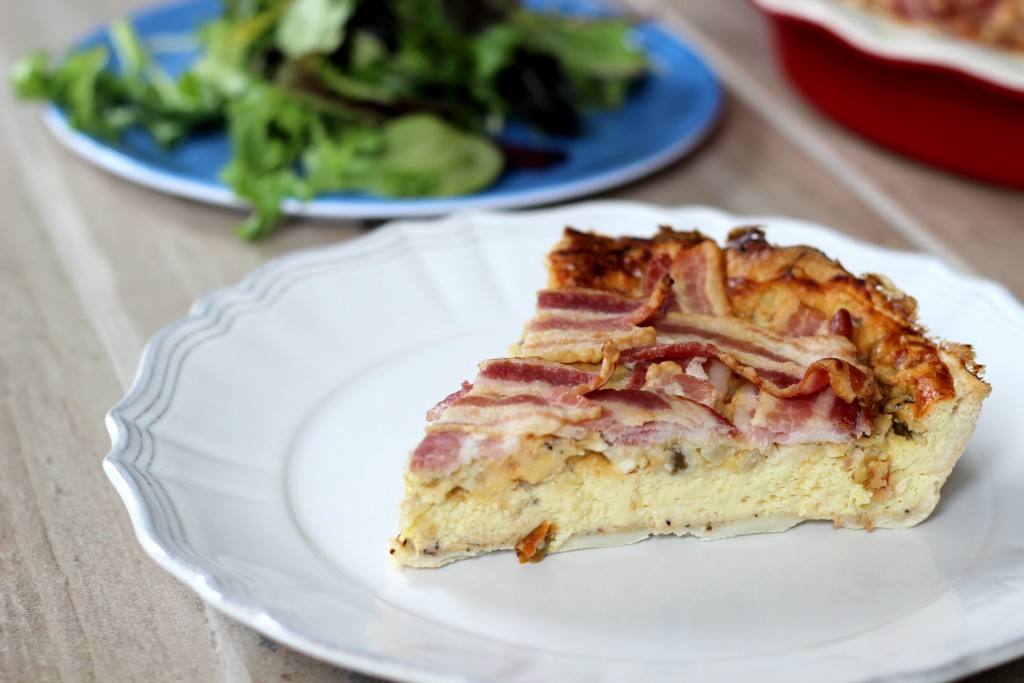 I wanted breakfast but I did NOT want to have 3 dishes going on at once- frying bacon, cutting biscuit dough and scrambling eggs. So I thought it was about time to take the idea of breakfast to a new level. Think extreme! Extreme quiche! I wanted all my favorite things about breakfast to accumulate in one big dish. I wanted a quiche but not any normal quiche. I wanted to load it down with savory caramelized onions and peppers. Season it to perfection with hints of cayenne, paprika, garlic and oregano and then drench it on top with layers of crispy bacon. I wanted the pie crust to melt in your mouth and add just the right amount of crispy texture against the egg filling. And you know what? I think I accomplished what I set out to do. No, Wait- Not I think but I KNOW I accomplished it! This quiche was amazing and it will blow your mind with just one bite. It's that delicious!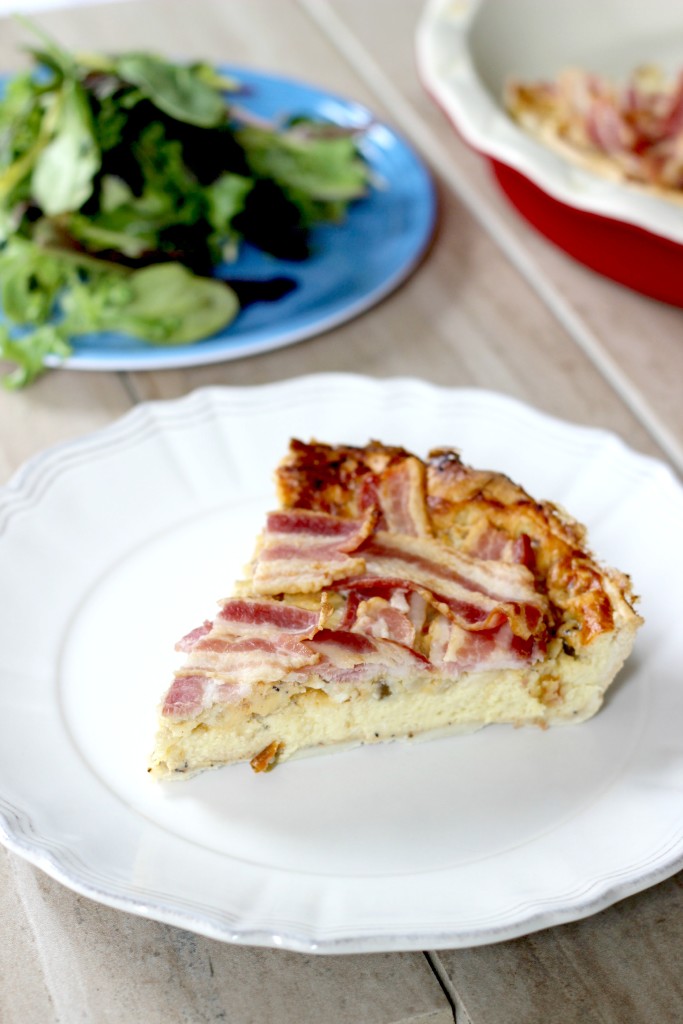 I am making this post short and sweet because I have just wayyyy to many things on my plate at the moment. I know you all understand. Heck, your probably right where I am too, just trying to fit everything in and keep sane! I want to be the first one to tell you that you are doing an AMAZING job – an amazing job as wife, mother, husband, father, worker, friend, all the above. We don't hear that as often as we all should so I am going to be the first to tell you this week that you are doing great and keep it up- all your work, your love, your commitments are seen and are appreciated!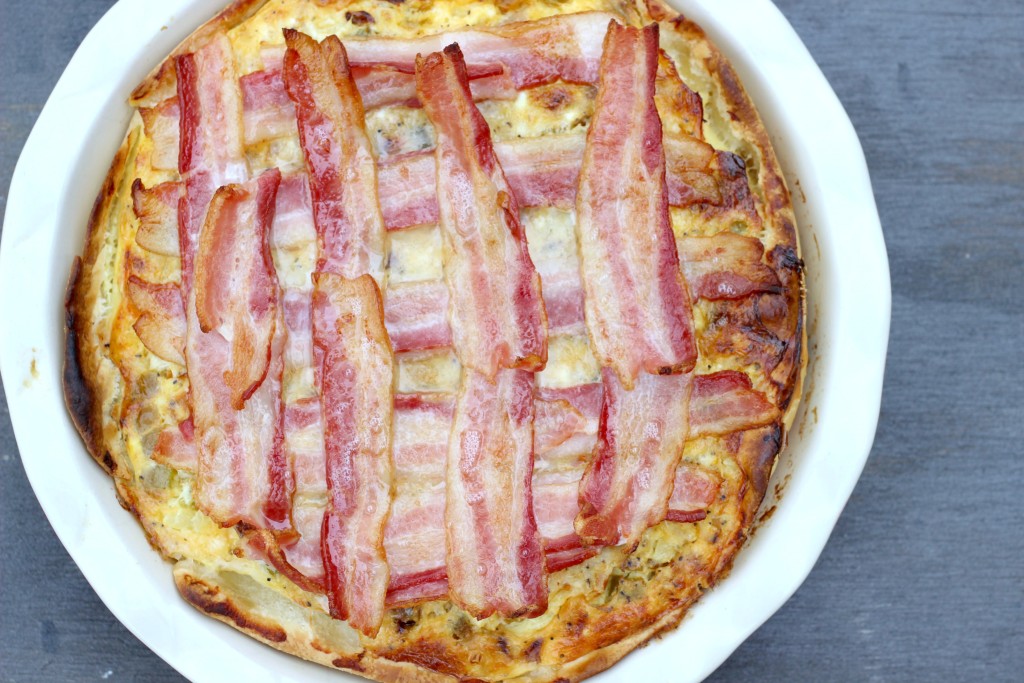 Sweet and Salty Bacon Topped Quiche
Author:
Kitchen Belleicious
Ingredients
1 TBSP brown sugar
dash of paprika
dash of pepper
12 slices of bacon (thickness varies depending on your preference)
½ onion, chopped
1 green bell pepper, chopped
1 tsp garlic, minced
8 eggs
1½ cups of cream
1 tsp salt and pepper each
½ tsp oregano
¼ tsp thyme
½ tsp smoked paprika
⅛ tsp cayenne
dash of hot sauce
½ cup shredded monterrey jack cheese or cheese of your choice
1 biscuit dough/crust recipe or 1 store-bought deep dish pie crust
Instructions
Mix together the first 3 ingredients and brush over the bacon slices. Set aside.
In a small skillet, heat 1 TBSP of olive oil and saute the onions, peppers and garlic until just tender (5 minutes). Set aside to cool.
In a large mixing bowl, whisk together the egg and cream. Add in the remaining ingredients including the cooled onion, pepper and garlic mixture, cheese and hot sauce. Whisk to combine but not to long (30 seconds should do)
Place the pie crust into a lightly greased 9 inch pie pan. Pour the quiche filling in making sure it doesn't rise above the crust. Envelop the bottom of the pie pan with foil and bake in a preheated oven at 425 for 35 minutes. Remove from the oven and place the bacon slices on top. You may either cut the bacon slices into 2 or leave them long. I chose to cut mine so my little boys could eat it easier. Place the quiche back in the oven for an additional 15 minutes or until the bacon is cooked like you like. Turn it to broil for 1 minute before removing from oven (just to get that last little shot of crispiness on the bacon). Allow to cool for 5 minutes before serving.