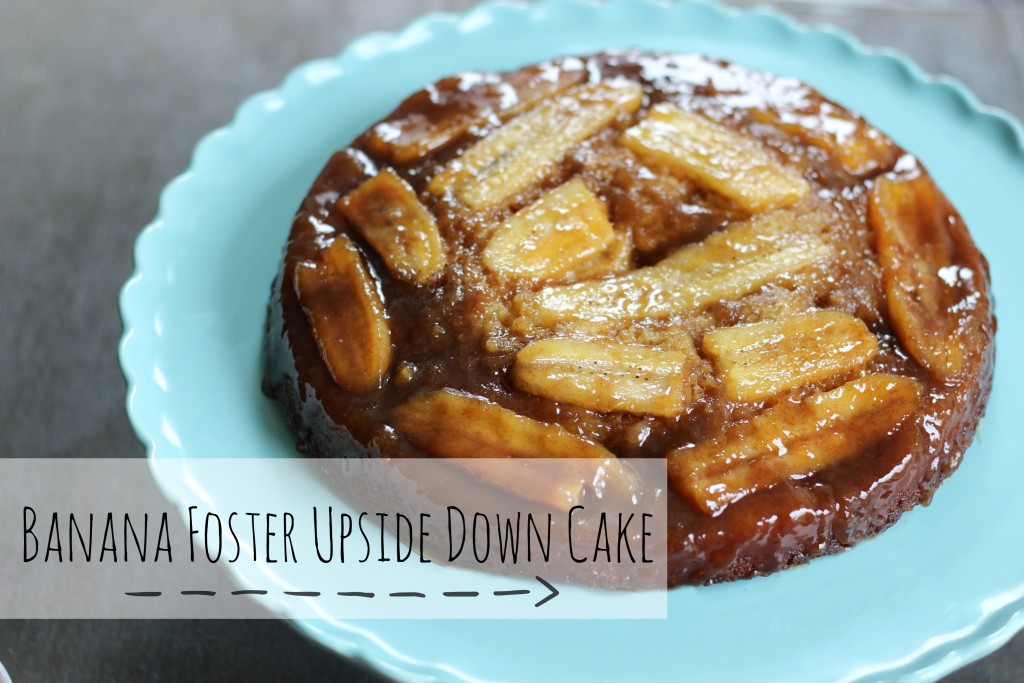 The very first dessert I ever shared with my husband was the famous banana's foster at Commander's Palace in New Orleans. It was a dessert worth remembering. Rich, buttery, decadent and topped with the most perfectly ripe bananas, its one of those desserts that seems so extravagant and yet it is actually quite the opposite. It is easy and comprised of things you would normally have in your kitchen. Now I am kinda funny when it comes to my desserts. Not necessarily the type of desserts I eat but when I eat the desserts. I do NOT like to eat my dessert immediately following a meal. I like to savor the meal and allow it to settle giving me time to get "hungry" again before digging into any dessert. So after dinner I don't want to still be in the kitchen cooking up dessert. This poses a problem for some desserts – say Banana's Foster. You have to cook banana's foster right when you are planning to eat it. But not anymore!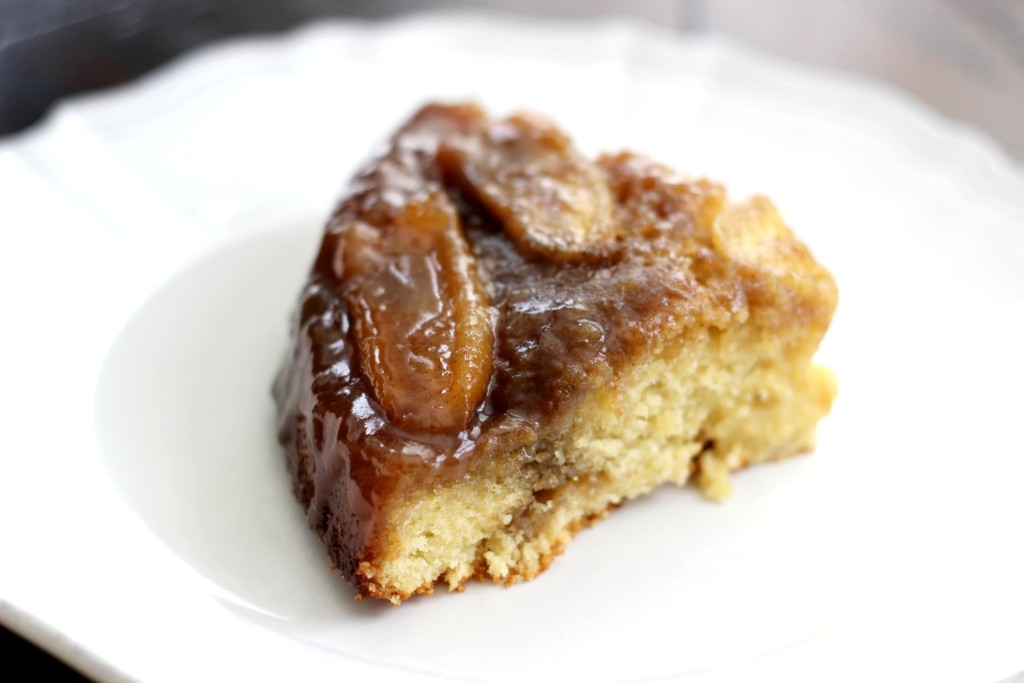 Banana's Foster is a classic dessert of bananas caramelized in brown sugar and butter and then flambéed with rum. Think of the best banana's foster you have ever had and then add in a layer of moist buttery cake. Now this recipe does involves egg whites and that whole beating/folding thing but don't let that scare you off. Egg whites are harmlessly easy and are one of the best ways to add volume to a cake while retaining moisture and preventing it from being too dense. The buttery rum sauce keeps the banana's in tact at the bottom of the pan and creates the most beautiful topping once the cake is turned upside down. It is the best of both worlds and doesn't require you to be in the kitchen after dinner. It is absolutely the best dessert I have had in a very long time and it will transport you right back to the Crescent City! Now Get in that Kitchen!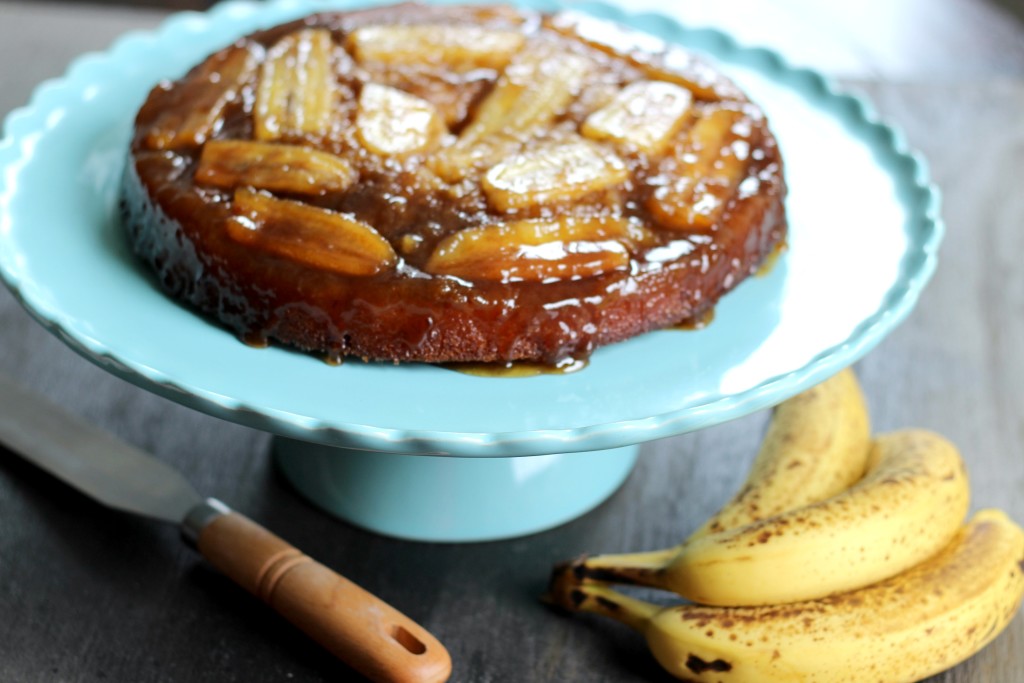 Banana's Foster Upside Down Cake
Ingredients
FOR THE BANANAS FOSTER SAUCE
3 to 4 bananas, halved lengthwise
4 tablespoons butter
1 cup light brown sugar
½ teaspoon cinnamon
¼ cup dark rum
FOR THE CAKE
1-1/2 cups all-purpose flour
2 teaspoons baking powder
½-cup sugar
½-teaspoon salt
3 eggs, separated
½-cup apple juice
1 teaspoon pure vanilla extract
1 stick (8 tablespoons) butter, melted (cool for at least 3 minutes before using)
Instructions
Preheat oven to 400F degrees. Grease an 11x7 brownie pan with cooking spray or you can also use an 8-inch cake pan or an 8x8 brownie pan. Arrange the bananas, cut side down, in the prepared pan and set aside.
FOR THE SAUCE
Combine butter, light brown sugar and cinnamon in a skillet and cook over medium-low heat, stirring frequently, until butter is melted, sugar dissolved and mixture is well combined. Slowly add rum and cook until heated through. Using a lighter, stand back and carefully light the rum. Shake the pan a bit until the flames subside.Remove from heat and pour over prepared bananas; set aside.
FOR THE CAKE
In a mixing bowl, whisk together flour, baking powder, sugar and salt; set aside.
In your mixer's bowl, beat the egg yolks for 4 to 5 minutes on high speed, or until lemony yellow.
With the mixer on low, add apple juice and vanilla. Slowly add the melted butter and continue to mix until combined.Gradually add in the flour mixture, about ¼-cup at a time; continue to mix until thoroughly incorporated.Remove bowl from mixer and set aside. In a clean, dry mixing bowl, beat the egg whites on medium-high speed until stiff peaks form. Using a rubber spatula, gently fold the egg whites into the flour mixture.
Spoon dollops of the cake batter over the bananas and using an offset spatula, gently spread the batter, covering the fruit.Set a baking sheet on the bottom of the oven. Bake the cake in the center of the oven for 25 to 30 minutes, or until a toothpick inserted into the center comes out clean.Remove from oven and let the cake cool in the pan for 10 minutes. Invert it onto a platter. Let the cake cool slightly; about 20 minutes. Cut into squares and serve.