I am a big fan of one pot meals. I like having one dish to clean. I like plopping the one pot down in the center of the table and saying dig in and most of all I like the taste of a one post dish with all the individual flavors melding together to create the most fantastic bite of goodness.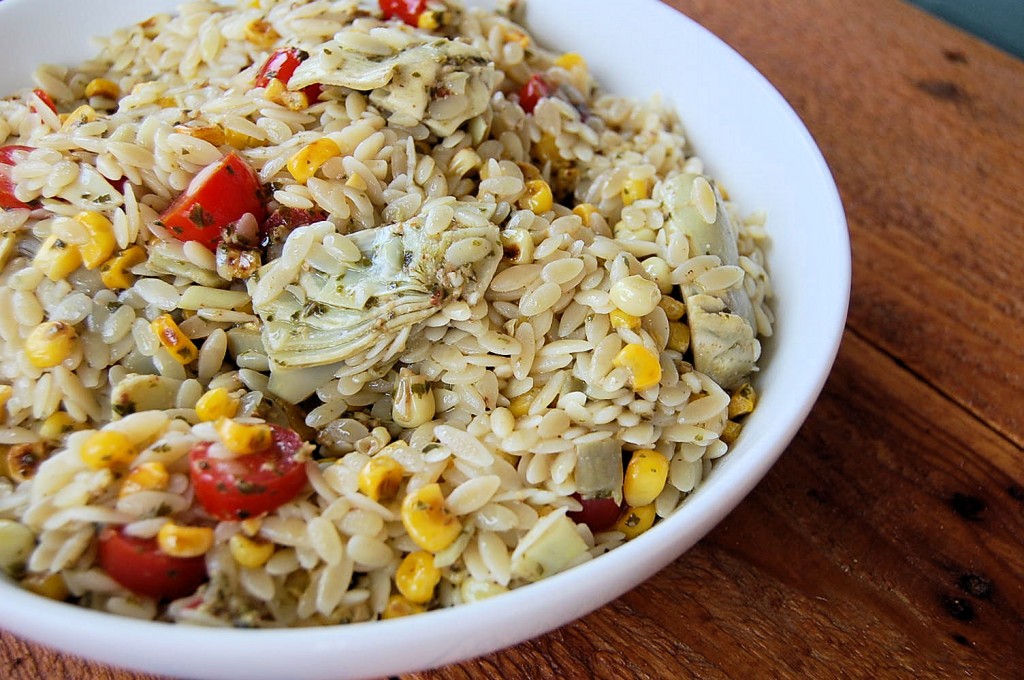 Now although this is a one-pot meal it is vegetarian, as in NO MEAT. Yes, you out there who must have your meat (or rather your husbands who must have their meat) by all means feel free to add in a cup of diced rotisserie chicken or grilled shrimp, either would be wonderful addition. I like having simple meals like this during the week and with so much flavor I promise you wont' even care there is no meat. The star of this dish is the artichoke pesto, Some condiments just go with everything like bbq sauce and Italian dressing. I have never met a chicken, steak or piece of seafood that did not fair well with a dash of either. Then there is pesto. With a wide array of pesto variations, you can't really go wrong with it. Walnut Pesto, Parsley Pesto, Red Pepper Pesto, the possibilites are endless but if I dare to say I shall crown artichoke pesto the hands down winner in my book. It is full of the wonderful aroma of basil and parsley, the nuttiness of pecans and the buttery flavor of grilled artichoke hearts. Drool……….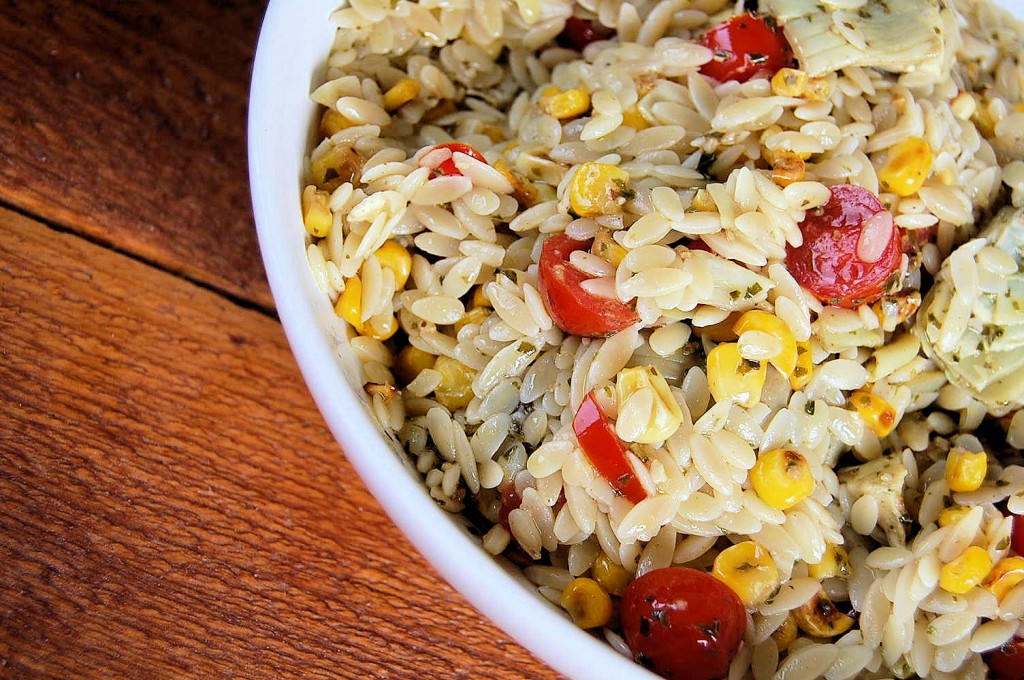 Know what I think? I think if your going to have roasted garlic then you need cherry tomatoes and if your gonna have cherry tomatoes then you need corn. Know what else I think, I think that orzo is quite simply the easiest thing in the world to cook. You can't mess it up. You don't need to measure out the perfect ratio between rice and water. You don't have to sit there and stir or watch carefully as it steams away. You just boil water, drop in orzo and let it go. I just love it which is why your going to LOVE this one pot easy peasy Lemon Orzo with Artichoke Pesto, Roasted Garlic, Corn and Cherry Tomatoes. Pinky Promise.
Orzo with Lemon Artichoke Pesto, Roasted Garlic, Corn and Cherry Tomatoes
Ingredients
1 bag of frozen artichoke hearts, drained or 1 14 oz. can of drained artichoke hearts
½ cup pecans, chopped
⅓ cup parsley
⅓ cup basil
1 tsp minced roasted garlic (you can find this in a glass jar in your grocery store) stock up- its so good and helps when you are in a bind)
1 lemon, juiced
½ tsp salt and pepper each
½ cup extra virgin olive oil ( may need more based on personal preference and type of artichokes used)
1 cup parmesan cheese
1 pound of orzo
kernels from 2 corn on the cobs, cobs can be either grilled, steamed, boiled or roasted
1-1½ cups of cherry tomatoes (your preference)
Instructions
Combine ¾ of the artichokes in a blender or food processor with the pecans, salt, pepper, parsley, basil, lemon juice and garlic. Pulse until combined then slowly being pouring in the oil pulsing until pesto is nice and smooth. Set aside.
Meanwhile, boil the orzo according to the package directions, drain. If you are grilling/roasting your corn then butter each side and place on high heat or 400 for 10 minutes. If you are boiling the corn, place corn cobs in a large stockpot of boiling water and boil for 5-7 minutes. Regardless of method allow corn to cool and then remove kernels from the cob.
Combine the corn, orzo, artichoke pesto, parmesan cheese, cherry tomatoes and the remaining ¼ cup of artichoke hearts. Toss and enjoy.