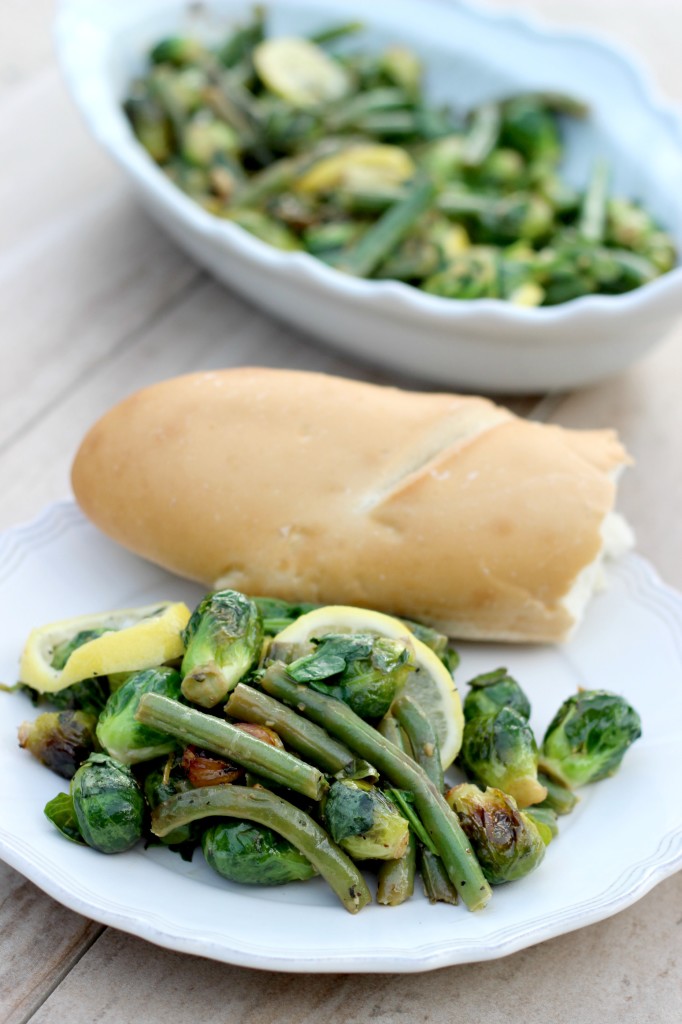 We have had a lot of king cake and candy consumption in this house for the past few weeks. Celebrating Mardi Gras and then Valentine's Day has given us our fair share of sweets. To offset so much sweetness I was craving something light and refreshing. Something simple but filling. Something like a salad. You see sometimes I just want a nice hearty salad. I know I may be the only one but I actually crave salads. Salads make me happy and this particular day all I wanted for dinner was a big bowl of nothing but greens! (Seeing as how my husband doesn't crave salads like us normal people-there is no need to worry- he was provided grilled chicken and bread alongside his salad).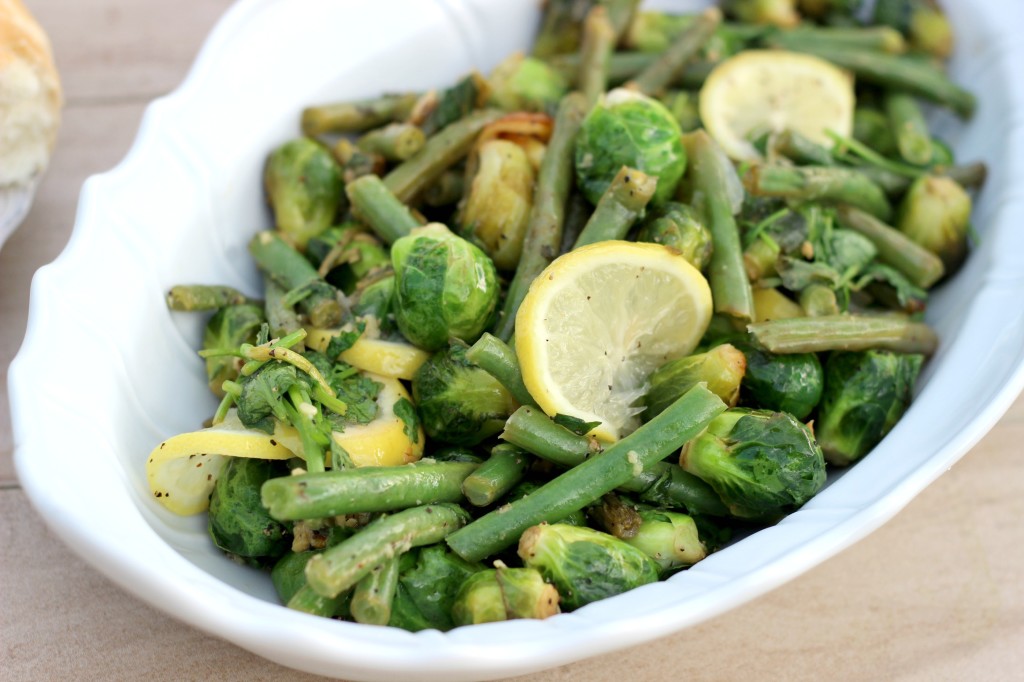 My Green Power House Salad is no ordinary salad. It is one for the books because it packed full of different types of green vegetables. Green beans, Brussels sprouts, shelled edamame and broccolini. The salad is roasted alongside slices of lemon, shallots and minced garlic and then dressed with THE MOST DELICIOUS DRESSING IN THE WORLD! Seriously, the most delicious dressing in the world! Lemon juice, sea salt, a hint of mustard and crushed peppercorns whipped together is a winning combo. With the addition of yogurt it makes the dressing slightly thick allowing it to stick into those tiny crevices in the veggies. Not so thick to the point of a creamy ranch or Caesar dressing but just not as light as a vinaigrette. With spring slowly tip-toeing in (as in hints of sunshine here and there) this salad is the perfect dish to lighten the load and keep your full of energy!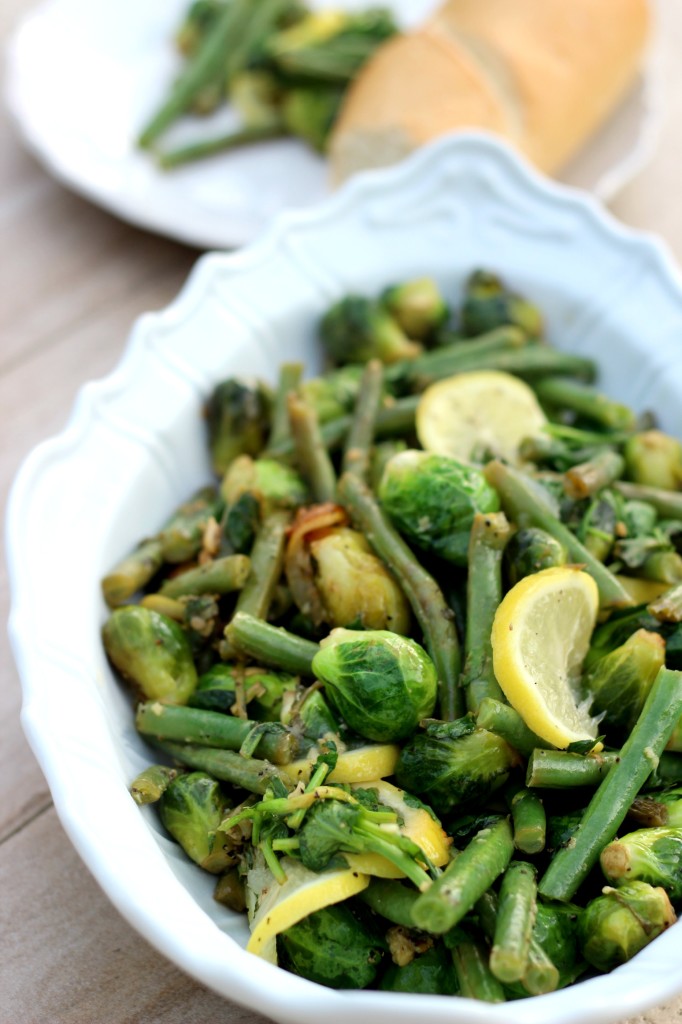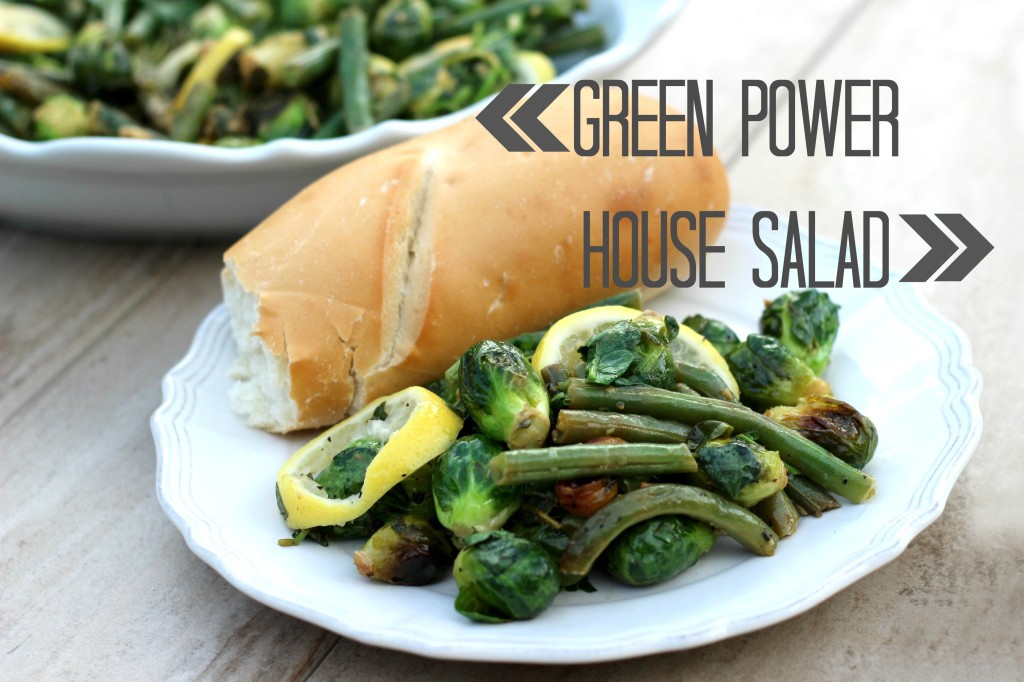 Green Powerhouse Salad with Lemon Peppercorn Dressing
Author:
Kitchen Belleicious
Ingredients
2 lemons, sliced
2 tsp minced garlic
2 TBSP minced shallots
¼ tsp crushed red pepper flakes
2 TBSP EVOO
1 bunch of broccolini, trimmed
1½ cups frozen shelled edamame
1 lb. Brussels sprouts, trimmed (quartered if you prefer)
1½ cups trimmed fresh green beans
For the Dressing:
2 TBSP Saucy Mama Dijon Mustard
1 tsp fresh cracked black peppercorn
½ tsp sea salt
3 TBSP plain yogurt
1 tsp apple cider vinegar
1 tso lemon juice (more to taste)
6 TBSP EVOO
Instructions
To Make the Dressing: In a large bowl, whisk all the ingredients together, drizzling and whisking in the EVOO at the end. Set aside
For the Salad: In a large bowl toss the vegetables with the garlic, shallots, red pepper, olive oil and salt. Place on a large rimmed roasting pan and toss place the slices of lemon throughout. Roast at 350 for 20 minutes or until the Brussels sprouts are nice and tender. Remove from the oven and immediately toss with the dressing. Serve at room temperature.