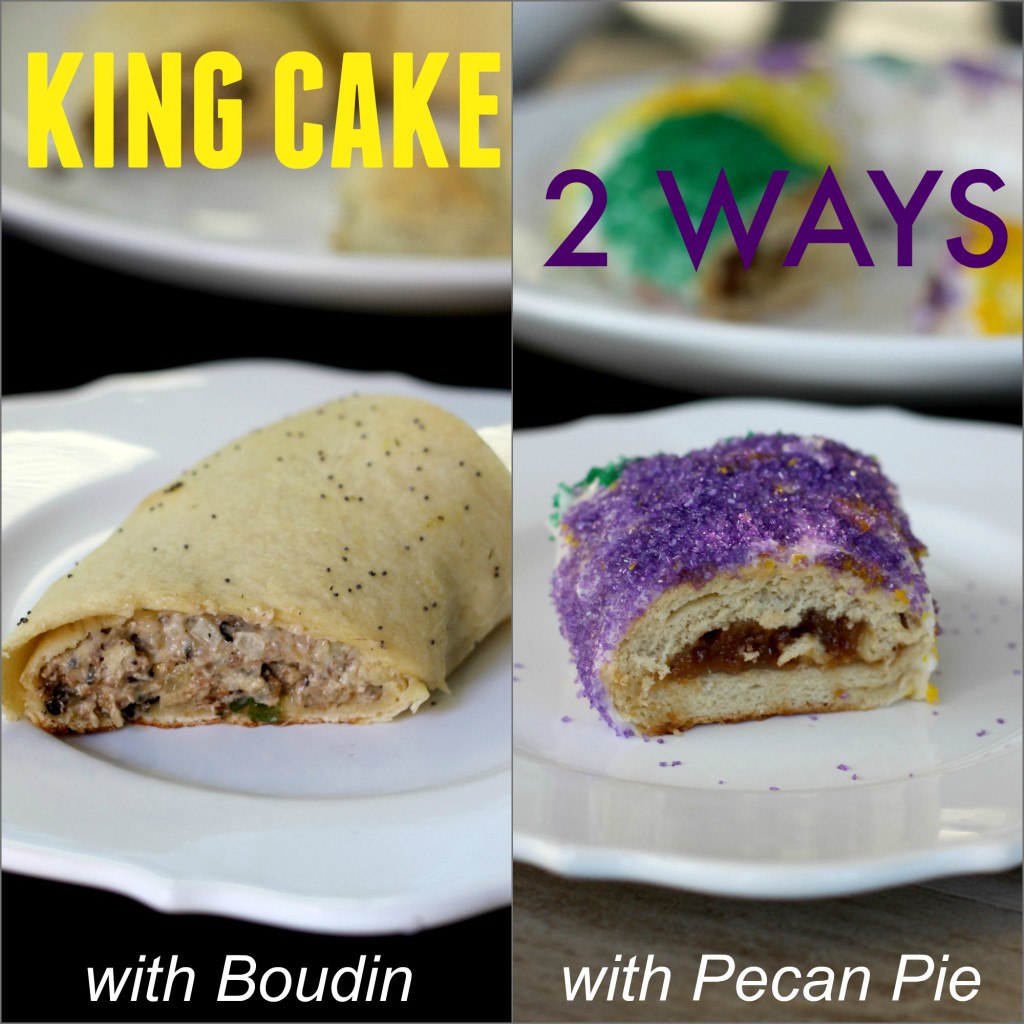 It's here! That time of year filled with parades, beads, good times and delicious King Cake!  I took the standard King Cake and brought it to a whole new level with my Kings Cake 2 Ways! Mouthwatering Boudin Filled King Cake dough is savory with a hint of sweetness. Filled with rich deep flavored pork, onions, green peppers, and a load of spices this is a cajun meat pie on steroids but with a chewy tender bread encasing rather than the standard fried version. Pecan Pie itself is rich and buttery. Marrying pecan pie with a sweet cinnamon spiked bread dough is like having the best of both worlds. Don't believe me? Shame- read on!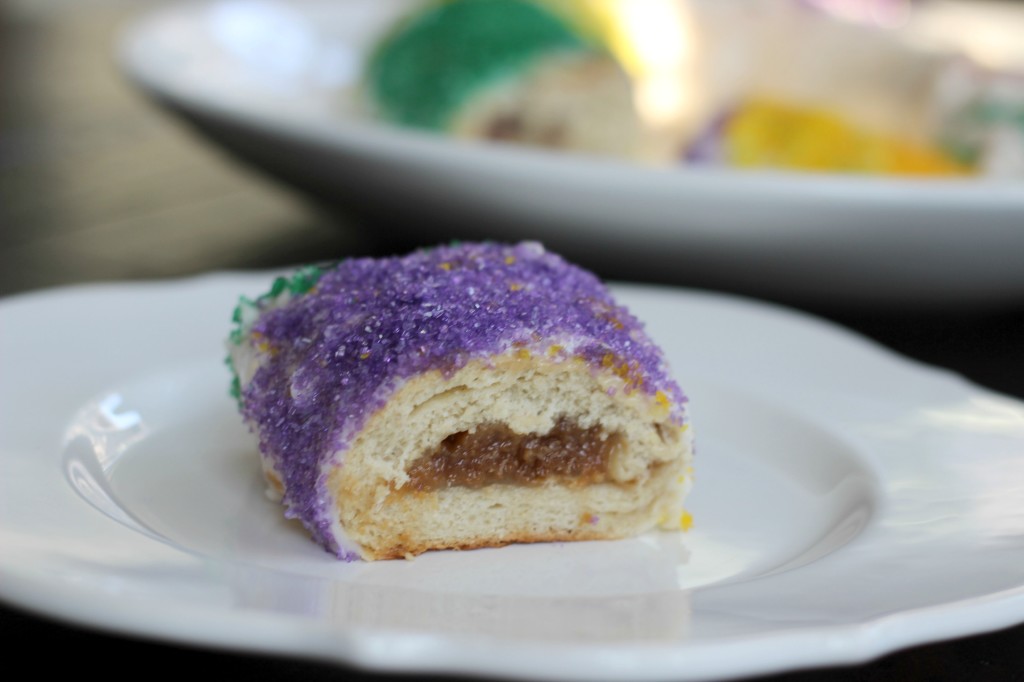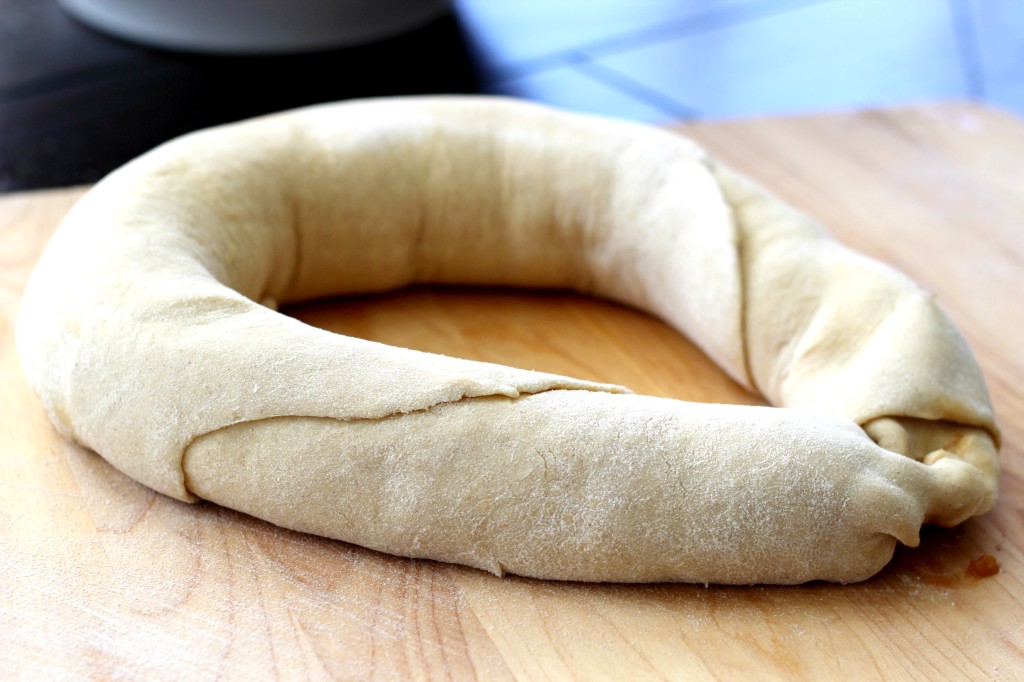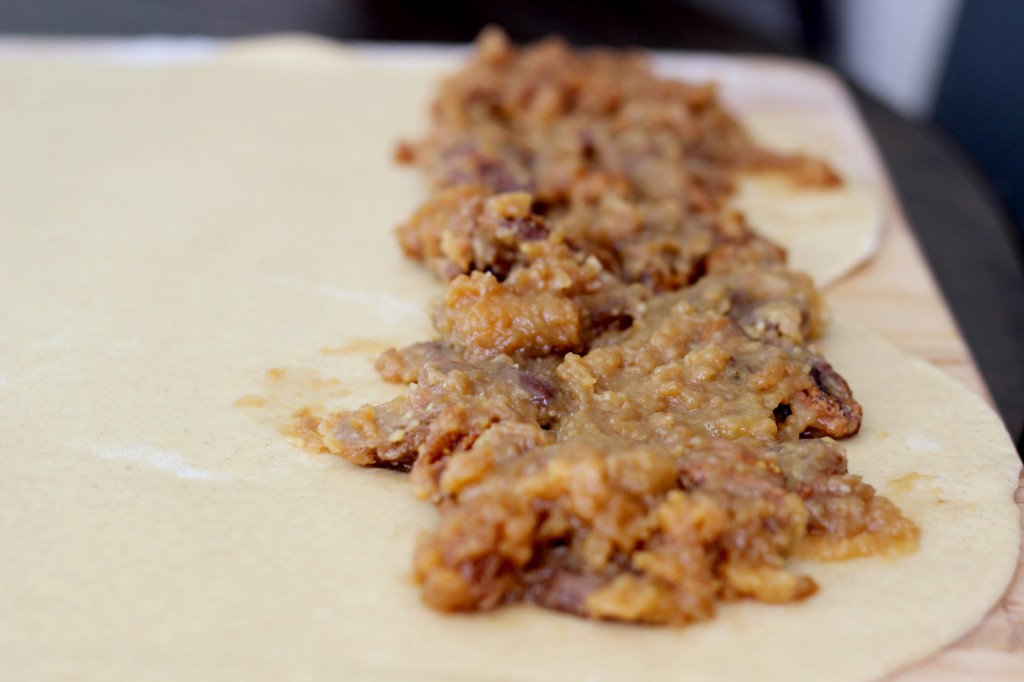 Why King Cake Two Ways? Well, as much as I don't like to admit it, both ideas came from my uh hum.. Husband.. Don't tell him I said that! We were driving home from church one day this past week and I said I need to make a King Cake for Mardi-Gras (we were born and raised in Louisiana) and his immediate response was "You need to put pecan pie in it." Genius I though but Wait! What! I am the one who is supposed to think of these grand inventions! Nonetheless, his idea was spot on and so the next morning I was in the kitchen hands deep in King Cake dough when I get an email from the husband that reads- YUMMM- see below. It was an article about someone in Louisiana making a boudin stuffed King Cake. Being the lovely wife that I am I sat in silence trying to decide what to do. Do I proceed with the pecan pie stuffed boudin or do I venture instead towards the boudin one. Having no idea what I was going to do for dinner that night I decided to just do both! Thus King Cake Two Ways!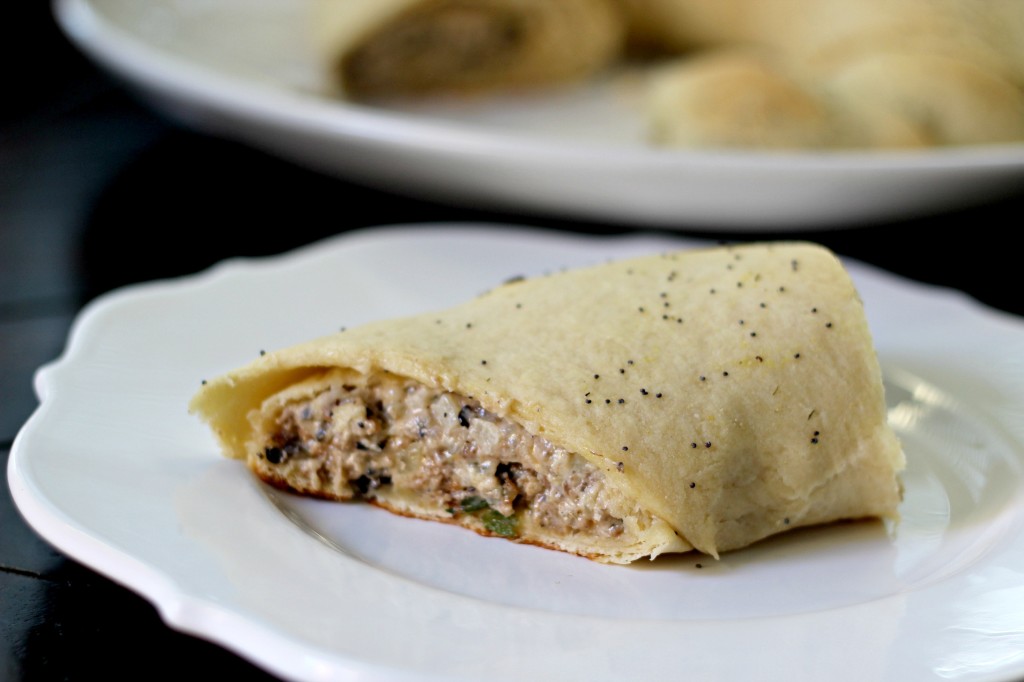 Now it is quite enough to make the king cake dough alone. It is taxing and time consuming so DO NOT and I repeat DO NOT attempt to make your own boudin or pecan pie just to destroy them both to stuff inside the dough. That would just be silly. I am all for going homemade but when the "store-bought" route is available go ahead and make your life easier. Not every aspect of a dish has to be homemade- can we say Sandra Lee?":))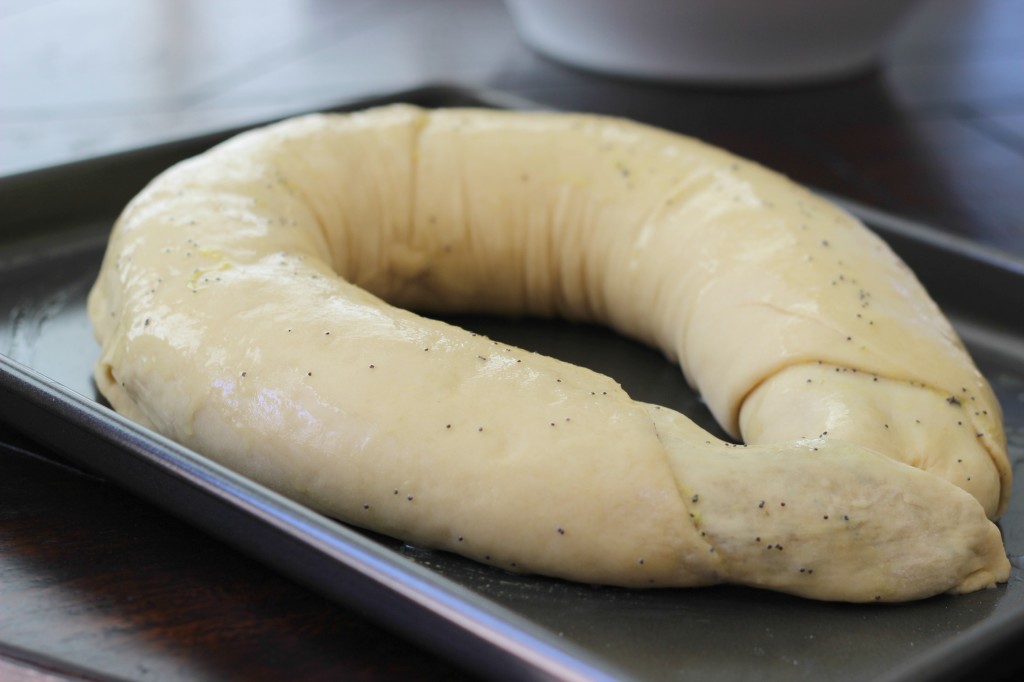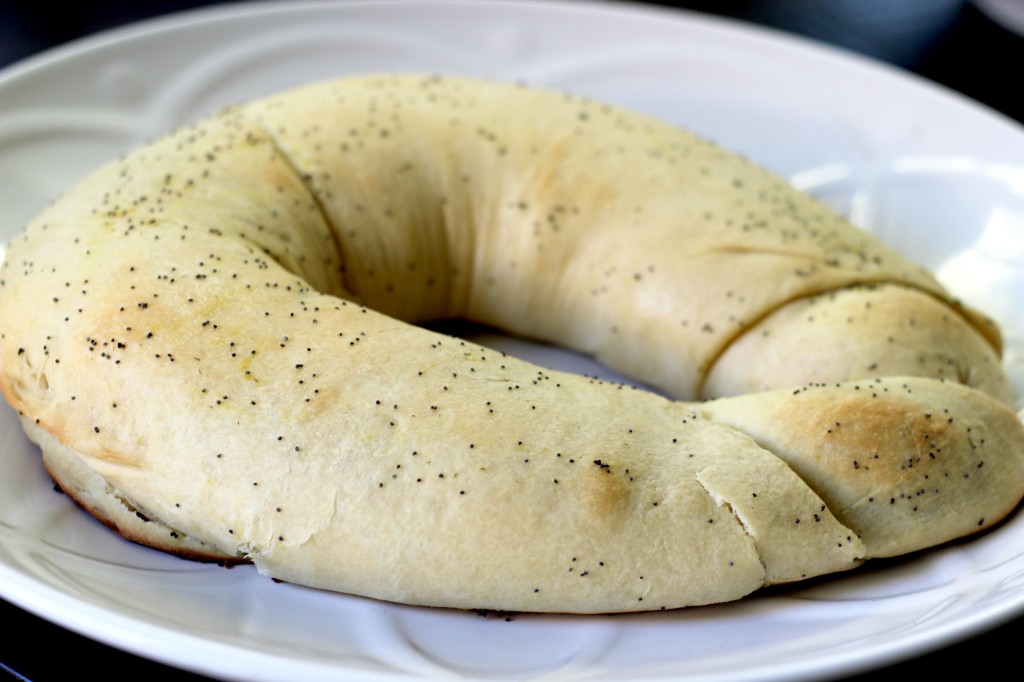 The key to this king cake bread dough is the cream cheese. I have yet to find another king cake recipe that I love. The cream cheese makes the dough light and chewy with that subtle sweetness we all love. With that said, I am not going to do any more talking about the dish. They are delicious and simply amazing. There are no words I can use to describe their yumminess so let's just look at them shall we?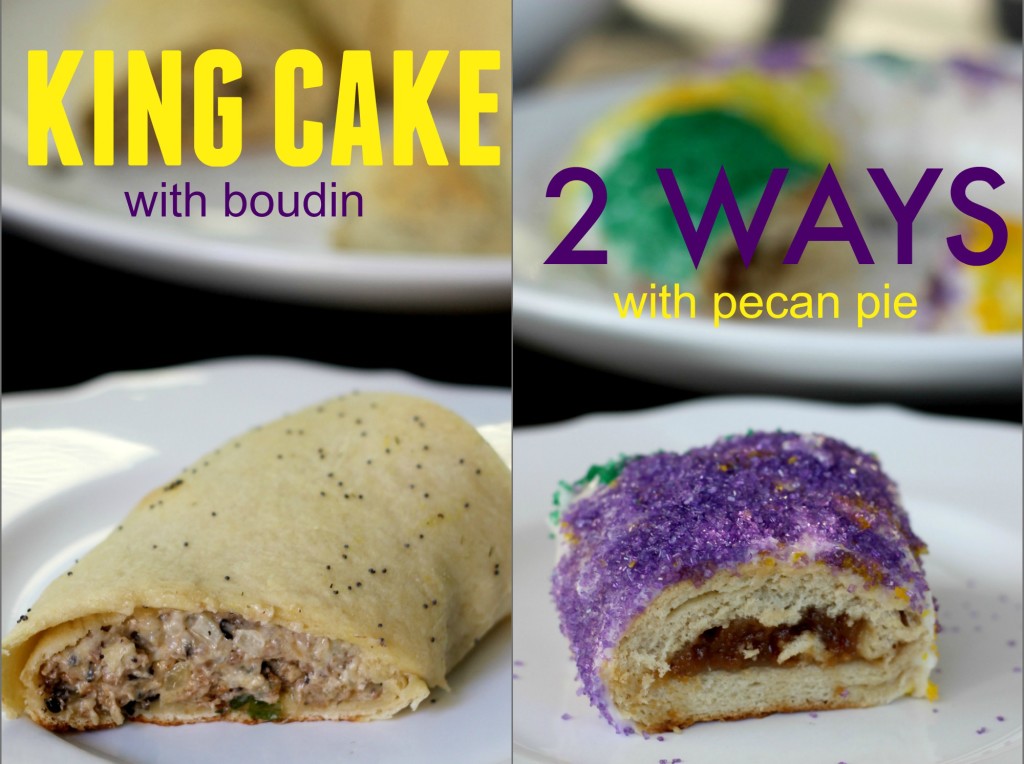 Pecan Pie Stuffed King Cake+Boudin King Cake
Author:
Kitchen Belleicious
Ingredients
For the Dough:
½ cup HOT WATER
1 pkg Active Dry yeast
2 TBSP Sugar
2 TBSP All Purpose Flour
4 TBSP Butter
4 TBSP Cream Cheese
¼ cup Skim Milk
3½ - 4 cup Flour (plus extra for kneading)
2 large Eggs, slightly beaten, room temperature
½ tsp Salt
1 tsp Cinnamon (omit if you are making the boudin stuffed version)
The Filling:
1 storebought pecan pie
or
4 links of boudin (heated)
2 ounces of cream cheese
⅛ cup of mayo
½ tsp salt and pepper each
3 TBSP parsley chopped
1 4 oz can chopped olives
Icing (for the pecan pie version)
2 cups Powdered Sugar
1 tsp Vanilla Extract
4 TBSP heavy cream
Instructions
If you are making the Boudin filled king cake then remove the boudin from its casing and heat in a skillet over medium to low heat for 5 minutes.Stir in the mayo, cream cheese, salt and pepper, olives and parsley. Set aside to cool.
Place yeast, 2 tablespoons of sugar, and 2 tablespoons of flour in a medium sized bowl and stir to combine. Be sure that water is between 105 and 110 degrees F and pour it over mixture. Stir to combine and set aside for 10 minutes.
Mix butter, cream cheese and milk in a small saucepan over medium low heat. Stir and mash the cream cheese until all ingredients are smooth and blended together. Remove from heat and set aside to cool. Mixture should be cool to room temperature before using. Combine 3 cups of flour, salt and cinnamon (omit cinnamon if doing the boudin cake) in a large bowl. Add eggs, yeast mixture and cooled butter mixture. Stir to combine. Add additional flour until mixture is tacky but not sticky (you may add as much a 1 full cup). Knead dough for about 10 minutes, adding additional flour if necessary, until smooth. Form dough into a ball.
Butter the bottom and sides of a large bowl. Place dough in bowl and roll it in butter on all sides. Cover with a towel and let dough rise for 1½ hours, until doubled in bulk. Punch the dough down and then roll it out on a large work surface to form a 20" x 14" rectangle. Brush the surface with the 3 tablespoons of melted butter. Place heaping spoonfuls of the pecan pie on the dough and spread it around gently at from the top to mid center of the dough. If you are doing boudin cake then place the boudin mixture and spread it out over the dough.
Starting on one edge, roll the dough into a 20" long tube. Pinch the seams to seal the tube along the length. Twist the dough starting on one end and ending with pinching both ends together and shaping the dough into a circle. Place on baking sheet -cover with a towel and let dough rise for an additional 45 minutes.
Preheat oven to 350 degrees F. Once dough has risen, Brush with butter if you are doing the king cake and brush with (2 tbsp butter melted mixed with 2 tbsp mustard and 1 tbsp poppy seeds). Bake for 30-35 minutes, or until golden brown and cake has a hollow sound when you thump it. Remove from oven and allow to cool completely.
For the Pecan Pie King Cake:
To make colored sugars, place ½ cup of granulated sugar in each of three sealable plastic bags (or containers). Add 12 drops of yellow food coloring in one bag. Seal the bag and shake vigorously to evenly color the sugar, being sure to break up any clumps with your fingers. Repeat the process with a second bag using 12 drops of green food coloring. With the last bag, combine 10 drops of red and 6 drops of blue food coloring to create purple. Set sugars aside.
In a medium sized bowl, combine powdered sugar, vanilla and cream. If it's too thin, add more powdered sugar.Using a pastry brush, drizzle and liberally brush the icing on all sides of the cake. Use all of the icing, even though some with drip onto the parchment. Immediately sprinkle sugars over icing in alternating rows of green, yellow and purple.