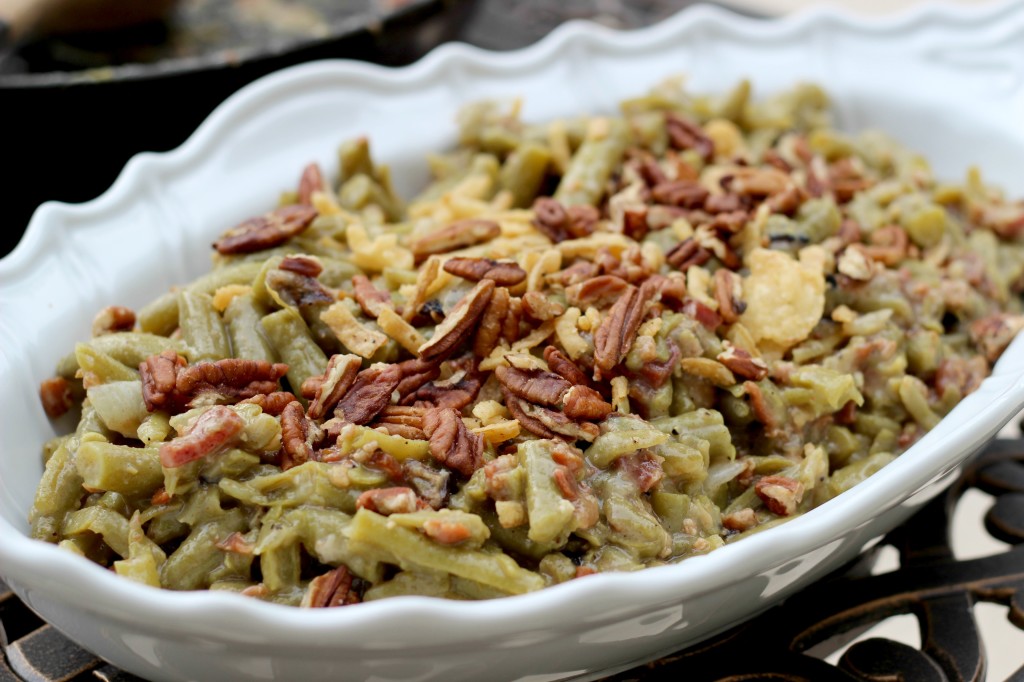 Who doesn't love classic green bean casserole with its creamy veggies and crunchy onion topping! The traditional version of this casserole uses cream of mushroom soup and French fried onions but there is another way to make this dish we have all come to know and love and that is from Scratch! The buttery rich creamy white sauce, sweet onions and salty bacon is guaranteed to push that old "canned" formula aside. It is comforting, rich and loaded with flavor. A must for the upcoming holidays!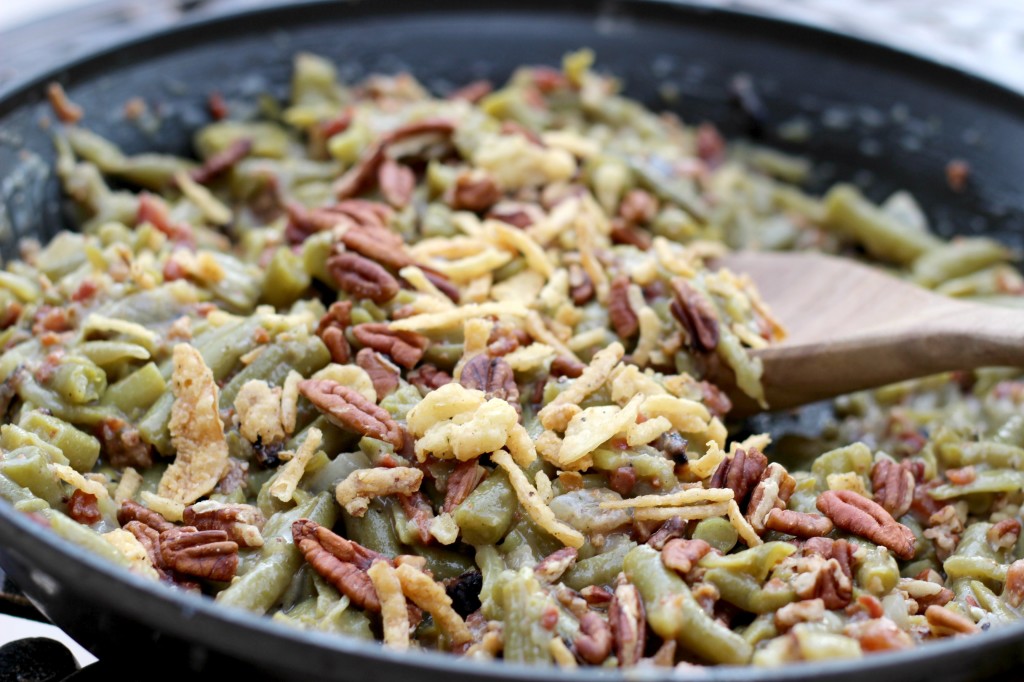 I can't say the entire dish is from scratch because I would be lying. I think its necessary to take baby steps when going from a canned cream of mushroom centered dish to a real authentic roux centered dish so in light of that switch I opted to use canned green beans. It saved me time this particular day and I am sure it would say you time in the kitchen on Thanksgiving Day but by all means use the time if you have it and go with the real beans. It will make a load of difference but one that is most likely to be masked by the outstanding roux flavor and texture everyone is in awe over. I did my onions a little different this time around as well. I enjoy the crispy onion texture on top but in the dish itself with every bite of green bean I want a subtle bacon and onion flavor not an overpowering one. So in order to make this happen I lightly dusted my diced onions with a mixture of flour, salt and pepper and then quickly panned-fried them in some oil and leftover bacon grease that I would then use to make the roux. It is like a dream come true. The onions were slightly crispy but still gentle and soft inside and it brought a different type of texture to the dish- more of a chewy onion texture instead of a crunchy one that you find on the top of the casserole. Best part of all- EVERYTHING WAS DONE IN THE SAME PAN! THE SAME PAN! I know I just made your day:)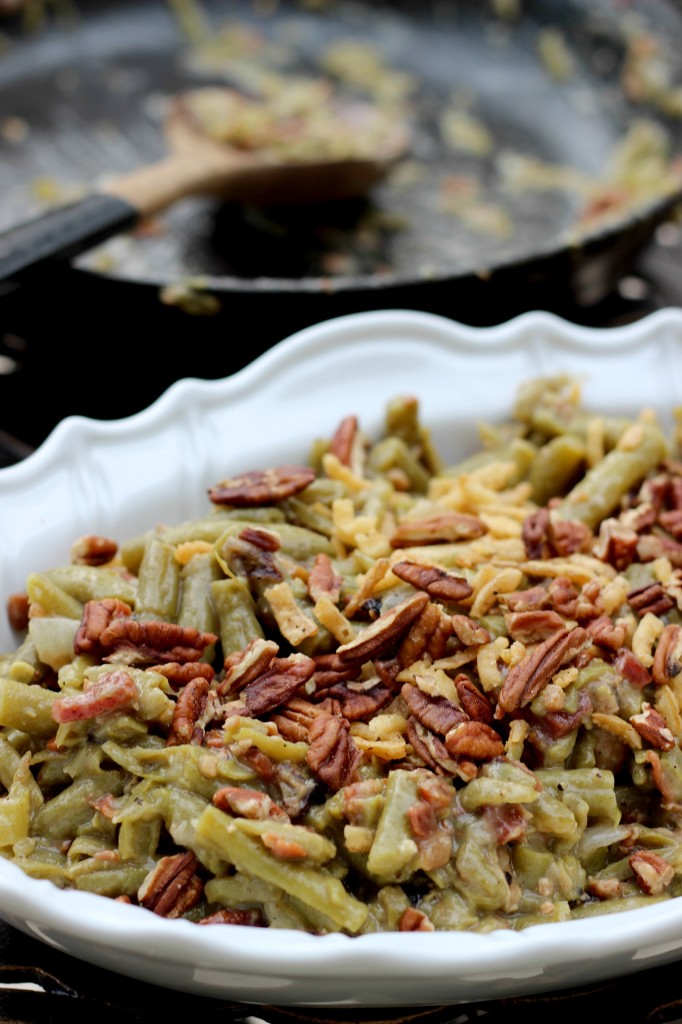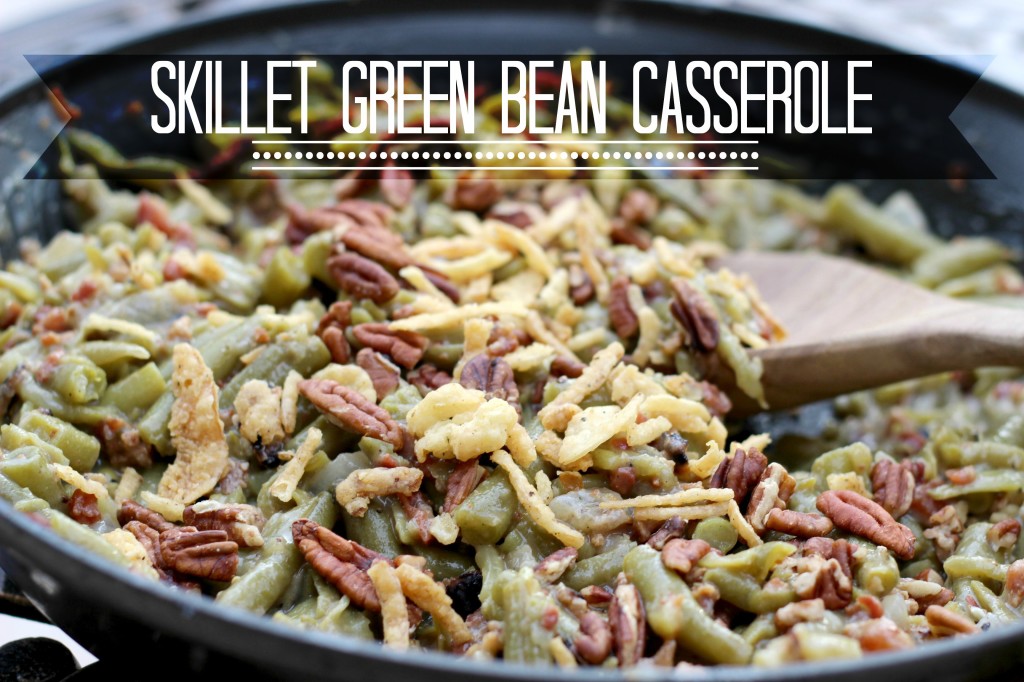 Skillet Green Bean Casserole
Author:
Kitchen Belleicious
Ingredients
4 TBSP unsalted butter
-1/2 large onion, chopped
-1/4 cup plus 4 TBSP Flour
-1/2 cup heavy cream
-3/4 cup chicken stock
-1 tsp salt and pepper each
-1 tsp Cajun seasoning
-2 tsp minced garlic
-Pinch of red pepper flakes
-2 TBSP Worcestershire sauce
-6-7 slices of cooked bacon, chopped
-2 28 oz cans of green beans, drained
-1/2 cup chopped pecans
-1/2 cup crispy fried onions
Instructions
Stir 4 TBSP of flour with ¼ tsp salt and ¼ tsp pepper. Toss with the chopped onions. Heat 3 TBSP of oil in a large cast iron skillet over medium to high heat. Pan-fry the onions for 5-7 minutes, stirring every so often to keep them from sticking to the bottom of the pan. Once they have a nice golden brown layer then remove from pan and set aside.
Melt the butter in the same skillet. Stir in the ¼ cup of flour and stir to combine. Cook for 1 minute. Add the broth and simmer for 1-2 minutes. Lower the heat to medium-low and add the cream.
Cook until the mixture thickens, stirring often, approximately 6 to 8 minutes. Add in the remaining ingredients including the cooked onions and chopped bacon leaving the green beans for last. Stir to combine and cover. Cook on medium low for 15-20 minutes. Top with extra layer of crispy onions and the pecans.