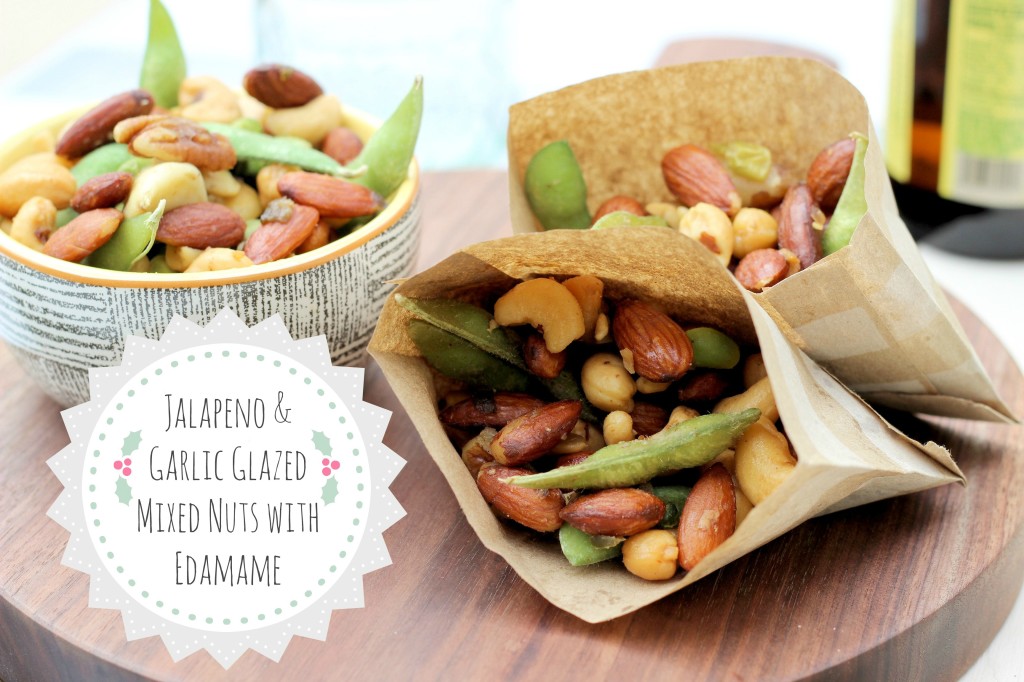 One of the first things people seek out at a holiday party is the appetizer table. Whether you came to the party full or hungry- appetizers provide just the right amount of fuel to keep your entertaining alive. No one wants to walk around with a huge plate of food- which is why when I plan a party or get together I like to have individual portions of appetizers for my guests to grab and go as they make their rounds. Nuts are a given for parties. I grew up eating a party mix that here in the South we call Trash (don't laugh til you have tried it). I know it sounds crazy but it's the most delicious thing in the world (aside from my newest creation Jalapeno and Garlic Glazed Mixed Nuts with Edamame). #gonuts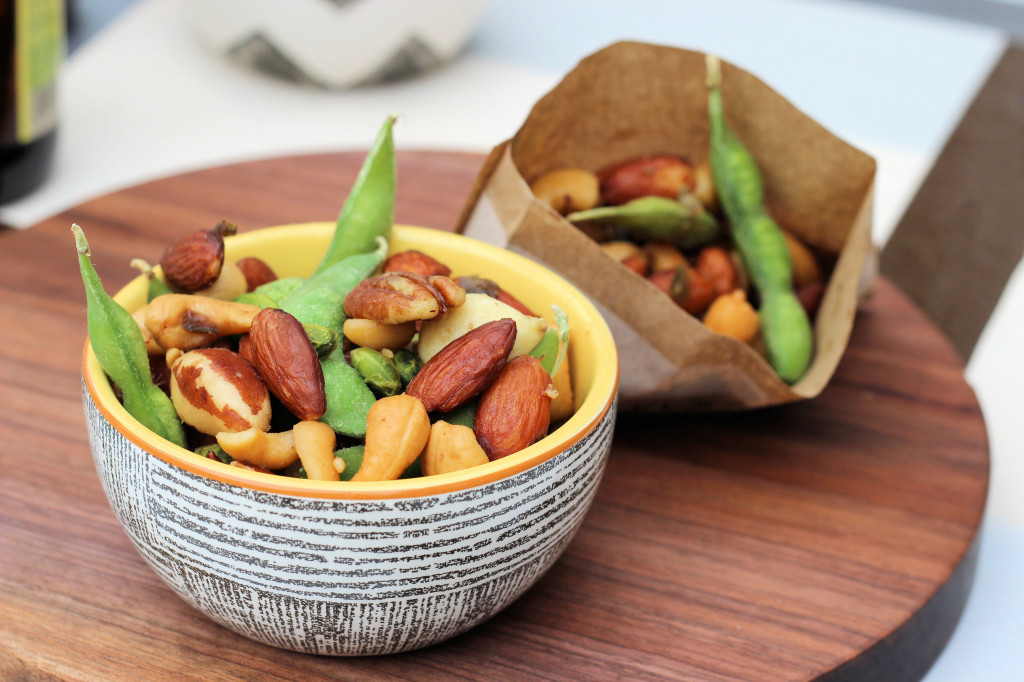 Now traditionally our trash mix is a long process. It requires the party mix to cook all day long and then cooled for another day or so before it is ready to be devoured. This is not something that can easily be done the day of a party. So… aside from making trash every year (bc that is just what we do) I am going with a new snack mix for my holiday parties that is going to knock the socks off my guests. I might even hand it out to friends and family in my annual Christmas goodie bags. The story behind this recipe goes: My husband came home about a month ago raving over this amazing edamame dish he had eaten at a certain Japanese restaurant. At the time I didn't really care about how grand this dish was seeing as how I had eaten turkey sandwiches for dinner with the kids while he dined on a four course meal with some clients. However, I secretly was listening (of course I was listening it had to do with food right?) and stored two little words in my phone as he kept talking- garlic edamame. It is simple but it is genius. Garlic edamame transforms the veggie into something  extraordinary. It brings the savory and that special punch that leaves you wanting more and more. Garlic edamame isn't going to keep your guests full though and it doesn't have that crunch that we all come to expect from an appetizer, so I decided to combine a few of the flavors from my traditional trash mix (are you really still laughing at the word trash) with the flavors of garlic and jalapeno to create the most amazing appetizer you will ever have. Seriously, this one goes down in the books!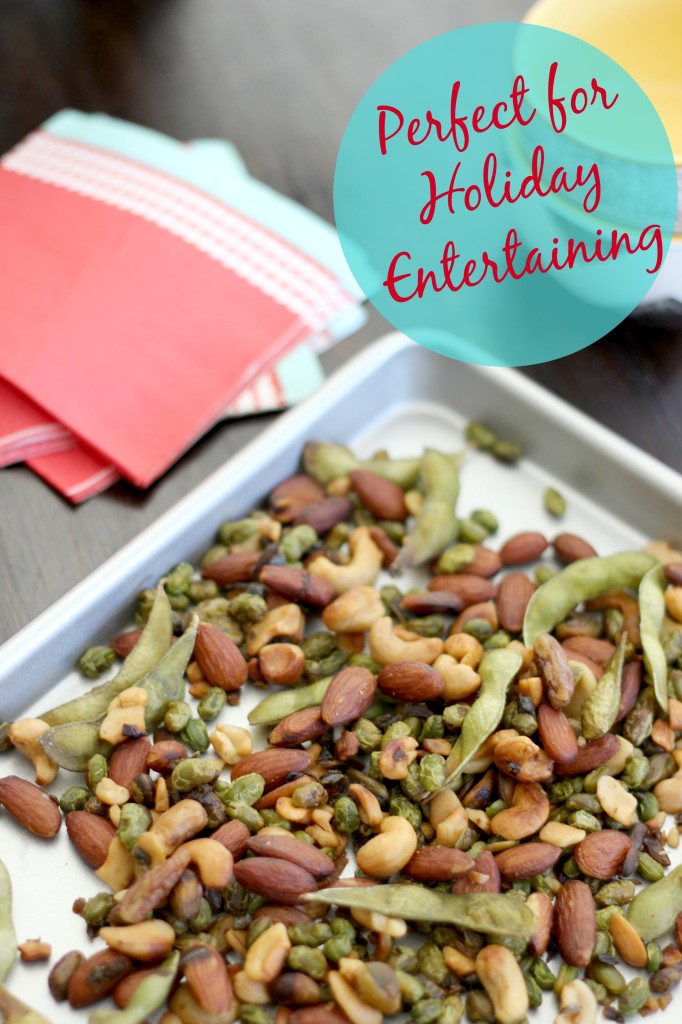 The key to this appetizer is a really good mix of nuts. I like to use Planter's Deluxe Mixed Nuts with the walnuts, brazil nuts, pistachio kernels, pecans, almonds, and cashews. It has a great combination of sweet and salty.  On a side note: I was beside myself when I found out the new flavors from Planter's this holiday season- Get this! The new peanut flavors include Salted Caramel, Cocoa, Chipotle and Smoked Peanuts. Seriously good stuff- I mean Salted Caramel Nuts? Come on! Back to my nut mix- The use of the diced jalapeño and garlic in the glaze mixture adds a distinctive hot, smoky but sweet flavor to the dish and pair so nicely with the edamame. Consider yourself warned though- the Jalapeno and Garlic Glazed Mixed Nuts with Edamame is rather addicting.
In the midst of all the holiday entertaining remember to make it easy on yourself when it comes to the food. Don't forget to put out the good stuff this holiday season. With their unique combination of good fats, dietary fiber, and vitamins and minerals, nuts make a deliciously powerful addition to any holiday festivity. You can find more entertaining ideas with Planters on MrPeanut.Tumblr.com #gonuts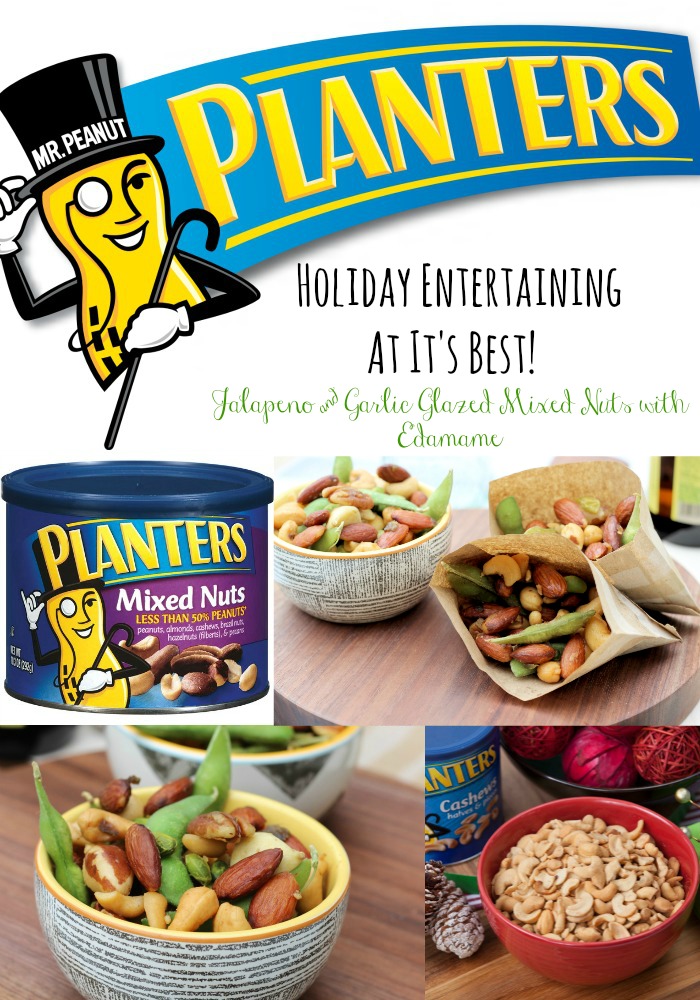 Disclosure Statement: This post was sponsored by Kraft Food's. Kraft Food's provided the product samples. I have received compensation for the product review and accompanying recipe; however, the opinions expressed in this post are entirely of my own.
Jalapeno and Garlic Glazed Mixed Nuts with Edamame
Author:
Kitchen Belleicious
Ingredients
3 cups Planter's Deluxe Mixed Nuts
1½ cup shelled edamame
1 cup of unshelled steamed edamame (optional)
2 TBSP Butter
1 TBSP olive oil
2 whole garlic cloves and 1 garlic clove minced
2 TBSP Worcestershire sauce
2½ TBSP Brown Sugar
2 TBSP minced jalapenos
Dash of salt and pepper
Instructions
Place the butter, brown sugar, whole and minced garlic, diced jalapeno and Worcestershire sauce in a medium sauce pan. Stir to combine , allowing the butter and brown sugar to melt. Once melted turn the heat to low and cook for an additional 5 minutes. Remove from heat.
Toss the glaze mixture with the mixed nuts and shelled edamame. Pour out onto a parchment or wax lined baking sheet and lightly dust with salt and pepper. Bake at 250 for an hour. Allow to cool completely, loosely covered with foil. Just before time to serve cook your un-shelled edamame according to the package directions and toss with the mixed nuts.