RICH SMOKEY AND DELICIOUS! THICK AND HEARTY!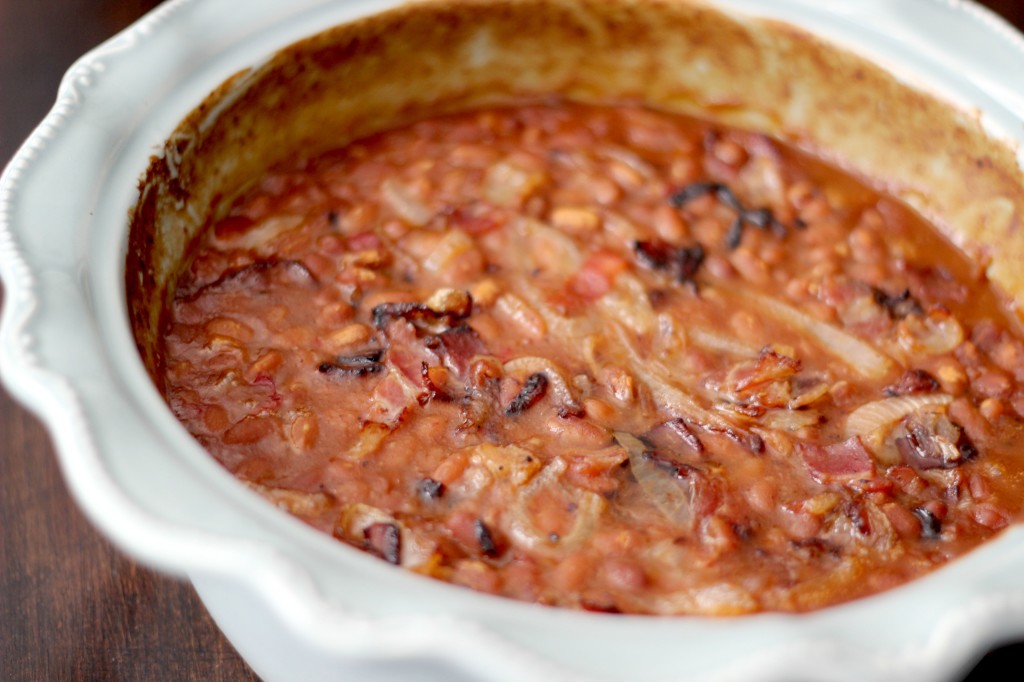 I have been craving baked beans for some time now. We have had them twice over the past month and I have no reservations about it. They are simply just too good! Southern style baked beans are one of those dishes you MUST KNOW HOW TO MAKE. Regardless if you are Southern or not these beans speak to your heart, satisfy your stomach and automatically propel the cook to authentic Southern status. I realize I'm really caking it on but this is serious stuff. Caramelized onions, sweet crispy but still chewy bacon and a hint of tanginess and richness from the bourbon turn casual beans into something magical. I don't know a man who doesn't like beans and like my grandmother/mom/aunt/any Southern women will tell you-the way to your mans heart is through his stomach. With these bourbon baked beans consider yourself loved!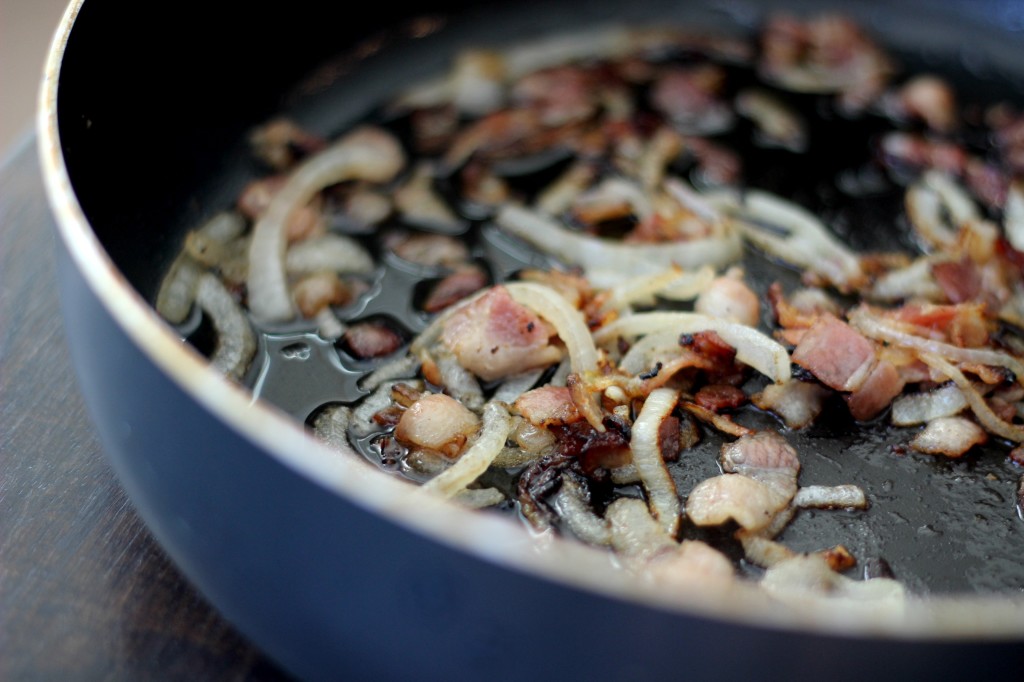 I know what you next thought is- I DON'T HAVE TIME TO BAKE BEANS. True- if you are as busy as I have been these past few weeks then you probably don't have time to bake beans from scratch. But you DO have time to pop up a can of store-bought beans and go to work on them. Yes you heard me right. My southern style baked beans come straight from a can! The horror I know-but its true. Don't let every cook lie to you and tell you they always cook their beans from scratch! There just isn't time for that on certain days- at least not in my house!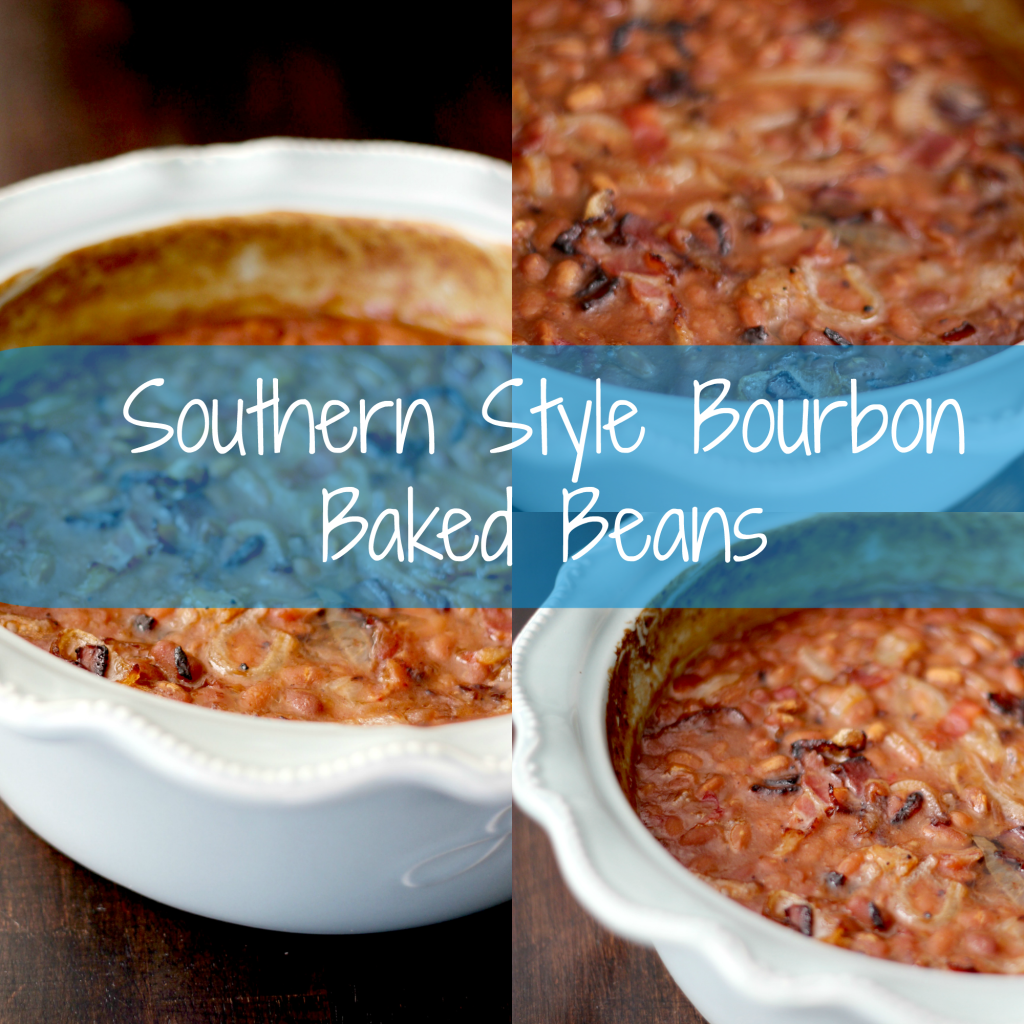 If you are a bacon lover like myself then you will be overjoyed to know that this bean dish doesn't just layer the bacon slices on top or have the bacon crumbled as a topping before serving but rather the bacon is slightly cooked beforehand and then chopped up and allowed to finish cooking in the beans. Oh and I don't just mean a few slices of bacon. I mean A WHOLE BUNCH of bacon. Yes, Yes I did! The bourbon adds a wonderful tangy and rich warmth to the baked beans and brings out the flavor of the onions. The alcohol gets cooked out during the baking process but the flavor remains strong. There isn't one aspect of these baked beans that you wouldn't adore. Go ahead- Get your Southern On!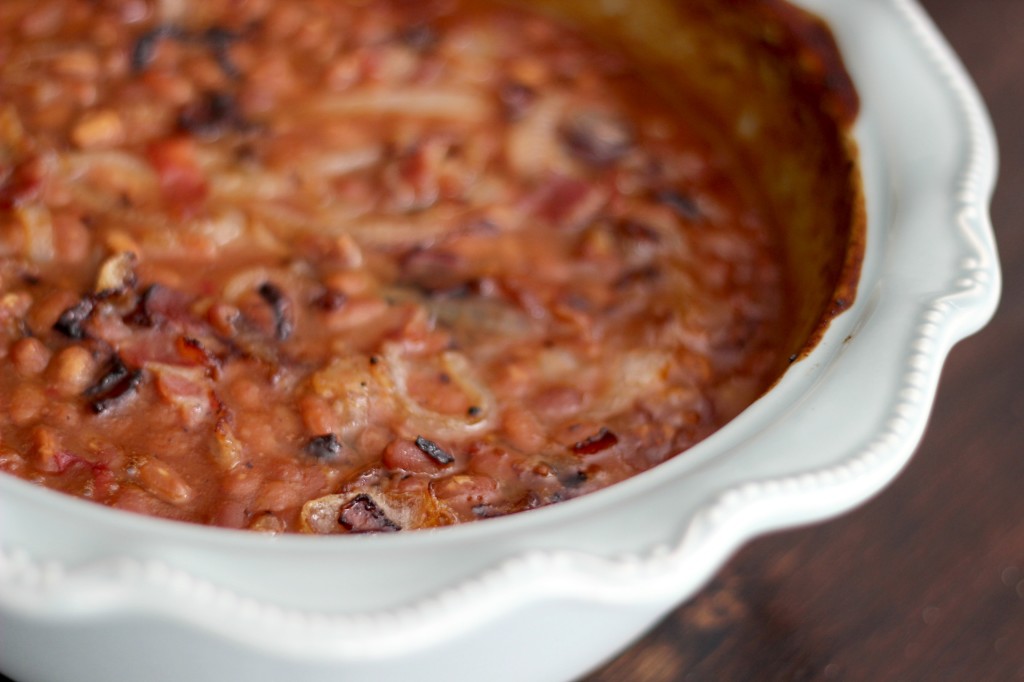 Southern Style Bourbon Baked Beans
Author:
Kitchen Belleicious
Ingredients
1 28oz. cans of baked beans
8 slices of bacon, roughly chopped
½ onion, chopped
2 TBSP dijon mustard
⅓ cup brown sugar
3 TBSP molasses
½ cup ketchup
¼ cup bbq sauce
1 TBSP worchestire sauce
1 TBSP apple cider vinegar
2 TBSP Good Bourbon
1 tsp salt and pepper each
1 tsp cajun seasoning
Instructions
In a medium skillet, add the bacon and onion. Cook until bacon is slightly crisp and onion is tender. Remove from heat. Stir together the remaining ingredients except for the beans. Place the beans in a large stockpot or oven safe baking dish. Pour in the sauce cAdd Worcestershire sauce, molasses, brown sugar, ketchup, and yellow mustard. Stir to combine well. Pour into deep dish you plan to serve from or leave in stockpot. Top with bacon and sprinkle top with brown sugar.
Place in oven and bake 45 minutes. Increase temperature to 425º F for 10 minutes to crisp bacon. Remove from oven and allow to rest about 5 minutes before serving.