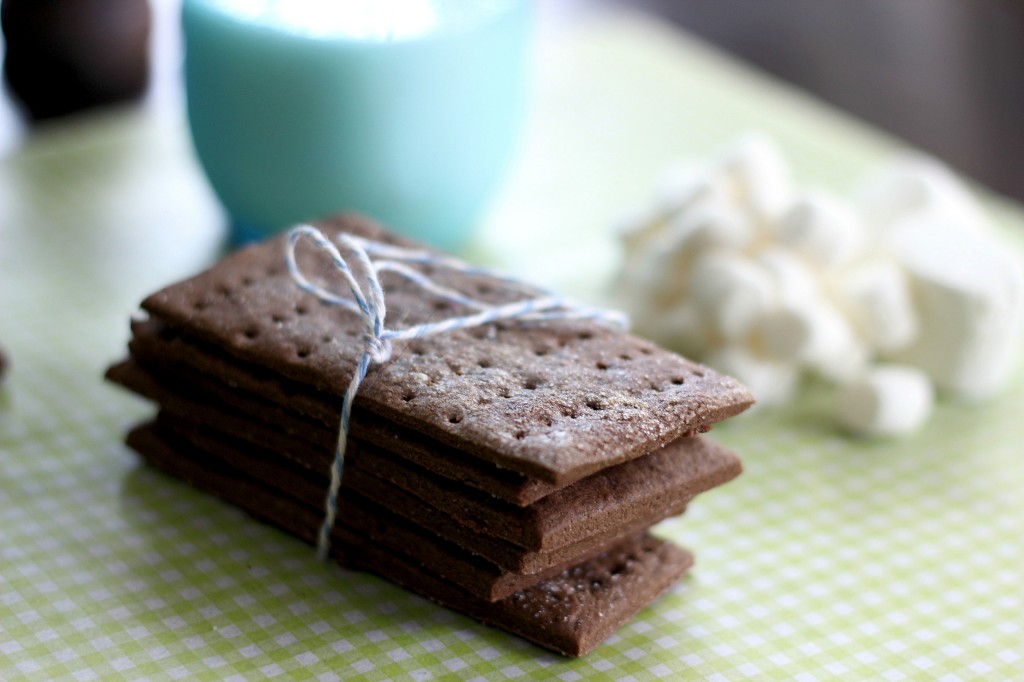 The flavor of Chai! It does wonders to my senses and brings back memories of studying like a crazy person in the local Starbucks while attending LSU. I was a staple at Starbucks, I am pretty sure they might still remember me if I walked in and ordered a chocolate chip cookie (duh?) and a Venti Chai Latte. It was my thing, my signature drink and God bless him, my husband to this day remembers to bring me one  in the fall when he is near a Starbucks.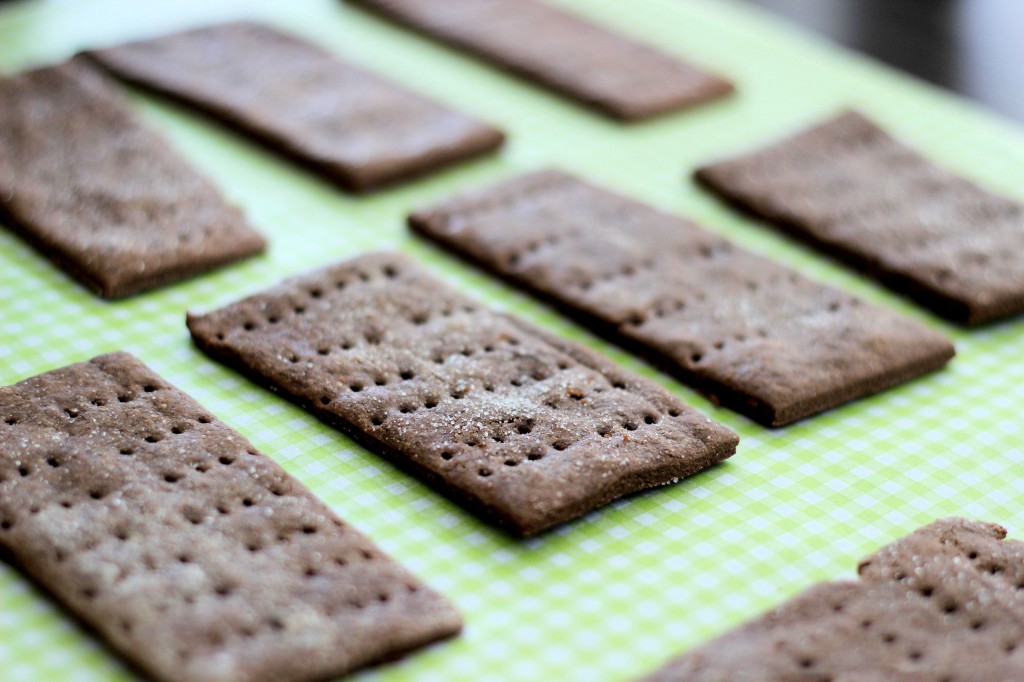 In honor of the cooler weather (Note: I didn't say colder- that just doesn't happen here in South Texas during the fall) I wanted to do a slight twist on my favorite cold weather drink of choice and make it into a dessert. This is no typical dessert. The strong aromatic flavors of the spices and the rich sweetness of chocolate make for the perfect flavor to graham crackers. Not only are these graham crackers but they are gluten free graham crackers if you so chose (by substituting the All-Purpose flour with homemade Cup4Cup mix) .Typically I am the dessert lover in the house. If I make a cake, I usually have 3/4 of it, a pie- hubs will maybe have a slice or two but graham crackers.. For some reason graham crackers speak to both my boys and my man. Of course kids love these crunchy bars but for adults I think  they remind us of being a child and it just warms our heart and might I say satisfies our stomach:)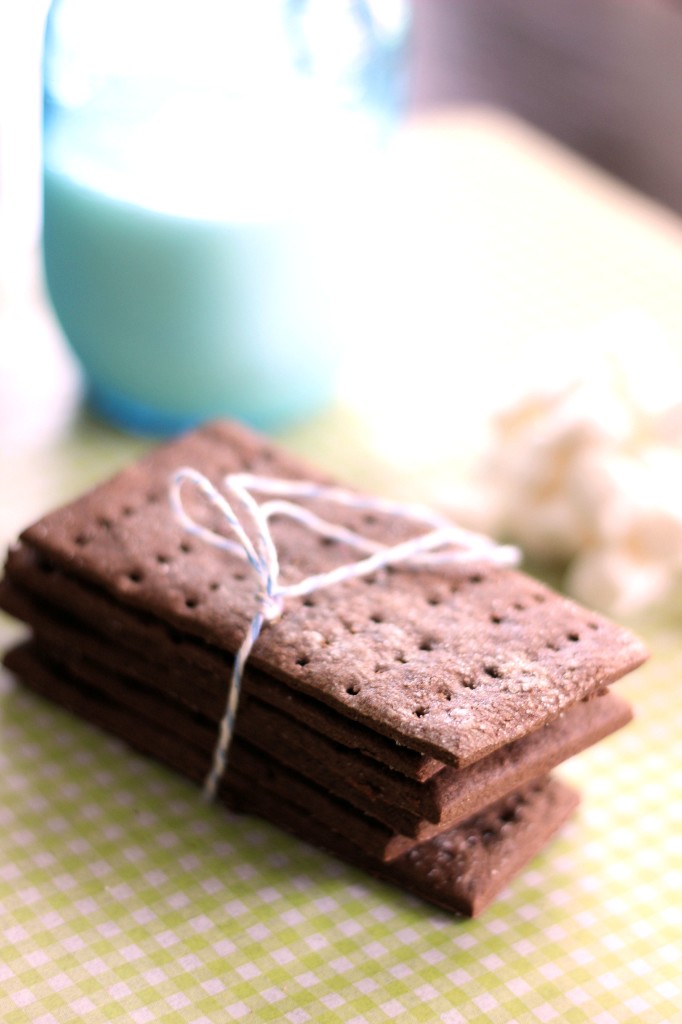 These Chocolate Chai Graham Crackers will make the perfect ending to a comforting hearty soup or simply drop them off at a friends' house this fall and bring someone unexpected JOY!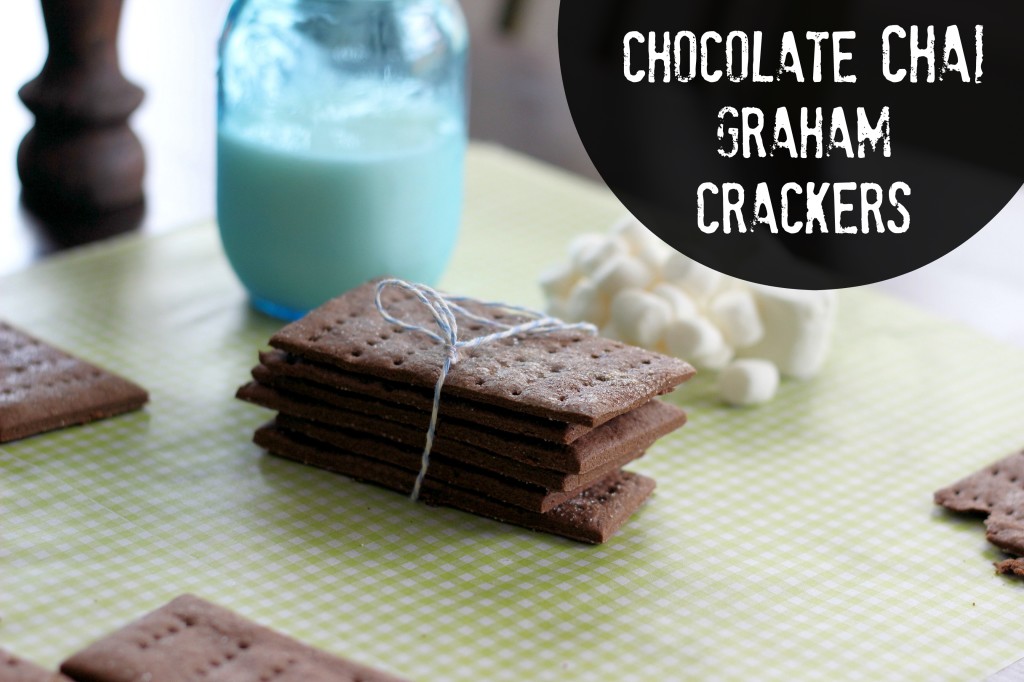 I now hold you personally responsible to make this dessert:)

Chocolate Chai Gluten Free Graham Crackers
Author:
Kitchen Belleicious
Ingredients
1¾ cups all-purpose flour or same amount using Cup 4 Cup Gluten Free Flour Mix (Click Here for my Homemade Version)
¼ cup unsweetened cocoa powder, plus additional cocoa powder for flouring surface
1 cup almond flour
¾ cup dark brown sugar, tightly packed
½ teaspoon baking soda
½ teaspoon Kosher salt
5 tablespoons unsalted butter, cold, cubed
¼ cup honey
¼ cup whole milk
1 tablespoon vanilla extract
1 tablespoon sugar
Chai Spice Mix:
2½ teaspoons ground cinnamon
1 teaspoon ground cardamom
1 teaspoon ground ginger
½ teaspoon ground allspice
¼ teaspoon finely ground black pepper
¼ teaspoon ground cloves
Instructions
Preheat oven to 350°F. Combine flours, cocoa, sugar, baking soda, chai mix and salt in the bowl of a food processor and pulse until thoroughly combined. Add butter and pulse, scraping down sides as necessary until pea-sized chunks remain, 1 to 2 minutes.
In a medium bowl whisk together honey, milk, and vanilla until thoroughly combined. Stream mixture into the food processor while running; dough should come together in a ball after a minute or two. Divide dough into two balls, flatten into large disks, wrap in plastic wrap and refrigerate until dough is slightly firm, about 30 minutes.
On a large surface lightly floured with cocoa powder roll dough out to ⅛" thick. Using your cutter of choice, cut out rounds or rectangles and transfer to parchment lined baking sheets. Prick cookies with a fork and bake for 8-10 minutes or until dry to the touch. Halfway through baking remove cookies from oven and sprinkle with granulated sugar, if desired. When cookies are done remove from baking sheet and transfer to wire rack to cool completely.