Halloween is right around the corner and although we don't partake in all the scary decorations and such we do like to celebrate it when it comes to food! Go figure right? I found myself buying the cutest little monster cake pan the other day at Target and so I had the idea of not only doing monster cakes with the kids but tossing in a few other fun treats that they to could help me with. So in light of the upcoming holiday- let's get in the kitchen with our kids and cook up something fun!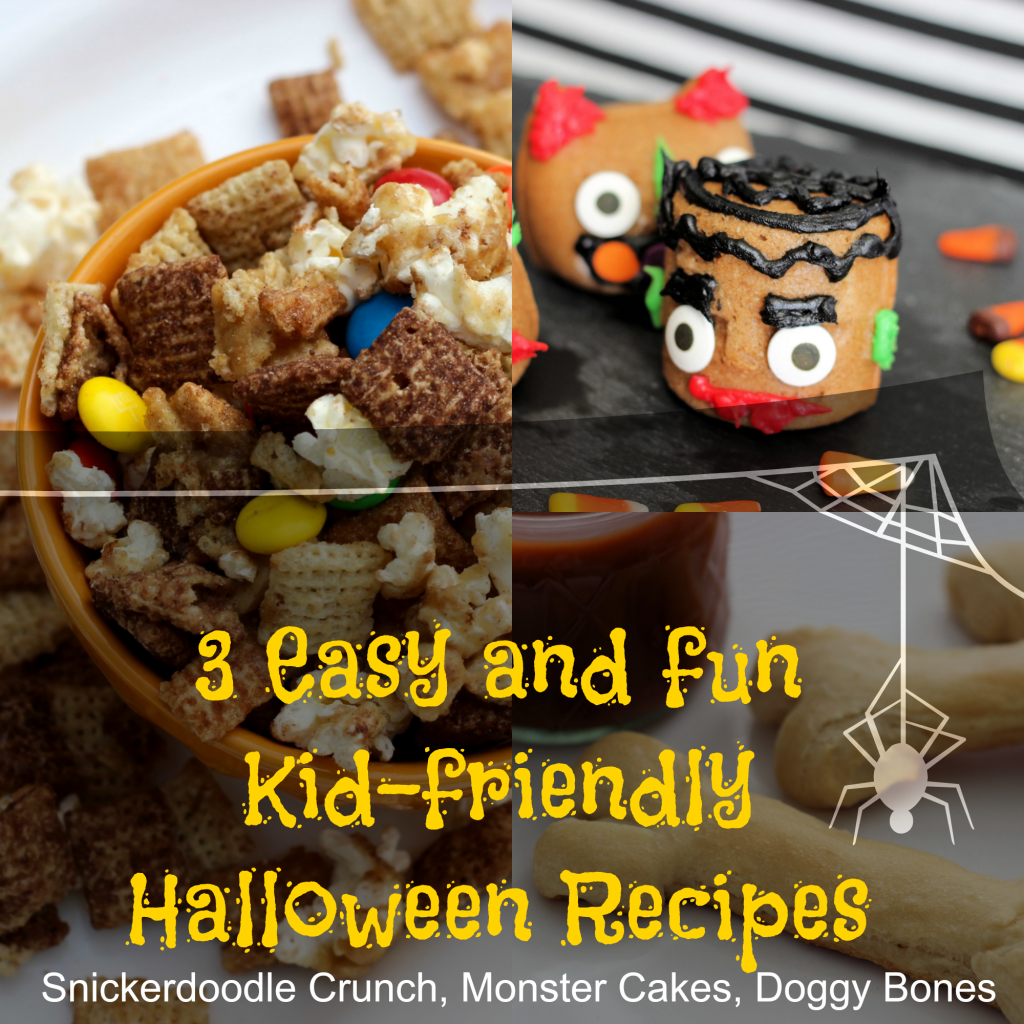 Almost every kid I know just adores snickerdoodles. They are packed with flavor and so chewy. Imagine the flavor of a snickerdoodle tossed around a bowlful of chex mix, popcorn and m&m's. It's like every child's dream come true! The homemade caramel COULD NOT BE ANY EASIER TO MAKE and the cinnamon adds a nice punch- especially to the popcorn because it gets in those nooks and crannies and the popcorn just soaks it up!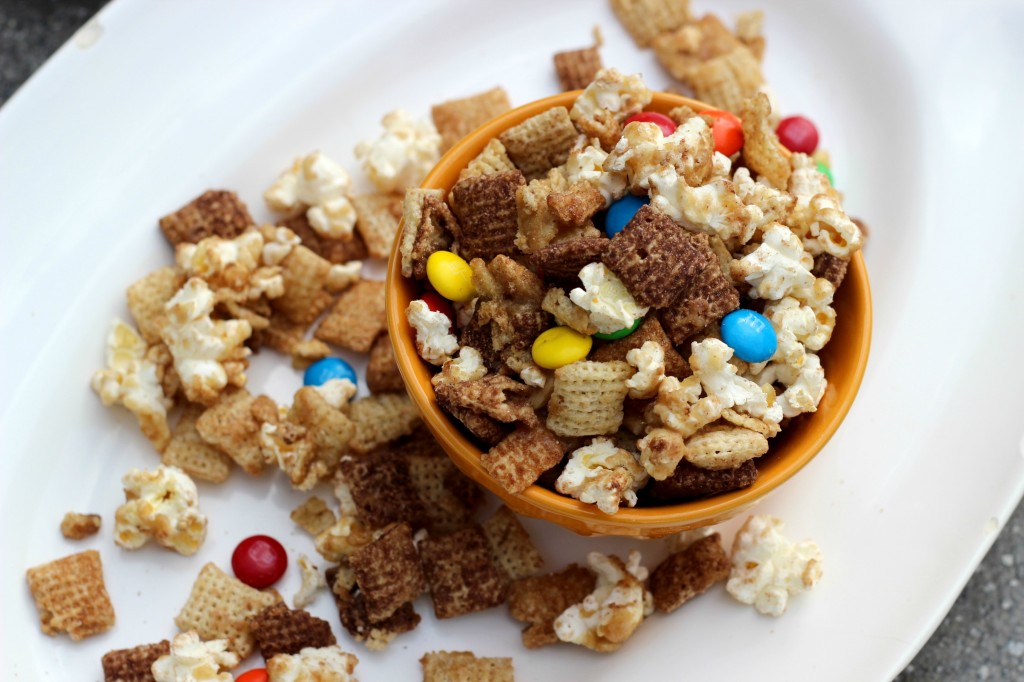 Monster Cakes are just that- Spice Cakes baked in the form of monster faces and then decorated. Let the kids have fun decorating the faces. Make sure to grab different icings, candy eyeballs, candy corn and any other edible goodie you might see fit to adorn your monster:)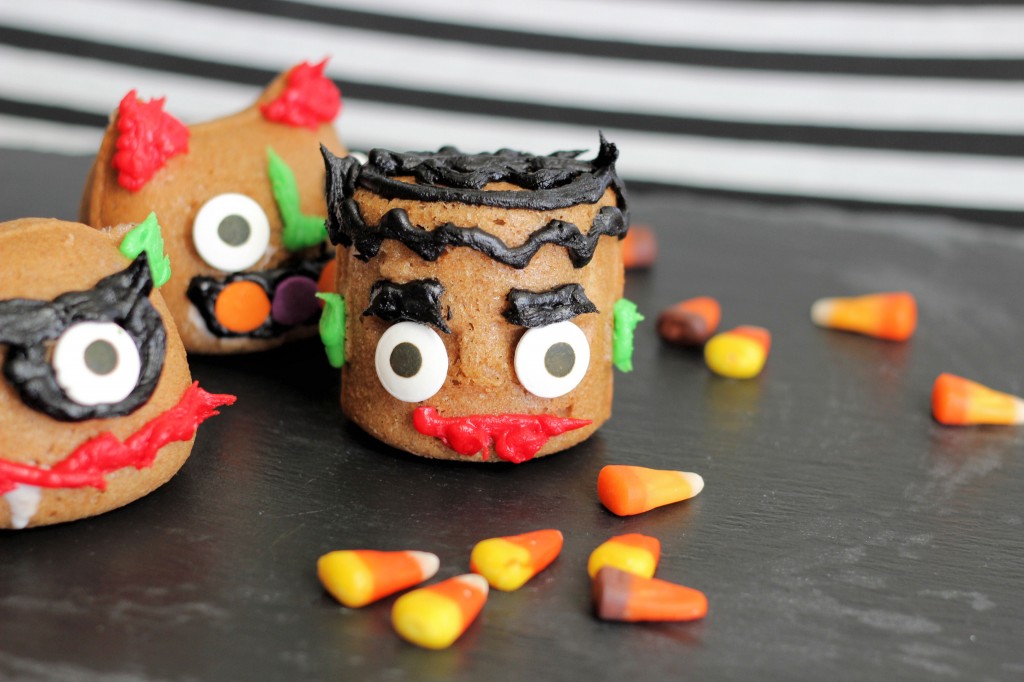 Doggy Bones! The name alone is too cute but add in the idea of chipotle marinara dipping sauce and now everyone wants a bone:) Now with these doggy bones you can go the easy route or the hard route. Yes, I know why even give you a choice right? The easy route of course is EASY but the hard route does have it benefits. You are able to form the ends of the "bones" with a bit more ease when you are dealing with homemade dough and they bake up more consistently without getting to puffy. However, store-bought breadsticks can and will do the trick and by all means just have fun wit h it. The point is to be in the kitchen with your kids!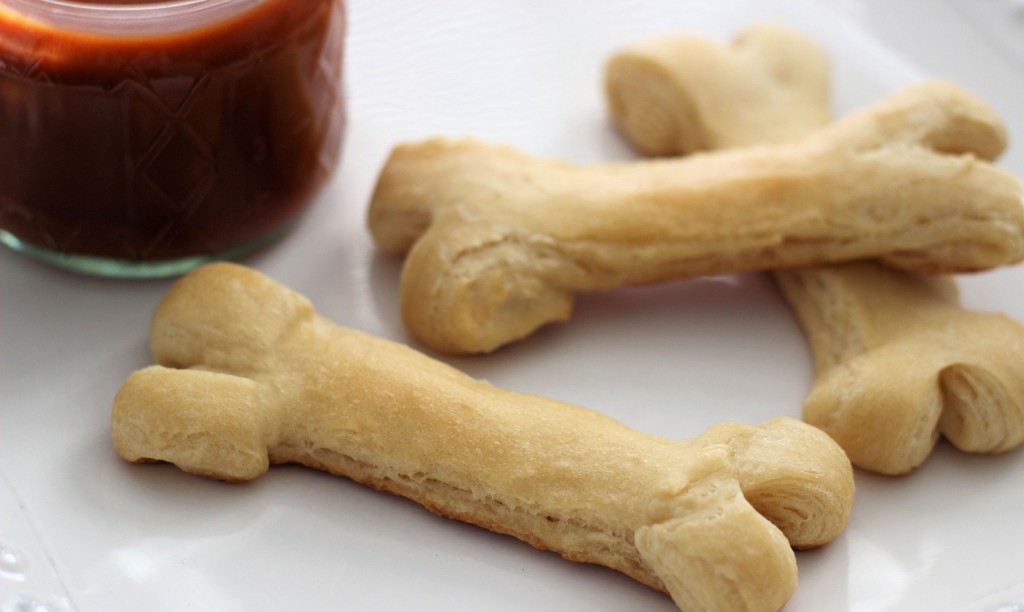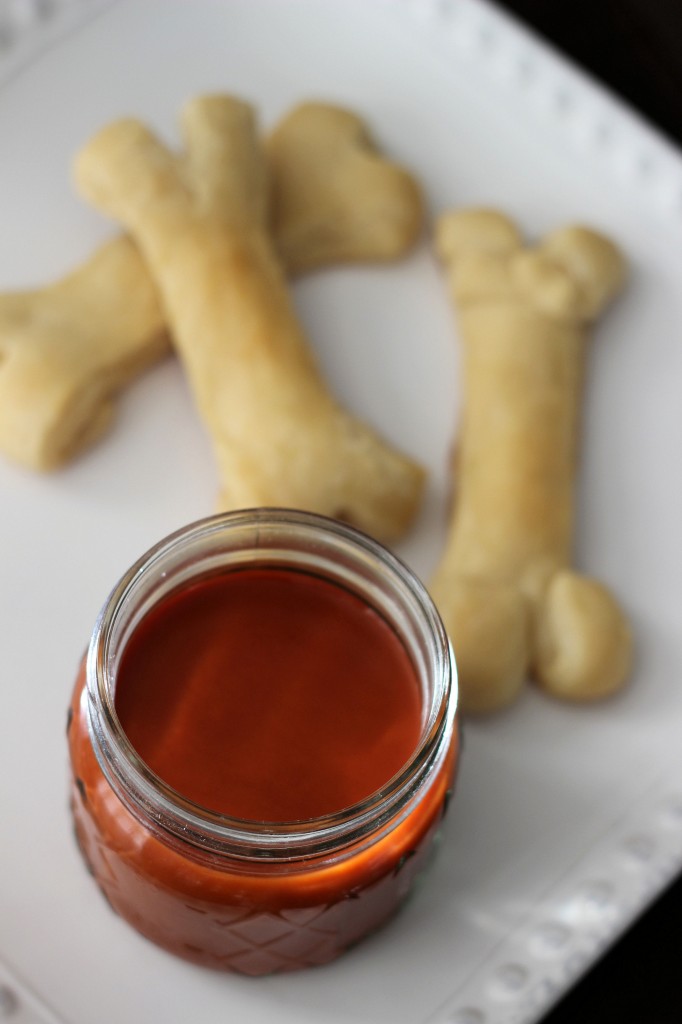 Snickerdoodle Crunch
Ingredients:
2 cups chocolate Chex mix
2 cups cinnamon Chex mix
3 cups popped kettle corn popcorn
2 TBSP dark Karo syrup
2 TBSP sweetened condensed milk
3 TBSP unsalted butter
pinch of salt
Directions:
Stir together the popcorn and chex mix. In a microwave-safe bowl melt the syrup, milk, butter and salt for 1 minute at 30 second intervals. Stir until all combined and pour over the chex mix. Toss to coat and then spread out onto a baking sheet lined with wax paper. Allow 1 hour to set. Store in a ziploc bag or container.
Monster Spice Cakes
Ingredients:
1 1/4 cups all purpose flour
1 cup brown sugar
2 tablespoons corn starch
2 teaspoons baking powder
1/4 teaspoon salt
1 teaspoon vanilla
1/2 cup butter, softened
1/2 teaspoon ground ginger
1/2 tsp nutmeg
3 teaspoons pumpkin spice
Directions:
Stir together the flour, sugar, corn starch, baking powder and salt. Add in the pumpkin spice, nutmeg and ginger. Cream together the butter and sugar. Add in the egg and vanilla. Add in the flour mixture and milk by alternating between the two until none remain and their are no lumps in the batter. Pour the batter into your monster cake pans or prepared baking pan and bake at 350 for 20-30 minutes depending on the size of your pan. 15 minutes for smaller muffin like molds and 20-30 minutes for larger molds, bundt pans, etc.
Doggy Bones with Chipotle Marinara Sauce
Ingredients:
1 can of tomato sauce
2 TBSP adobe sauce
2 tsp minced garlic
1 tsp smoked paprika
1 tsp sugar
1 tsp onion powder
pinch of salt
Directions:
For the sauce: In a medium saucepan over medium to low heat, stir together the tomato sauce and adobe sauce. Season with the paprika, garlic, sugar, salt and onion powder. Bring to a simmer for 10 minutes. Allow to cool to room temperature. For the doggy bones, roll each piece of breadstick dough into a thin rope then shape ends into knobs to create a bone look. Bake in a preheated oven for 10-12 minutes or until golden brown.