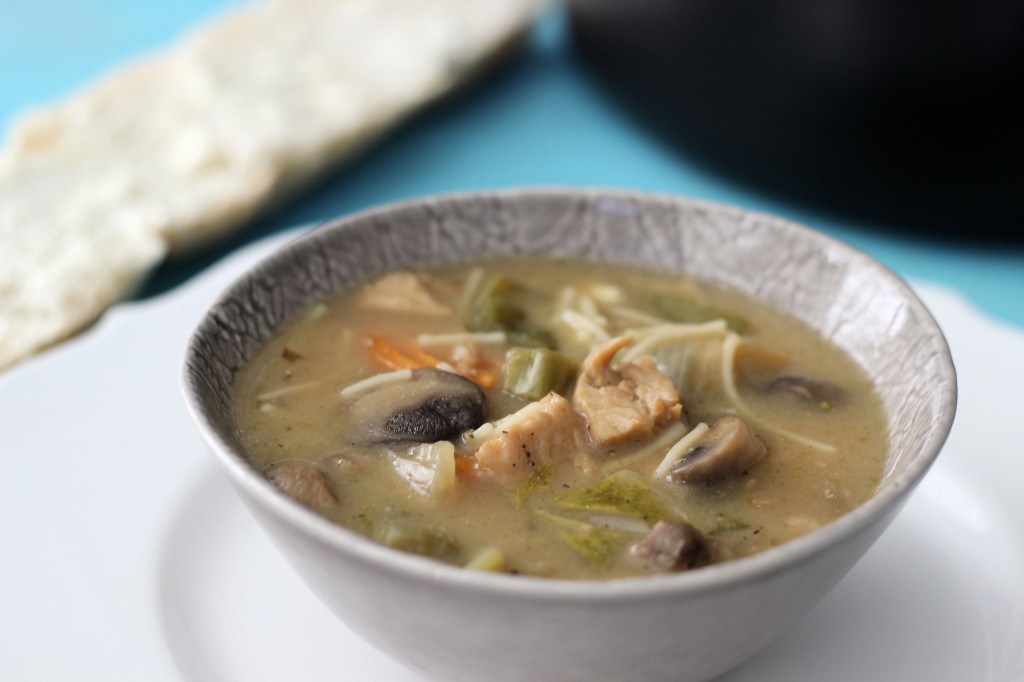 It's that time of year when everyone in the house unfortunately starts to get sick. The kids are in school and bringing home the goods, a.k.a germs and a few weeks back this horrible cold swept through our family leaving no one unscathed. When sickness hits a family the first thing that comes to mind is Chicken Noodle Soup. Did you know that it has been proven that Chicken Noodle Soup really does help with a cold. It doesn't heal it but it can shorten the time you have the cold and help give your body the energy it needs to fight. I guess our moms and grandmothers have been right all this time:)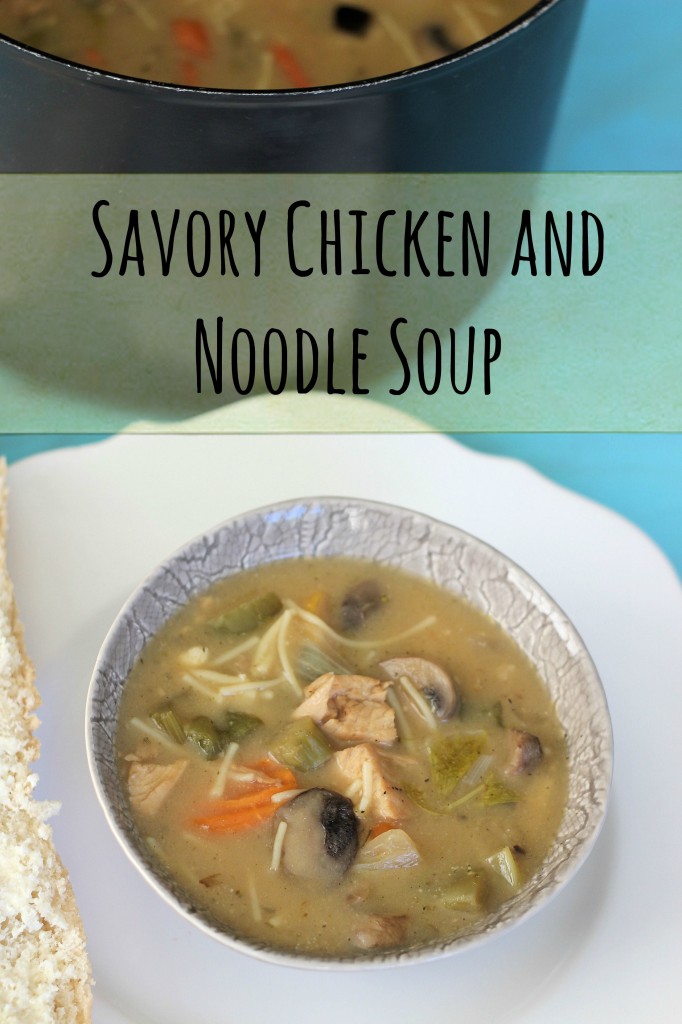 Chicken noodle soup is one of my favorite things to make because I make it different each time based on what I have on hand. I have a simple version with just noodles and chicken and a more complex version with a load of hearty veggies, a hint of coconut milk and more herbs than you can wrap your mind around.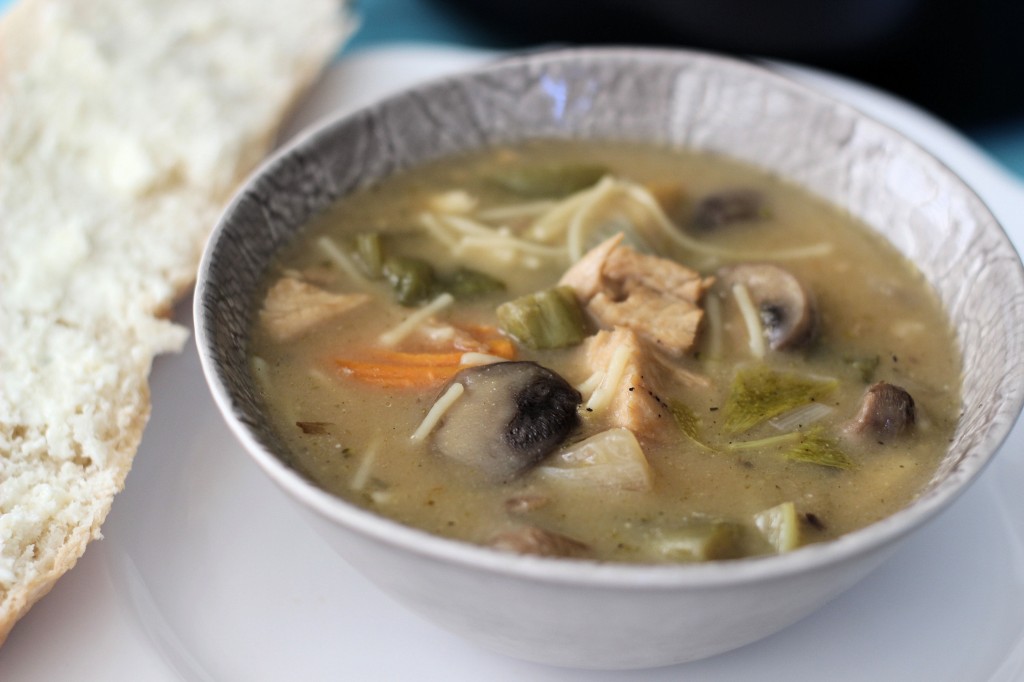 This soup is rich, hearty and perfect for dinner. The smell of it alone will bring you back to your childhood and make you all warm and tingly inside. As with most soups, my chicken noodle soup is very versatile. While I don't recommend taking out any ingredient you can by all means substitute an ingredient you have on hand with one found in the recipe. The key to this particular Chicken Noodle Soup is the coconut milk. Not too much and not too little. I didn't particularly want a Thai version of the soup but I did want just a little extra hint of freshness. Just like with the use of a lemon- using coconut milk adds a nice little sweet and invigorating zing to the dish without being too overpowering. The chicken broth is fresh and savory and the loads of herbs add the special punch of flavor to the dish that most chicken noodle soups tend to lack. I have made this version gluten free by using chopped up gluten free noodles but if you are not GF  then by all means use whatever noodles suit your fancy! The soup pairs perfect with a loaf of french bread or grilled cheese and be sure to freeze the leftovers and reheat on the stove, stirring occasionally to dissolve any fat that has accumulated on the surface.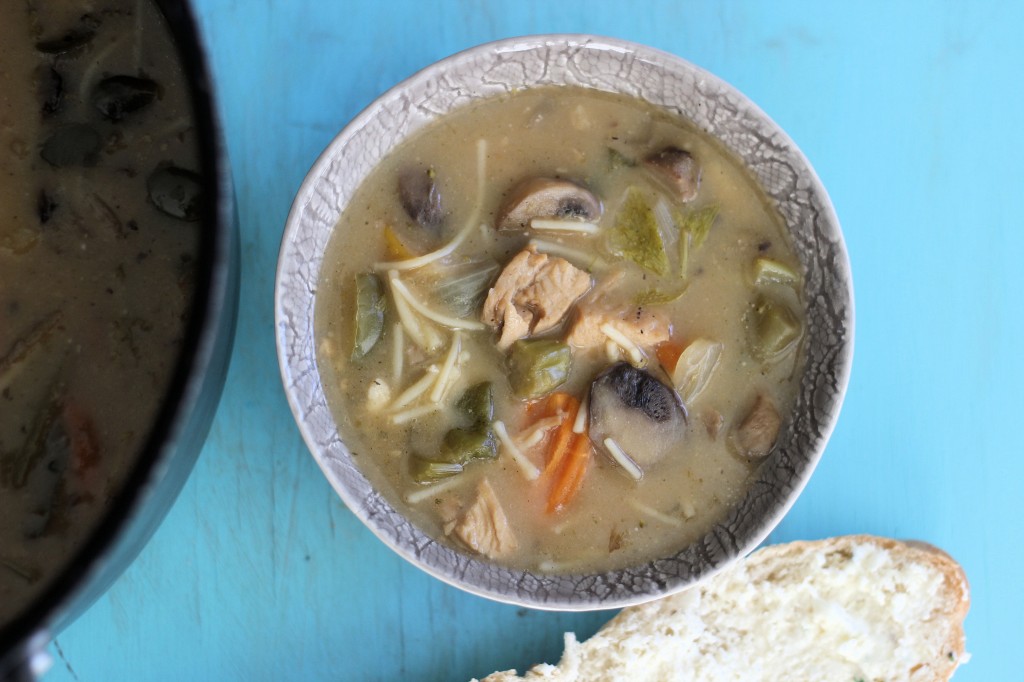 Savory Gluten Free Chicken Noodle Soup
Author:
Kitchen Belleicious
Ingredients
1 rotisserie chicken cut up and cubed
3 quarts chicken broth
2 carrots, peeled and sliced
2 stalk(s) celery, sliced including the green tops
1 cup mushrooms, sliced or left whole
1 onion, largely chopped
2 tsp freshly cracked black pepper
1 tsp salt
2 clove(s) garlic, minced
2 TBSP parsley
1 TBSP rosemary
2 TBSP thyme
1 TBSP oregano
1 tsp cajun seasoning
2 bay leaves
3 TBSP unsalted butter
2 cup(s) gluten free spaghetti noodles, broken up (just place in a large ziploc bag and break it up before putting it in the pot
1 cup grated Parmesan cheese
½ cup heavy cream
¼ cup coconut milk
Instructions
Melt the butter in a large dutch oven. Toss in the onions and garlic. Saute on medium-low for 4-5 minutes. Add in the carrots, celery and mushrooms. Stir to combine and allow to cook for another 5 minutes. Now add in all of the seasonings, including the herbs. Stir to combine. Pour in the chicken broth and noodles and cook covered on medium-low until the noodles are nice and tender. Add in the cheese, coconut milk, heavy cream and chicken. Cover and cook for an additional 10 minutes then serve and enjoy.