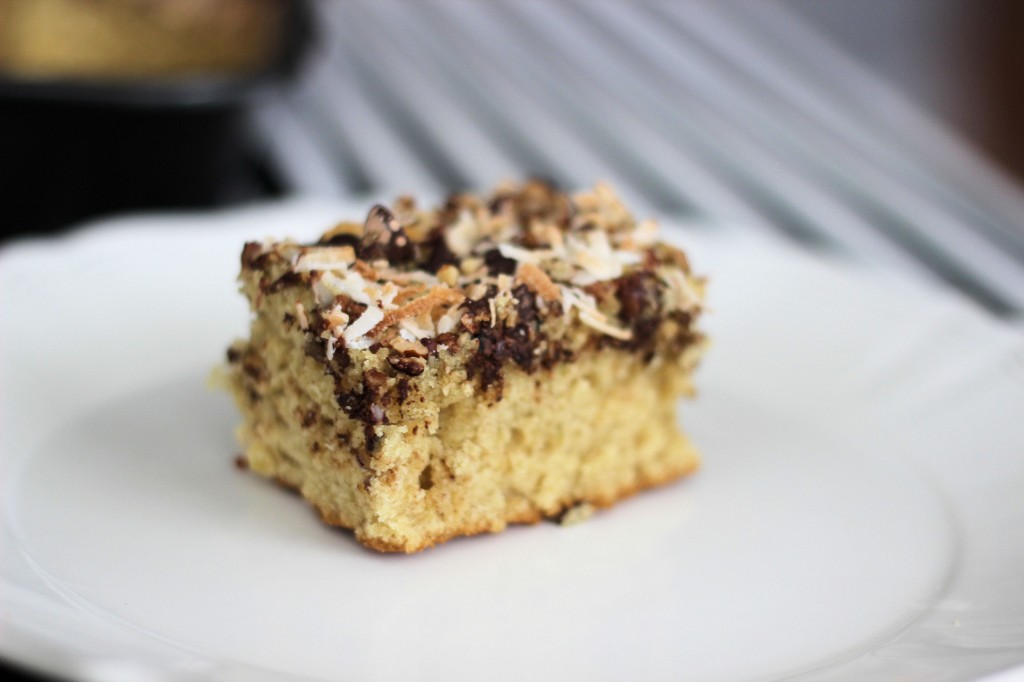 I just love the combination of coconut and chocolate. It is one of my food weaknesses and I am not ashamed to admit it. When baking gluten free it can be a daunting task to create the same moist and smooth texture one expects from your standard all purpose flour but have no fear Cup 4 Cup is here!
I am usually one of those bakers that would rather make my own batter or mix or stuffing instead of relying on a store-bought version but when I stumbled upon Cup 4 Cup Gluten Free Flour I was immediately sold. Sold on their claim that it truly can be substituted cup 4 cup for all purpose flour and sold on the fact that I didn't have to pull out my many different GF ingredients like brown rice flour, xanthum gum, potato starch, you name it.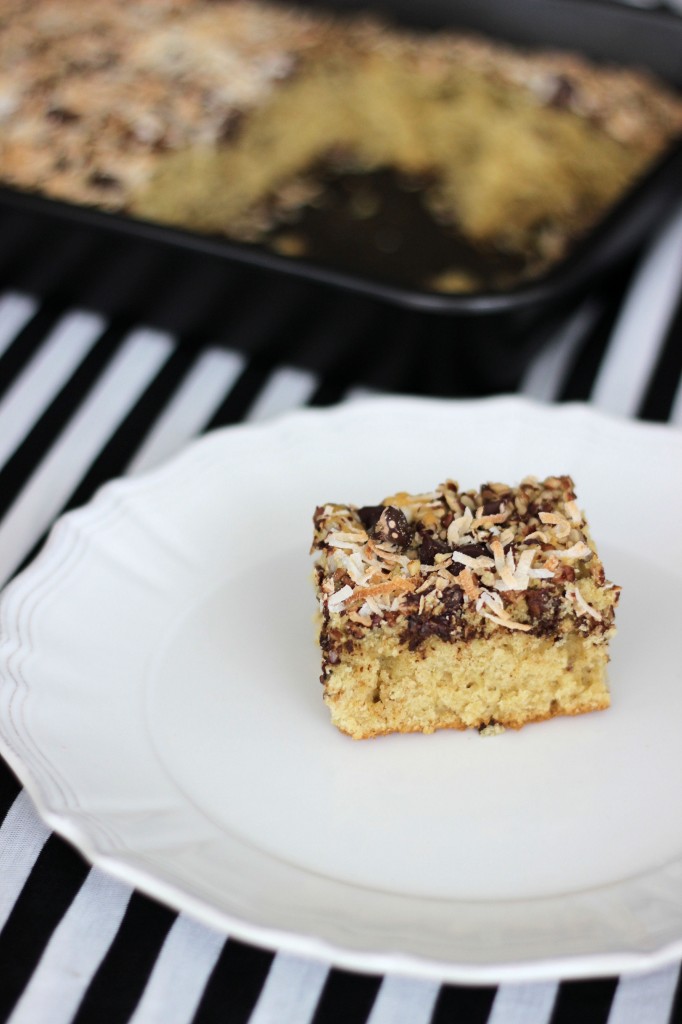 Now I have not used Cup 4 Cup in many gluten free recipes but I am here to PROCLAIM that it WORKS in this Almond Joy Coffee Cake. The best part about this recipe is that unlike many other gluten free recipes it can easily be substituted back to include gluten. You can't say that for all gluten free recipes out there! GO AND ENJOY!
Disclaimer: *I was not compensated for this post. I purchased and reviewed Cup 4 Cup on my own and I am in no way affiliated with Cup 4 Cup.

Gluten Free Almond Joy Coffee Cake
Ingredients
For the Cake:
2 cups Cup 4 Cup GF Flour or all purpose flour
1 tsp baking powder
1 tsp baking soda
½ tsp salt
1½ sticks butter, softened
1 cup sugar
½ cup brown sugar
1 cup sour cream
1 TBSP milk
1 tsp coconut extract
1 tsp vanilla extract
2 eggs, beaten
½ cup coconut flakes
½ cup mini chocolate chips
Instructions
Beat butter and sugar in bowl of a heavy-duty mixer until creamy. Add eggs, then coconut extract, vanilla extract and last sour cream. Beat until smooth. Scrape down sides of bowl. Add in the coconut flakes and then the flour mixture. Pour into greased 9x13 inch pan or a greased bundt pan. Top with the remaining shredded coconut and mini chocolate chips.
Bake the cake until the top is golden and a skewer inserted in the center comes out clean, 30-40 minutes. Let cool for about 10-15 minutes. Serve warm!