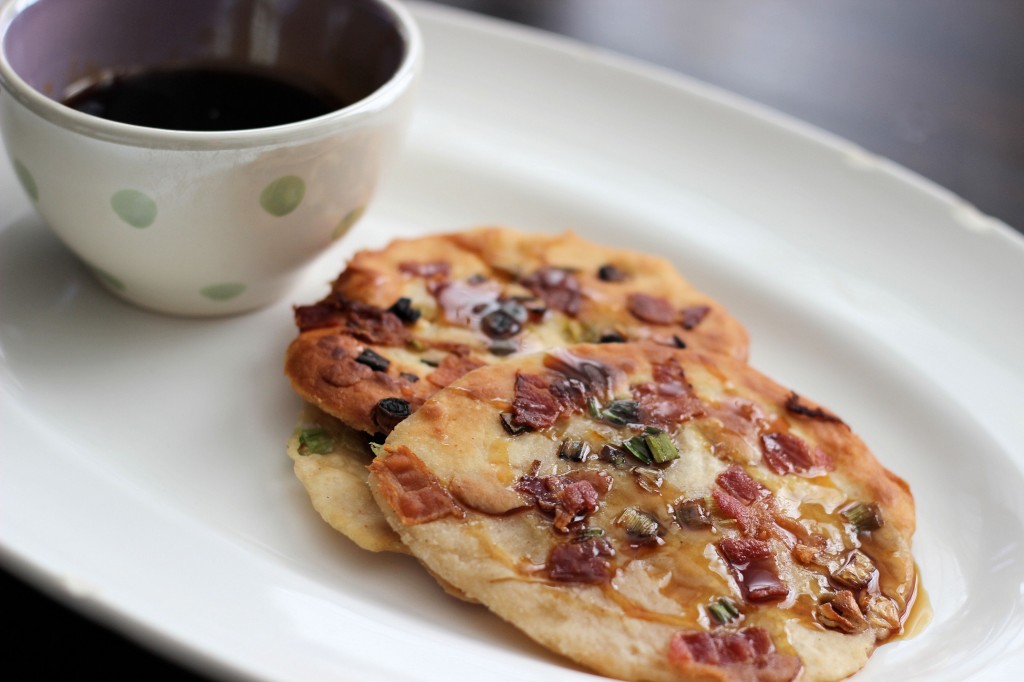 We love pancakes around this house and as always I like to mix things up a bit so I decided why not go for a savory version instead of sweet and why not play around with the batter a little to create a crispier thinner version of the classic pancake. BUT I wanted to take it one step further so I said LET'S FRY IT! Yep, let's take our little pancake of joy and fry it. It's called a Chinese Scallion Pancake and it is unbelievable. What is even better than a lightly fried pancake is the Dark Amber Crown Maple Dipping Sauce slowly drizzled on the top. NOW THAT IS A PANCAKE!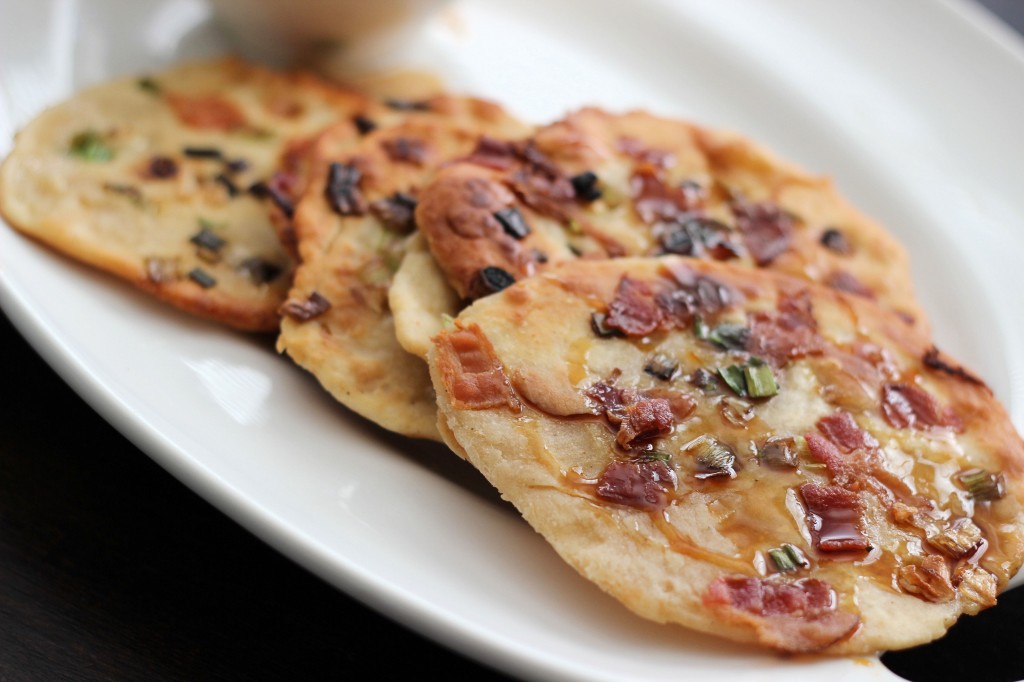 The key to this particular style of pancake is in the dough. It is not your typical pancake batter- in fact its not a batter at all but a simple mixture of water and flour! Yes just water and flour for the base. Toss in some scallions, salt and a few hints of ginger and there you have it:) Below are a few tips to make sure your Scallion Pancakes turn out just right:)
TIPS FOR EXTRA CRISPY SCALLION PANCAKE
1) The recipe will call for hot water. Make sure the water is at the boiling point. It's not good enough to just use the hot water from your faucet.
2) KNEAD! Knead, Knead, Knead
3) Use a food processor. Although you can do this recipe with a stand mixer a food processor produces better results giving you a nice pliable dough.
4) Whatever filling you chose such as scallions or bacon or jalapenos or even pecans- you must place it inside the pancake in a ball then roll. Just tossing the filling of your choice in the dough and kneading it in won't really do the trick as the scallions and or bacon will just fall out during cooking.
5) Perfect temperature of the oil is key to getting that extra crispiness and dodging an unevenly cooked pancake.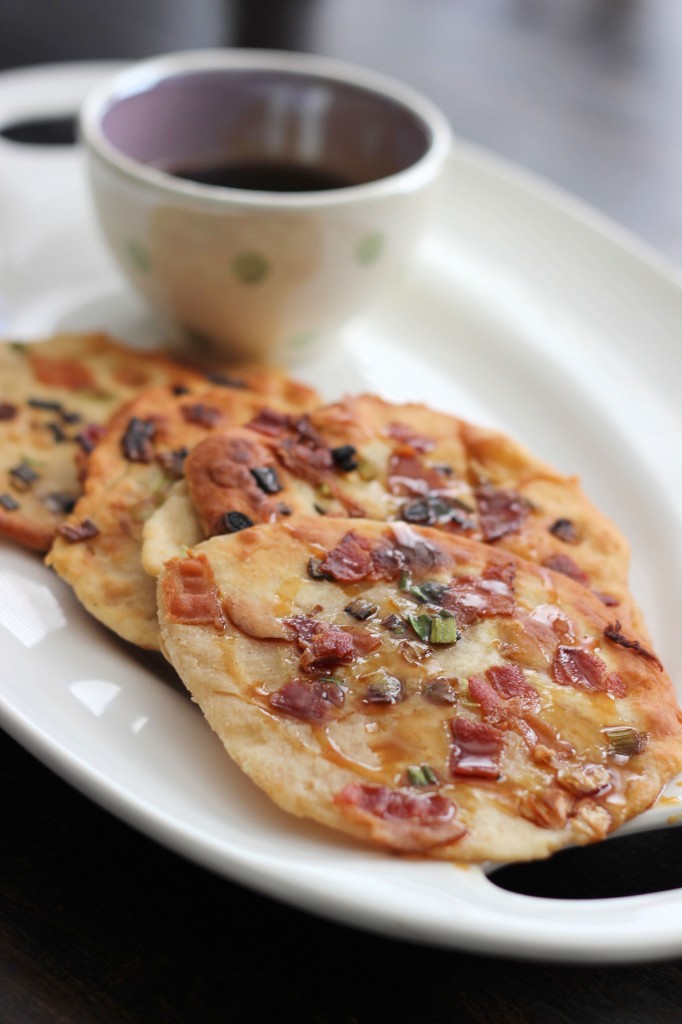 Scallion Bacon Pancakes with Crown Maple Dipping Sauce
Ingredients
2 cups All Purpose Flour
1 cup boiling water
1 cup green onions/scallions sliced or chopped
½ cup cooked crumbled bacon
1 tsp salt
1 tsp ground ginger
½ - 1 cup Crown Maple Syrup (Dark Amber)
Instructions
Place the flour in the food processor and then slowly drizzle in the hot water. Start off by pulsing and then process the dough until it comes together and forms a ball and rides the blade.
Transfer to a floured work surface and knead to form a smooth ball. Cover with plastic wrap and allow to rest for 30 minutes at room temperature. Divide the dough into 8 separate balls and roll it out into a thin disk. Sprinkle with a dash (pinch) of salt and dash (pinch) of ground ginger then place your scallions and bacon in the center then roll it up like a cigar and then knead it out again into a flat thin pancake about ⅛ of an inch. Repeat for the rest of the dough.
Heat the oil in a non-stick skillet and carefully place the pancake in the hot oil. Cook for 1-2 minutes and then flip to the other side and cook another 1-2 minutes until golden brown. Drizzle with the Crown Maple and ENJOY!