Seldom does a recipe come along where I don't have any more words other than EAT THIS! Stuffed Crawfish bread was a staple of my husband's growing up when he attended the New Orleans Jazz Fest each year. The other week was Jazz Fest and as luck has it we never get to go BUT instead of another year sadly passing by I decided "If we can't go to Jazz Fest then I would bring Jazz Fest to us"
What is Stuffed Crawfish Bread? Well i is simply A Cheesy, Garlicky Pizza Style Sandwich stuffed to the extreme with good old Crawfish. It disproves the "no cheese with seafood" myth and it is a dish you won't soon forget.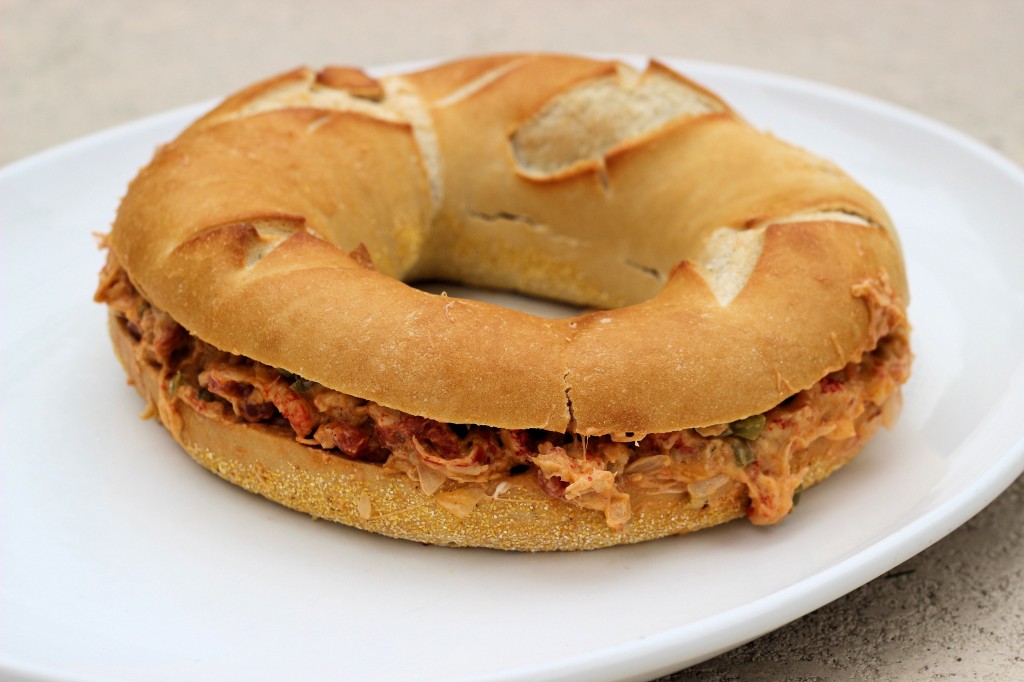 With a little jazz music playing in the background I proceeded to scoop out the inside of a every so chewy and perfectly moist sourdough round and got to stuffing it silly with a mixture of sauteed onions, bell peppers and celery, cream cheese, Monterrey jack cheese, crawfish tails and not to be forgotten- HOT SAUCE! Not just any hot sauce either mind you- my favorite Garlic Hot Sauce from Panola. I love this sauce because not only does it add an extra layer of heat to a dish without overwhelming you it incorporates the perfect hint of garlic and we all know I love garlic. The Garlic Hot Sauce literally makes the dish! MAKES IT! Save any leftover stuffing to use in enchiladas or a pasta dish. It coverts so well to a sauce with a little extra whipping cream and chicken stock!
Stuffed Crawfish Bread- Panola Style
Ingredients
1 round loaf of sourdough bread or 1 loaf of french bread
½ stick butter
½ tsp minced garlic
1 garlic clove, whole (heated in microwave til warm to the touch)
½ cup diced onion
½ cup diced celery
¼ cup diced bell pepper
½ teaspoon dry mustard
½ tsp salt and pepper each
2 TBSP Panola Garlic Hot Sauce
4 ounces of cream cheese, room temperature
1 cup Monterrey Jack Cheese
1 TBSP parsley, chopped
2 lbs crawfish tails
Instructions
Slice French bread or Sourdough bread in half and scoop out the inside of the loaf. Rub down the inside of the loaf with the whole garlic clove. Set aside.
In a large skillet, melt butter over medium-high heat and add in the onions, celery, garlic and bell pepper. Saute for 4-5 minutes then toss in the crawfish and cook for another 5 minutes.
Slowly incorporate the cream cheese and stir in intervals to allow the cream cheese to melt consistently. Blend in the dry mustard, salt, pepper and chopped parsley. Now stir in the shredded cheese. Spread crawfish mixture inside the bread. Butter the top of the loaf, wrap it in foil and bake on at 350 for 25 to 30 minutes.