Do you know the difference between a crisp and a cobbler or a brown betty and a crumble.  All four desserts are a great way to use a surplus of berries in season with little to no effort. So sit back and let this southern gal give you the scoop!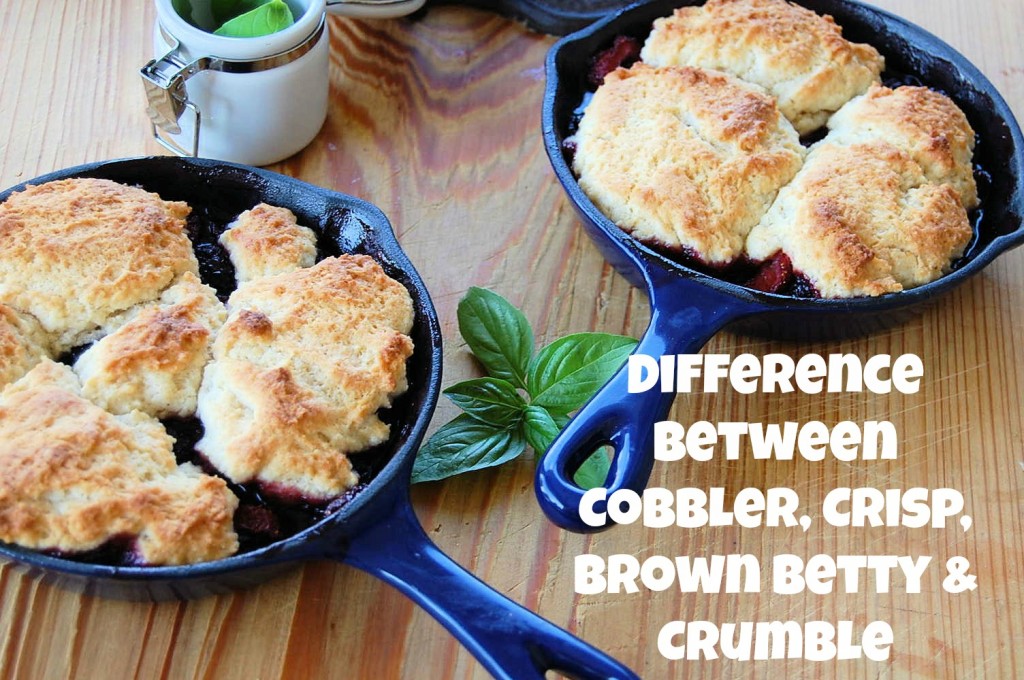 Okay there really is no substantial, crazy, out there, difference in all these desserts. They all taste amazing. They are all super simple to make. They each have some form of fruit, flour, butter or sugar and they are all baked. So why must we know the difference then? Because what if you are sitting at the table with a group of people who are eating a cobbler but you know its really a crumble and they are going on and on about the cobbler and yet you know its a crumble and then that opportune time comes when they ask you what you think and that is when you get to stand up in the chair and announce to the whole table that they are in fact eating a crumble not a cobbler! Then everyone claps for you and tells you how amazing you are! So if and when that happens- you can be prepared:)
So Let's Go:
↔↔↔↔↔↔↔↔↔↔↔↔↔↔↔↔↔↔↔↔↔↔↔↔↔↔↔↔↔↔
Crumble
A crumble is a fruit based dessert that has been baked in the oven with some sort of streusel oat topping. The topping is generally combined with spices, butter and sugar, allowing for the oats to really stand out and the fruit is only seasoned with a hint of sugar or preferred spices before topped with the streusel. Check out this amazing Rhubarb Plum Crumble Recipe by my good friend Barbara over at Barbara Bakes!
Brown Betty
A Brown Betty is similar to a crisp but has an extra layer of yummy crispiness at the bottom of the pan. So think of a crisp with a bottom and top layer. Try this Peach Brown Betty for a nice summer dessert.
Crisp
The difference between a crisp and a cobbler is hard! Traditionally a crisp is a dessert where the topping has no oats. Instead the crispy goodness you get on top with every bite is due to a buttery sugary dough that crumbles (yes I know I just said "crumble" between your fingers and resembles in taste and texture that of a pie crust. Now some people swear that a crisp can and does involve oats as the topping. One not to argue- This can still technically be a crisp! In fact, check out this daring Aple Crisp Pizza recipe  for a sightly different take on your traditional crisp! It combines both an oatmeal topping and pie dough as the bottom crust layer.
Cobbler
Now we are at my favorite of them all. The Cobbler! A cobbler is like a jacked up combination of all 4 desserts. The topping is not a streusel or crumbled pie crust but buttery biscuits that have been dropped onto the cobbler before baking- giving the bottom of the biscuits just enough time to soak up in some of the berry goodness before crisping up.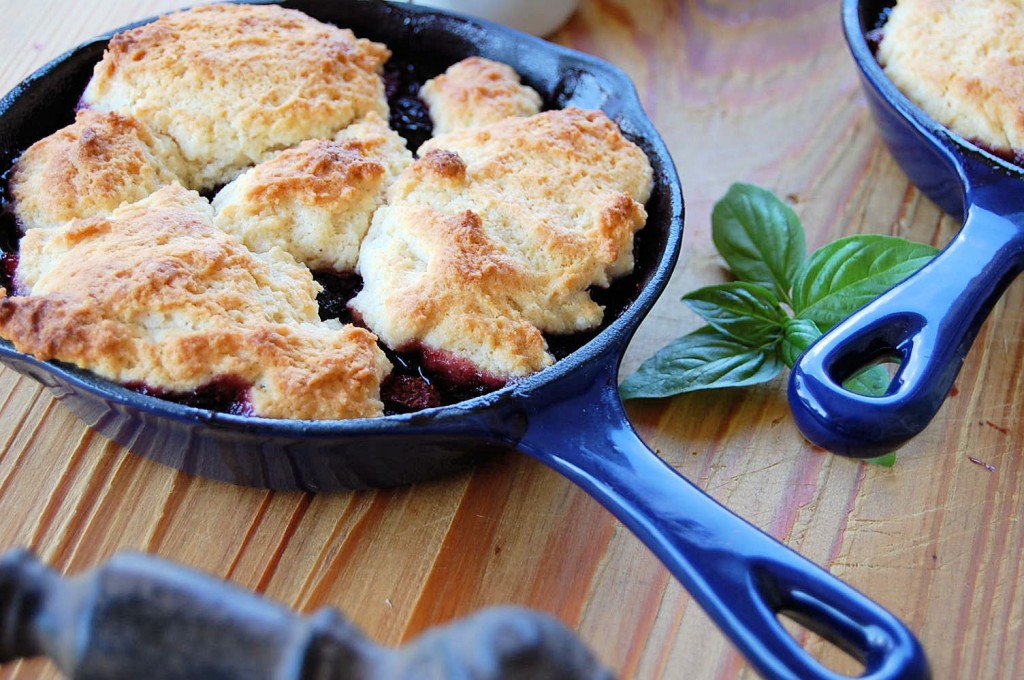 The key to my Brown Butter Maple Berry Cobbler is the topping. The fruit is mixed with that nice combination of cinnamon, sugar, hints of lemon and orange peel, sweet basil and vanilla but the goodness comes with the topping of brown butter drop biscuits laced with maple sugar. It is out of this world and not anymore time consuming than a standard recipe given that you just have to do one extra step and that is brown the butter. I mean, how many times have you browned butter without even meaning to? My point exactly, no time at all:)
I'll leave you with a statement I love from America's Test Kitchen. "Good cobblers may be no more than a fleet of tender biscuits on a sea of sweet fruit, but the good versions can hold their own against fancier desserts. Best of all, they come together in just a few quick steps, then are ready to be dished up hot, accompanied by an all-important scoop of vanilla ice cream."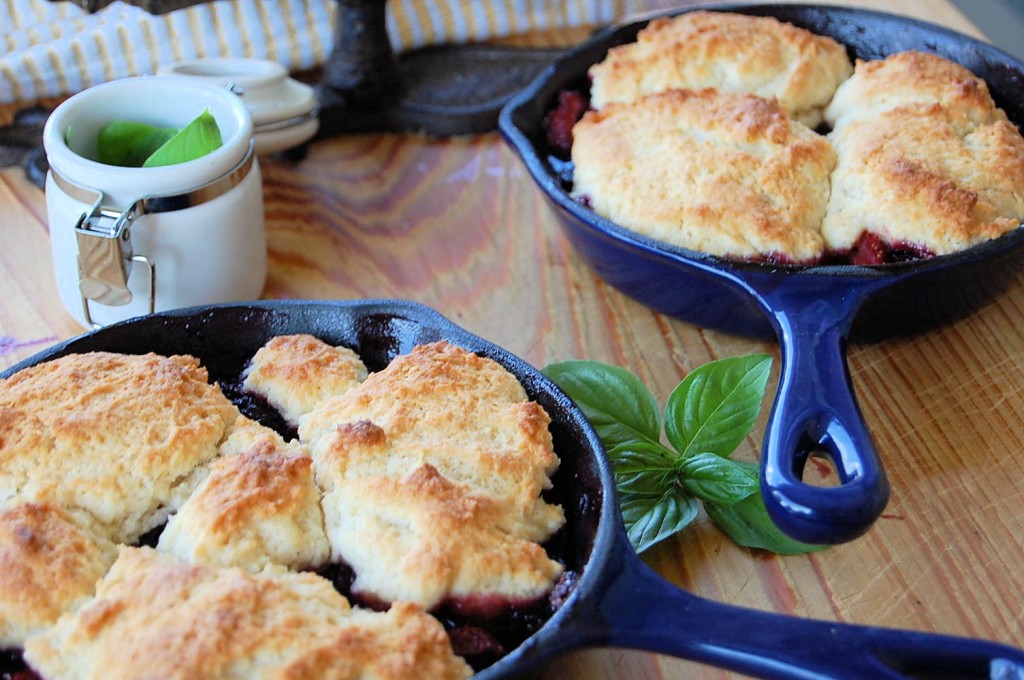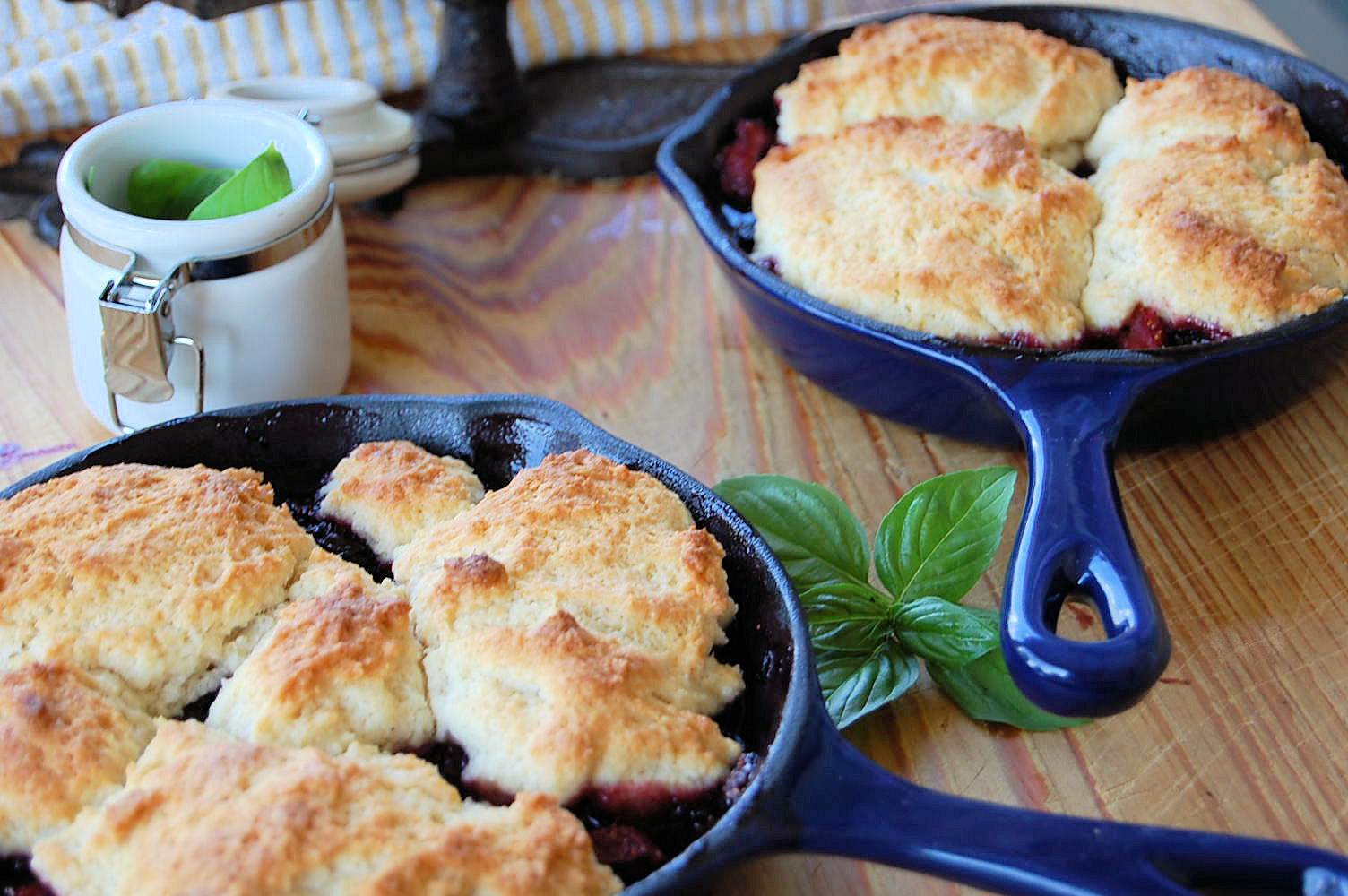 Brown Butter Maple Berry Skillet Cobbler
Ingredients
1½ lbs mixed berries, washed and well-drained
1 TBSP cornstarch
1½ cups all-purpose flour
2 teaspoons baking powder
⅓ cup maple sugar plus 1 TBSP maple sugar
½ tsp nutmeg
½ tsp fresh lemon zest
½ teaspoon sea salt
½ cup cold buttermilk
1 tsp vanilla
6 tablespoons unsalted butter
1 TBSP fresh basil leaves, roughly chopped
Instructions
HOW TO MAKE BROWN BUTTER FOR BAKING:
Place butter in saucepan on medium-high heat to melt. Swirl or stir the butter with a wooden spoon as it starts to foam. Continue to melt until butter begins to bubble and turn brown. Scrape melted butter into a oblong small pan or rectangular Tupperware and refrigerate for at least 4 hours or overnight. When the brown butter is solid again, slice into ½-inch cubes and set aside.
In a large mixing bowl combine your washed berries with the cornstarch, chopped basil leaves and 1 TBSP maple sugar. Set aside.
In a mixing bowl, sift together flour, baking powder, nutmeg, salt, zest and maple sugar. Cut in the cold brown butter (using your fingers or a pastry cutter) until mixture resembles a coarse meal. Work the butter into the dry ingredients until some of the butter flakes are the size of gravel. Stir together the buttermilk and vanilla and then add to the flour mixture, stirring enough to make a soft dough.
Lightly grease either 4 miniature cast-iron skillets or one large cast iron pan or baking dish. Pour berry mixture among skillets or into your preferred baking pan. Place large drops/spoonfuls of the biscuit mixture over the berries.Bake at 400° for 20 to 24 minutes or until fruit bubbles and crust is golden brown.