When I think of a fast and easy dinner I immediately think of 3 dishes- Salad, Spaghetti and Stir Fry! Salad is a given in terms of trying to be healthy but it can make a husband and children cringe at the thought of yet again eating green leafy vegetables. Spaghetti is delish but unfortunately loaded with carbs and calories. Now Stir-fry! Stir-fry is a perfectly simple way to get your family to eat healthy without it seeming like your doing the veggie push. The truth is- when vegetables are loaded down with sauce and seasonings- let's be honest- they don't seem so much like vegetables? However, in our case the sauce for my bold and zesty stir-fry isn't loaded with calories. It has instead been thoughtfully designed to bring out the most flavor with a few simple basic ingredients.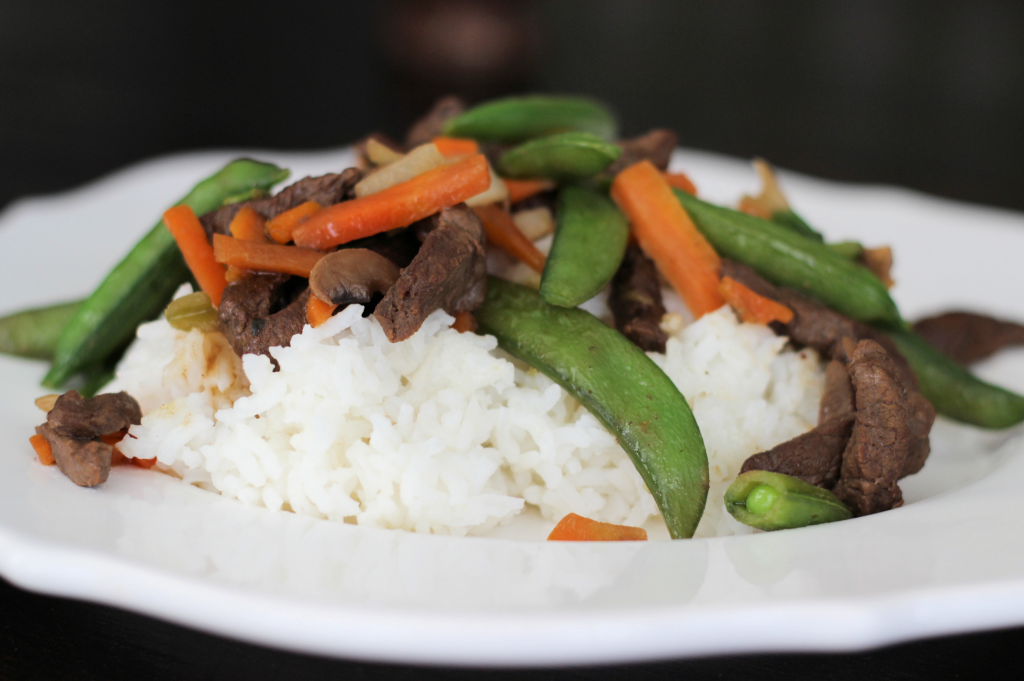 When it comes to my cooking I get asked a certain question/statement from mostly everyone that goes something like this- " I just don't know what goes best with what" or "How did you know to mix that with that?" I wish I had a better answer that would give you a magical solution but the answer is simply from experience and because my passion is cooking! So all day long I am constantly thinking about recipes, ingredients, flavors, etc. It is just something that comes naturally. So with that said, my standard answer is typically 1) From trial and error and 2) By leaning on other recipes that I made that were great and taking those same flavors or ingredients and using them together but in a different dish or different way (hence making it my own). So where am I going with this? Glad you asked! This stir-fry is extra special not only because it tastes out of this world, not just because it is healthy and quick but because it incorporates a packet of Healthy Solutions Bold Beef Rub that brings the meat to life and gets rid of the need to try and match this seasoning with that one and so forth. I absolutely hands down love this beef rub as well as all the other rubs because they bring out the most flavor in your dishes and best part is most of the rubs are WITHOUT THE SALT! Yep, NO SALT! Now isn't that fun?? We all know that salt is the  bomb but it can also be the "BOMB" to your health if you consume to much so why not use seasonings that have been perfectly matched together and conveniently packaged for you so all you have to do season with it. Note: the Bold Beef Rub does  have salt but little to nothing compared to most spice rubs in the market.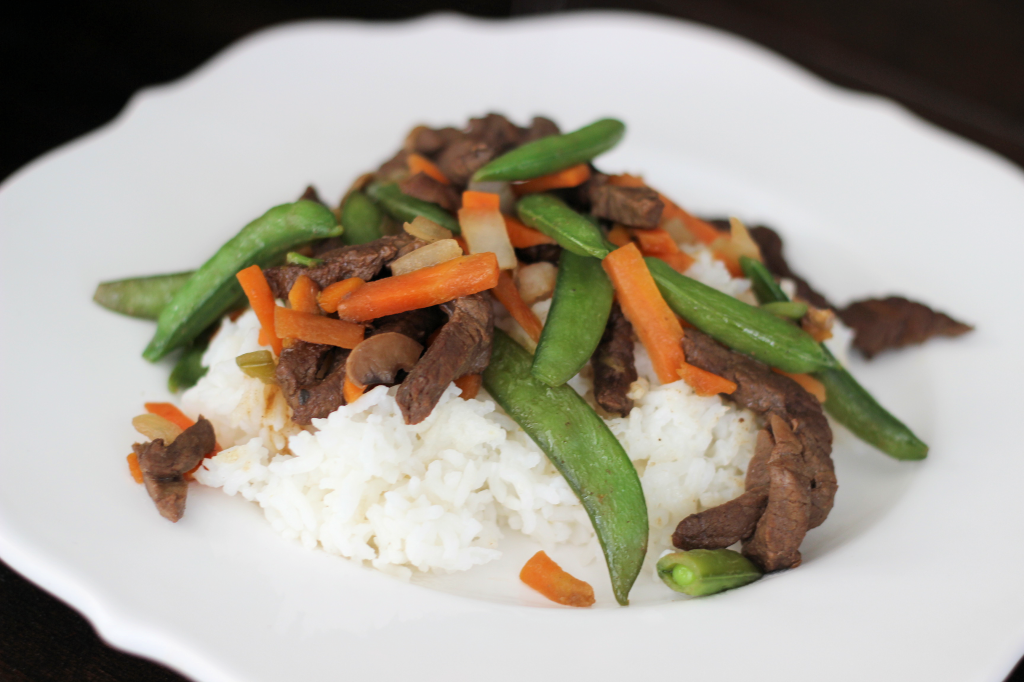 I have already stated that the only reviews I do on my blog are good reviews. It's not that I never have a bad experience with a company or brand (believe me I have) but because my momma always taught me if you can't say something nice don't say it at all:)) So if you see a review on this site- you know it is authentic and pure in nature. I just want to help you cook regardless if it is via a recipe of mine or a certain brand. We can always use a helping hand- Am I Right? So go get you some Spice Rubs from Healthy Solutions and call it a day:))
Bold and Zesty Beef Stir-Fry
Ingredients
2 cups rice cooked (brown or white)
1½ lbs lean sirloin, sliced in ¼-inch strips
1 14 oz. package of frozen stir-fry vegetables
1 TBSP canola oil
3 TBSP Healthy Solutions Bold Beef Rub
4 TBSP soy sauce
1 tsp garlic oil
1 tsp grated ginger or ½ tsp use ginger paste
1 tsp cornstarch dissolved into 2 TBSP water
Instructions
Toss the meat with the canola oil and season blend. Set aside.
In large saute pan heat 1 TBSP canola oil and saute the bag of frozen veggies for 5-6 minutes. Remove from the pan and place the meat in the pan and stir in the soy sauce, ginger and garlic oil. Cook over medium to high heat for 3 minutes per side. No more than 7 minutes. Add back the veggies to the pan, quickly add in the cornstarch liquid,t urn heat to medium low and allow to sit covered for another 3--4 minutes until thickened. Serve over brown or white rice.