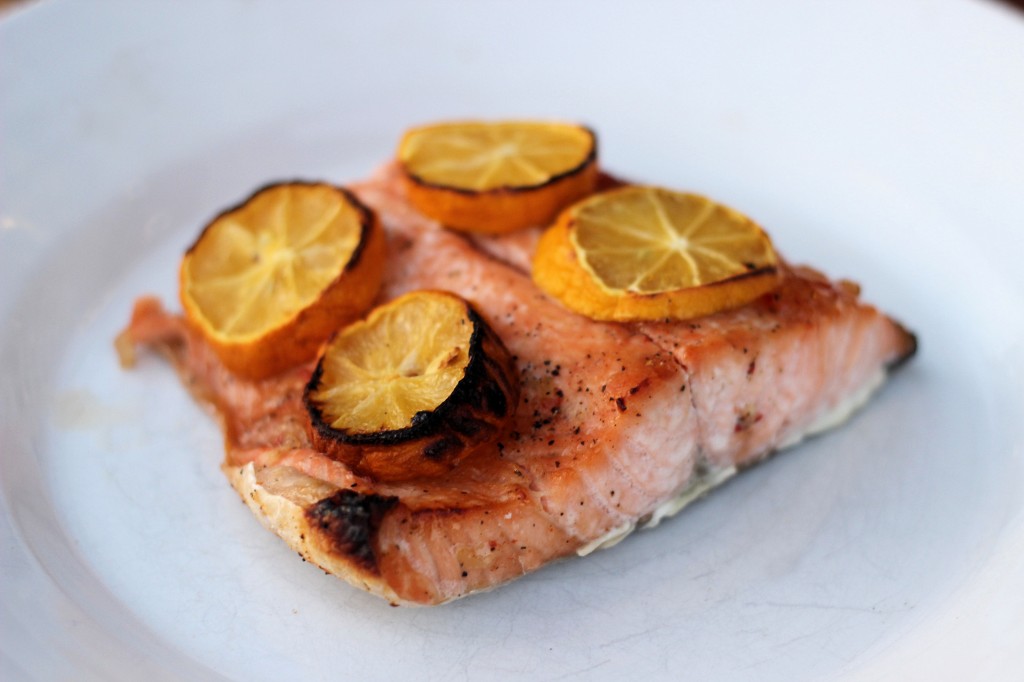 One thing I can always be certain of is that a nice piece of salmon will always get the job done. Salmon is such a versatile fish that I use it in my cooking almost on a weekly basis. I have been known to pan-fry it, deep fry it, bake, broil, grill, stuff and even make salmon cakes out of leftover salmon. The simplest way and my personal favorite is to load it down spices and fresh lemon and let it just bake in that beauty. Some say just salt with salmon does the trick for a nice coating but I say salt and sugar is the key. Yes of course I am southern and we like to put salt and sugar together in just about anything we can get our hands on but honestly it is the perfect combination to bring out the best in the salmon. The salt and sugar crust during baking acts like a clay oven, keeping the fish succulent and leaving you with that nice sweet and salty flavor we all adore so much. We do adore it Right? 🙂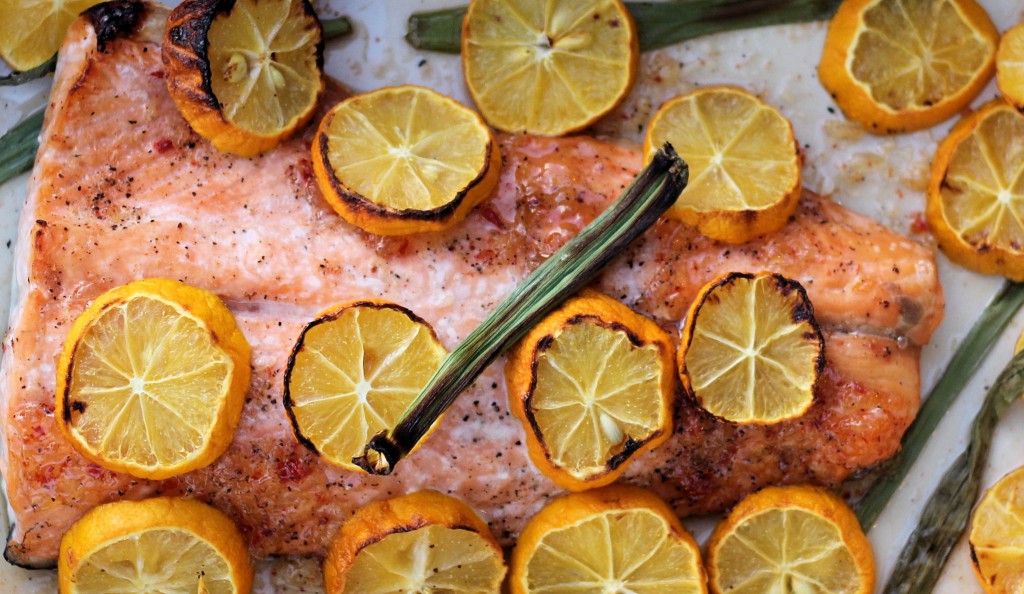 I had not intended on sharing this recipe. I mean I had intentions on one day sharing but not this particular day because I wasn't pleased with the way the pictures turned out. However, after a discussion with a complete stranger last week over why she never cooks fish for her family I thought I needed to bring in the big guns and give you my go-to, never fail, salmon recipe.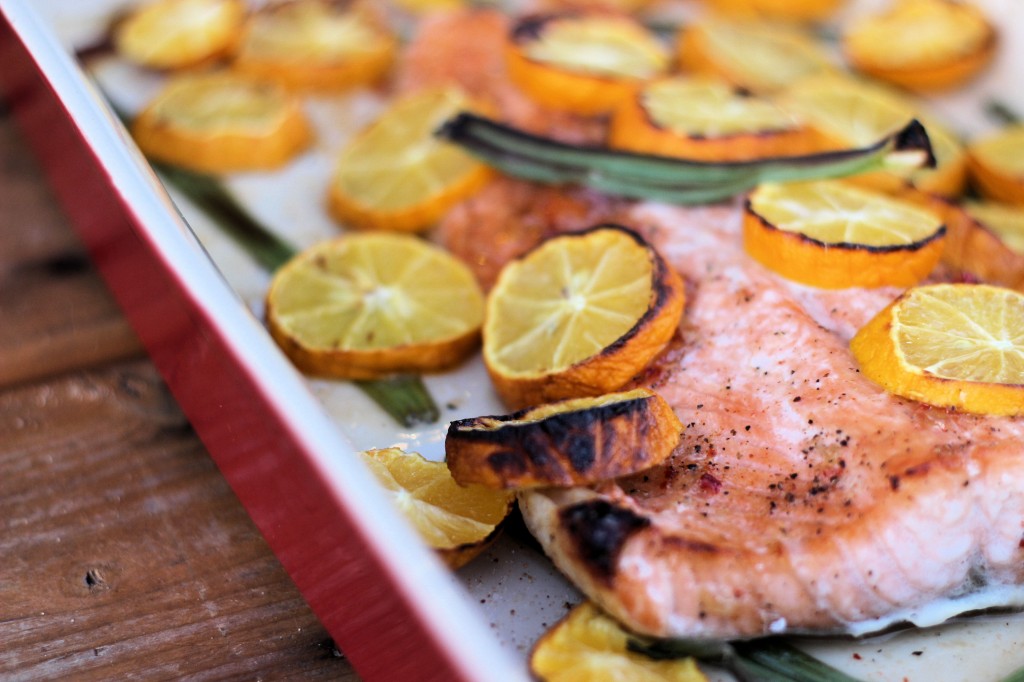 This is easy and something you can easily prepare early in the morning so it is ready to pop in the oven at dinner time. Don't let the thought of that fishy smell push you away. The woman I noted having spoken to last week about fish explained to me that she doesn't like that fishy smell when cooking fish, which is why she doesn't cook fish. NOTE: Your piece of salmon should never smell too fishy but a little" seafood smell is completely normal. If you need to soak this bad boy in a little milk  before seasoning it then by all means do it . The milk will help remove some of that fishy smell and get you on your way to a succulent dinner. However, again, note that any fish you pick up from the market should never have a strong odor to it. If it does then it might not be good:(
EXCITING NEWS!
I have the most exciting news that I am beyond blessed and humbled to tell my readers about. I have mentioned before on my site that my mom, Shellie Rushing Tomlinson, is a writer and successful author of 2 books published by Penguin– Suck Your Stomach In and Put Some Color On and Sue Ellen's Girl Ain't Fat She Just Weighs Heavy. Now I am happy to announce she is officially in the the CBA, Christian Retail Book Market, with her first book Heart Wide Open released today by Random House/WaterBrook Press. Heart Wide Open is a book you will not be able to put down! If you believe in God but don't know him, really know him as your Savior, best friend, confidant, Father and Provider then I beckon you to grab this book! This book will Ignite your Passion for The Lord and or Reignite It. My mom talks with complete honesty in a way that brings me to tears because, well, I promise you it's real! She writes as if she is sitting right there with you sipping on sweet tea and indulging her most intimate thoughts on her relationship with Christ. Even though I have had many conversations with my mom over the years about Jesus, I still found myself amazed at her words, inspired, convicted and with a pen in my hand ready to tear open my heart and leave it WIDE OPEN for HIM!
I do have some other fun news to go along with this! I am happy to say that each reader who leaves a COMMENT ON THIS FORM can be entered in a drawing to win this amazing Heart Wide Open Gift Basket. The basket includes:
A beautiful wallboard inscribed with these words from the Song of Solomon, "Come and awaken love and when I find him I won't let him go."
A beautiful coffee mug bearing this sentiment, "Heart you to the moon and back."
A Bird of Paradise heart shaped candle
A Heart Shaped Keepsake Box
A Red and White Chevron Design Scarf
A Heart Wide Open T-Shirt (winner to designate size)
A $50 Amazon Gift Certificate
And, of course, a copy of Heart Wide Open
If you want a sneak peak into what the book is about you can view her book dvd trailer for it below! The book will be accompanied by a dvd series and study guide to help you put into practice what she talks about in the book! I love you Mom! This book has been a long time coming and I am So Proud of YOU!
Salt & Sugar Crusted Lemon Baked Salmon
Ingredients
2 large salmon fillets with skin. or 4 small fillets- recipe is for a total of approx 2 lbs of salmon
2 large lemons, sliced
half bunch of green onions, sliced in half vertically
1½ TBSP fine sea salt
4 TBSP sugar
1 teaspoon smoked paprika
¼ teaspoon dry mustard
½ tsp black pepper
1 tablespoon fresh lemon juice
2 tablespoons pure olive oil
Instructions
Stir together the sugar, salt, pepper, paprika and mustard. Pat the fillets with olive oil and then generously rub down the salmon fillets with the sugar and salt mixture.
Preheat the oven to 450°. Place salmon in a large baking dish skin side down and arrange the lemon slices and green onions on the salmon and around it. Bake the salmon for 20 minutes or so depending on the size and thickness of the salmon you are using.Serve with a nice salad or roasted potatoes