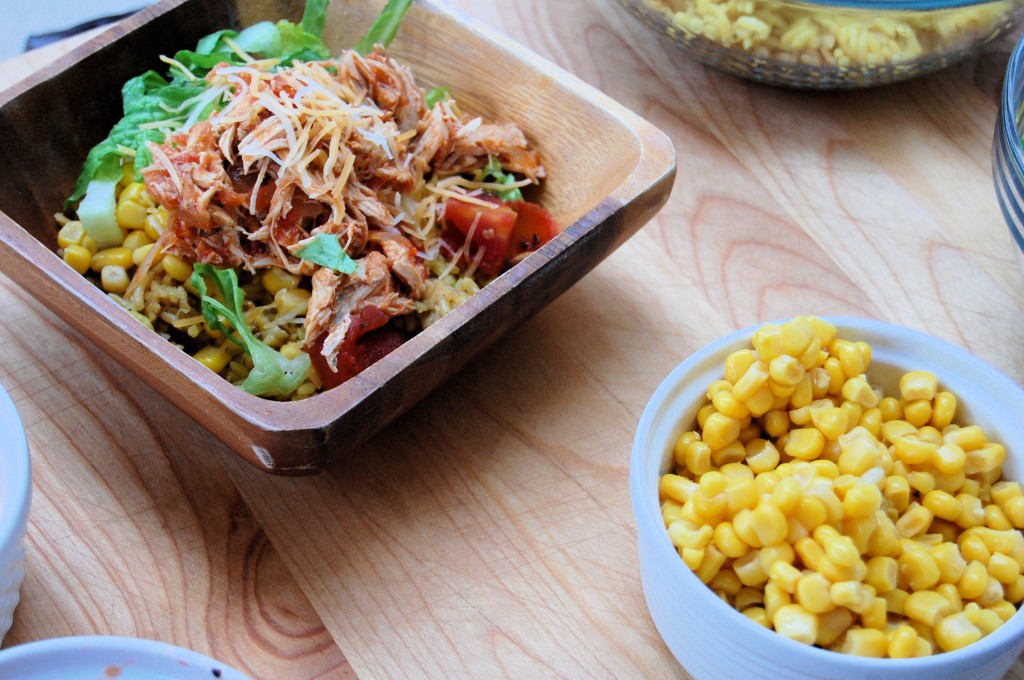 One of our favorite fast food restaurants is Chipotle Mexican Grill. Have you heard of it? If you don't have one nearby than I would venture to say your missing out. Chipotle is a fresh and fast Mexican restaurant with a focus on enormous burritos, the softest tacos you have ever had and what they call burrito bowls. They are committed to serving Food with Integrity by finding the best natural ingredients raised with respect to the animals, environment and farmers. My husband loves this place so much that I try to re-create the burrito bowls at home every now and then. It wasn't until lately that I realized everyone should know about this amazing idea of a deconstructed burrito and I had to share!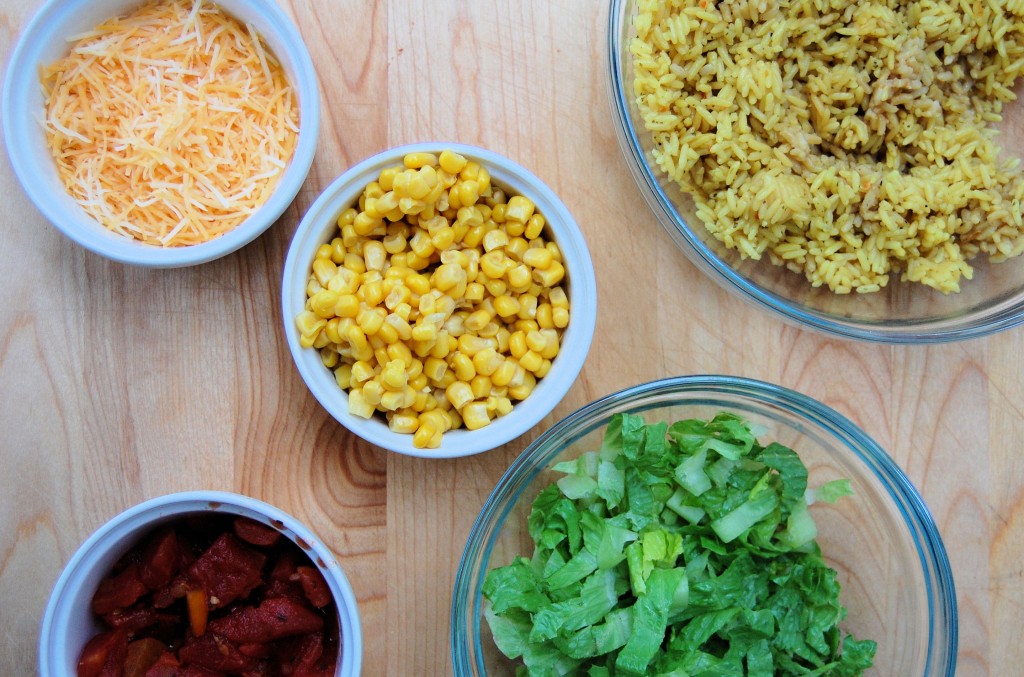 There is no real secret recipe here, no recipe really at all just a few simple tips and instructions to get you on your way to a fantastic bowl of goodness! The only thing that requires any recipe of any kind ( and you are more than welcome to use your favorite chicken recipe) is my Spicy Pulled Chicken and Avocado Cilantro dressing– which Lo and Behold, You just happen to be in luck! I have the most delicious recipe for both of them and they are super easy to make. The spicy chicken uses our crutch the Crock Pot and the avocado dressing just involves blending:)
The best thing about a burrito bowl is that you get all the goodies that one expects in a burrito but without all the heaviness of having a burrito.  The lettuce and rice are great substitutes for the enormously large flour tortilla and you can pack it with whatever floats your boat at the moment. My favorite blend is spicy chicken with rice, lettuce, a hint of roasted red bell peppers, corn, black beans and avocado dressing. It's like a dressed up, on steroids kind of rice salad and it is our favorite! Will it be yours? Find out this week!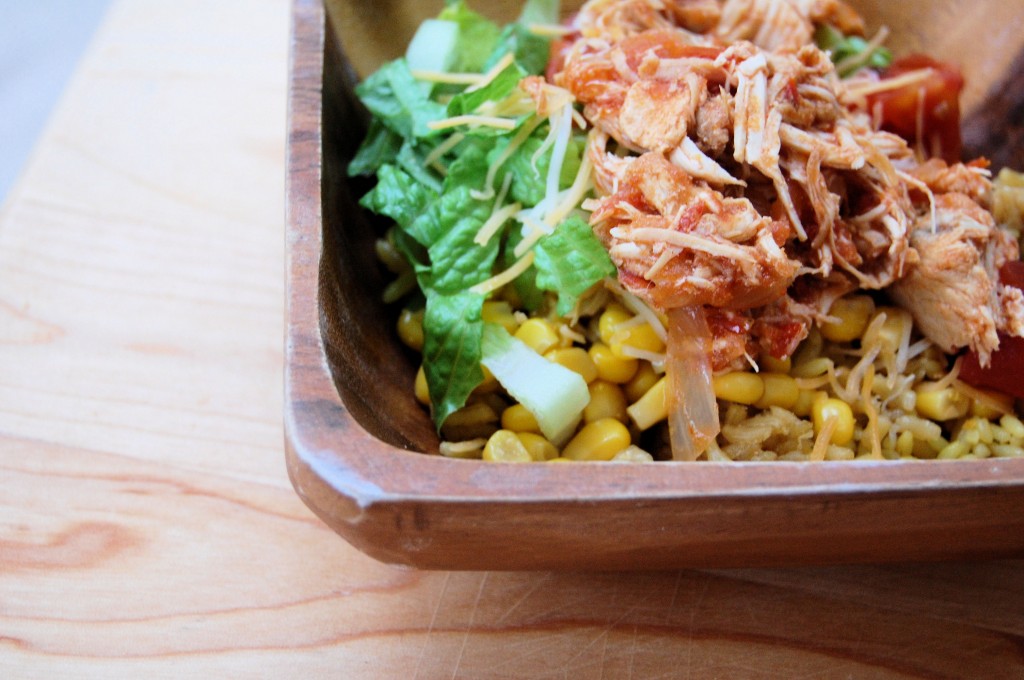 Deconstructed Burrito Bowl with Spicy Pulled Chicken and Avocado Dressing
Ingredients
Spicy Pulled Chicken:
3 lbs of chicken trimmed chicken breasts
1 10 once jar of salsa
½ cup Mexican beer
2 TBSP balsamic vinegar
1 lime, juiced
1 lemon, juiced
1 tsp chili powder
3 TBSP adobe sauce
1 chipotle pepper in adobe sauce. chopped
1 cup of water
Avocado Dressing:
1 ripe avocado
1 cup fresh cilantro
½ plain non-fat yogurt
2 TBSP buttermilk
1 TBSP minced garlic
1 lime, juiced
½ tsp sugar
½ salt and pepper each
Other Ingredients For Your Bowl
1-2 cups of cooked rice (I flavor white rice with chicken stock and a few spices)
1 Head of lettuce, shredded
1-2 cups of fresh cooked corn
1-2 cans black beans, rinsed and drained
1 jar of roasted red bell peppers
1-2 cups of shredded Mexican Cheese
favorite salsa
favorite guacamole
tortilla strips
Instructions
For the Chicken
Place the trimmed chicken breast in the salsa, push to bottom and cover with some of the salsa. Pour in the rest of the ingredients and mix the chicken around a little to get everything nice and coated. Start the slow cooker on low for six to eight hours or on high for four hours.. Within the last hour of cooking, remove the chicken to a chopping board and shred with two forks and place back in crock pot for the last hour.
For the Dressing:
Place all ingredients in a food processor or blender and pulse until combined (1 minute). Chill until ready to use!