Happy New Year! Did you miss me? I can't believe we are in January 2014. Its Crazy! With a new year comes a new start, a new outlook on life and a chance to re-prioritize things. This year I have decided to do a re-do here at Kitchen Belleicious. I started this blog because I love to cook and I wanted to share that love. Over the years I got sucked into the food blogger mold of HAVING to post X amount of times, visiting X amount of other food bloggers, posting X amount of photos and writing detailed accounts of each recipe or else being left with the feeling of being inadequate in my role as "food blogger".  Inspired by a incredibly amazing and close friend of mine Jackie at Marin Mama Cooks, I am tired of it. NOT tired of cooking, not tired of talking and sharing my recipes, not tired of creating amazing dishes but tired of the pressure to fit this food blogger mold. I am not just a food blogger, I am a mom, a wife, a friend and a servant of Christ who wants to do more in life than stress over taking pictures and posting, If you are a daily follower of Kitchen Belleicious- THANK YOU! Thank you for trusting in me and my recipes, thank you for supporting me, thank you for sharing your recipes with me and thank your for your day in and day out visits. Kitchen Belleicious IS NOT ENDING in fact it IS JUST BEGINNING!
I want to inspire and be a light to this world and that is exactly what I am going to do! I am going to be a light in the kitchen, a light in my recipes,  a light in my writing, a light in my life. I am going to shine, shine, shine!!!!  Regardless of my new found freedom:) one thing for sure is that when you leave this blog each visit you will leave with a 100% certified, honest and true, down right delicious and fully capable recipe for anyone.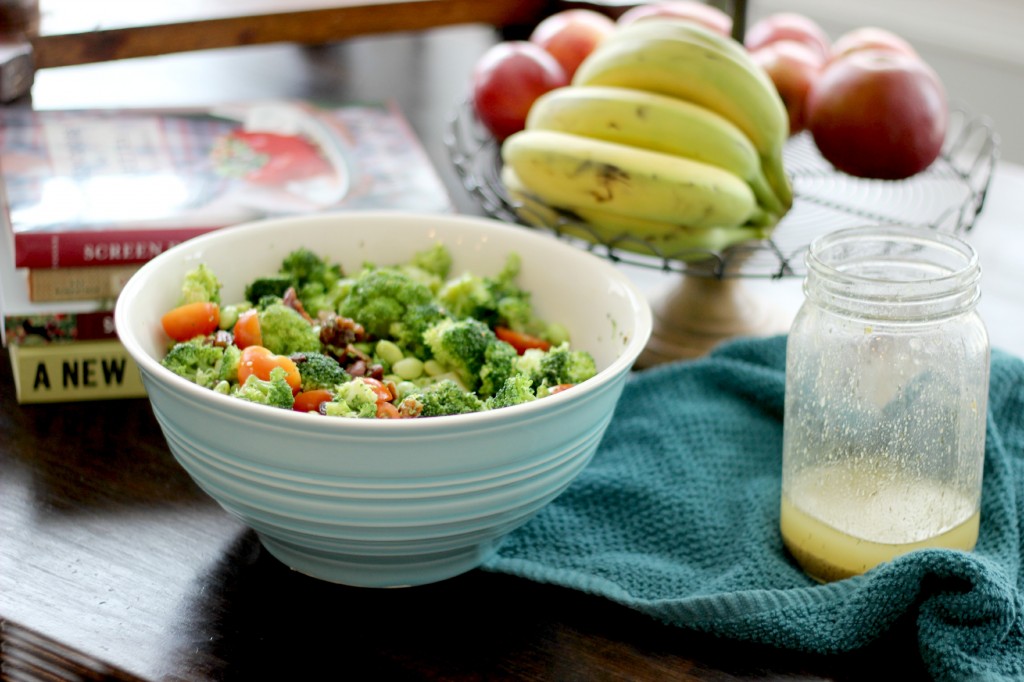 NOW LET"S START THIS NEW YEAR OFF RIGHT with something simple and yet light and diet friendly. I like it call it my Loaded Broccoli Salad. By loaded, I mean chocked full of flavor disguised as edamame, roasted pecans, sweet raisins and an out of this world dressing that is ideal for any cold salad of your choice. I always like to point out the star of my dishes and in this case it has to be the butter roasted pecans. I received a butt load of pecans from my sweet belleicious grandmother over Christmas and after a day of cracking I finally got them all ready to be (what I say is the only way to eat a pecan) ROASTED! The pecans are tossed in a rich concoction of butter, Worcestershire sauce, cracked pepper and sea salt and roasted til toasted and golden. Oh my mouth waters just thinking of it. The perfect flavor of the roasted pecans alongside  the fresh broccoli and out of this world tangy dressing make the most delicious salad. If you don't believe me try it! If you do believe me try it! If you don't even like broccoli- still try it! It is the best thing in the world!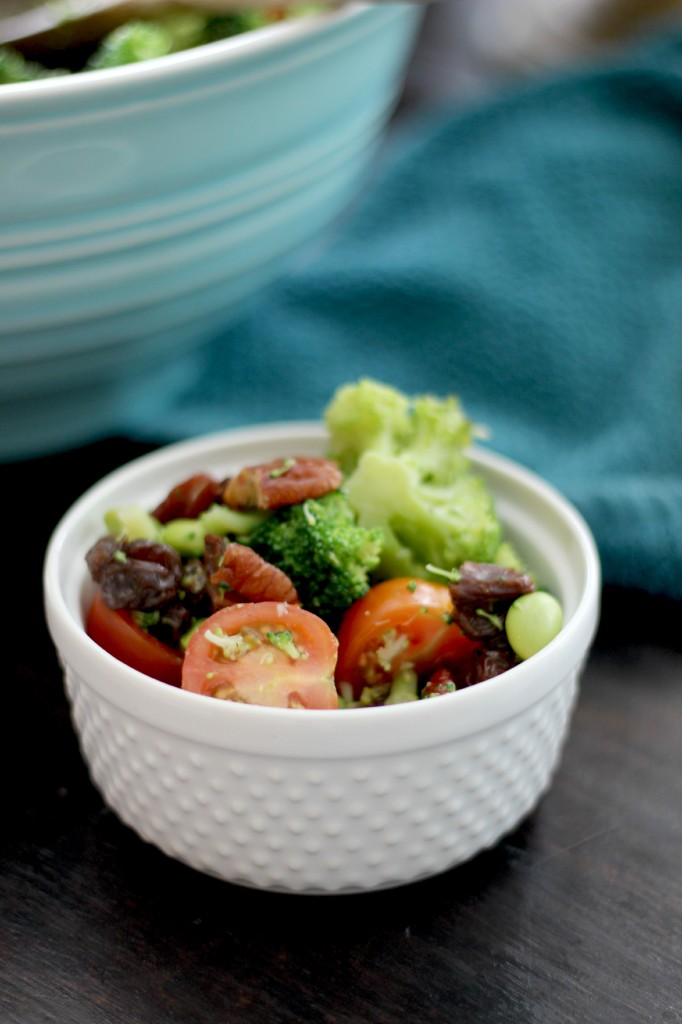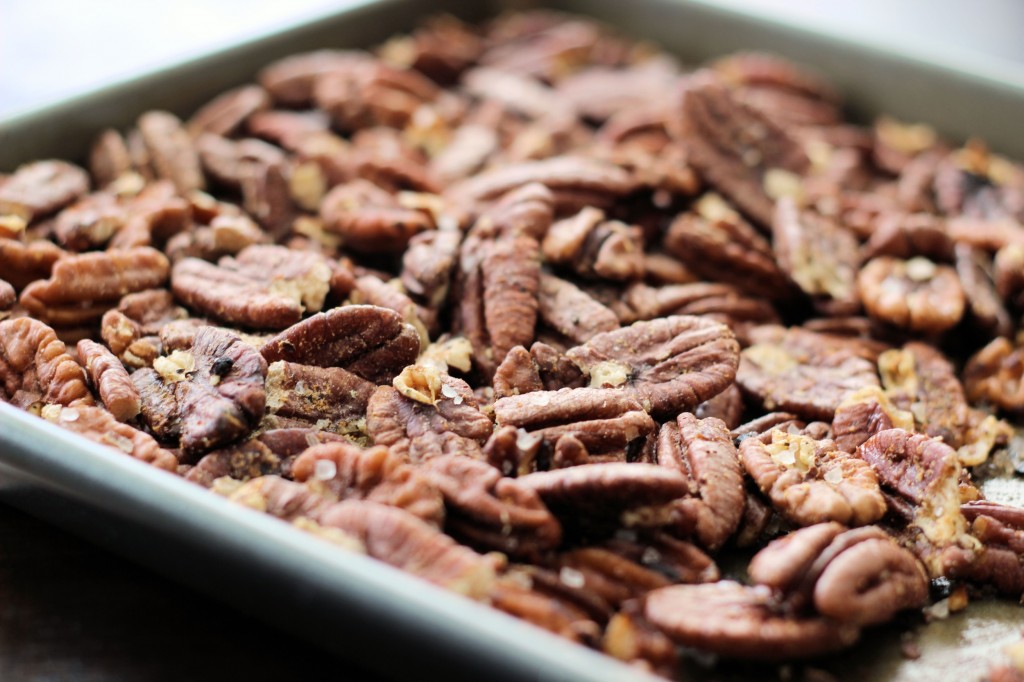 The dressing was inspired by Jamie Deen's own broccoli salad he shared on his show a few months back but with a few inserts from yours truly. Take my peach white balsamic. Jamie used Red Wine Vinegar but I like the subtle peach flavor against the mustard and oil. The oil I used is pecan oil, a delicately blended oil with the sweet aroma of pecans, and then I added in a pinch of salt, pepper and my little helper Dill! I love Dill! It is my helper because it brings such a unique flavor to certain dishes and always takes them to the next level. If you are a dill hater 🙂 then by all means swap it out with parsley or basil and if you don't have pecan oil or peach white balsamic then using regular EVOO and red wine vinegar will still do the trick:)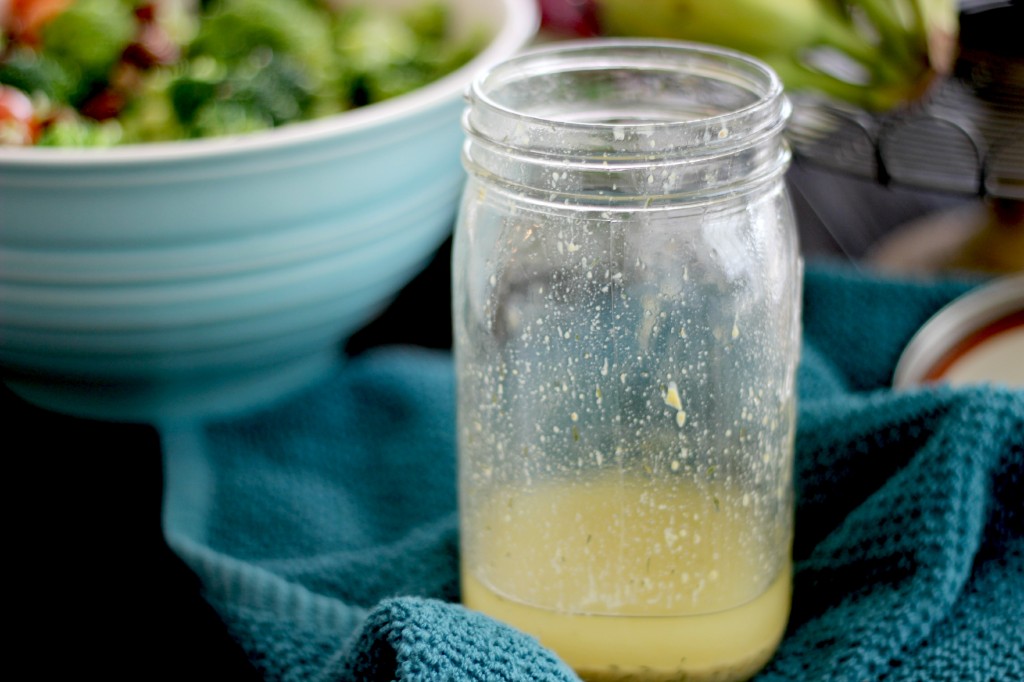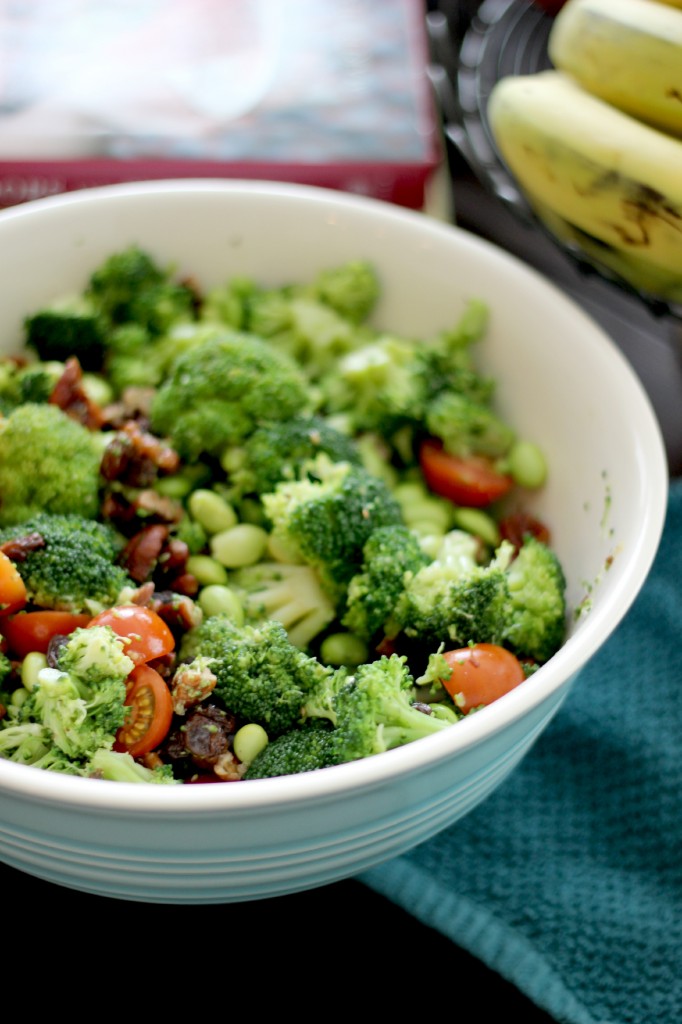 Loaded Broccoli, Dill & Pecan Salad
Ingredients
1 pound broccoli crowns, cut into florets
1 quart of cherry tomatoes, halved
1 cup of pecans
½ cup raisins
8 ounces of steamed edamame ( I just use the steamable bag)
Dressing:
¼ cup EVOO
⅛ cup pecan oil ( or you can use EVOO)
2 tsp peach white balsamic or apple cider vinegar
pinch of salt and pepper (about ½ tsp)
2 tsp dill (start with 2 tsp taste and see if you want to add another at the most. Some people aren't as keen to dill as others)
For the Pecans:
6 TBSP butter, melted
3 tsp Panola All Purpose Marinade or Worcestershire sauce
½ tsp pepper and salt each
Instructions
For the Pecans: mix together the all the ingredients then toss with the pecans. Place pecans on a roasting pan and bake in the oven at 300 for 30 minutes. Remove and set aside to cool. Once cool, roughly chop the pecans.
Meanwhile, bring a large pot of water to a boil and quickly add the broccoli in batches and boil until bright green, 1 to 2 minutes. Add to a colander in the sink and run with cold water to stop cooking. Drain well and place in a large bowl.
Combine the pecans with the broccoli, tomatoes, raisins and steamed edamame. Whisk together your dressing ingredients and toss with the salad. Keep at room temperature until time to eat!