Thanksgiving is around the corner and I don't know about you but as much as I THOROUGHLY enjoy my traditional thanksgiving dishes I ALWAYS want (sometimes hubs says no) to  add a little extra twist to one of the classics. Take my Individualized Sweet Potato Rounds. They are a miniature takeaway off of sweet potato casserole complete with bacon, Gruyere cheese, a dash of hot sauce and  hints of cilantro (yeah I threw that in there to really up the anty).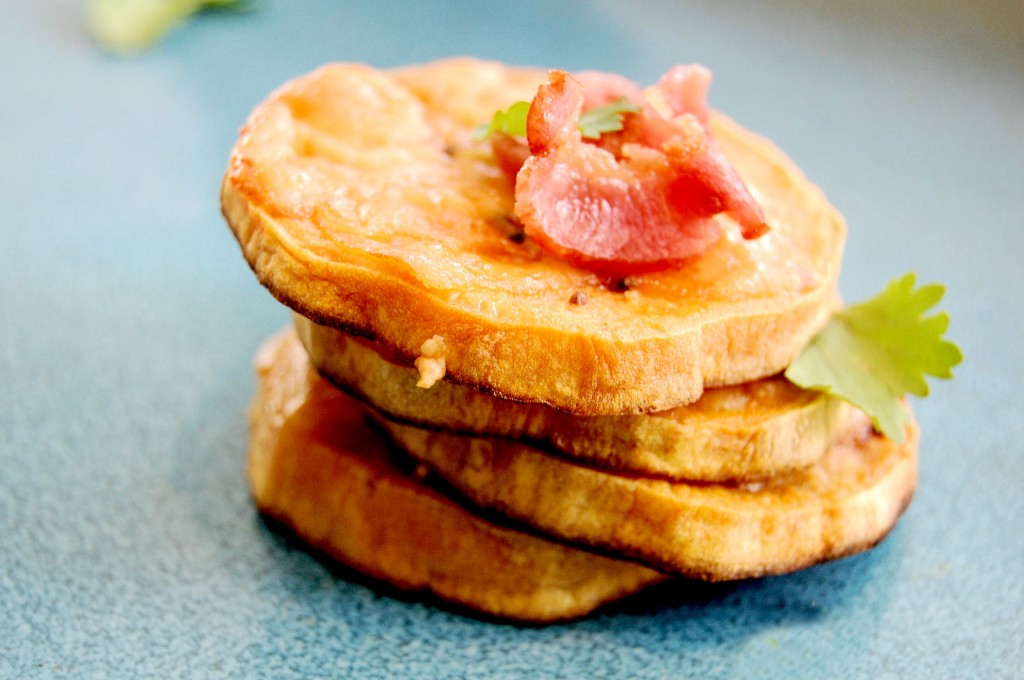 It took me forever to write this post. Yes I realize its still short and sweet but that is because I sat at my computer thinking what else can I say? How else can I portray these delectable bites so that everyone will run (not walk) to the kitchen and start cutting sweet potatoes. The answer I found was I can't. I can't tell you just how amazing they tasted and yet how simple they were to create. I can't tell you how that with every bite you get a hint of spice, a hint of that rich cinnamon flavor and sprinkles of cracked black pepper. I can't tell you how sensational it is to take that first bite and have the combination of the crispy cheese, smoked bacon and the soft tender sweet potato just start melting in your mouth. I simply can't tell you enough so I guess I just won't tell you anything! LOL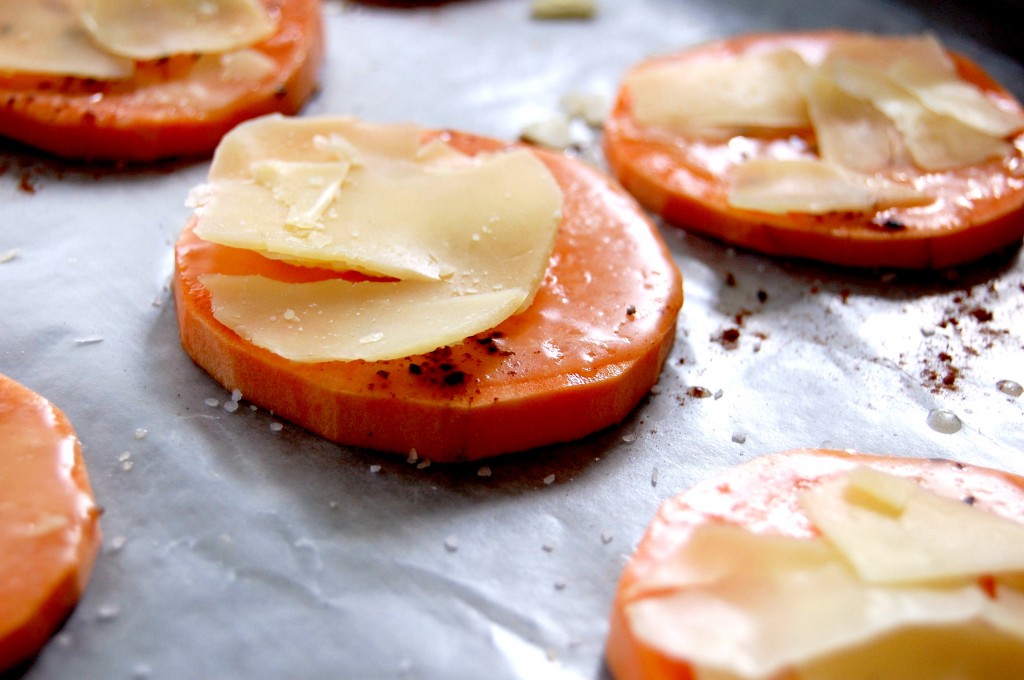 So throw out that casserole pan and do something different this year! Turn your sweet potatoes into a delicious and appealing side or appetizer that I promise everyone will love (even the potato haters out there- and you know who you are- I have been there myself).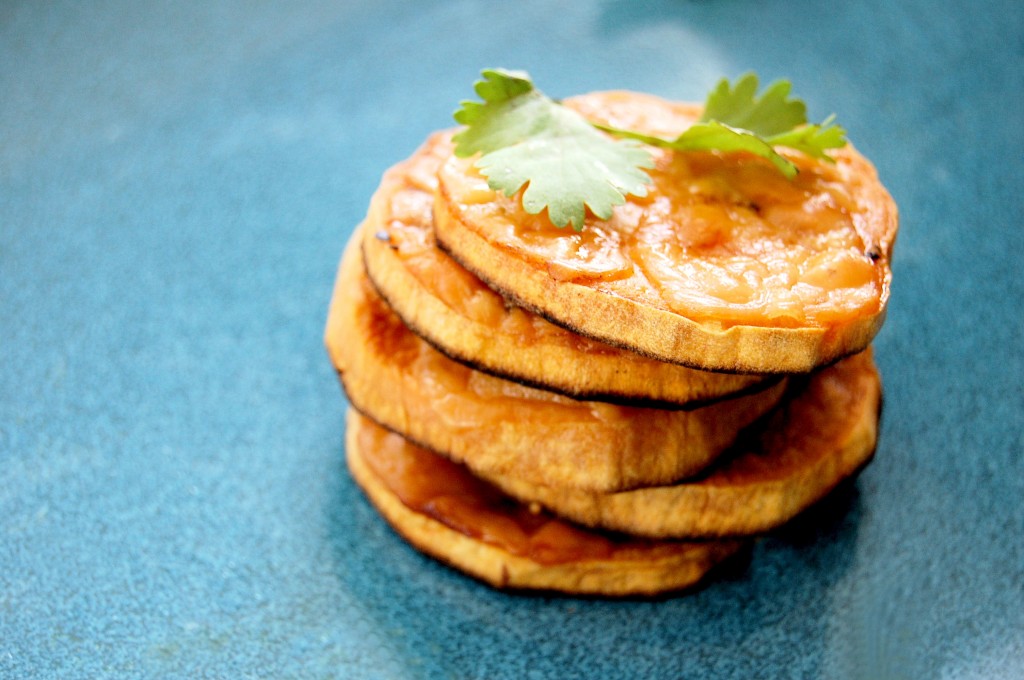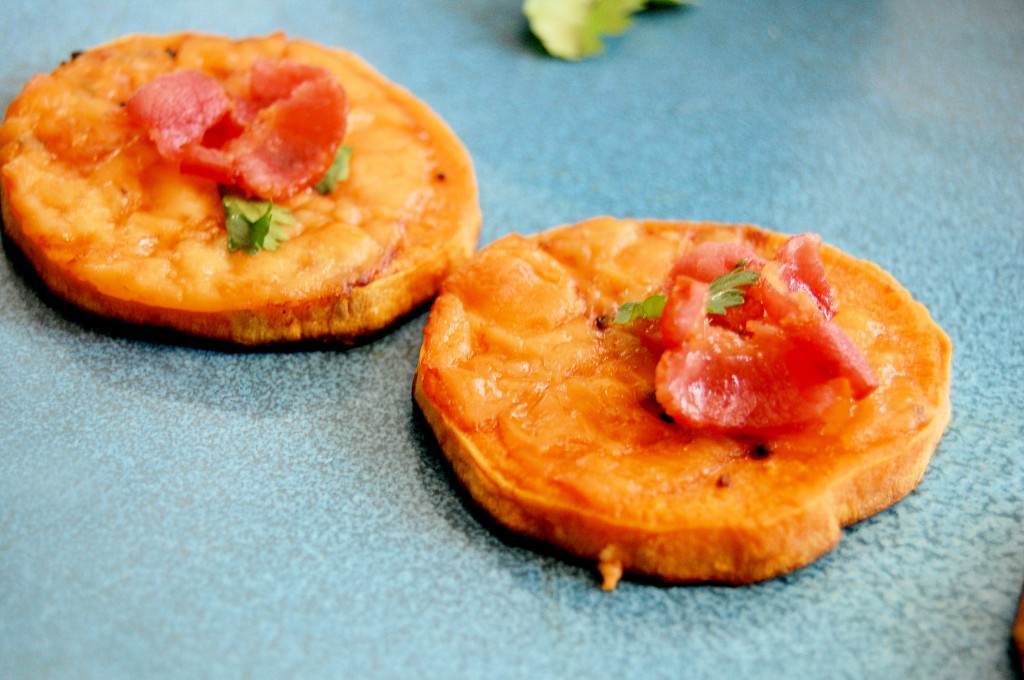 Gruyere & Bacon Sweet Potato Rounds- Ultimate Thanksgiving Side
Ingredients
2 medium sweet potatoes
2 TBSP melted butter
½ tsp cinnamon
dash of Panola Hot Sauce
1 TBSP chopped cilantro
Sea salt, Cracked Black Pepper and Paprika
6 slices of bacon, cooked and roughly chopped
6-8 slices of Gruyere cheese broken up into small pieces (enough to roughly cover top of a sweet potato round)
Instructions
Preheat oven to 400 degrees. Spray your cookie sheet with olive oil spray. Then wash and slice sweet potatoes into ¼ inch rounds (no need to peel unless you want to). Spread in single layer on cookie sheet and brush melted butter on the top of each round. Sprinkle each round individually with a dash of salt, pepper, cinnamon and paprika. Then a dash of Panola Hot Sauce. Top with a piece of cheese and roast in oven about 20 minutes or until golden brown. Before serving place the bacon on top of each round and sprinkle the whole plate with the chopped cilantro.
Enjoy and Happy Thanksgiving!