One of the things I like most about cooking for my kids is that I get to reminisce over certain foods that I grew up eating and now get to enjoy with my own kids. Take tater-tots for example. Even though I had this deathly fear of mashed potatoes, I for some reason or another  "forgot" that fear when it came to tater-tots. Why I am not sure? If you really think about it a tater-tot is simply a formed mashed potato deep fried. Well. I guess that last word hit the nail on the head. It was deep fried. Who doesn't go gaga over something fried- Am I Right?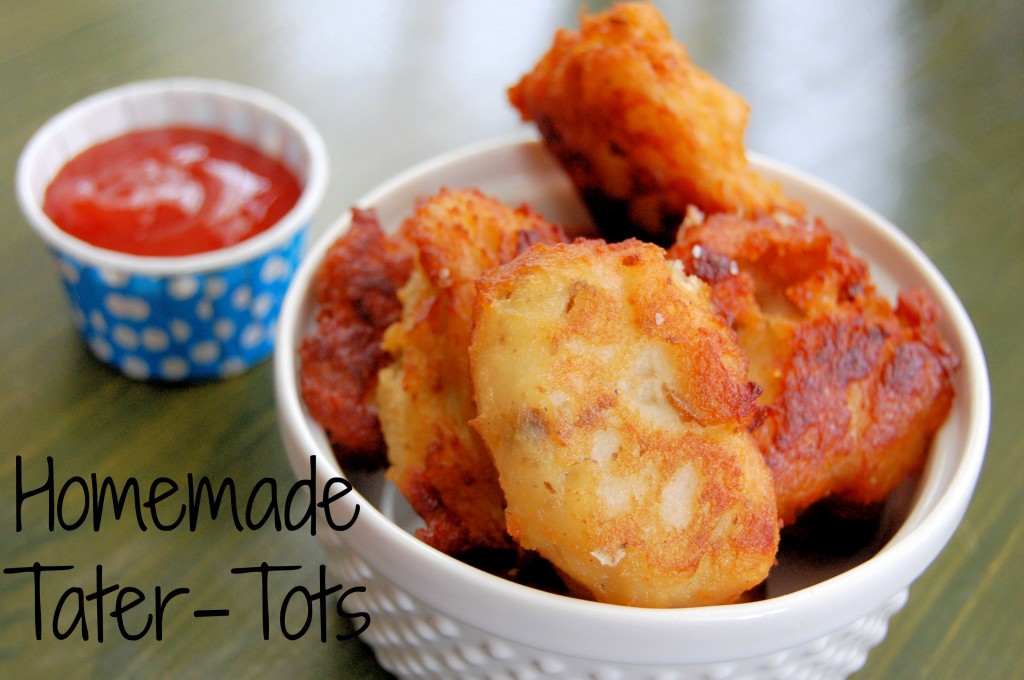 Now some like their tots mushy, some like them slathered in ketchup , some like them as crunchy as possible and some,  like yours truly, like them perfectly crispy on the outside but still very soft in the center with a dab of ketchup- a dab! I know what your thinking. I don't have time to make fresh homemade tater-tots when I can just as easy pop in a bag from the freezer section. Yes, your right. It is much easier to pop in frozen store-bought tots but your wrong when you say you don't have time. Let me break it down for you: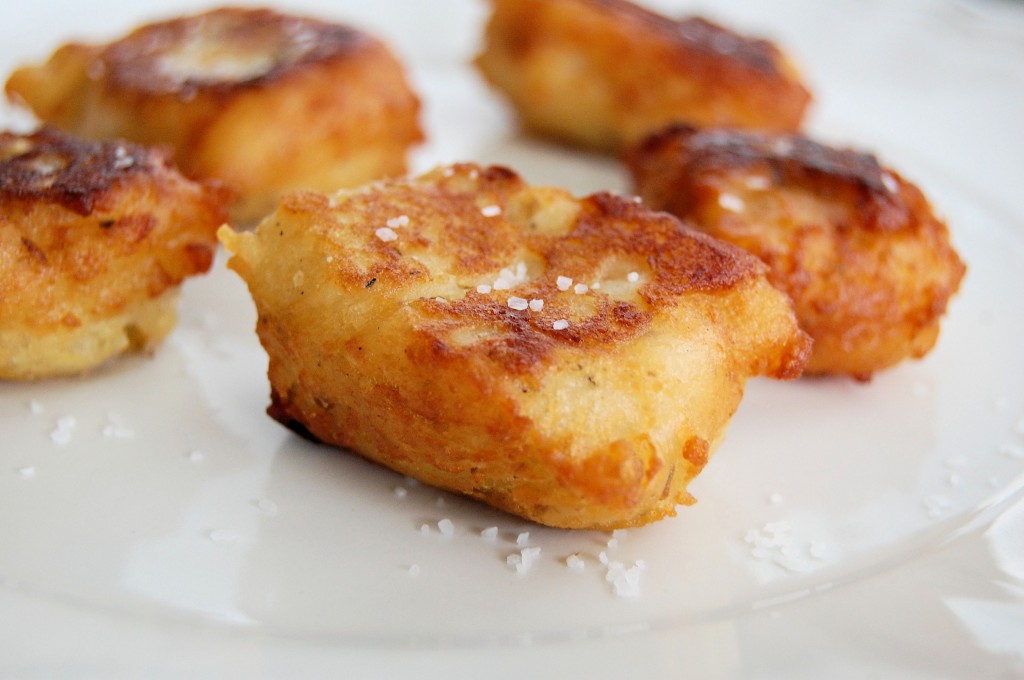 The next time you make mashed potatoes, make a extra helping and set aside for the next day. Whip in a lightly scrambled egg into the potatoes along with a few extra ingredients (see recipe list) and stick back in the refrigerator to firm up. Next take them out- form into small bite size squares, circles, rectangles, freakin triangles for all I care and place that cookie sheet covered in tots in the freezer. When they are just beginning to freeze up, pop them in a bag and zip tight. Label and then YES- the next time you need tater-tots by all means pop open that bag- that bag of course of HOMEMADE TATER TOTS!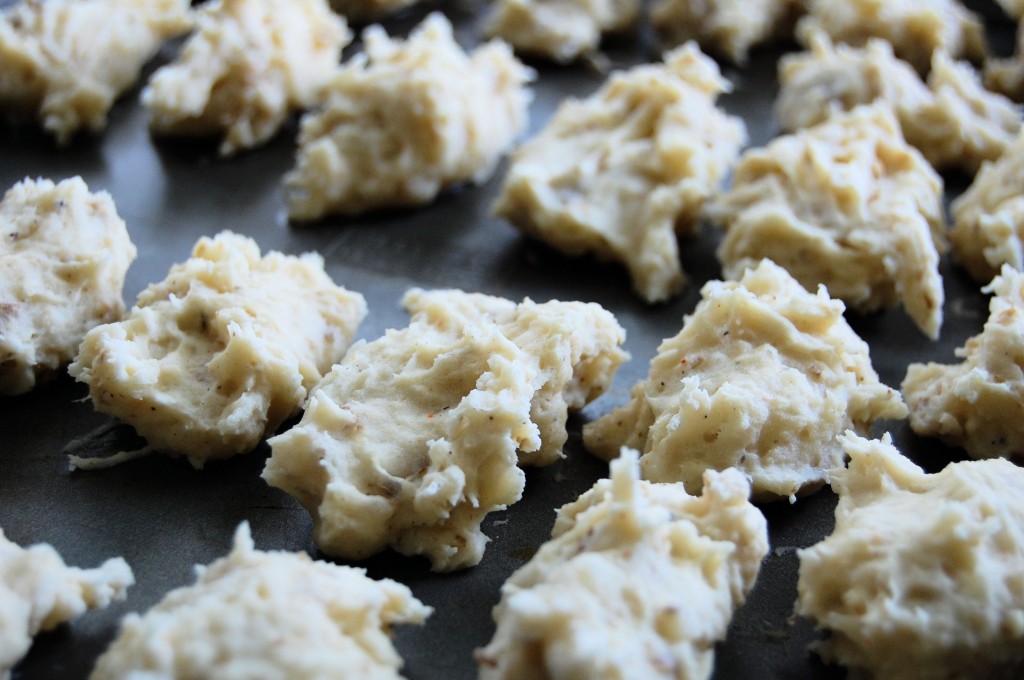 Wanna know a little secret. My tater-tots have this amazing flavor that adds a hint of tangy spiciness that is hard to pinpoint unless you know what it is. The secret ingredient is Mustard! I am a huge fan of putting mustard in just about anything and tater-tots is no exception. The mustard adds a different dimension of flavor and turns the ordinary tot into an extraordinary one. Not just any mustard will do (and I don't say that often but learn from my experience)- you must have Brown Mustard. My favorite is Saucy Mama's Spicy Brown Mustard.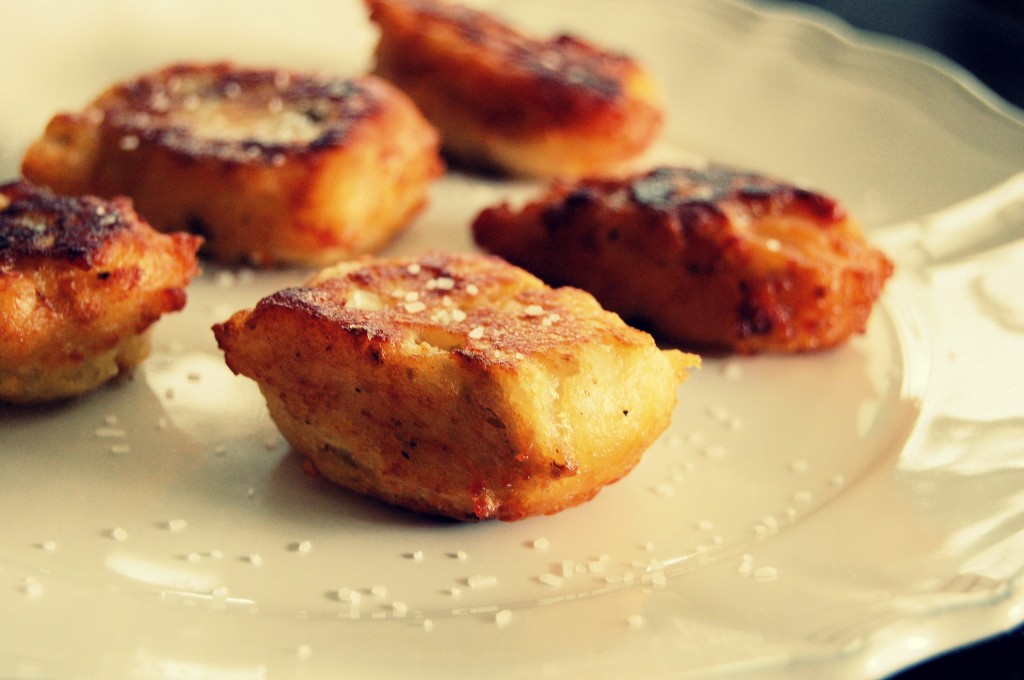 Do you have a favorite mustard? If so, what is it?
This recipe and more kid friendly ideas can also be seen at Belleicious Kids!
Homemade Tater-Tots (yes you can do it)
Ingredients
3½ cups leftover mashed potatoes- room temp
2 eggs
½ cup flour
1 to 1½ tsp (depending on how much you like the flavor of mustard) Saucy Mama spicy brown mustard
¼ tsp salt and pepper each
¼ cup panko bread crumbs
Cornmeal**** optional for breading
Vegetable or Canola Oil for frying
Instructions
Take your nice cold or room temp mashed potatoes and add in the eggs and mustard. Stir together your salt, pepper, panko and all purpose flour. Then stir the panko/flour mixture into the potatoes.
Note: Sometimes people make their mashed potatoes more thin and creamy or thick and chunky. The 3½ cups measurement in the ingredient list relies more on the thick and chunkier style-so if you find that after combining all your ingredients your mashed potato mixture is a little runny than add in a little more mashed potatoes- DO NOT double the flour or eggs but you can then season it accordingly if need be!
Place in the refrigerator to firm up a bit. Drop a spoonful of potatoes either on a silicon lined or non-stick baking sheet or roll the potato mixture in the cornmeal then place on the sheet. YOUR CALL:) Both ways are excellent. Pop the sheet back in the freezer for 10-15 minutes before frying. Heat 1½ inch of oil in a large cast iron skillet and fry on medium to high heat for 2-3 minutes before flipping. Repeat with remaining batches. Helpful Hint: You want the temp around 350 degrees so if the tots are cooking too fat then you need to turn the temp down or if not cooking fast enough then turn the temp up:) Drain cooked tater tots on paper towel before serving.