Okay so husband HATES and has always HATED grits. Coming from the south and New Orleans I might add, you would think this boy would love him some grits especially in a dish such as Shrimp and Grits but he never has attempted to try the dish until yours truly stepped in and put an END to the insanity. I am trickier than I get credit for at times!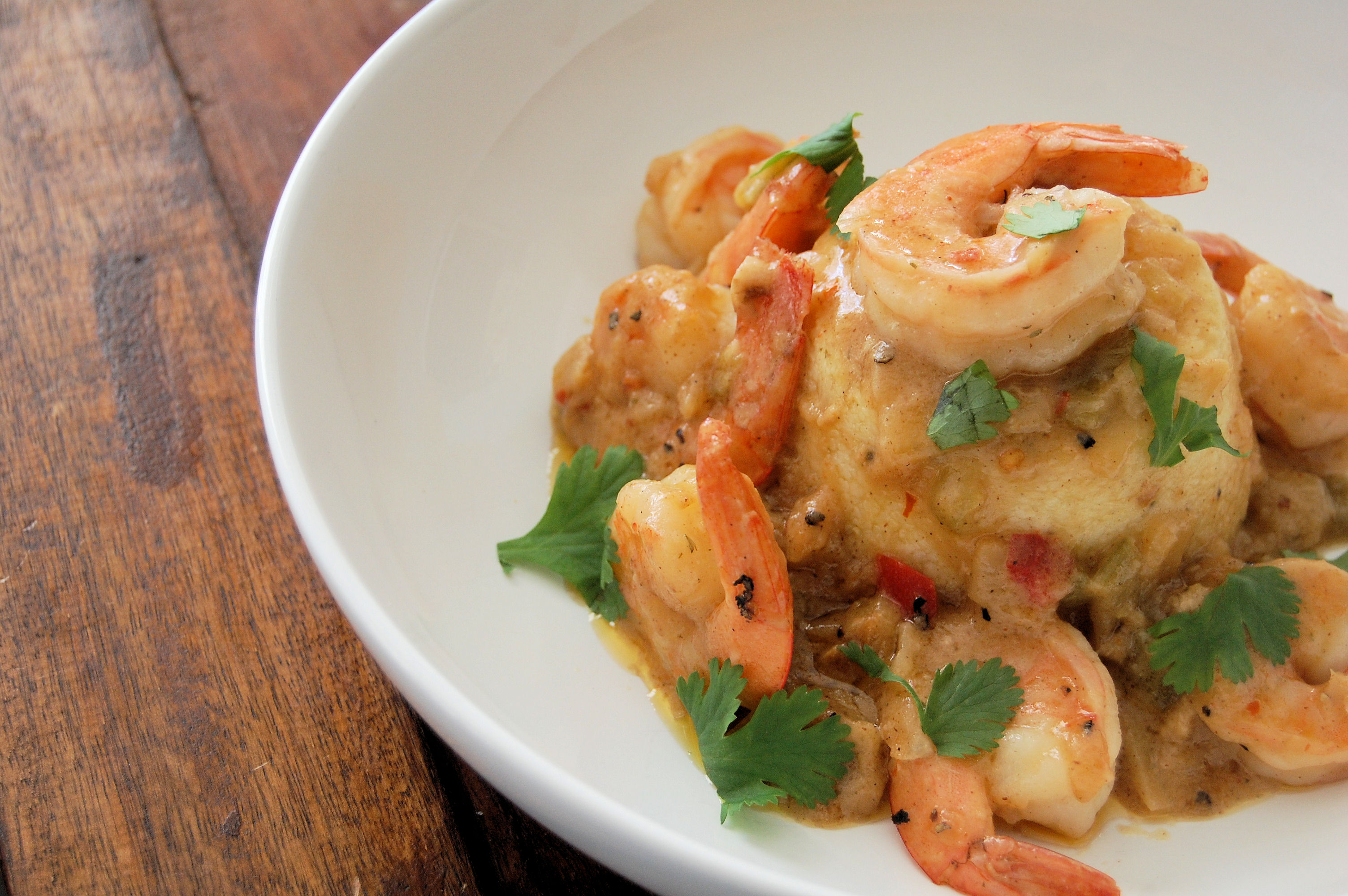 Think Grit Muffins! Yep, I said muffins. Grits in the shape of a huge muffin but upside down. By using this method you get the flavor of the grits but not the creamy grainy texture- which is what he doesn't like about them. I made regular old butter grits and added in a few twists of cheddar cheese, jalapeño and Cajun seasoning then poured into greased muffin tins and baked them at 350 for 35 minutes or until nice and golden brown on top. They were a hit and now he requests them all the time! The lesson here ladies and gentlemen is be creative with ingredients and you can change even the pickiest eaters!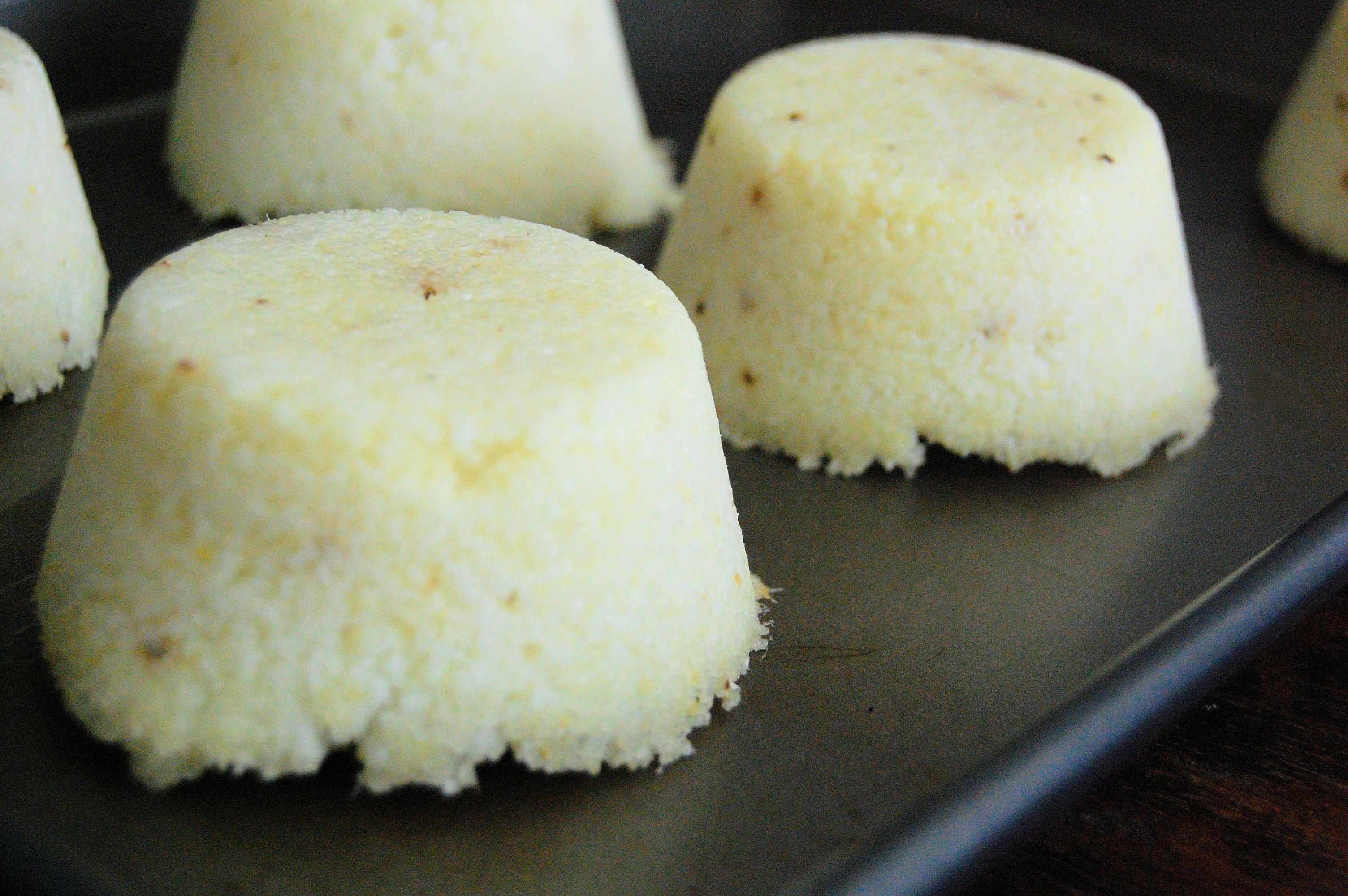 Think Smothered Pork Chops meets Fresh Shrimp! I just used the word smothered and shrimp together:) I made a great incredibly flavorful silky seafood gravy using fresh herbs, chicken stock and cream then smothered the shrimp in it and allowed them to cook for another 6-8 minutes until they turned nice and pink. One Word- YUM!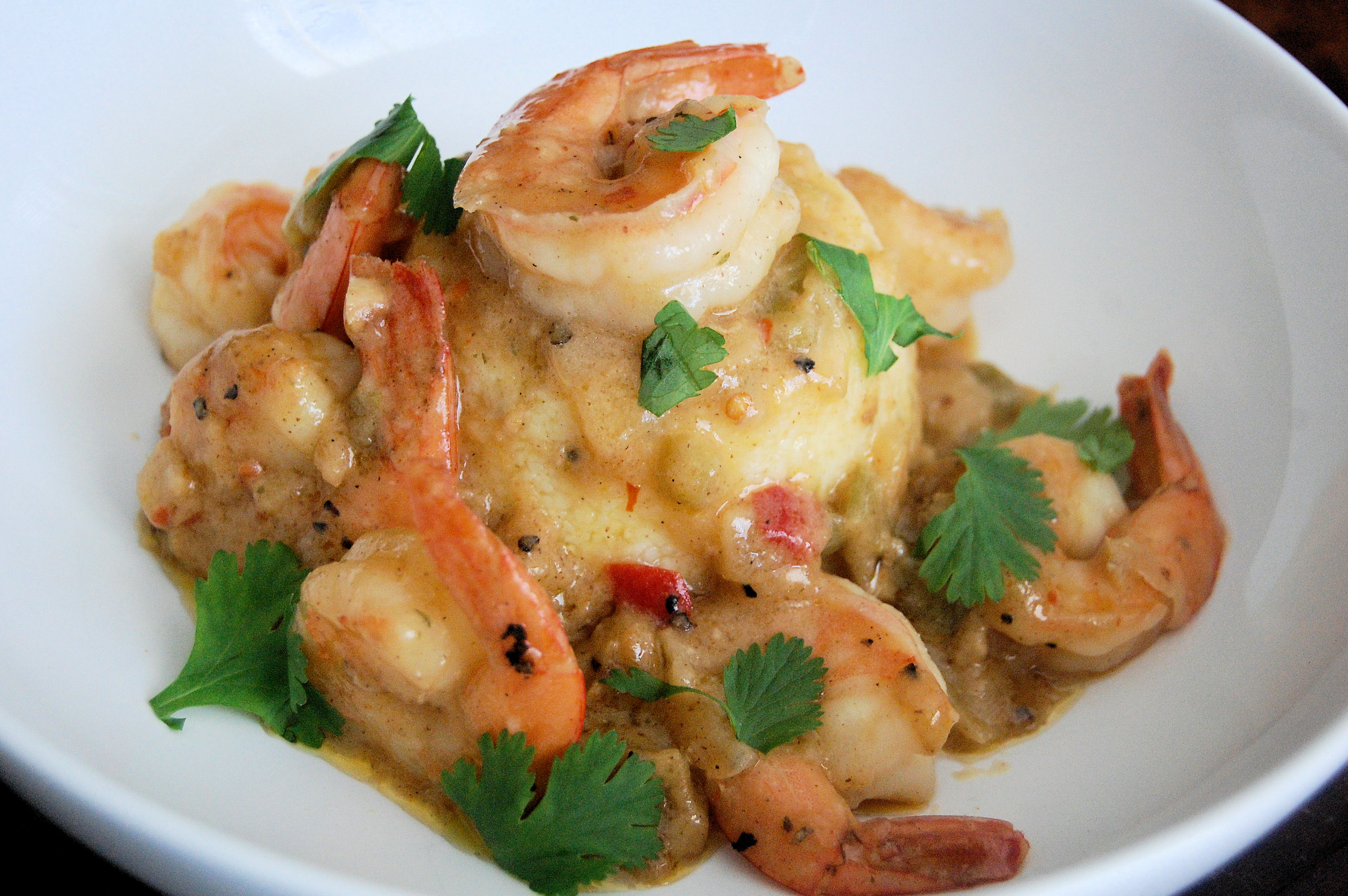 You could actually serve this dish as an appetizer if you use mini muffin tins and a tiny shot glasses to hold the appetizer or as a main dish. No matter how you do it just do it because it this just screams Fresh!
Shrimp and Grits
Ingredients
1½ pounds peeled and deveined shrimp, tails on
2 TBSP oil
2 TBSP butter
2 garlic cloves, minced
4 TBSP flour
2 cups chicken stock
1 onion, diced
1 tsp salt and pepper each
1 tsp cajun seasoning
2 TBSP fresh basil, chopped
2 TBSP fresh parsley, chopped
½ bunch green onions, chopped
For the Grits:
6 cups water
3 cups of grits
½ tsp cajun seasoning
½ tsp black pepper
1 tsp Panola Spicy Sweet Jalapeno juice (just stick your spoon into the jar and use the juice)
¼ cup cheddar cheese, shredded
1 stick butter
¼ tsp garlic powder
Instructions
In a large skillet or Dutch oven heat the oil and butter. Saute the onion and garlic for 5-6 minutes. Add in the flour and stir til combined. Slowly incorporate the chicken stock until the mixture is smooth and there are no lumps. Season with salt, pepper, cajun seasoning and herbs. Bring to a boil and add in the shrimp and green onions. Simmer for 3-4 minutes until the shrimp are pink and firm.
Meanwhile, to make the grits. Combine all ingredients in a medium sauce pan over medium to low heat. Bring to a boil then simmer for 10-15 minutes until the grits are smooth but still thick. We want them still thick in order to make the muffins. Grease a standard 12 cup muffin tin or a large 6 cup muffin tin and pour the grits into each cup ¾ full. Bake at 350 for 20-30 minutes until nice and golden brown. Allow to cool completely before removing them from the pan. I typically slide a knife around the grits and then invert them onto a plate. Serve with the shrimp mixture and enjoy