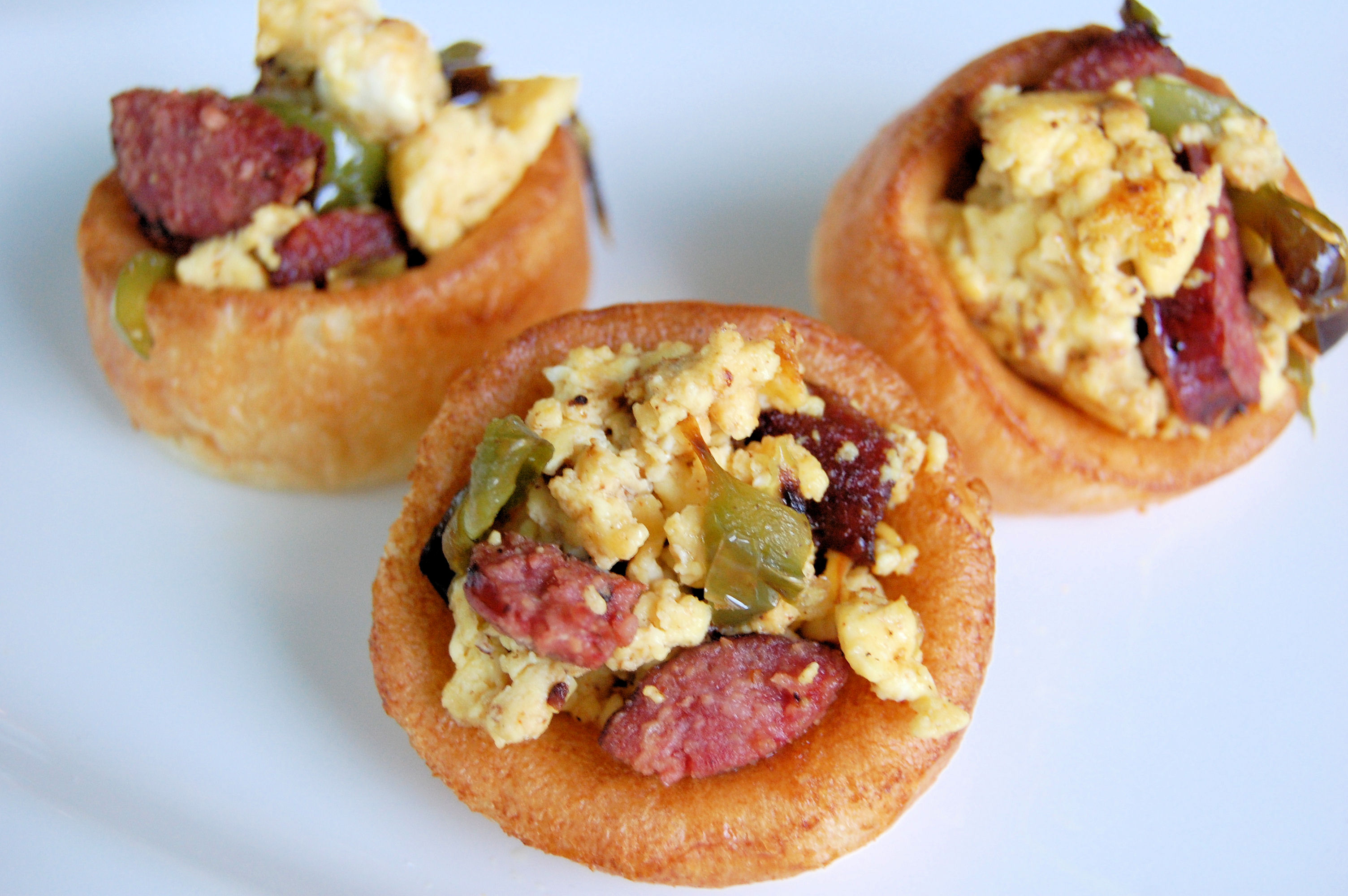 Oh have I got a surprise for you today! Anytime my mom would come home from a trip or just out shopping she would bring us home a little surprise/treat or what we liked to refer to as a "happy". So as a throwback to my younger years:) I would love to present you each with a little "happy". This happy resembles a muffin but with the texture of light pancake. It is sturdy enough to hold soups and hearty enough to double as your "bread" for a meal. It is perfect with sweets and ideal for savory dishes. It is none other than a POPOVER!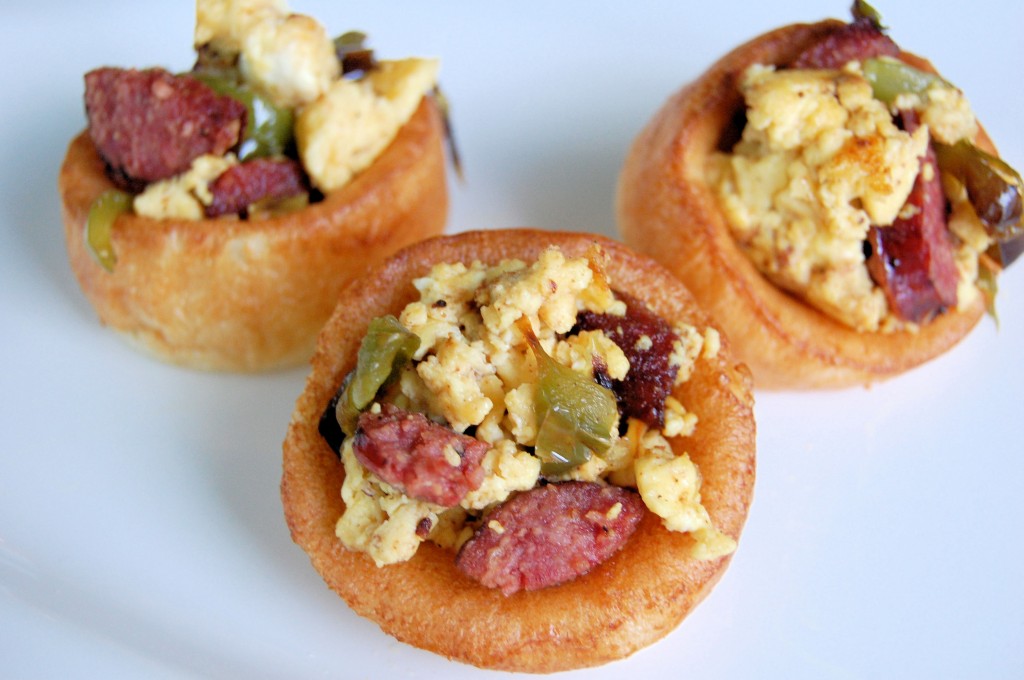 Yes we have all had our fair share of popovers. It was the new craze earlier this year following cake pops, cupcakes and pretzels. Now its back but in frozen form. Don't get me wrong. I love to make homemade popovers. They are delicious and easy and get be stored for weeks in the freezer but did you know there is a company out there that makes "fresh" frozen popovers?? Yeah- you didn't know did you? Well, consider this your Popover Class 101. The company is East Riding Farms and when I had the opportunity to review these pretty little bad boys and see if they really would pass the freshness test I took the bait or rather ate it. Like literally, I ate the bait- the popovers, one by one by one I ate them and I LOVED them! They are airy just a way a popover should be. They are slightly buttery, perfectly chewy and flaky and simply wonderful. They even come in three different sizes, bite-size, bowl-size and standard, all of which are ready after just four minutes in a preheated oven.  Did I mention there are only 5 ingredients! Crazy huh!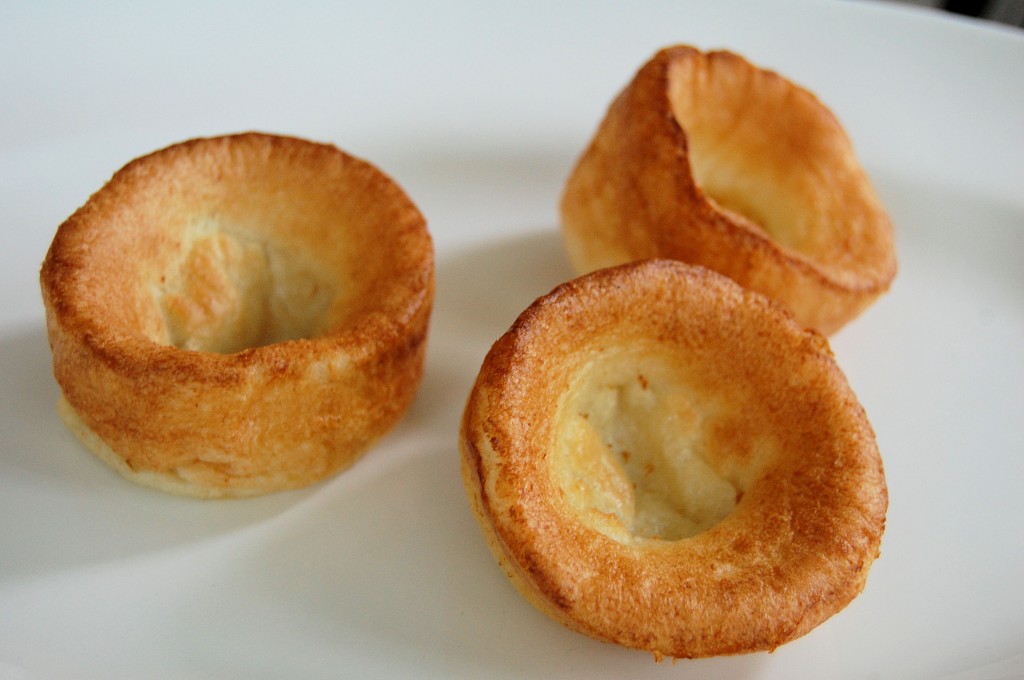 So besides devouring eating the popovers as is I thought it would be fun to use them as the main in a dish. For Belleicious Kids I went old school and fun and did a great twist on the classic Smore- check it out here. For the family I decided to do what I like to call a cajun creole scramble. Complete with onions, bell peppers, garlic, hot sauce, pecan smoked sausage and yes of course- eggs. It was beyond amazing. I know those words sound so superficial and used but seriously it was beyond amazing. Nothing short of it and you all would be loco for not sprinting to the kitchen to get started on this recipe. Take it easy mom and grab you the frozen popovers from East Riding Farms so all you have to do is whip up that egg scramble. You will thank me later!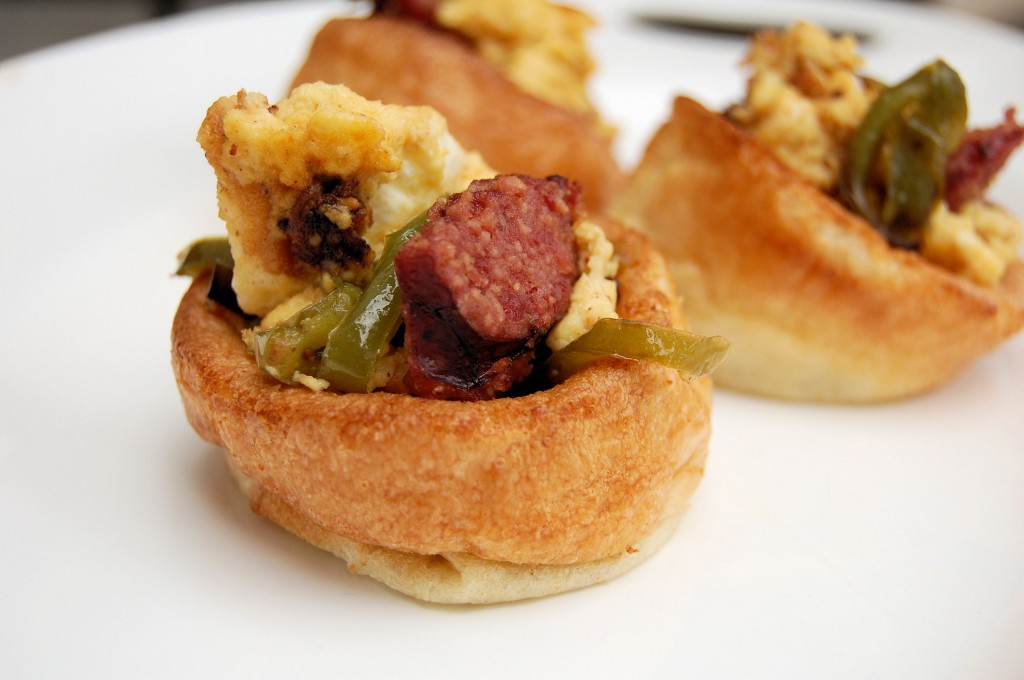 Cajun Creole PopOver Scramble
Ingredients
6 eggs
½ cup buttermilk
¼ cup grated cheddar cheese
1 tsp cajun seasoning
½ tsp salt and pepper each
pinch of paprika
dash of Panola hot sauce
2 cloves garlic, minced
½ cup onion diced
1 green bell pepper, diced
12 East Riding Farms popovers, standard size
Instructions
Whisk together the eggs and next 6 ingredients. Set aside.
In a large skillet cook the sausage over medium to high heat for 5-7 minutes. Toss in the garlic, peppers and onions. Cook another 5-6 minutes on medium heat until sausage is completely cooked and the peppers/onions are tender. Add in the egg mixture and don't stir! Let the eggs cook for up to a minute or until the bottom starts to set.With a heat-resistant rubber spatula, then gently push the edges into the center of the pan allowing the liquid egg to flow in underneath. Keep doing this until all the uncooked parts become firm.
Pre-heat the oven to 400 degrees and cook the popovers for 5 minutes. Remove and fill each popover with the egg scramble. Enjoy