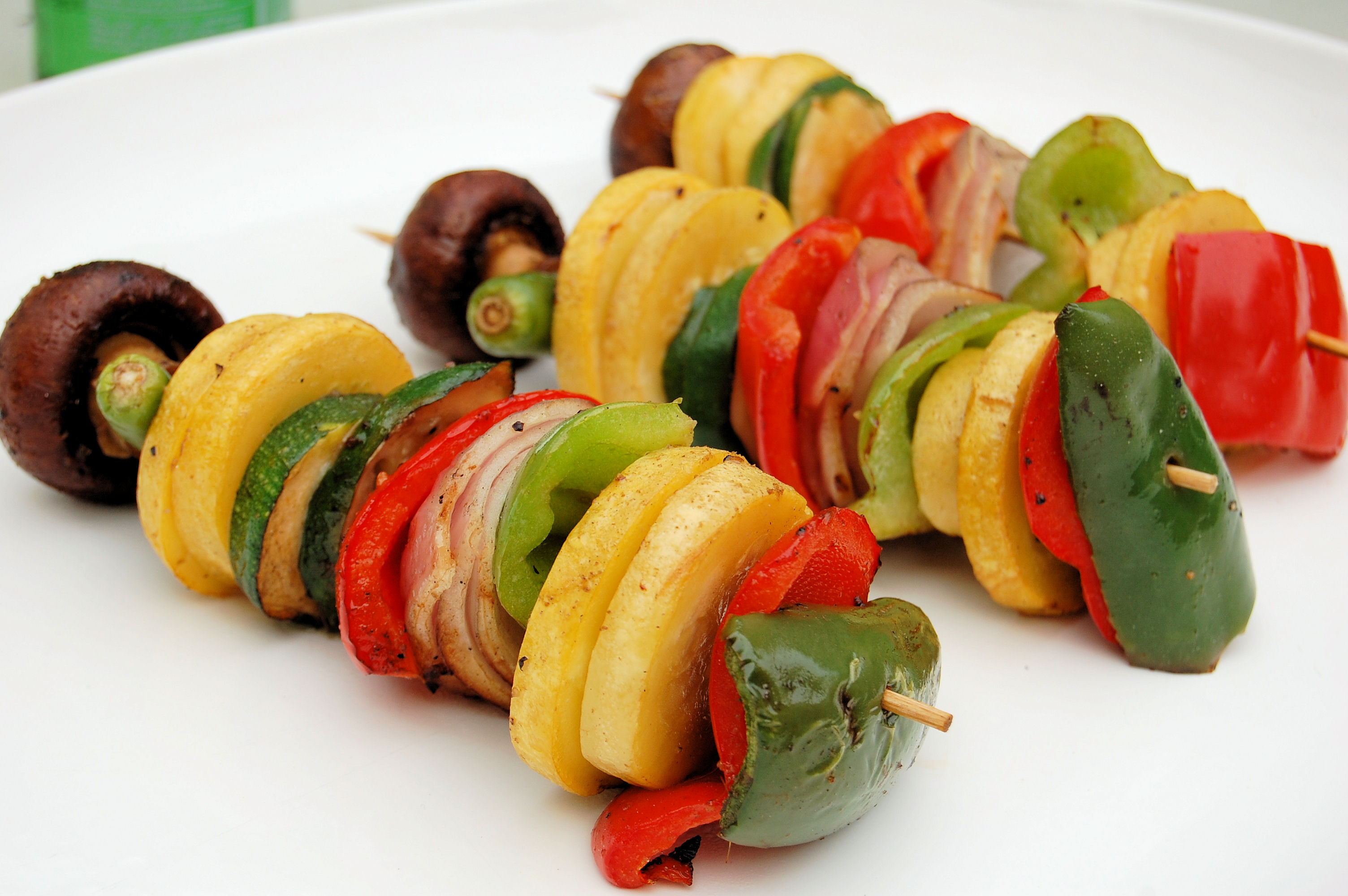 There is something to be said about cooking simple. During the summer fresh vegetables are in high demand and they can easily be prepared with just a few simple ingredients. Throw out the roasting pan, the skillet and steamer. Push your favorite vegetables onto a skewer and call it a day:) Utilizing the grill is a easy avenue for summer entertaining.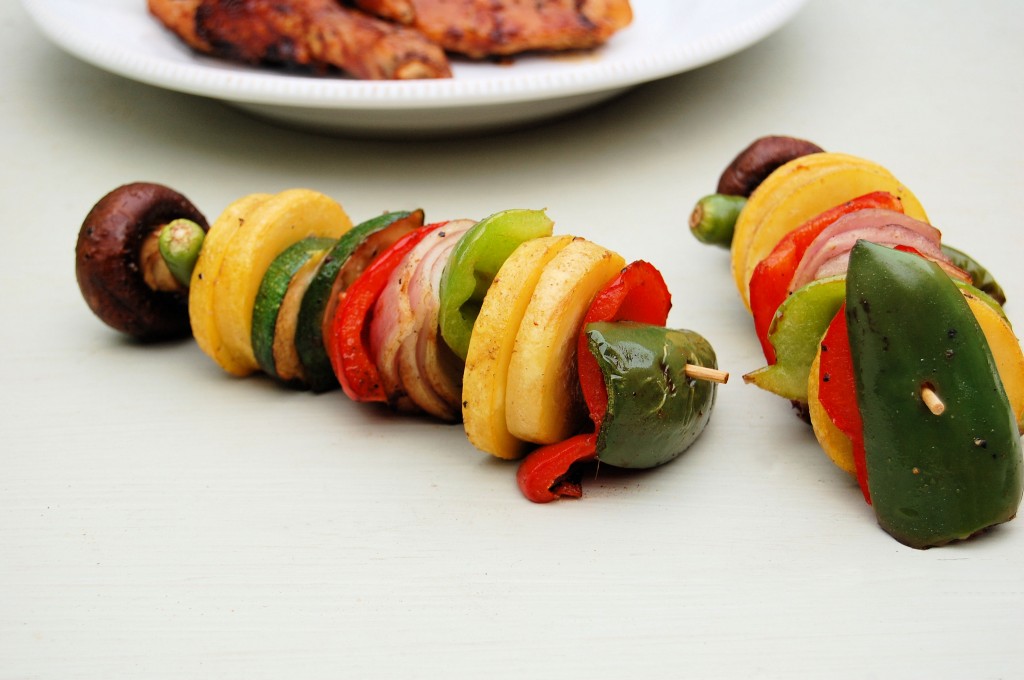 I don't know if you are like myself but there are certain vegetables I only enjoy eating by themselves depending on how they are prepared. For example bell peppers- I can eat them til the cows come home if they are chopped up and sauted with other ingredients but don't dare hand me a big slice of bell pepper- Unless- it has been marinated and grilled to perfection. Same goes for radishes, endive and beets. The sweet and nutty flavor of both squash and zucchini make these vegetables easily adaptable to any cooking method and each compliment almost any meat, chicken or seafood. The star of the show though isn't the vegetables but rather the glaze. Its is the ultimate combination of sweet and tangy and with a dash of red pepper flakes it also has a nice kick that is rather subtle and not to overpowering.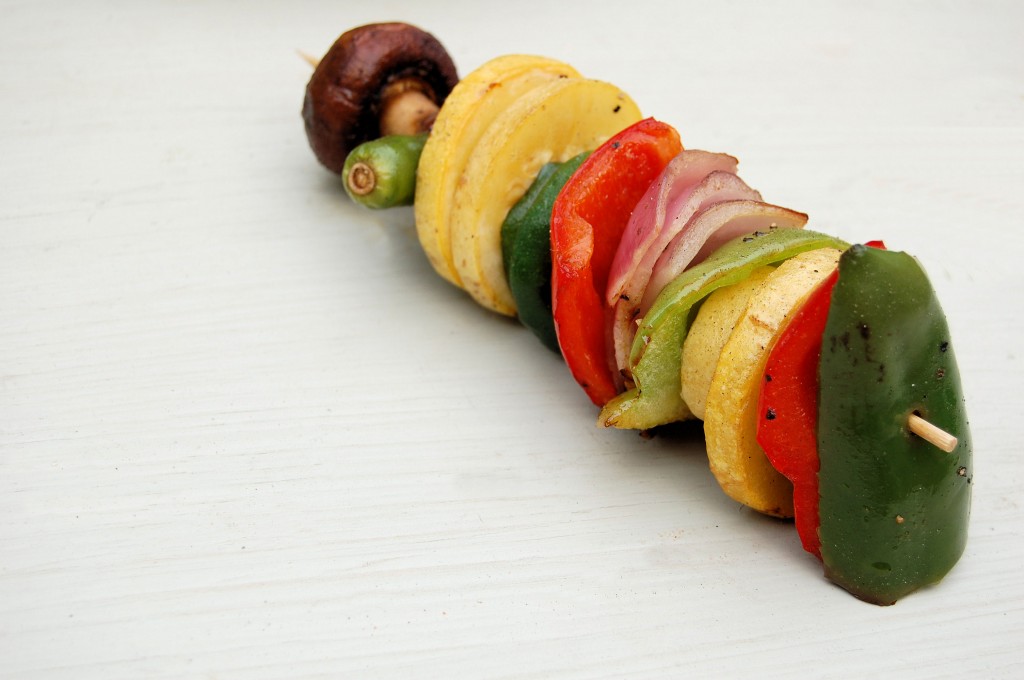 Regardless of which vegetables are your favorite, stacking them on a stick and with a drizzle of my amazing tangerine balsamic glaze will have your taste buds dancing and screaming for more.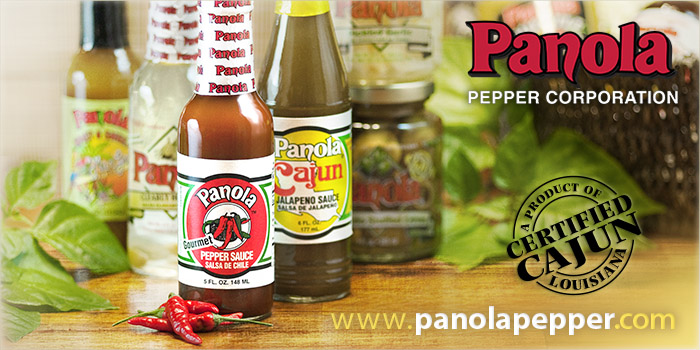 Tangerine Basalmic Glazed Summer Vegetable Kabobs
Ingredients
1 cup red, yellow or green bell pepper chunks
1 cup red or yellow onion chunks
1 cup white button mushrooms
1 cup zucchini or yellow squash chunks
1 cup of whole jalapenos
Marinade/Glaze:
⅛ tsp tangerine balsamic vinegar
¼ tsp red pepper flakes
½ tsp sea salt
½ tsp cracked black pepper
½ cup olive oil
½ cup lime juice
¼ cup water
¼ cup Dijon mustard
2 tablespoons minced garlic
Instructions
Whisk together all ingredients for the marinade in a small bowl (The marinade can be prepared and stored in refrigerator for up to a week).
Preheat an outdoor grill to medium heat. Place all vegetable chunks into a ziploc bag and pour in the marinade. Allow veggies to sit in marinade/glaze for Remove vegetables from the marinade, reserving marinade. Thread vegetables onto at least 2 hours. Remove vegetables from the marinade (saving the leftover marinade) and thread the vegetables onto the skewers, alternating colors. Cook skewers on grill until vegetables are lightly charred all over, about 10 minutes,brushing with reserved marinade and turning occasionally.