Yes you can do this! I know the word Leek and Prosciutto to a mom of 3 with a crazy insane day might sound a little too extravagant but it doesn't have to be. A leek is one of those vegetables that is capable of adding the a lot of flavor to a dish without the extra work. Once soaked, they are easily chopped and added to anything your pretty little mind can think of and the power of a leek is born. You have their mild onion like taste and crunchy texture which compliments dishes like pasta, stir-fry and Yes, even casseroles. Now prosciutto on the other hand COULD NOT BE SIMPLER. Repeat after me SIMPLE! Think of it as another piece of deli meat but not a typical deli meat- the star of all- the cream of the crop, the apple of your eye- okay, you get my picture. Think Big, Bold, Smoky, Salty flavor that will just melt in your mouth. If those words don't prompt you to run to the store and pick up prosciutto then maybe we shouldn't be friends. What about the word- NO COOK! You eat it as is. Now do you want some?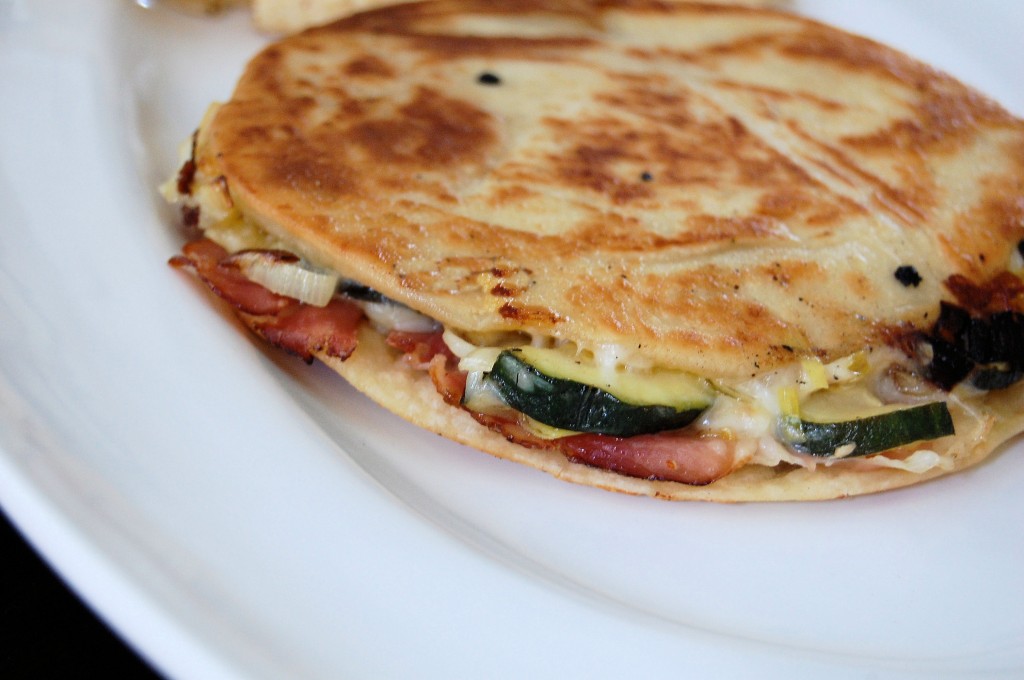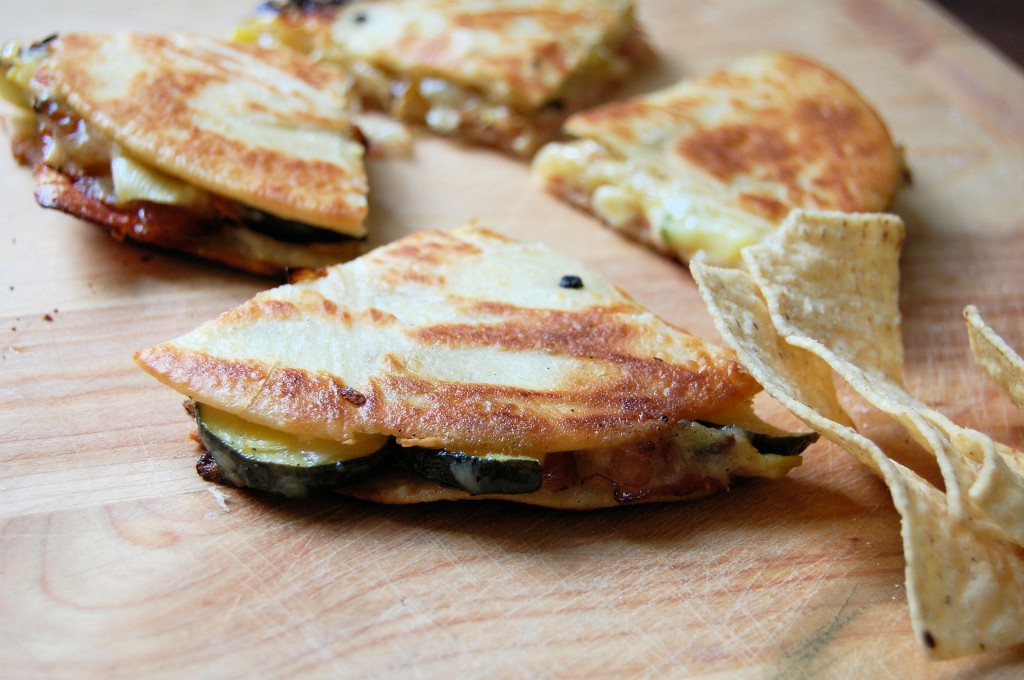 Since my latest influx of zucchini I have been inspired to cook all things zucchini. Zucchini bread, zucchini pasta, zucchini cookies and now my Zucchini, Leek and Prosciutto Quesadilla. Now that we know the ins and outs of the ingredients for our amazing quesadilla lets put them all together. You have the smoky salty flavor of the prosciutto, the nutty, sweet taste of the zucchini and the mild onion like flavor of the leeks. Add in a little mix of pepper jack cheese and Romano ( I sweat the pair just work) and you have a exquisite delightful over the top sandwich that brings the idea of a quesadilla to a whole new level.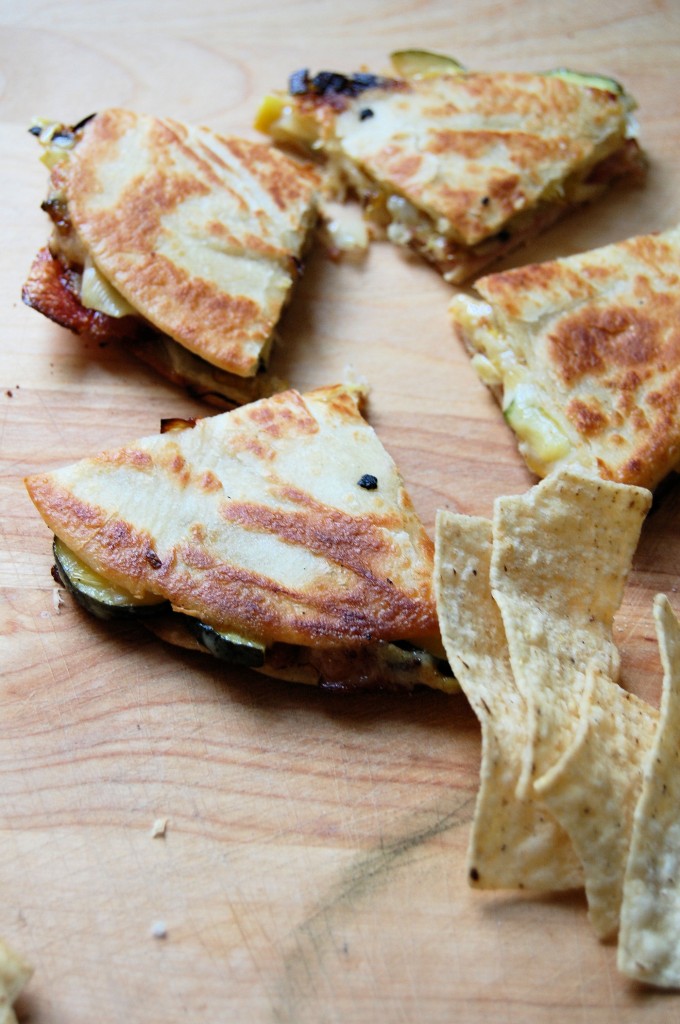 Zucchini, Leek & Prosciutto Quesadilla
Ingredients
1 Large zucchini
1 bunch of leeks or ½ bunch of green onions, chopped
¼ lb of thinly prosciutto
2 cloves of garlic, minced
¼ tsp salt (remember the prosciutto is already salty enough)
½ tsp pepper
¼ tsp paprika
¾ cup of shredded Pepper Jack cheese
½ cup of shredded Romano cheese
Instructions
Cut the dark green, woody part of the stalk off each leek and discard. You only need to use the white and pale green portions of the leek. Now chopped the white and green reserved portion and place in a large bowl of cold water. Swish the leeks with your hand to remove any sand or dirt embedded in the layers. Rinse, drain and pat dry. You may also substitute green onions for the leeks and simply chop the green onions and set aside.
Next rinse your zucchini and then slice into ½ inch rings. Place zucchini, leeks and garlic in a large saute pan with 2 TBSP of olive oil. Saute until slightly tender, 5-7 minutes. Set aside to cool.
Place the zucchini, leeks and cheese in a large bowl. Mix to combine and season with the salt, pepper and paprika. Now its time to assemble our quesadilla. Heat a large cast iron frying pan to medium high heat. Add a small amount of oil and allow it to spread around the bottom of the pan. Take two flour tortilla's or one depending on the size of your pan and place it in the oil. Gently arrange 2 layers of prosciutto on top of the bottom tortilla then a heaping spoonful or two of the veggie/cheese mixture then top with the top tortilla. (I like to assemble my quesadilla's in the pan itself so I don't to worry about any of the filling falling out as I transfer it to the pan.) Repeat the assembly process and cook the quesadilla's, 2 minutes per side on medium to low heat or flip the quesadilla over every 10 seconds or so until your desired crispiness is achieved. Remove from pan and cut into wedges.