What is the one thing food that reminds you of summer? Okay, two things? Is it sweet tea, hot dogs or juicy corn? What about burgers, lemonade or grilled chicken. What to know my two things? Fresh Strawberries and Homemade Ice Cream. The thought of each of these things makes me kinda giddy and I start reminiscing through all the years growing up on the lake, the fourth of July festivals, the boats, the long nights watching my brother play baseball and of course- the days on end full of homemade ice cream and fresh strawberries.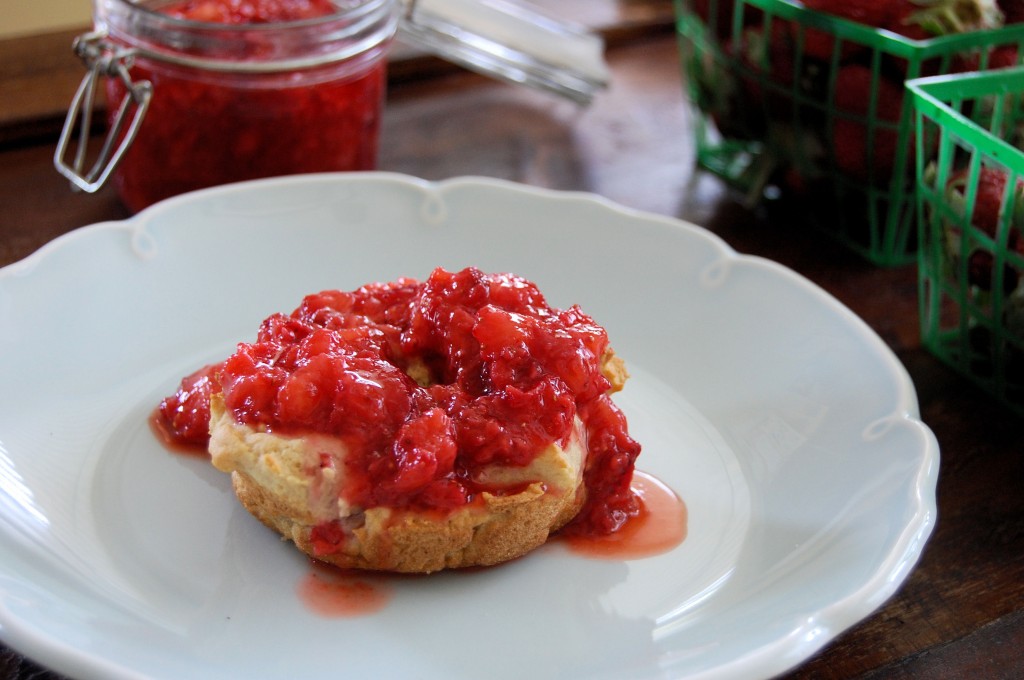 I am not sure when strawberry season peaks for you all but here in Houston the prime time is May. So when our local Atkinson Farms raised that happy little sign saying, "Strawberry Season is Here" we were more than willing to travel 30 miles to get our fill. So with our strawberry pickin game faces on we loaded up and headed out in the heat to for those precious little berries.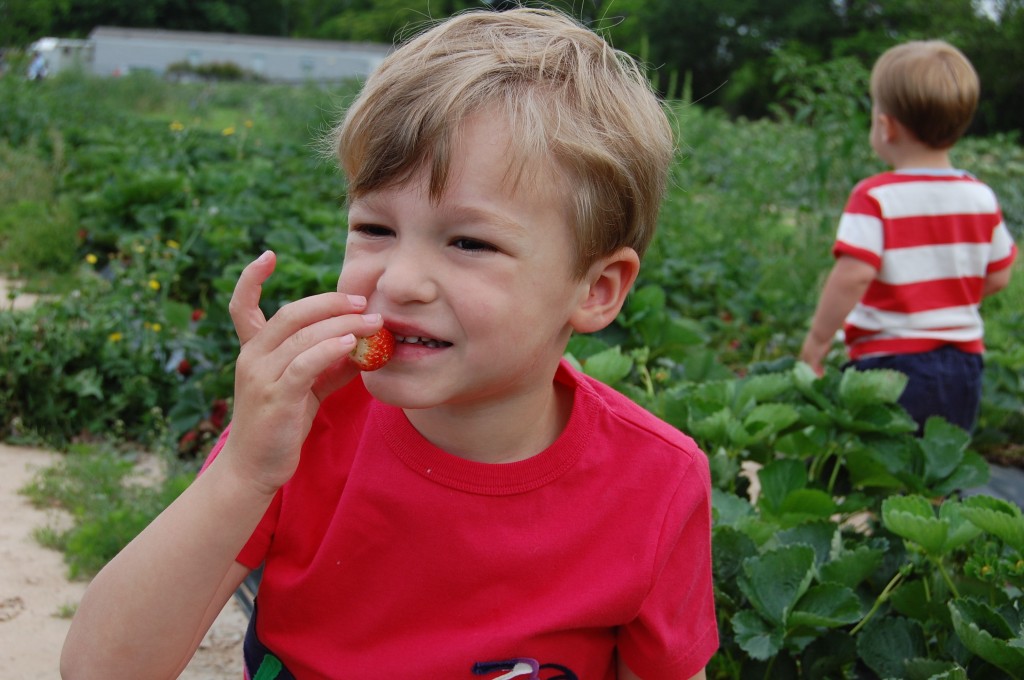 If you ever find yourself in a little predicament of what to do with all your million baskets of strawberries- have no fear- I have the perfect solutions or solutions. One is called Strawberry Mash. Let me give you the lowdown on strawberry mash. It is truly as easy as it sounds. You take your washed and cut berries and place them in a large bowl and with your potato masher just start mashing until you get a nice slushy red mash with bits and piece of strawberries throughout. Pretty simple huh? So what do you do with 4 containers of strawberry mash? Well, you freeze them first of all and then secondly you take them out at your convenience when it is time for a homemade strawberry pie or a fresh strawberry smoothie or better yet- Homemade Strawberry Ice Cream (that post is real soon-promise) and Homemade Strawberry Shortcakes.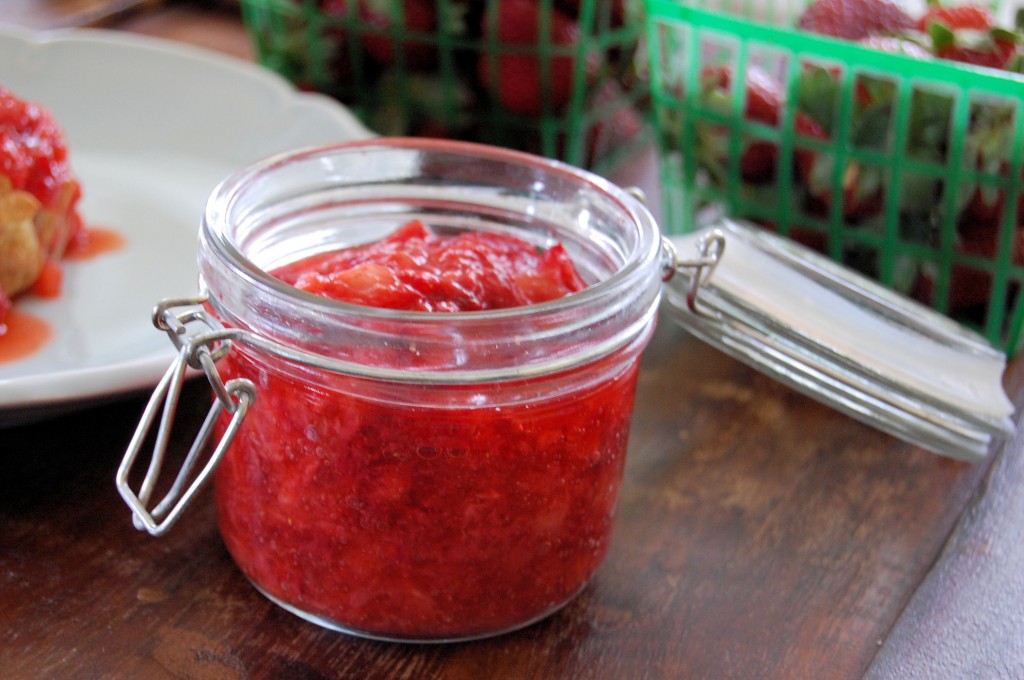 I know one certain SIL (no names but I only have 2 ?) that would kill for her strawberry shortcake. Okay, not kill, because she is the sweetest thing on this earth  but she might be tempted to do some bodily harm for a bite, or two or three. With that said, when I set out to make the shortcake I knew I had stiff competition with my SIL who knows a thing or two about shortcakes. Although we live 7 hours away from each other I knew she would be trying out this recipe and I needed to impress. I honestly never intended for the shortcakes to be gluten free but the thing is sometimes when I multi-task I can mess up! What! No you say? Yes, indeed it is true and in this case I grabbed my GF flour mix bin instead of my AP flour bin and lo and behold you have yourself a gluten free shortcake. Now please note that more times than not you can't or won't be able to simply substitute a gluten free flour for an All Purpose one but in the case with these babies it turned out fantastic and I can't say it was my intention but boy I am glad it happened that way because now I have the most amazing gluten free shortcake recipe that I swear by! The secret to the shortcakes though is the addition of Devo Basil Olive Oil into the shortcakes and brushed on top before baking. It brings the flavor of the berries out and just propels it to the next level. You'll see- give it a try and top it off with a huge dollop of your strawberry mash -mixed with a little sugar of course:)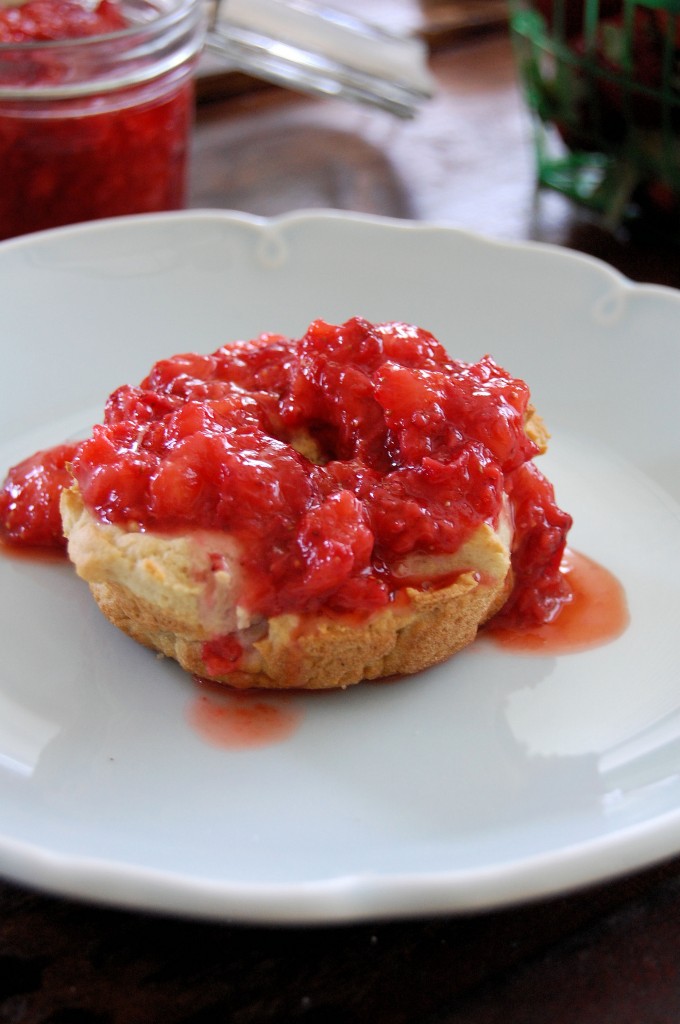 Gluten Free Basil Strawberry Shortcake+Strawberry Mash+Strawberry Farm
Ingredients
Homemade Gluten Free Mix:
1¼ cups brown rice flour
¼ cup tapioca starch
1 tsp xanthan gum
or you can simply omit above and use 1¾ cup of Gluten Free Baking Mix
or you can use 1¾ All Purpose Flour
1 tbsp baking powder
½ tsp baking soda
½ tsp salt
½ cup sugar
8 TBSP butter, cold
¾ cup buttermilk
1 egg
½ tsp vanilla
2 tsp of Devo Basil Olive Oil
1 cup of strawberry mash or 1 cup of fresh or frozen strawberries sliced and or thawed
Instructions
Sift together dry ingredients in a large bowl. Cut in the butter. Whisk together the wet ingredients including the basil olive oil and pour into the dry ingredients. Stir until a dough begins to form.
Turn the dough out onto a lightly GF or non GF floured surface. Knead the dough until it forms a ball. Roll it out into ½ inch thick and using a biscuit cutter cut out as many circles as you can, Place on a non-stick baking sheet and brush the tops of the biscuits with a combination of 1 tbsp of milk and 1 tsp of basil olive oil and sprinkle with coarse sugar. Bake biscuits in 350 preheated oven for 12-14 minutes, or until a nice golden brown on top.
Allow to cool. Mix the cup of strawberry mash with 2-3 TBSP of sugar and spoon on top of the shortcakes with a dollop of whipping cream (Optional)