Do your kids love chocolate as much as mom does:) do you have a play date or sleepover in your future? If so this post is for you. The other day I was multitasking in the kitchen- yes I know- for those of you who know me this is not a shocker. I was hands deep in mixing up homemade granola and melting chocolate to dip pretzels in for my kids play date the next day. You know how I say the best things that come out of the kitchen are those that you did on accident. With a 4 yr old just a chatting and a 1 yr old crying I was on the verge of losing my mind and I carelessly proceeded to grab the granola I was breaking apart with my hands (that's another story all together) and drop it in the chocolate. Did you catch that- at the beginning of this adventure I was planning to make chocolate dipped pretzels and now I have this huge glob of chocolate covered granola. Oops!!!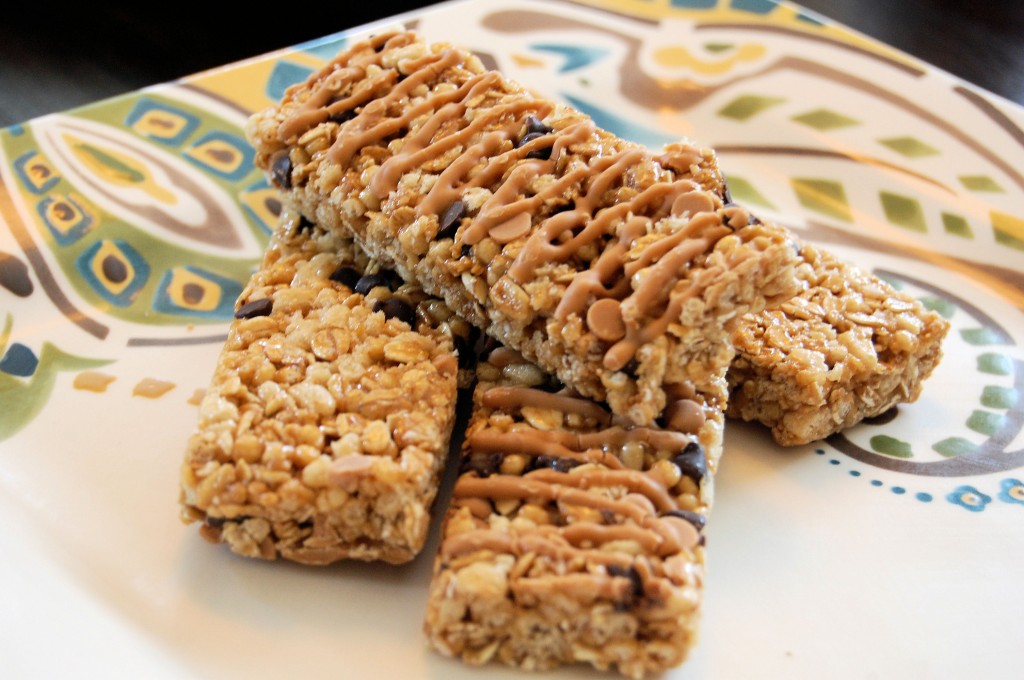 So what do you do when this happens to you? and it will happen… Well you just pick up this huge glob of chocolate covered granola and eat it! Yep- go ahead and take a huge bite and think to yourself, "Wow- this tastes incredible:) Job well done mom- Job well done!" With my new enlightenment on this chocolate covered granola I decide this snack would be the perfect fuel for our play date- packing huge flavor and loaded with whole grains. It is a perfect bite size snack to energize the kids and make then giddy:)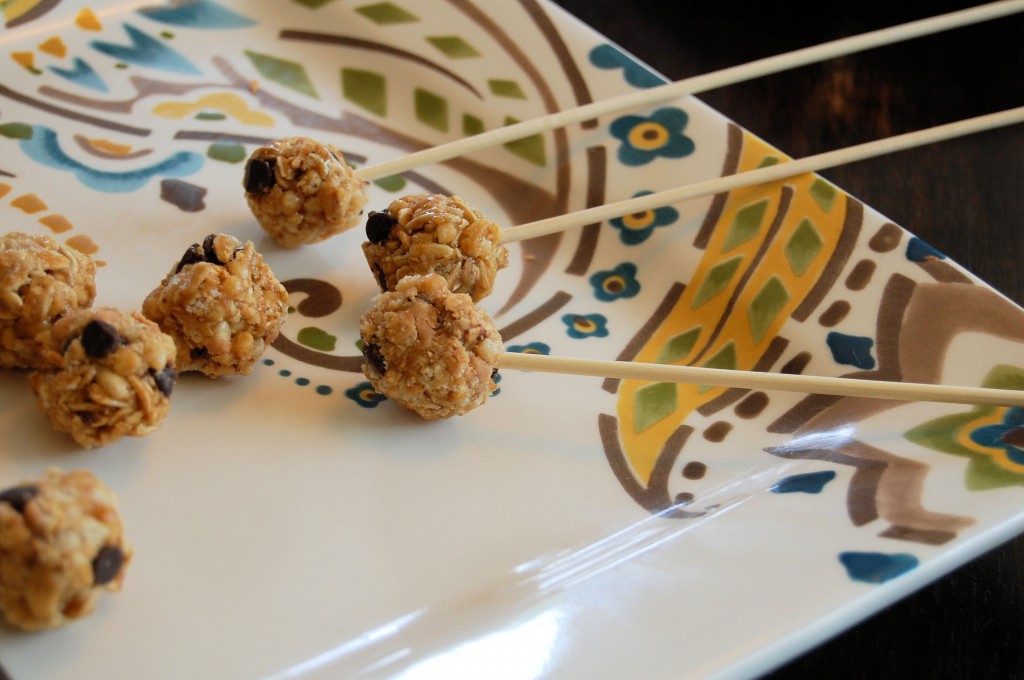 The granola I had previously made was not fit for dipping. As I said I before I was in the process of breaking it apart and mixing in raisins before this glorious catastrophe happened so I grabbed a box of our favorite granola bars- the Big Chewy Peanut Butter Chocolate Chip Granola Bars by Quaker. Sidenote: Have you seen the size of these granola bars? The Big Chewy Bars are certainly Big and Chewy and they were an instant favorite with each member of my family. Even better is the drizzle of peanut butter on the top! YUM!
So where was I? Oh Yes- Before I was able to create this chocolate covered masterpiece my oldest son says- "Mommy can I help? Well of course son:) Whince (envisioning a chocolate covered kitchen in my future), grind teeth, but smile and reply, "Of course Grant, Oh Course! That's when it hit me. Fondue! Fondue is always fun and anything that allows a kid to dip something in chocolate just screams PARTY! The idea is to have the kids do their own version of fondue at the playgroup by letting them dip the granola bars (rolled into balls or cut into bite size pieces) into the chocolate themselves. Genius huh? One less thing mommy has to do today and it is a great way to get the kids interested in cooking.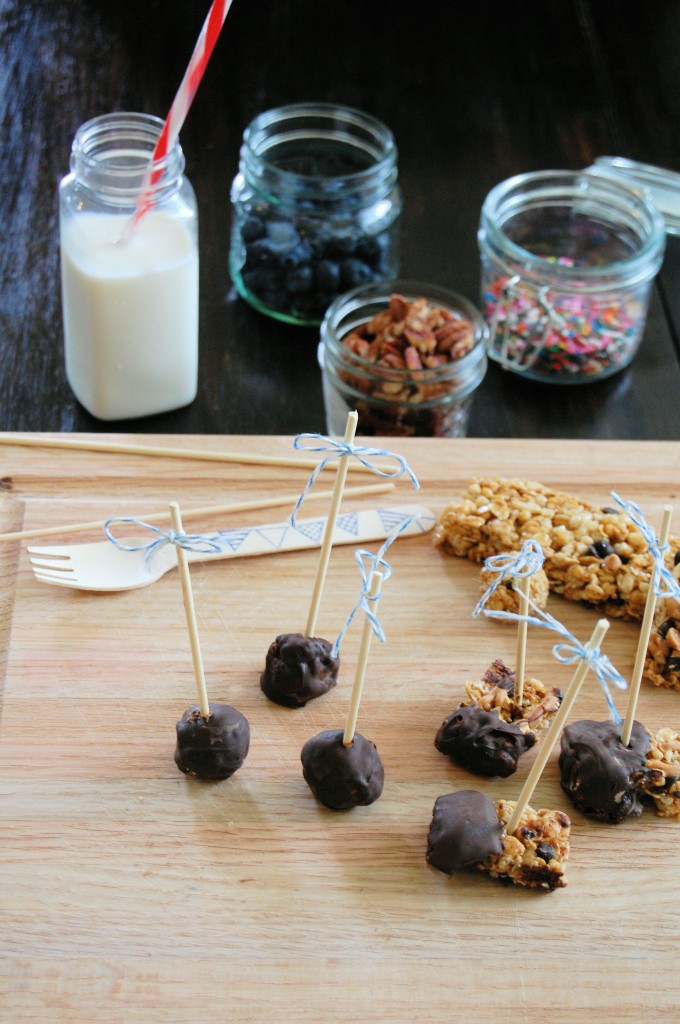 These chocolates covered granola bites are perfect for any gathering of kids. If your kids don't like chocolate chips then mix it up with the peanut butter granola bars. I haven't meet a kid yet who doesn't love chewy granola and chocolate so marrying the two together in a playful activity is liable to get you the mom of the year award:) To learn more about Quaker and how they just simply make your life as a mom easier you can find them on Facebook, Twitter and Pinterest. Or locate their products by clicking here.
Simple Instructions:
Cut the granola bars into bite size pieces. You may do this in small squares or crumble the pieces up into small balls by forming the ball with your hands. Melt 16 ounces of semi-sweet chocolate in a microwavable safe bowl, a fondue pot or double broiler. If using a double broiler or bowl make sure to transfer the melted chocolate to a separate bowl before allowing kids to use it. Stick a skewer in the center of each granola bite and allow children to dip it in the chocolate. Watch them have a BLAST!
Disclosure: Compensation was provided by Quaker via AOL Media. The opinions expressed herein are those of the author and are not indicative of the opinions or positions of Quaker.