I wanted to name this post the Ultimate Veggie Burger but I thought that wouldn't do the burger justice because the ingredients are truly the star- not the title. Yes, Yes I roasted my corn again. I am sorry- I just can't help it. The smell of charred corn makes me happy and brings me back to my childhood- so bare with me on the corn okay- especially nearing summer- your gonna see a lot of it around these parts:)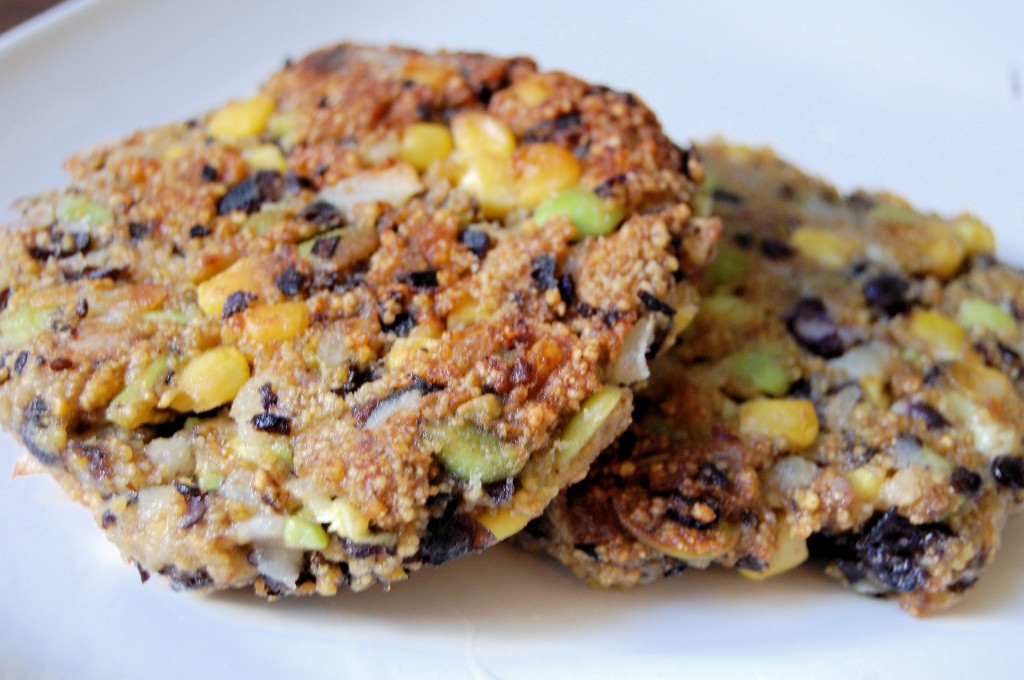 Why go the extra mile and eat a veggie burger? Well, a) It is significantly healthier and b) It can be customized to suit your own taste.There are two complaints I hear the most when it comes to a veggie burger. Let's discuss shall we? First Complaint-"It is tasteless"- My Response- You are either not cooking it properly or your not using the right ingredients. No one said that because you are using veggies you can't have flavor- and flavor comes from seasonings and seasonings my friends is your BEST FRIEND. Red pepper flakes, dash of cayenne or paprika and a pinch of dry mustard is sure to pump up the volume in the veggies- especially when mixed with my secret ingredient- SUGAR! Yep, not that I am biased or anything with my "sweet friend" (get it?) but using sugar to caramelize the veggies before you pat them up does a world of good by bringing out the most terrific flavor in each vegetable. For as long as I can remember my mom and grandmother always put a pinch handful of sugar in their fried corn while sauteing it over the stove. It brings out the natural sweetness to the corn and guess what? IT WORKS ON ALL VEGGIES – okay most of them:)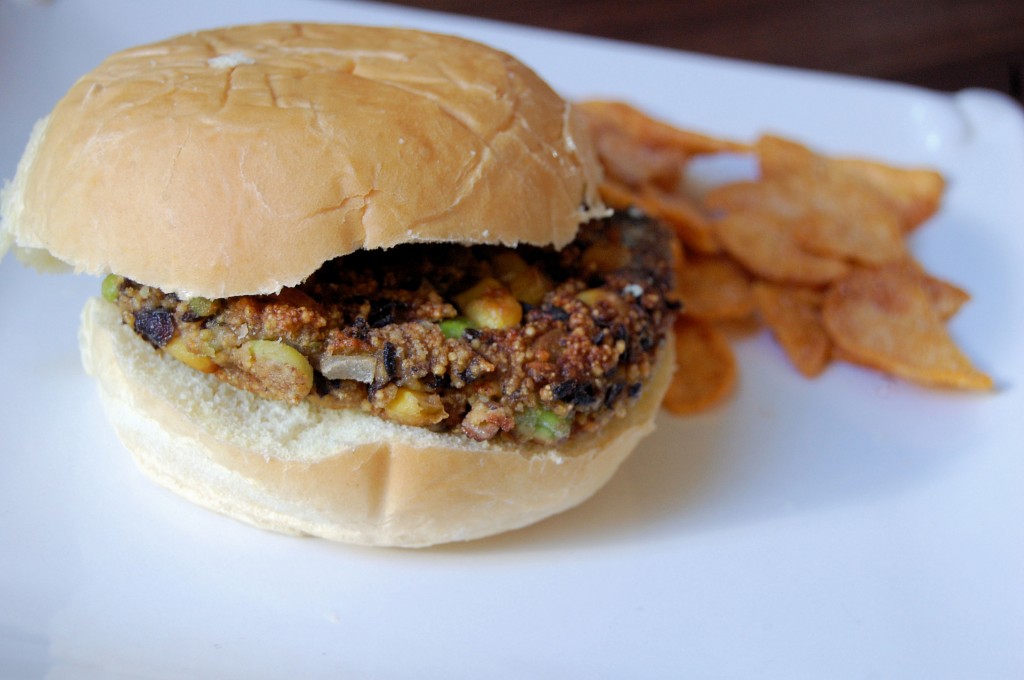 The Second Complaint I hear is " They don't fill me up". Well honey, I am not sure what veggie burger you have been eating but a pattie loaded with beans, edamame and corn is rich in vitamins and minerals and specifically Protein and Fiber. Most of us know the benefits to beans but edamame alone packs enough fiber to balance out that digestive system and fill you up! Toss in some mushrooms and you are ready for a long winters nap:) Seriously, veggie burgers can be and are just as filling if not more than regular beef patties and better for you. Subtract the bun or replace with a Gluten Free bun and you have a fantastic Gluten Free Burger! So grab your canned beans (yep I said canned) a corn cob and a package of steamed edamame and let's get to work:) Your kids are gonna love this!
Speaking of Kids. Try my Fun Mini Backyard Veggie Burgers for a new twist on the classic picnic lunch. See the spread in Southern Child's Magazine.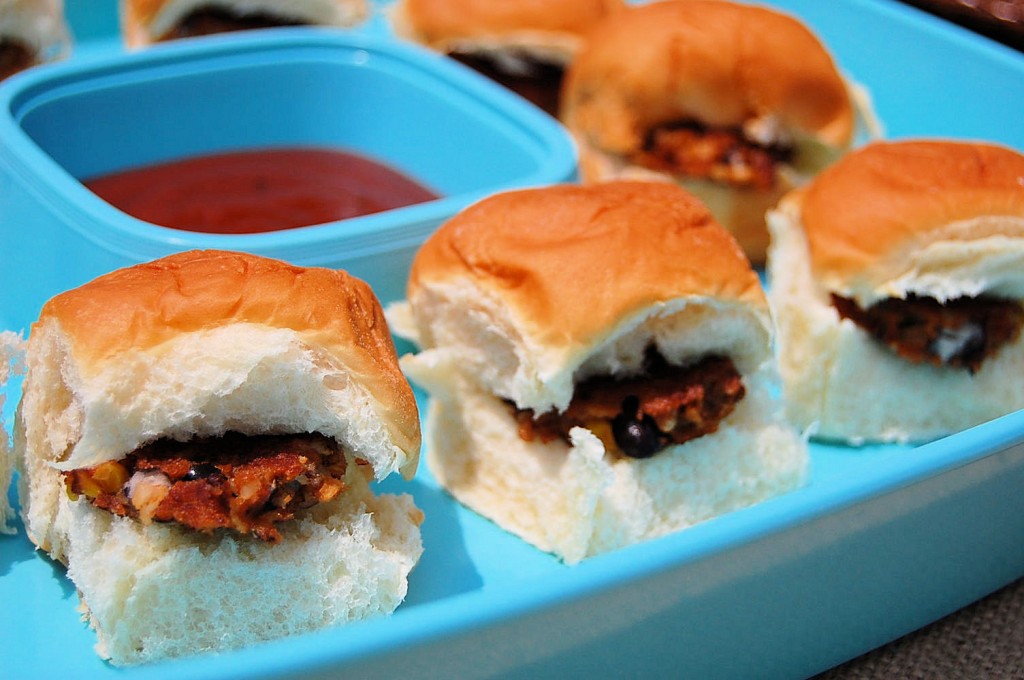 Roasted Corn, Edamame and Black Bean Burger
Ingredients
1 can of canned black beans, drained
½ onion, diced
½ bell pepper, diced
2 corn on the cobs
1 bag of frozen steam-able edamame
½ tsp salt and pepper each
½ tsp dry mustard
pinch of red pepper flakes
¼ tsp paprika
½ tsp cumin
1 egg, slightly beaten
1 cup of tortilla or corn flake crumbs ( you may substitute panko or regular BC if you prefer)
squeeze of a lemon
dash of hot sauce (*optional)
Instructions
In a large skillet, sauté onions, garlic and bell pepper in ½ tbsp oil. Saute for 5-7 minutes until tender. Place the steam-able bag of edamame in the microwave and cook following package directions. Set aside.
Take your corn on the cobs and rub them with a little olive oil. Place on a baking sheet. Roast on 400 for 10-15 minutes until slightly charred and crispy. Set aside to allow to cool. If you are not roasting your corn and just using canned corn- then drain your corn and proceed to next step. If you are roasting the corn then once they are cool move to a pan and using a knife remove the kernels from the cob.
Place all ingredients into a large mixing bowl and stir very well. Using a potato masher roughly mash the pattie mixture to your desired consistency. The mixture will stick to your masher so you may have to use wet fingers and slide the mixture off before you continue mashing.
With slightly wet hands, shape dough into patties. Pack dough tightly as this will help it stick together. This recipe makes approximately 6-8 burgers.
Pan fry the burgers in a bit of olive oil in a skillet over medium heat for about 5 minutes on each side until golden and crisp on the outside.