This dish needs no introduction. The title alone says it all- delicious! Crispy salty bites of pancetta mixed with chives, cheese and roasted corn in the form of a pancake is simply IT! The IT you can't live without, the IT you must make and the IT that will sweep you off your feet. You see I have never met anyone who doesn't love a good pancake and by taking the standard pancake mix and pulling out a little things here-adding a little things there and with the glory of substitution – I will never meet anyone who doesn't love a chunky thick flavorful griddle cake such as this! It gets me exited.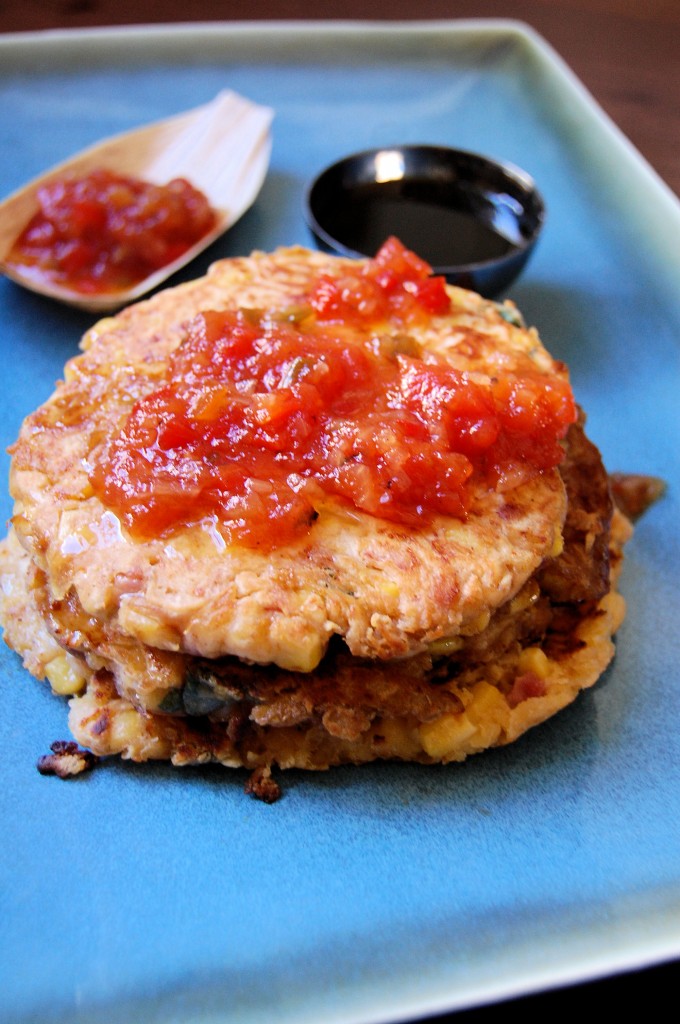 Sauce Tasting Cups provided by RestaurantWare! Check them out NOW!
With the ingredients of this recipe in mind it's about time I explain or update you all with my latest health issues. Firsts let me say you are all so kind and sweet! Your comforting emails mean the world to me and I appreciate you more than you know! Back in January I reluctantly told you all about my recent diagnosis with celiac. Well, with more tests done after that- two of which were positive and another negative- the doctor is not sure it's celiac. I just don't understand it all and it's driving me insane. We still don't have an exact answer to what's you going on. With that said I am positive and hopeful but anxious to at least get some answer SOON!. Sooo… Because of all of this I can technically eat gluten because there are certain tests that you need to have gluten in your system in order for the test to be accurate. Therefore, lately I have continued to eat gluten conscious diet allowing gluten into my body but not to the extent as I have all my life. I allow gluten to be int diet for the important things- aka cookies, cake, muffins and yes- griddle cakes! Lol! They are that good!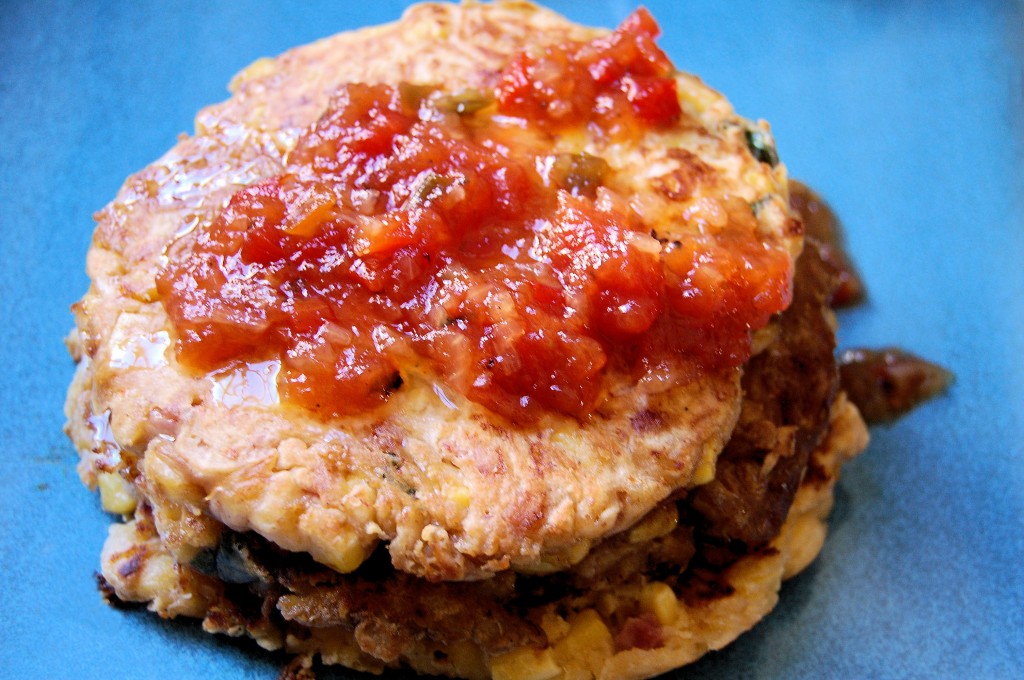 Even if all these tests result in a different diagnosis than celiac I already feel as if I have been inducted into the gf lifestyle and I do not mind it at all. In fact I like a lot of the aspects of it and plan to live as gluten free as possible for the rest of my life- regardless of the test results. One thing I do know for sure- I will continue to remain true to myself and in passion for cooking any and all dishes!
Happy Easter from Grant and Connor! We made these adorable edible carrot garden treats the other day and it was so much fun! I hope you and your kids will try this edible Easter Craft out! You can find the directions at Belleicious Kids!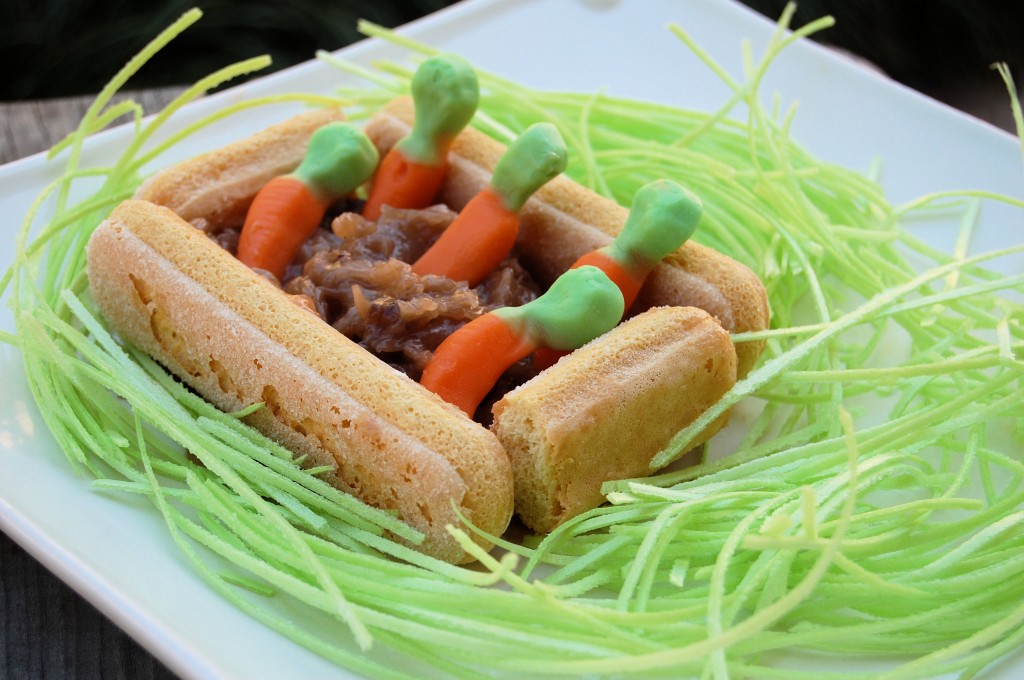 Pancetta and Corn Griddle Cakes with Red Pepper Onion Jam
Ingredients
8 ounces of smoked Pancetta
1 cup all-purpose flour
⅓ cup chopped green onions
2 tablespoons chopped fresh chives
1 teaspoon baking powder
½ teaspoon salt
½ teaspoon white pepper
½ teaspoon cajun seasoning
½ cup favorite cheese (we use Mexican Cheese or Pepper Jack)
⅔ cup milk
1 large egg, beaten
1 tablespoon vegetable oil
1 cup roasted corn or canned corn charred over medium to low heat
For the Red Pepper Onion Jam: (adapted from Food Network)
For the Jam:
¼ cup vegetable or canola oil
4 large red onions, halved, peeled, and diced
1 Jalapeno Pepper, Diced
1 tsp salt and pepper each
2 cups dry red wine
Gastrique: (AKA sweet sauce)
½ cup honey
½ cup red wine vinegar
Juice and a few grates of zest from 1 lemon
Instructions
Warm 2 TBSP olive oil in a large, heavy skillet over medium heat. Add the pancetta and cook until lightly golden, about 5 minutes. Remove the pancetta from the pan with a slotted spoon and transfer to a plate lined with paper towels. Set Aside.
Mix together the wet ingredients. Combine the dry ingredients then stir the wet into the dry ingredients. Add in the corn, cheese and pancetta.
Heat and grease a griddle or large skillet. Pour a heaping ¼-cup of the batter onto the griddle and cook until it is golden brown- 3 to 4 minutes per side. Repeat with the remaining batter. Serve with Red Pepper Onion Jam
For the Jam:
In a medium saute pan, heat the oil until it begins to smoke lightly. Add the onions and season with salt and pepper, to taste. Cook until the onions give up their liquid, 3 to 5 minutes, and then add the red wine. Lower the heat and cook the onions until the wine reduces almost completely. Leave on low heat while you prepare the gastrique.
In a separate small pan, heat the honey until it begins to bubble and froth. Cook until the honey turns a light caramel color, an additional 2 to 3 minutes. Add the red wine vinegar, simmer for a few minutes on low heat, and then shut off the heat. Pour the honey mixture over the onions and continue cooking them over low heat until all of the juice is absorbed and the onions are a jam-like consistency, 10 to 15 minutes. If you desire, add lemon juice and zest at this point. Taste for seasoning and transfer to a bowl to cool until ready to serve