St. Patrick's Day is in 2 weeks and I am already getting in the green mood. There is nothing more that my husband loves than a good sandwich and there is nothing better than a classic Reuben. Traditionally a Reuben is hot sandwich of corned beef and Swiss cheese, with Russian or Thousand Island dressing, and sauerkraut. Now we all know I don't like to follow the rules here on Kitchen Belleicious and the thought of thousand island dressing alongside corned beef and topped with sauerkraut kinda makes me nausea. No offense out there to the classic Reuben lovers but its just not for me. So instead I opted for my own version of sauerkraut (a.k.a.spicy coleslaw) complete with plenty of cilantro and parsley and omitted the dressing all together and replaced it with a drizzle of roasted walnut oil and a slather of Henry Weinhard's Pub Beer Mustard.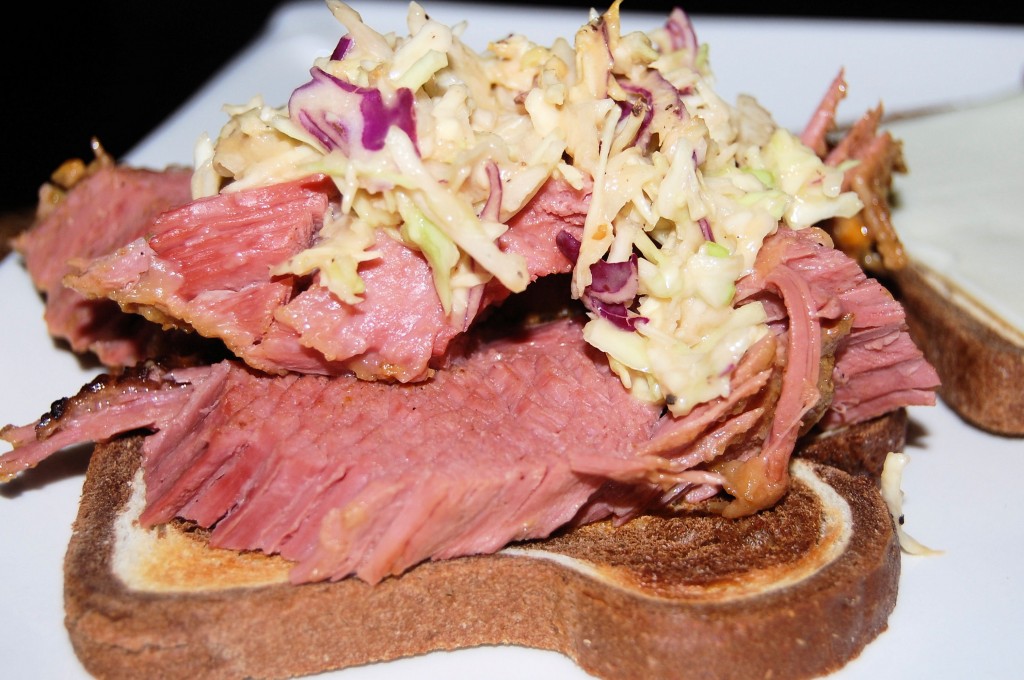 The key to this sandwich is the corned beef. Personally, I never liked corned beef until I started making it myself. I need it to be packed with flavor and have that perfect balance between tangy and savory. After a few trial and errors (all of which my husband was happy to oblige in tasting) I have finally come up with the perfect corned beef recipe. The marinade incorporates flavors of turmeric, garlic, vinegar, beer, onions, mustard seeds, bay leaves and peppercorns!  It had such a unique richness to it unlike what you would expect and it literally falls apart. Succulent is the best word to describe it.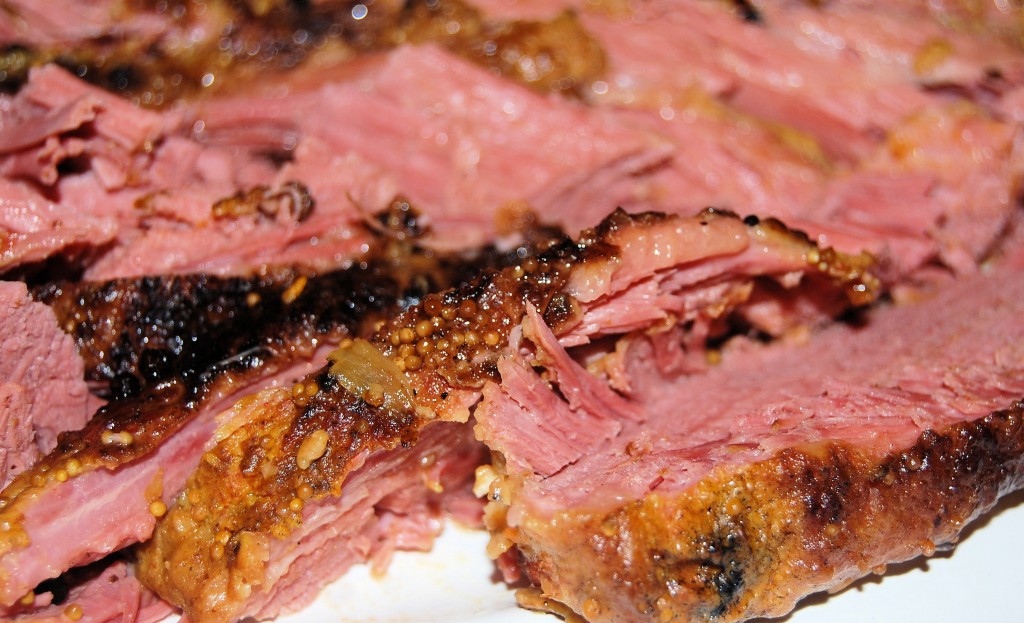 The best part about this recipe is use of a slower cooker. We all love the ease of slow cookers and in this occasion it is a must. The whole process from start to finish is simple and direct and you can put this on in the morning and have a delicious St. Patrick's Day themed dinner waiting on you when you get back. he We had leftovers for days and I already incorporated the meat into a fabulous corn beef spaghetti pie and my husband's favorite ultimate cheesy corn beef nachos!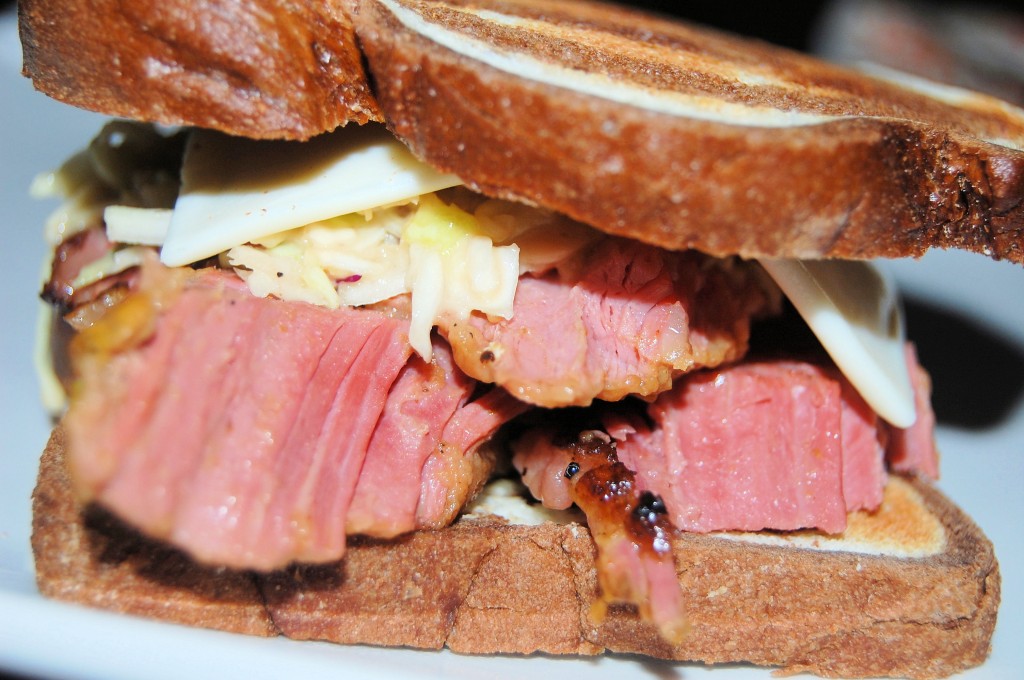 Note: For those on a Gluten Free Diet substitute the rye bread with GF bread or just omit the bread entirely! The beef is that good:)
Irish Corn Beef Reuben Sanwich
Ingredients
For the beef:
1 3-4 lb. corned beef brisket
1 cup flour
1 tsp salt and pepper each
1 tsp cajun seasoning
1 tsp garlic powder
1 onion, cut into quarters
3 cups water
6 ounces of dark beer
4 cloves garlic
2 celery ribs
3 bay leaves
1 TBSP whole mustard seeds
1 TBSP whole black peppercorns
1 tsp thyme
1 tsp paprika
3 TBSP red wine vinegar
1 tsp salt and pepper each
1/2 tsp cajun seasoning
1/2 tsp turmeric
Instructions
Rinse and pat dry the beef. Place the flour, 1 tsp salt and pepper each and the cajun seasoning in a large bowl. Dredge the corn beef in the flour mixture making sure to coat the meat evenly and on all sides. In a large cast iron skillet, heat 2 teaspoons canola oil over medium-high heat. Add the beef to the pan and cook until browned on all sides, 2-4 minutes. Transfer to a slow cooker.
Add the remaining ingredients including the water and beer. Cover and cook for 8 hours on low in your slow cooker. Serve topped with my spicy twist on Sauerkraut (aka coleslaw-recipe below), swiss cheese and rye bread (or GF bread). Don't forget the slather of Henry Weinhard's Pub Beer Mustard and a drizzle of Roasted Walnut Oil! Its a must!
Sauerkraut Ingredients:
1 lime, juiced
3 tablespoons rice vinegar
3 tablespoon horseradish mayo
1 tsp fish sauce
1 bag of shredded coleslaw mix
1 tsp spicy dijon mustard
Salt and freshly ground black pepper to taste
http://kitchenbelleicious.com/2013/03/04/irish-corned-beef-reuben-sanwich-my-take/
Kitchen Belleicious
Leave a Facebook Comment
comments