Someone had to do something about the lack of creativity in the traditional yet incredibly amazing King Cake- someone had to? Right? I had to! Right? You see every year around this time King Cake's adorn the isles of local bakeries and grocery stores. It is a tradition dating back to and one us fellow southerns will never get tired of. My husband being from New Orleans MUST (not just would like) but MUST have a king cake near the end of January. Before we met his favorite was always the cake from Rouses, a New Orleans family owned grocery store, but a las I have been able to woo him over with my latest creations over the past 2 years and I must say I am proud!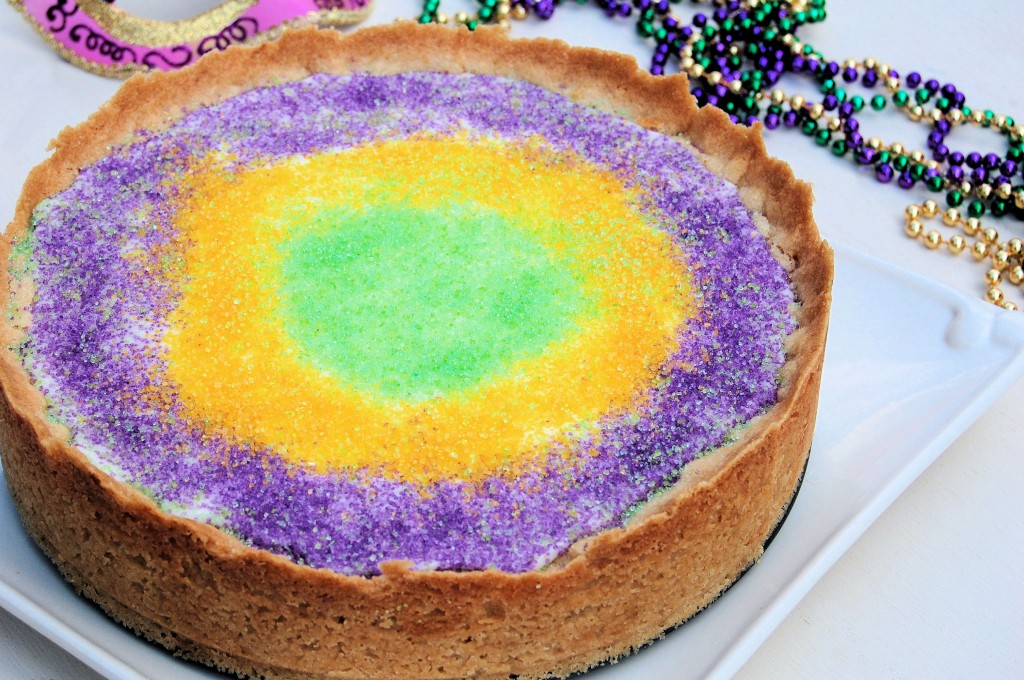 If you remember last year I attempted a King Cake recipe I found from an old old church cookbook and it was 100% perfect- ABSOLUTE PERFECTION! Being one not to mess with perfection I didn't want to try a different King Cake recipe but I did want to do something different with the concept of a King Cake. That is when it hit me- King Cake Cheesecake! Now Yes from research I am aware that Copeland of New Orleans has their own amazing King Cake Cheesecake creation but with all do respect I conjured up this idea all by myself and dare I say it is better than Copeland's? Dare I?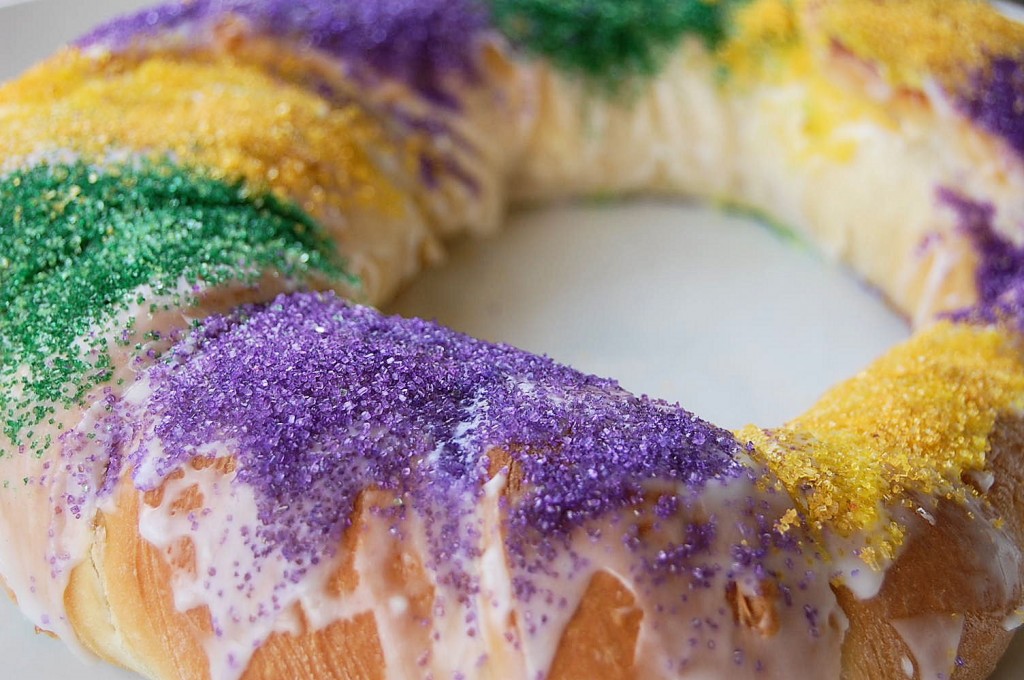 Seeing as how a traditional King Cake has a cream cheese filling and/or hints of cinnamon baked throughout. I decided to do a cinnamon shortbread cookie crust with the cream cheese filling. Its like the best of both worlds. The filling COULD NOT BE EASIER (why make something hard if you don't have to) and the cinnamon shortbread crust is ARE YOU READY? GLUTEN FREE! Yep, a mixture of fine brown rice flour, tapioca flour and potato starch not only does the trick but it is honestly BETTER than if I would have used the standard AP flour. I never thought I would hear myself say this next line but "If you don't have the gluten free flours mentioned above GO GET THEM! Of course you could just use AP flour but do me a favor and JUST GO GET THEM! They are not that expensive and they truly make the most outstanding shortbread crust. The texture is perfect and stands up nicely against the heavy cream cheese filling and lasts for days without getting soggy or falling apart.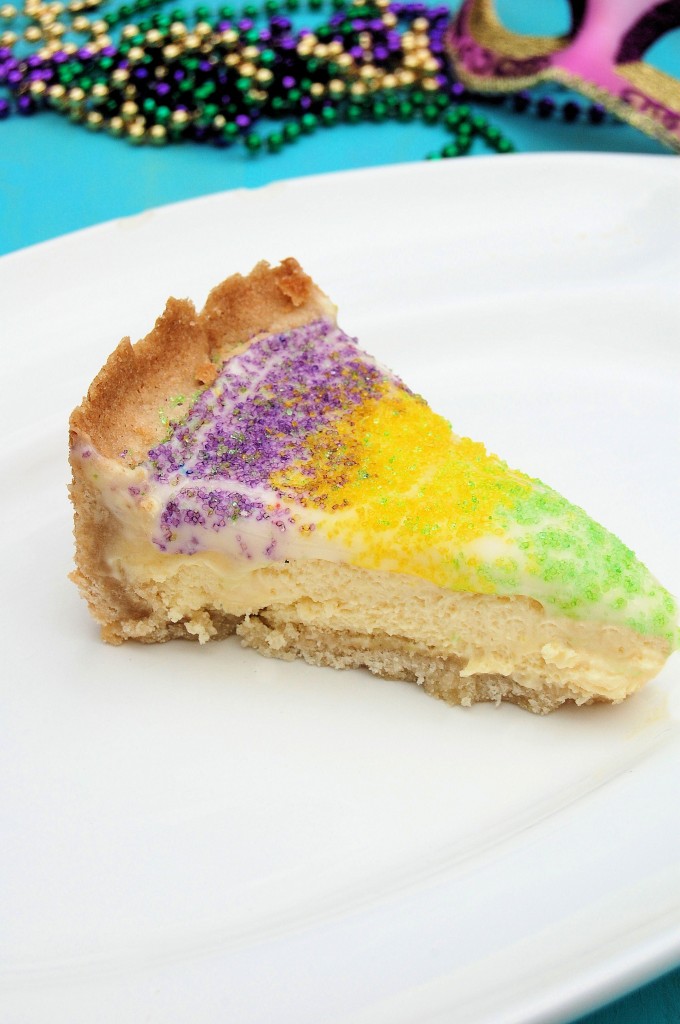 I knew I had a winner with this one when my husband said, "It really tastes just like a King Cake". This King Cake Cheesecake is our new favorite way to celebrate Mardi Gras and I hope it will be a hit with your family as well. If you cant' join the Mardi Gras festivities then by all means EAT LIKE YOU ARE THERE! XO
King Cake Cheesecake
Homemade GF MIX: 2 cups brown rice flour ⅔ potato starch ¼ tapioca starch This is the best homemade gf mix and you will be able to use in it alot of baking items. Be aware this makes 2 cups but the cheesecake recipe only calls for 1 cup so I usually make a big batch of this and store it in a big container and then just scoop out the measurements as needed!
Ingredients
Crust:
*1 cup GF FLOUR MIX
1 tsp xanxan gum
6 TBSP butter, cubed
½ tsp almond extract
½ tsp vanilla extract
⅓ cup sugar
Filling:
2 packages of cream cheese, softened
⅔ cup plus 2 TBSP sugar
1 tsp vanilla
2 eggs, room temp
Icing:
1½ cup powdered sugar
1 tsp vanilla
6-8 TBSP milk
Instructions
In a food processor or with your hands plus or mix together all ingredients for the shortbread crust. The mixture should resemble a crumbly dough that when pressed together stays together. Press into a greased spring form pan and set aside.
For the filling: Beat together the cream cheese, sugar and eggs for 2-3 minutes. Add in the vanilla extract and beat on medium low for another 2-3 minutes until the mixture is nice and smooth! Must be very smooth!
Pour filling into the pan on top of the crust and bake at 350 for 20 minutes. Top with a piece of foil and bake for another 10 minutes. Remove from the oven and allow to cool COMPLETELY.
Meanwhile, make the icing. Mix together all ingredients until nice and smooth. Pour directly on top of the cheesecake and then using green, yellow and purple icing sugars make your design of choice. I chose to do the three colors in a circle so that when the cheesecake is sliced you still have all 3 colors on your slice. Refrigerate for 2 hours and serve cold.