Pasta, Seafood
Pumpkin Pesto Spaghetti Squash with Roasted Shrimp + Tate Bake Shop Giveaway!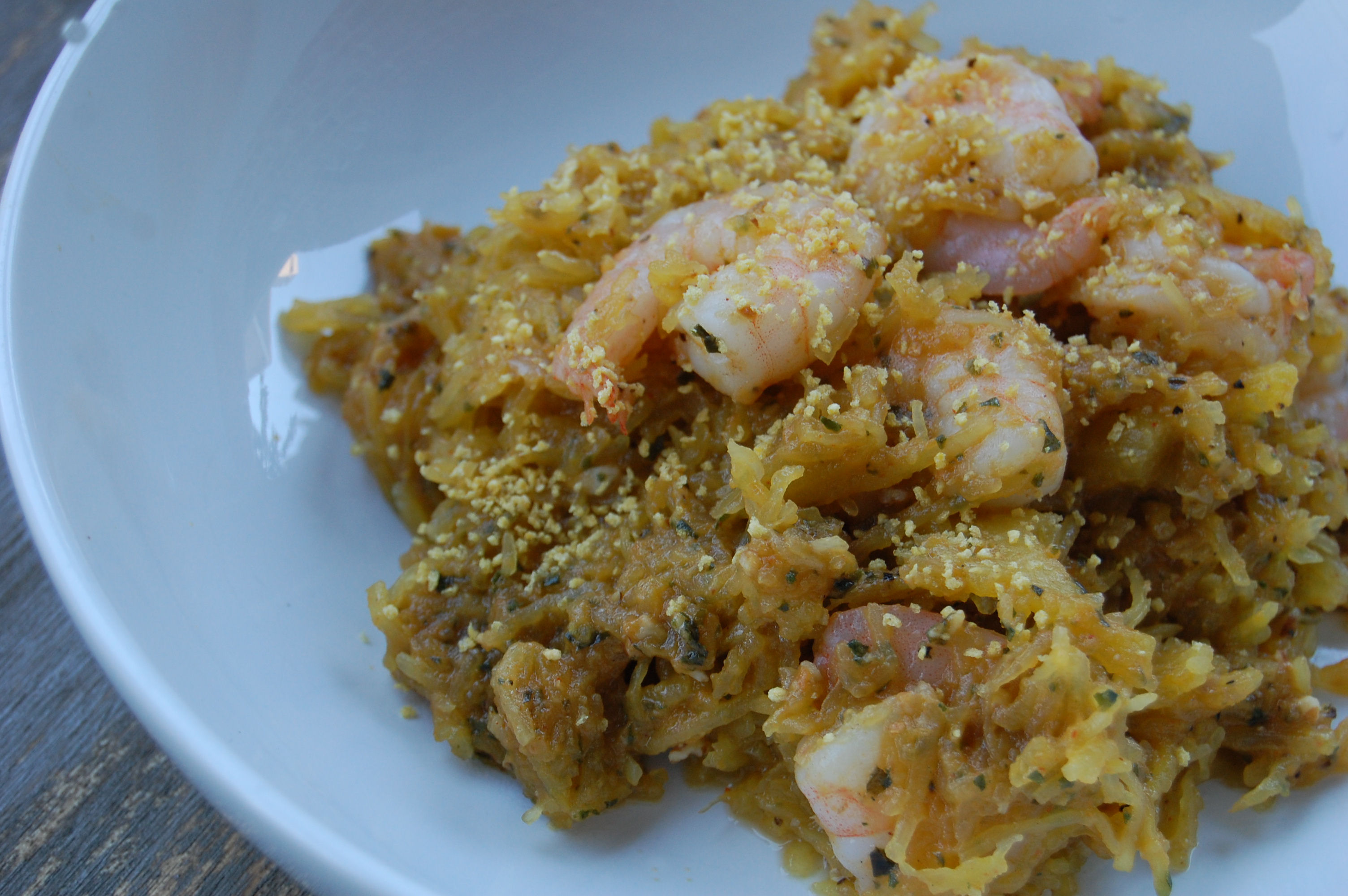 Ever in your wildest dreams did you think that pumpkin and pesto could go together? That together they could be the most outrageously fantastic pairing ever to grace your mouth. That not only would they be amazing but that pumpkin pesto would be transcended to an even higher calling when tossed with nutty, garlicky spaghetti squash. Did you ever?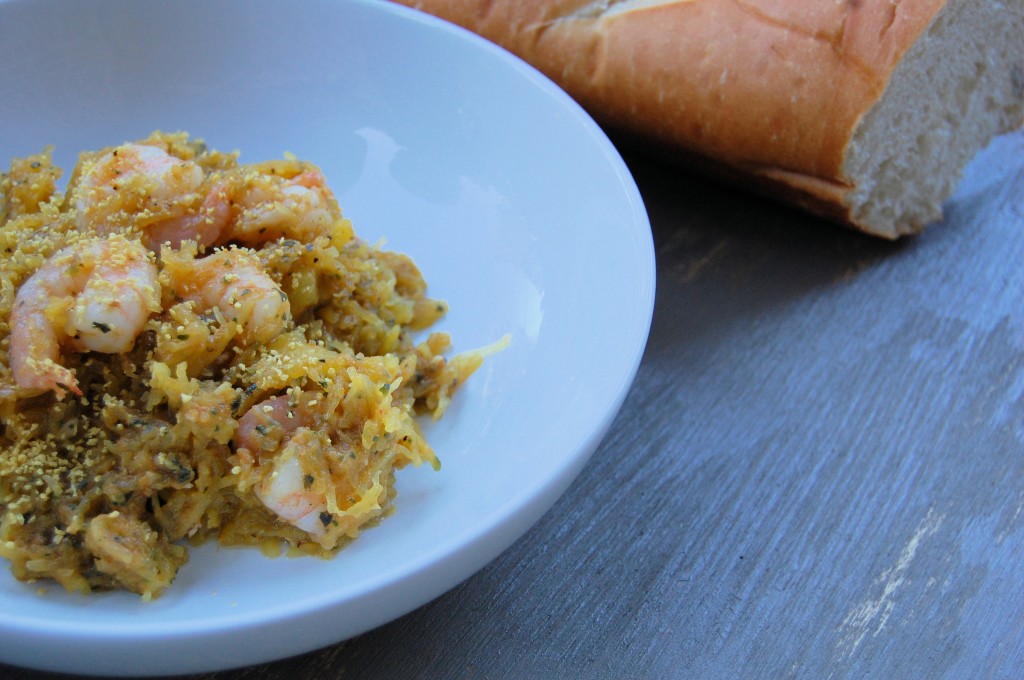 But Wait! There's more! Not only do you get pumpkin pesto and spaghetti squash in one dish but I am throwing in a batch of roasted shrimp just for the heck of it!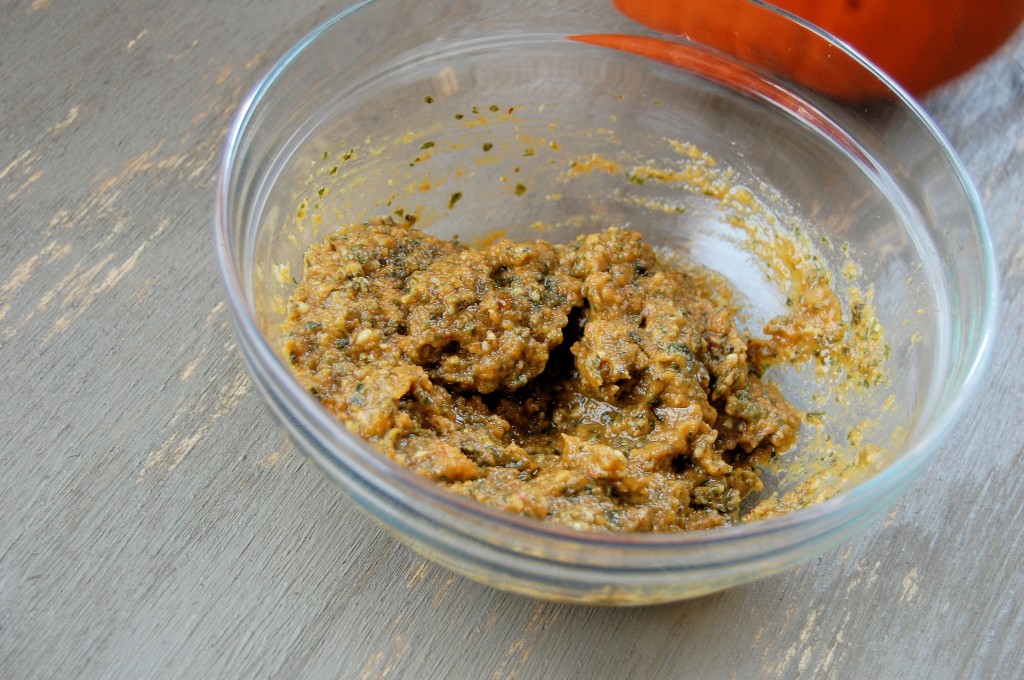 Call me Merry but with the upcoming holidays I am just ecstatic to produce new, exciting  and holiday oriented dishes here on Kitchen Belleicious. Dishes, like this one, that spring up from the need for something quick,  easy and with what you have on hand. Take the pesto for example. I won't tell you how many cans of pumpkin I have in my pantry but just know I have more than enough pumpkin muffins, cupcakes, bread and donuts. Basil is overflowing in my garden (still) and with the goal of getting out of your traditional pesto rut I decided why not combine the two? No one said I couldn't and even if someone told me it wasn't a good idea- do I ever really listen?:)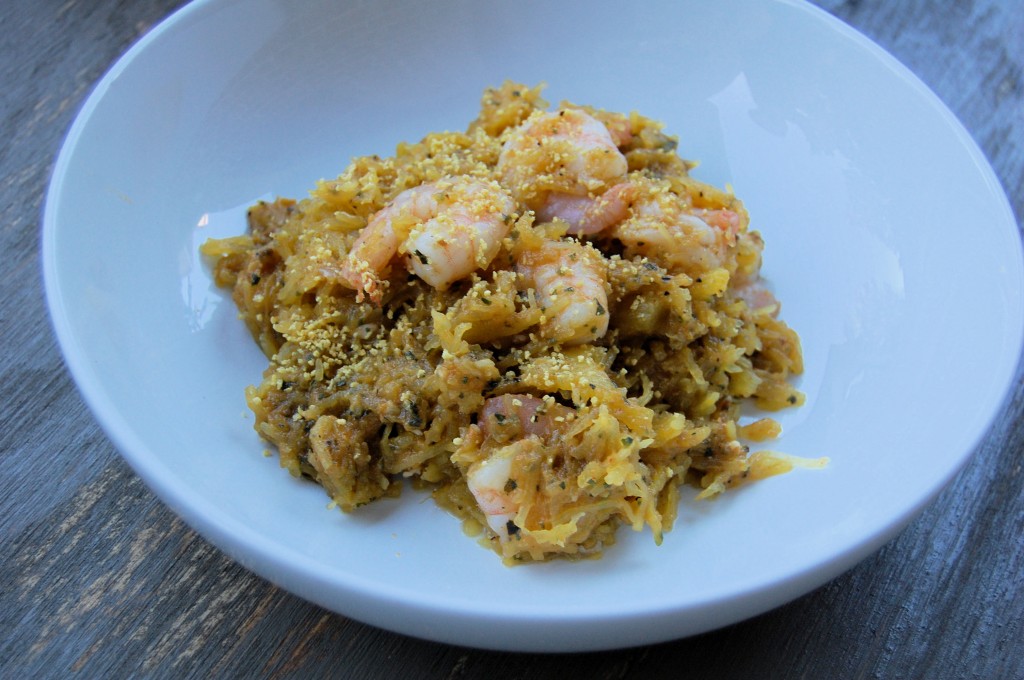 I always  ALWAYS come home from the store with a spaghetti squash. Why? It is just as easy to cook as pasta and it is WAY HEALTHIER (yes I know that is not correct grammar). Want to know how I cook my spaghetti squash? Only 4 steps. 1) Half it 2) Place in microwave safe dish filled with 1/4 cup water 3) Cook in microwave for 10-15 minutes in 5 minute intervals) 4) Toss and saute with melted butter and garlic in saute pan. See- EASY!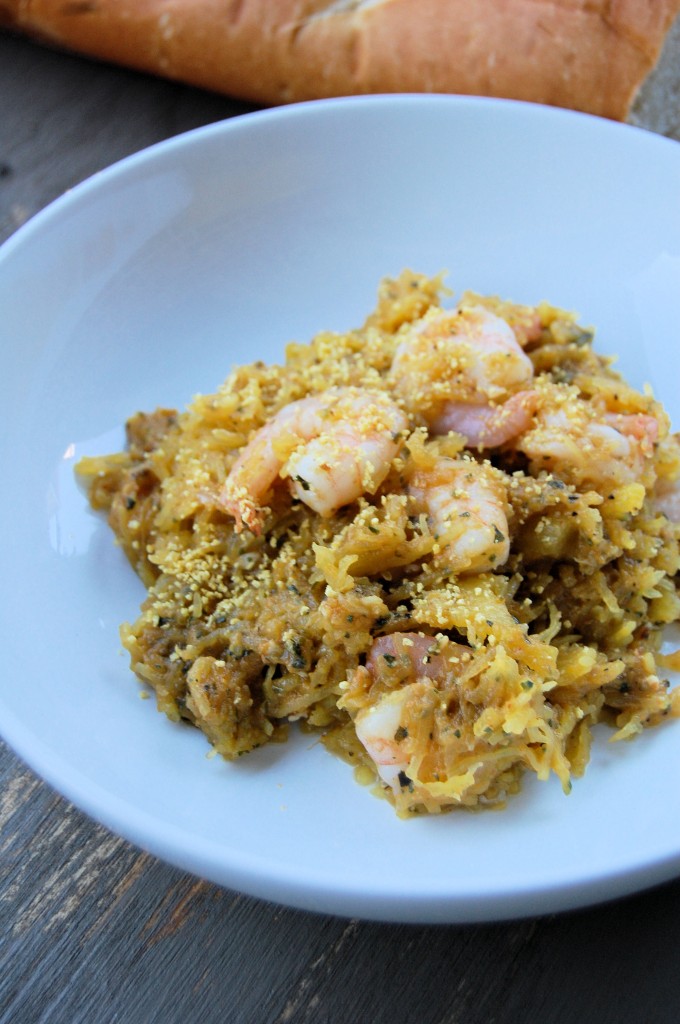 Now that I have your attention with this wild crazy notion of Pumpkin Pesto I want to introduce you to my new favorite baking cookbook. It is an outstanding cookbook by Kathleen King, owner of Tate's Bake Shop called Baking for Friends.  Tell me you have heard of Tate's before! Kathleen's first cookbook was Amazing, Mouthwatering and Creative. Her second cookbook,  Tate's Bake Shop Baking for Friends is nothing short of extraordinary  I guess the title in itself struck a nerve (good one) with me because one thing I enjoy most is baking and cooking for my friends. Nothing gives me more joy, other than baking for my family, than bringing something yummy and delicious to friends who are there for me through thick and thin. Now Tate's Bake Shop is widely known for their incredible chocolate chip cookies. Seeing as how I am a widely slightly obsessed with chocolate chip cookies I thought it was more than appropriate to try out her Chunky Chocolate Chip Cookies. Wow! What can I say- the woman has two cookbooks for a reason. They are now my go to recipe!   If you are in need of a great cookbook and or gift- Baking for Friends is the perfect one!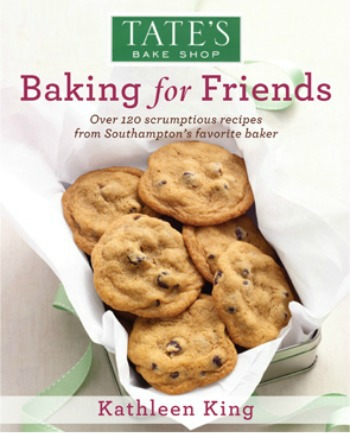 Tate's Bake Shop has so graciously offered to give my readers $5 dollars off a signed autographed copy of Kathleen Kings, Baking for Friends. You can get your signed copy at Tates Bake Shop and use the code BAKEOFF! Wait, there's more (have you noticed that theme with me throughout this post?) It's like it never ends! LOL! Tates Bake Shop has also offered to giveaway a Tate's Bake Shop Cookie and Bar Tower to one lucky reader of Kitchen Belleicious! See below- I mean who doesn't want a cookie tower? Let alone from Tates!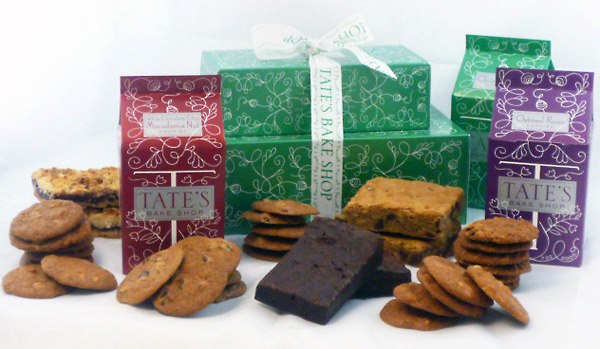 Enter to Win a Cookie and Bar Tower from Tate's Bake Shop, as well as a signed copy of Baking for Friends by Kathleen King!
Giveaway includes: the boxes are assorted but typically include: three 7-oz boxes of cookies, one each of chocolate chip, oatmeal raisin and white chocolate chip macadamia nut. Two rich, buttery raspberry bars, two chocolate chip and walnut loaded blondies, and two rich, dense and fudgy plain brownies round out this crowd pleaser. Each 7-oz box contains approximately 12 cookies, and bars measure 4″ x 2.75″.
Please leave a comment for each.  Entries will be received through Sunday, November 21th, 2012.  Open to US residents.
Pumpkin Pesto Spaghetti Squash with Roasted Shrimp
Ingredients
Pesto Sauce: Pulse all ingredients in a food processor, slowly drizzling in the olive oil. Then mix with ¾ cup canned pumpkin. Less or more depending on how much of a pumpkin taste you want
1 large bunch of basil leaves
4 garlic cloves
¾ cup of freshly grated Parmesan cheese
¼ cup toasted pine nuts
juice of 1 lemon
½ cup Devo olive oil or more depending on personal preference
¾ cup canned pumpkin
Shrimp:
2 TBSP olive oil
1 tsp salt and pepper each
2 garlic cloves, diced
1 tsp oregano
1 pound of shrimp, peeled and deveined
Spaghetti Squash
1 spaghetti squash
2 TBSP butter
1 garlic clove, minced
½ tsp salt and pepper each
Instructions
First half your squash vertically. Place skin side down into a microwave safe baking dish. Cover with plastic wrap and cook in microwave for 10-15 minutes in 5 minute intervals. Remove and allow to cool to handle. Scrap out the find strands of squash using a fork and put the strands into a saute pan along with the butter and minced garlic. Saute on low for 5-7 minutes.
Meanwhile, toss your shrimp with the olive oil, garlic and seasonings. Place on a baking sheet and roast in the oven at 400 for 5-8 minutes. Toss spaghetti squash with the pumpkin pesto and roasted shrimp. Top with toasted breadcrumbs if you are feeling really daring! YUM!