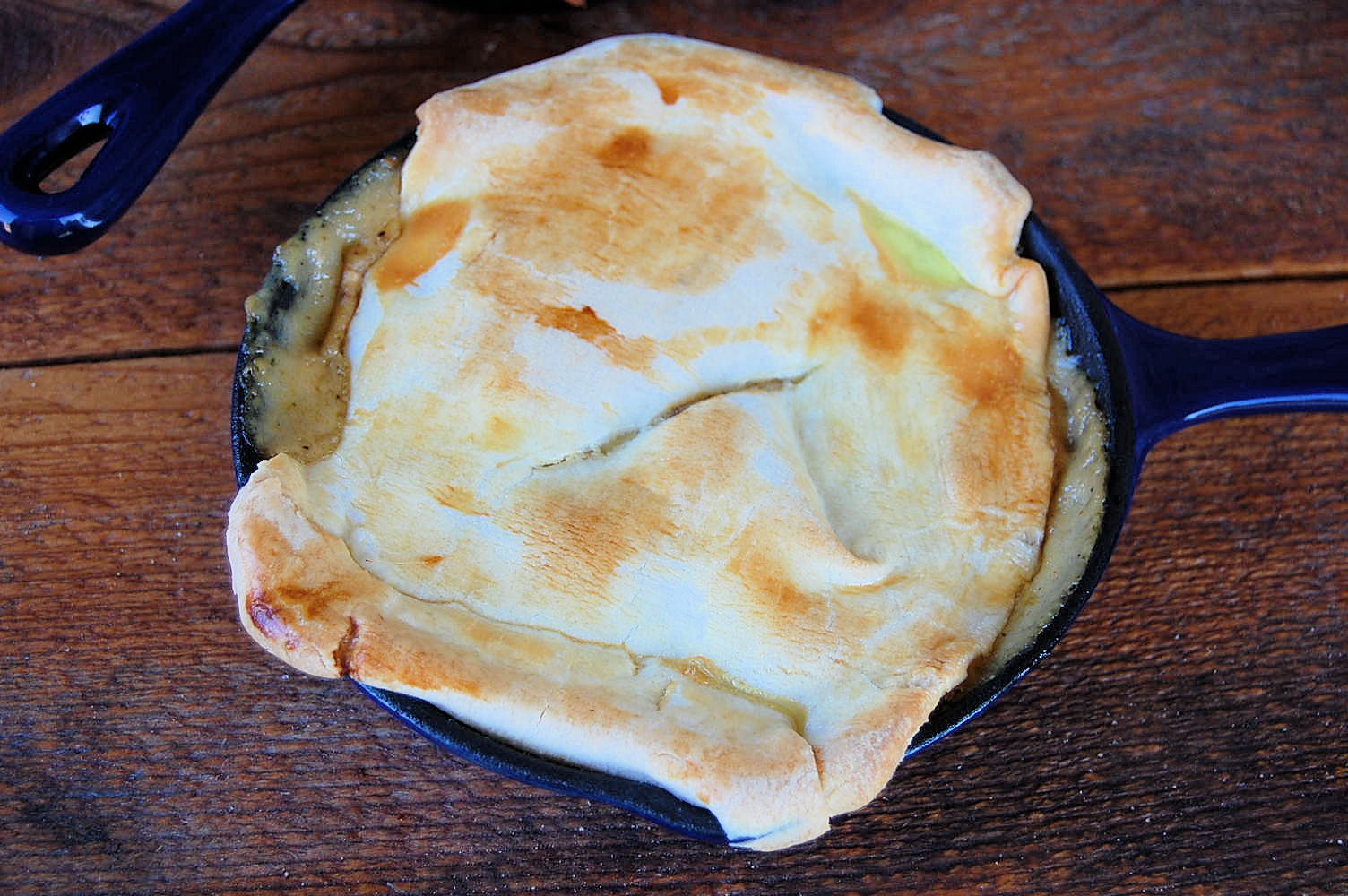 The beauty in most soups is that you can use just about anything you want in them- whatever you have on hand. Leftover, store-bought or homemade, most of the time it really doesn't matter because in the end you still get the same classic comforting taste of a variety of flavors and textures being blended together and cooked into a savory intoxicatingly delicious dish. You know what kind of dish I am talking about-right? The kind with thick chunks of meat, succulent bites of veggies, rich decadent sauce that makes you want to throw down your fork and just start slurping the bowl altogether. It's called Chicken Pot Pie with Cream Cheese Pie Crust.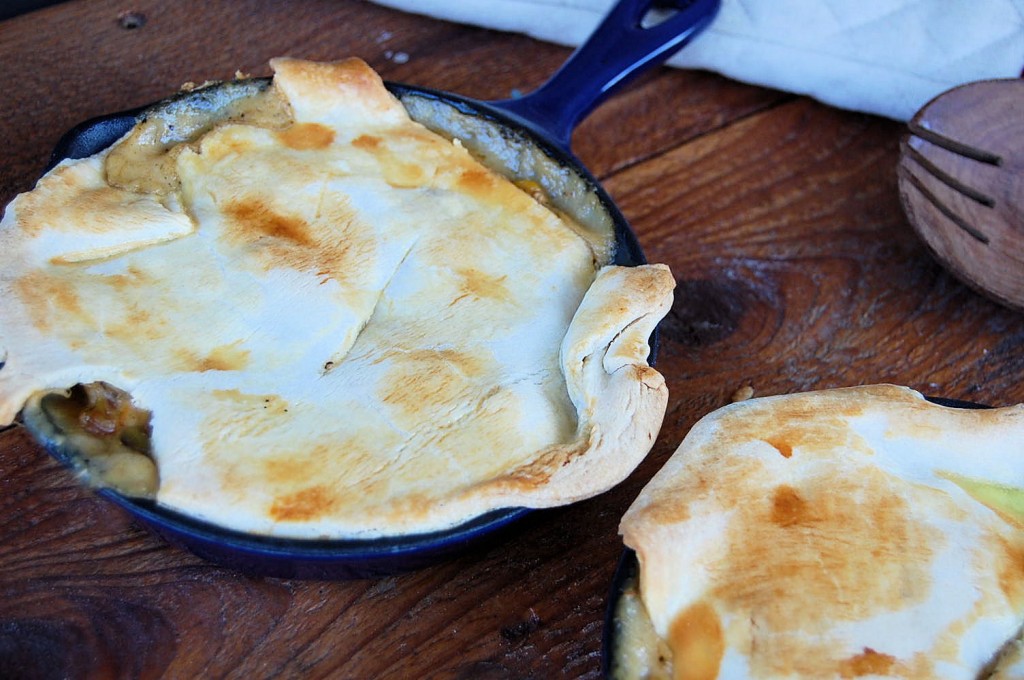 When it comes to soup like chicken pot pie that needs and I repeat NEEDS a crust on top, one can not just assume any old pie recipe will do. Yes, I am 100% guilty of using store-bought pie or puff pastry dough and I admit I will at some time or another still refer back to them but for now I so solemnly swear to you that any chicken pot pie or even sweet pie you may have of mine will be made using my new found favorite ingredient- Cream Cheese.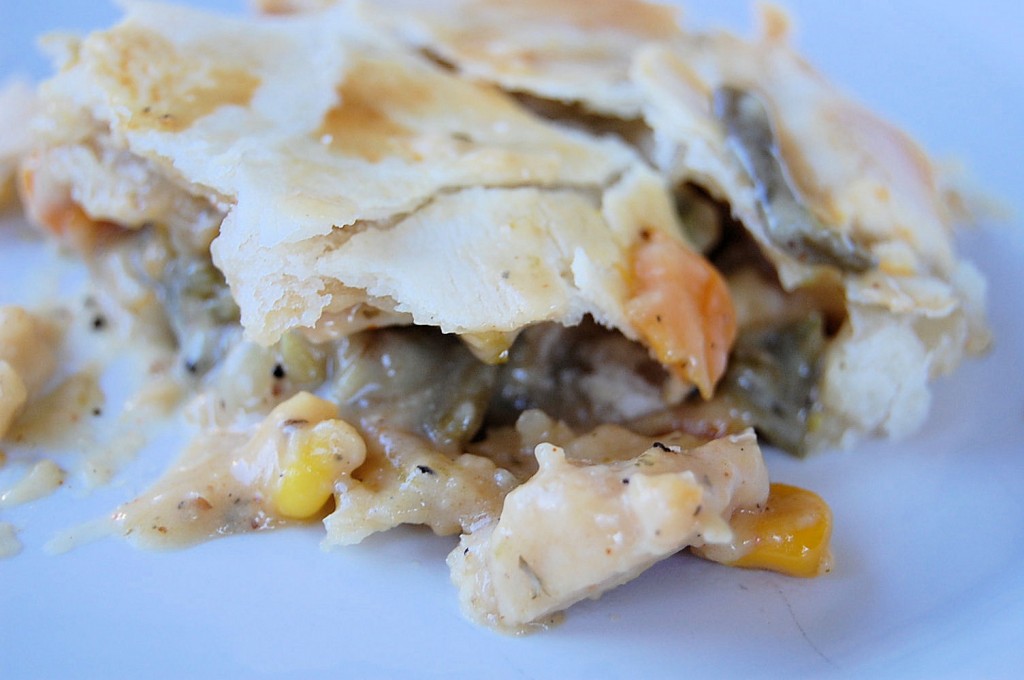 C
ream cheese is the star in a frosting, it is essential to cheesecakes but did you know that it is absolutely amazing in a pie crust? The combination of the slightly sweet cream cheese against the savory ingredients and flavors of the pot pie make it extraordinary. In my recipe directions you will notice that I have detailed out the steps to rolling out and cutting the dough but that is for you my friends- and only you. When it comes to a comforting bowl of goodness like this chicken pot pie I want everything from the top to the bottom to scream homemade, thus with the dough, I simply just rolled it out and used a pastry cutter to make a rustic looking circle (or more like weird shaped rectangular circle if you want to be politically correct). I then just plopped it on top of the individual cast iron pans and whala- Homemade Rustic Chicken Pot Pies.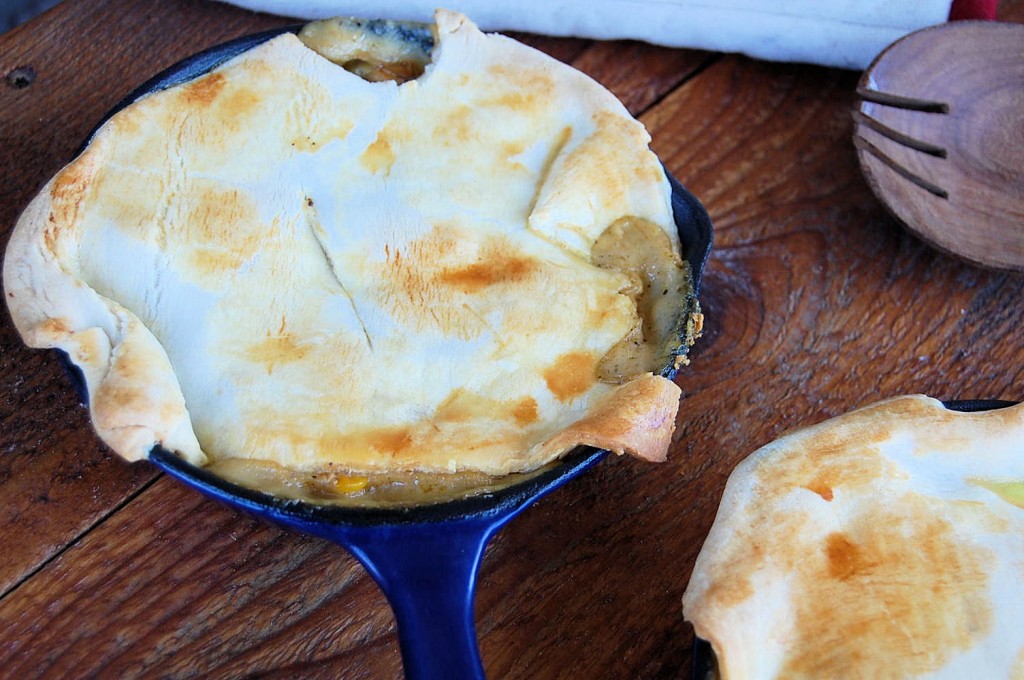 Want/Need another great comforting soup that is both rich, decadent and oh so easy? So glad you asked. I am guest posting over at my friend Roz blog called La Bella Vita. She is one amazing cook and I am pleased to grace her blog this week. Please do yourself and me a favor and head on over and check out my recipe for Peppered Beef Stew with Homemade Bread Bowls. It is to die for and while your there check out her other amazing recipes!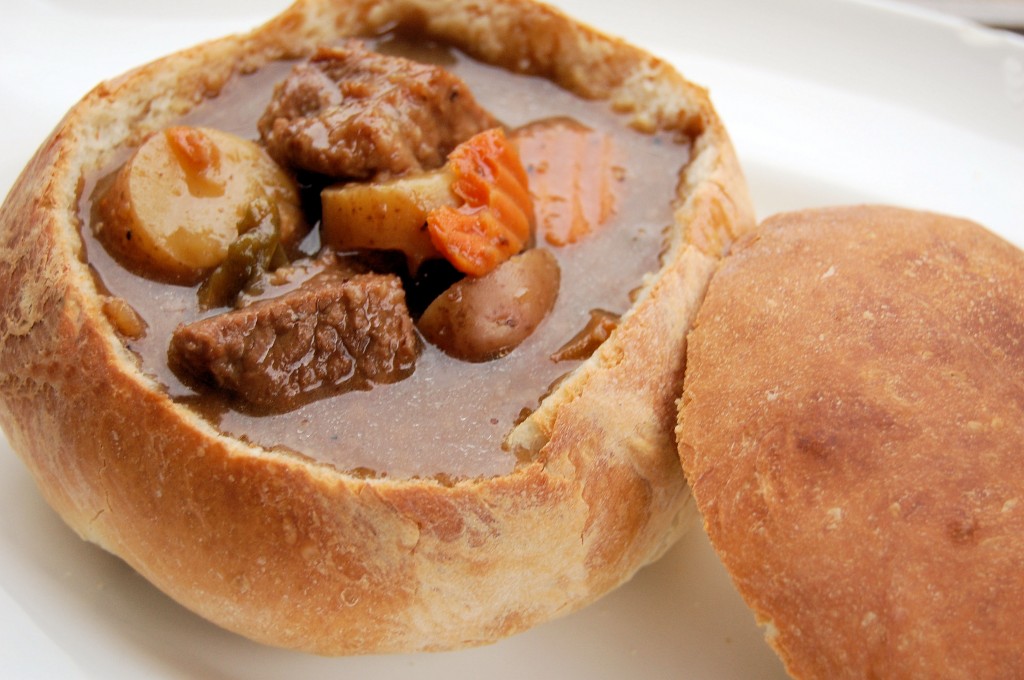 Cream Cheese Crusted Chicken Pot Pies with Root Vegetables
Ingredients
1½ cups cooked chicken (go ahead use store-bought rotisserie)
¼ cup all-purpose flour
1 sweet onion, roughly chopped ( I like my veggies larger in my pot pies but you can go small if you like)
1 celery stalk, roughly chopped
1 leek, rinsed, chopped
2 medium carrots, peeled, roughly chopped
4 TBSP butter, unsalted
½ cup frozen peas
½ cup mushrooms, halved
¼ cup frozen sweet corn
2½ cups chicken broth
¼ cup white wine
1 chicken bouillon cube
1 cup heavy cream
1 tsp thyme
1 tsp oregano
1 tsp kosher salt
½ tsp garlic powder
¼ tsp paprika
1 tsp cracked black pepper
dash of hot sauce
For the Crust:
2 sticks, cold, unsalted butter, cold and cut into 1 inch cubes
2½ cups all-purpose flour
1 package cream cheese, cold and cut into cubes
½ tsp salt
½ tsp white pepper
Top of Crust:
1 egg white mixed with 1 Tablespoon water
Sea salt (for sprinkling on crust)
Instructions
Melt the butter in a large pot or Dutch oven over medium heat. Add the veggies and sauté until the vegetables start to turn translucent. About 10 minutes. Add the flour and stir briskly to combine it with the butter and veggies. Cook for one minute. Slowly add the wine, chicken bouillon and chicken broth while stirring constantly. Add in the chicken then the remaining ingredients. Cover and turn heat to low to sit while you prepare the topping.
For the Crust:
Pour the flour, salt, and pepper into the bowl of a food processor and pulse a few times to combine. Cut in the cold cream cheese and cold butter with your hands. Pulse for a few times until the mixture begins to form small pea sized balls. Remove the lid and add in 2 tsp of apple cider vinegar. Replace the lid and continuing pulsing until mixture begins to form one large ball.
Note: The dough may still be a bit crumbly but as long as you pinch a section in your hand and it comes together fine you are right on track. If not, and still to crumbly add in another tsp or two of cold water.
Set the dough on a flat-surface dusted with flour. Use a floured rolling pin roll the dough out into 2 disks both ¼ inch thick. Cut out each disk into desired size depending on the diameter of your baking pan/ramekin, etc. Place the dough on top of your chicken pot pie dish, making sure the dough hangs evenly over the dish. Brush the tops of the crust with egg wash and a sprinkle of sea salt. Bake at 375 for 25-30 minutes or until the top is nice and golden brown.