A few weeks ago it was my pumpkin bread with cream cheese topping that I couldn't stop eating. Now its my pumpkin granola flavored with a dreamy homemade chai spice and adorned with bits of dried plums and crunchy walnuts.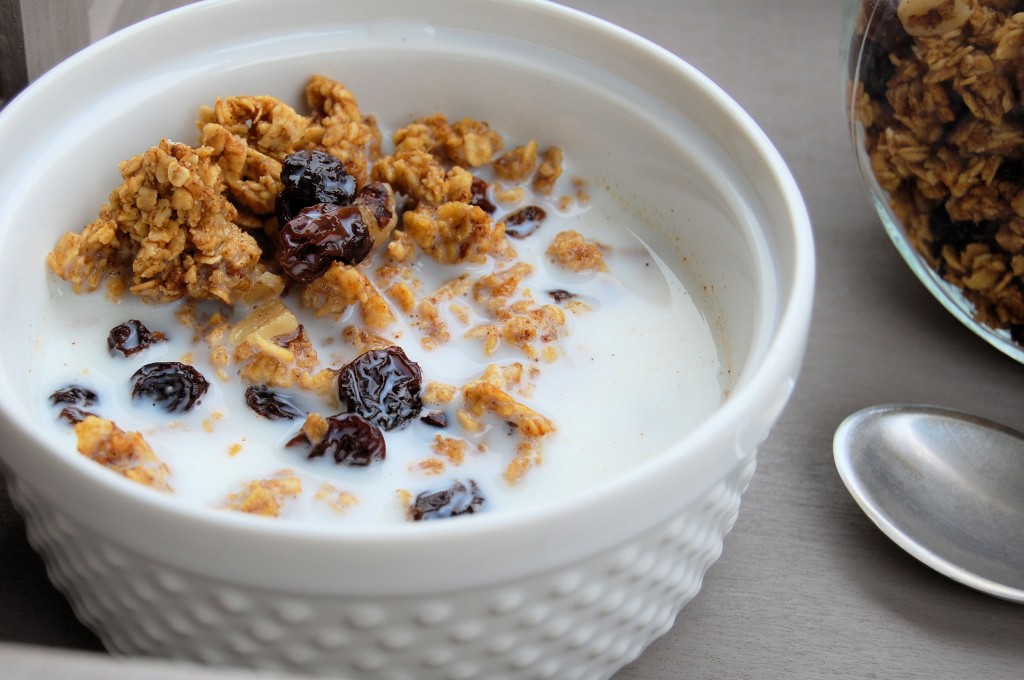 It is usually just take my word for it here on Kitchen Belleicious. With a panel of two judges, one of whom is 3 and the other who is well, let's just say not into "blogging" a.k.a. my husband, you are left with my word. Although I pinky promise my descriptions and reviews are spot on in truth I love when things happen that make me smile and say- Why Yes Jessica- you were right. It is that good:) The other day I was shot down abruptly when I asked my better half so politely "Here honey, try my new pumpkin granola- you will love it! Try it or I will hurt you!" No he said! He insisted he doesn't like the taste of pumpkin all that much nor does he like what he calls "soft granola", a.k.a not hard as a rock like his coveted Nature Valley granola bars.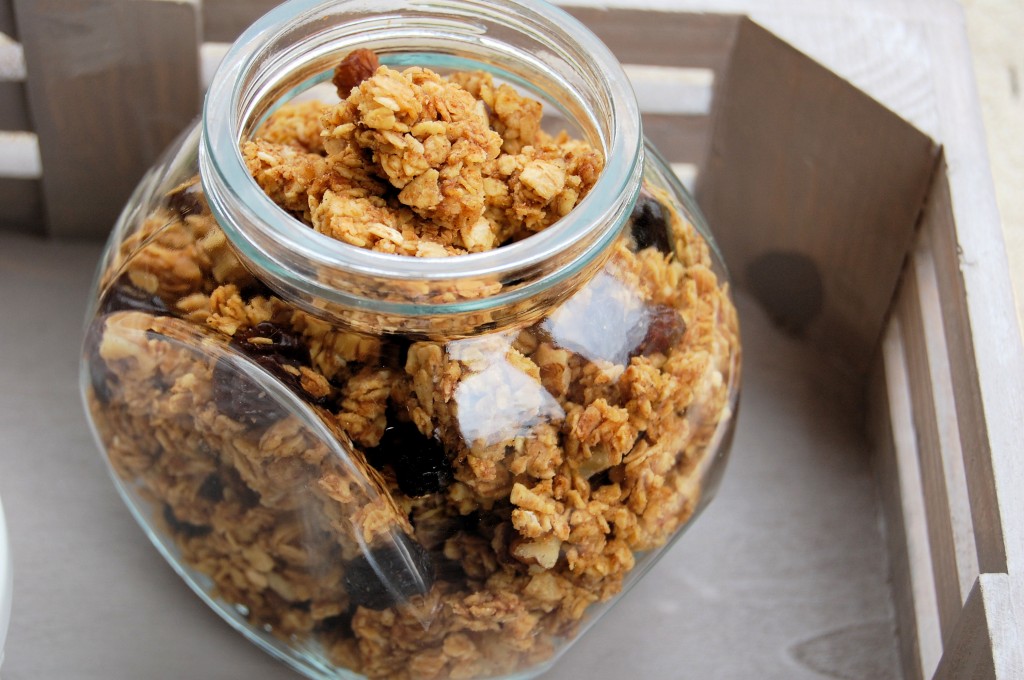 Well,well, well. I woke up the other day and much to my amazement I found my husband eating a bowl of yogurt with my-dare I say- pumpkin granola! I was definitely excited he liked my granola but more than that I was even more pumped that he was going to have to say he was wrong. Are you with me? All that to say, this pumpkin granola rocks. It is loaded with crunchy walnuts, my new favorite dried plums and a handful of homemade chai spice (including cinnamon, cloves and nutmeg) and oh yes- PUMPKIN! It doesn't get much better than this. Kick off your shoes, sit down (or if you are like myself stand up because i don't have time to sit down) and enjoy a cup, bowl or handful of the finest pumpkin spiced chai granola you are ever going to have!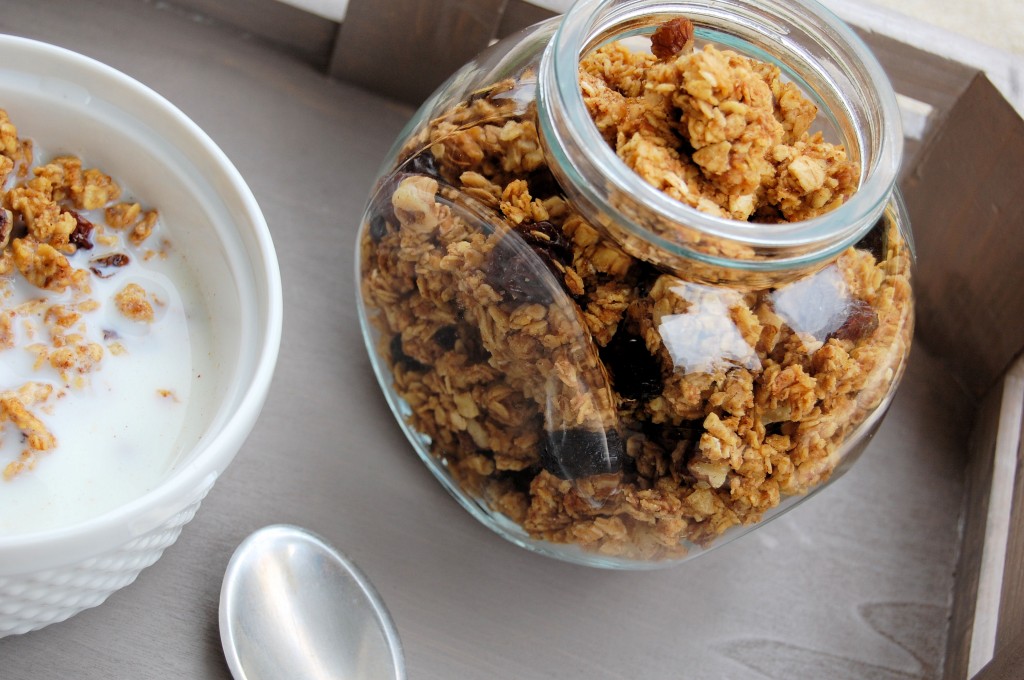 Gift Giving: This pumpkin granola is perfect to wrap up in a glass jar and warm a loved ones or even better yet- a stranger's day. I took a few jars back to Louisiana when we went home to see my parents and it was wonderful way to say I have been thinking of you! Below are two links to a set of fall printables I used to adorn the glass jars.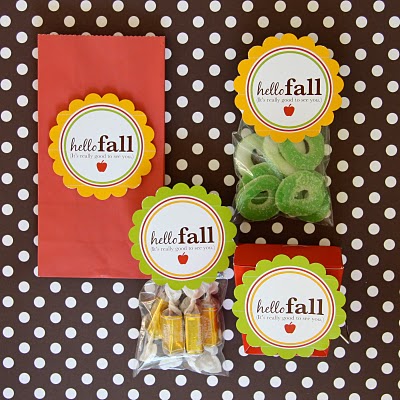 Fall Favor Tags– How Cute!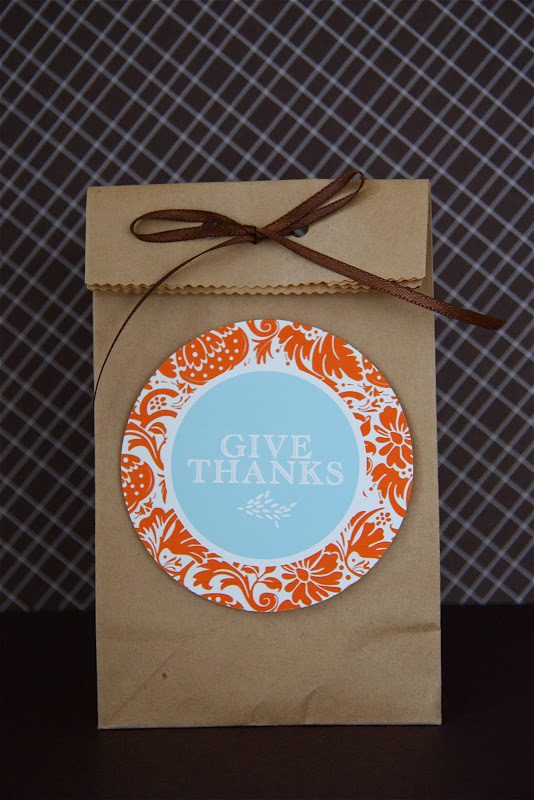 Pumpkin Spiced Chai Granola with Walnuts
Ingredients
5 cups rolled oats
½ tsp salt
1-2 TBSP of homemade chai spice (see below)
1 tsp almond extract
1 tsp vanilla extract
½ cup plus 2 TBSP pumpkin puree
¾ cup brown sugar
¼ cup vegetable oil
¼ cup honey
¾ cup walnuts
¾ cup dried plums or raisins or even cranberries
Homemade Chai Spice:
1 tbsp ground cinnamon
1 tbsp ground cloves
1 tbsp ground cardamom
½ tbsp ground coriander
½ tbsp ground ginger
1 tsp ground white pepper
pinch of salt
* Combine all ingredients and shake! Store in an airtight container. Use in variety of recipes!
Instructions
Mix the dry ingredients together- set aside. Mix together the oil, honey, sugar and extracts. Stir in the pumpkin puree and coat the dry ingredients. Mix well to make sure all oats are covered with the yummy heavenly mixture. Bake at 325 for 10 minutes, remove and stir around, put back in the oven and bake for another 10 minutes. Remove from oven add in the plums and or raisins and return to the oven to bake for an additional 10 minutes. Set aside to cool for 30 minutes ( if you can wait that long) before you eat it all gone!