You ask me, "What is the best vegetable of the season?". My answer and I say this with ease- Vidalia Onions. What is better than a Vidalia onion you ask? Simple- Stuffed Vidalia Onions. Intoxicatingly sweet onions stuffed with nutty parmesan cheese, crunchy panko crumbs, savory sauteed garlic and zucchini and of course butter!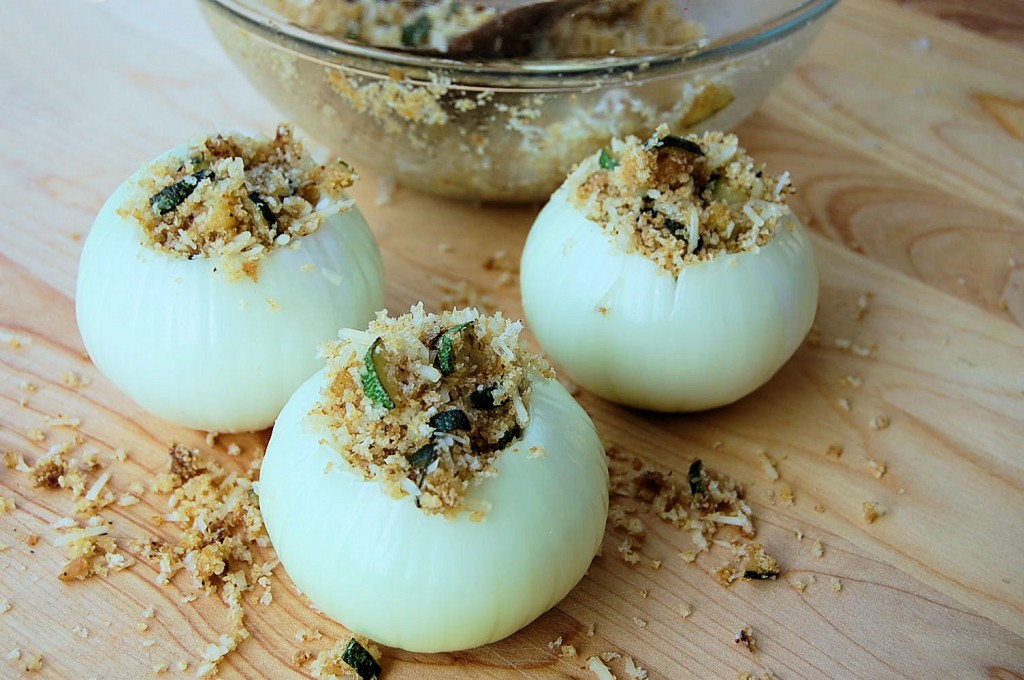 Vidalia onions are southern through and through and every Southerner knows you can't have cook a vidalia onion without butter so please bare with me on this "healthy dish" and if it makes you feel better everytime I say butter just pretend I am saying olive oil! There now, don't you feel better already!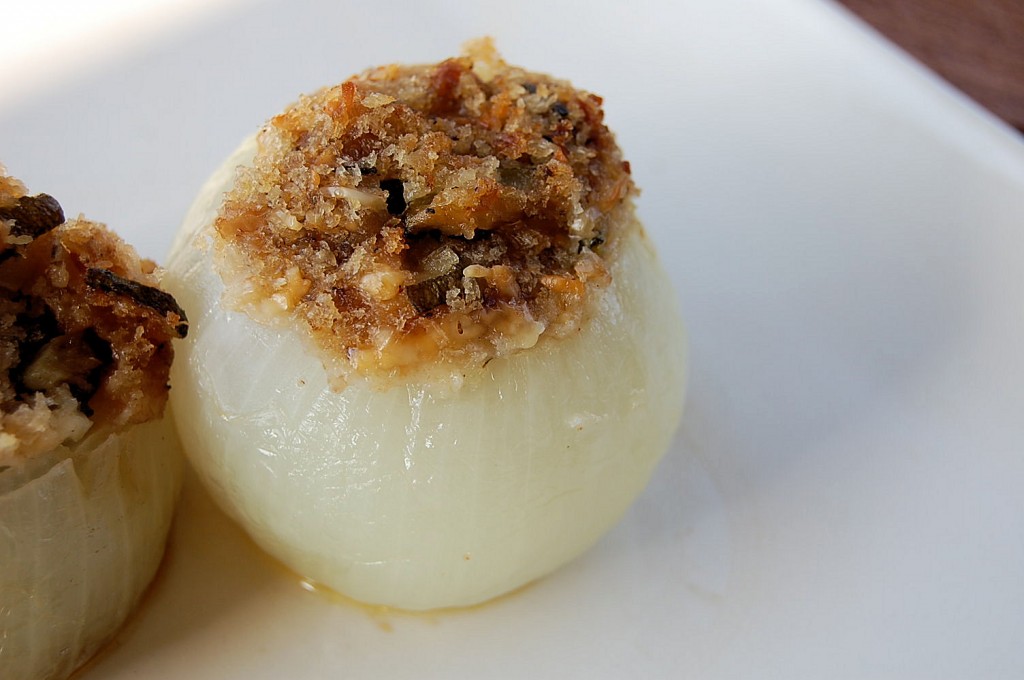 Last weekend my husband was cooking one of our million bags of red snapper that he caught while deep sea fishing back in the beginning of July. Seeing as how we have had every side dish imaginable to go with our weekly fish dishes I wanted to do something new and fun and most of all EASY! It was the weekend and I don't cook on the weekends. This is hubby's job and one he is quite good at:) So with a bag of vidalia onions sitting there staring right at me I knew what needed to be done. Stuff those babies!
Butter (enter your pretend word here) + Panko + garlic= magic. Butter (again pretend word) + garlic + Panko + cheese and zucchini stuffed in an onion= perfection. There is nothing hard or time consuming about this dish. Hollow out the center of your onion with your choice of weapon. Saute the garlic and zucchini in butter (enter pretend word) and toss with cheese, a few seasonings and Panko then stuff away. Wrap in foil and either bake or grill on high. That's it.
Stuffed Vidalia Onions
Ingredients
4 Vidalia Onions or similar sweet onions
1 medium zucchini, finely chopped
1 clove garlic, minced
2 TBSP butter
½ cup panko
1 tsp freshly chopped basil
½ tsp salt and pepper each
¼ tsp paprika
¼ tsp thyme
½ cup parmesan cheese, grated
Instructions
Cut a half inch thick slice off the top and bottom of your onion so that the onion will sit up straight. Use a knife and carefully carve out a small circle in the top of the onion. Then with a spoon scoop out the center carefully, leaving the onion layers intact. Place each onion on its separate sheet of foil. Set aside.
Saute the zucchini and garlic in the butter for 5-7 minutes. Turn off heat and add in the panko, cheese, and remaining seasonings. Mix well and then spoon the filling into the center of each onion.
Wrap the onion up in the foil, making sure to pat down the top to seal the stuffing inside and place on either a baking sheet and bake for 20-30 minutes at 450 or place the individually wrapped onions on the grill over high heat and grill for 10-15 minutes.