I say crab cakes, you say fish cakes but can you say mashed potato fish cakes? Okay,picture this. You slaved in the kitchen creating the best dinner known to man, pan-fried blackened tilapia with twice baked potatoes and a delicious helping of broiled asparagus. Yes it was dang good:) Fast-forward two nights and you have fish leftovers and potatoes- what do you do? Easy. Throw it all together!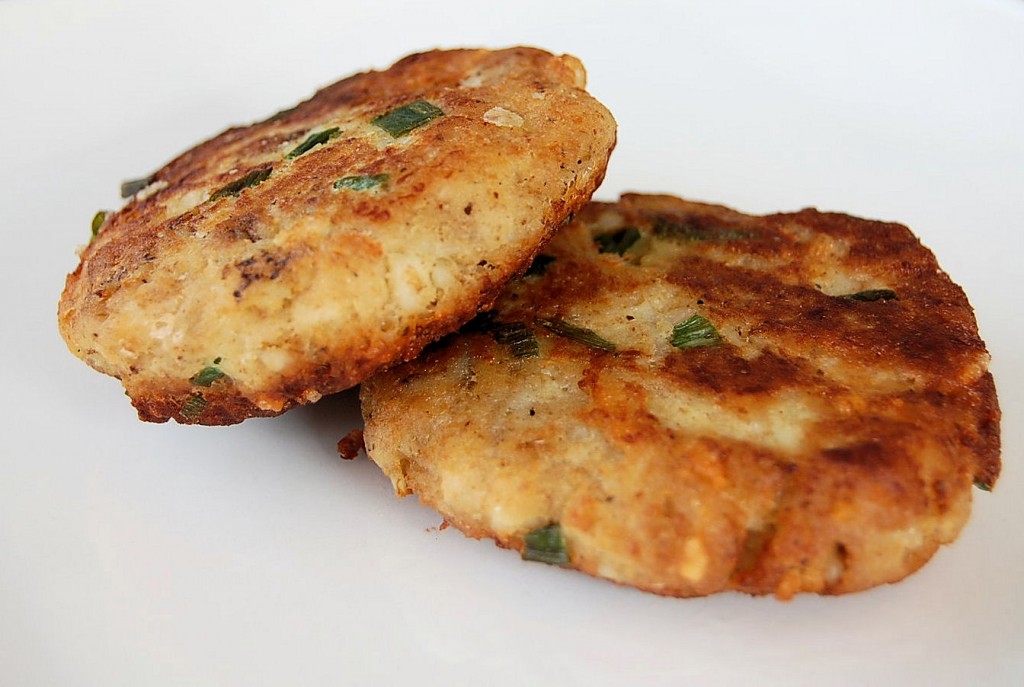 Fish+ Mashed Potatoes= Mashed Potato Fish Cakes. It's simple really. So simple that I don't know why they aren't as, if not, more common than crab cakes. They are less expensive than purchasing lump crab meat and easier to assemble as you can just use leftovers. I mean, come on! Have you ever had any leftover lump crab meat? Is there such a thing-its like a delicacy in this house:) So with my mashed potato fish cakes you get dinner in less than 30 minutes and a pleased (Oh we love you so much, is there anything we can do for you mom?) family. Yes, my friends that is GENIUS!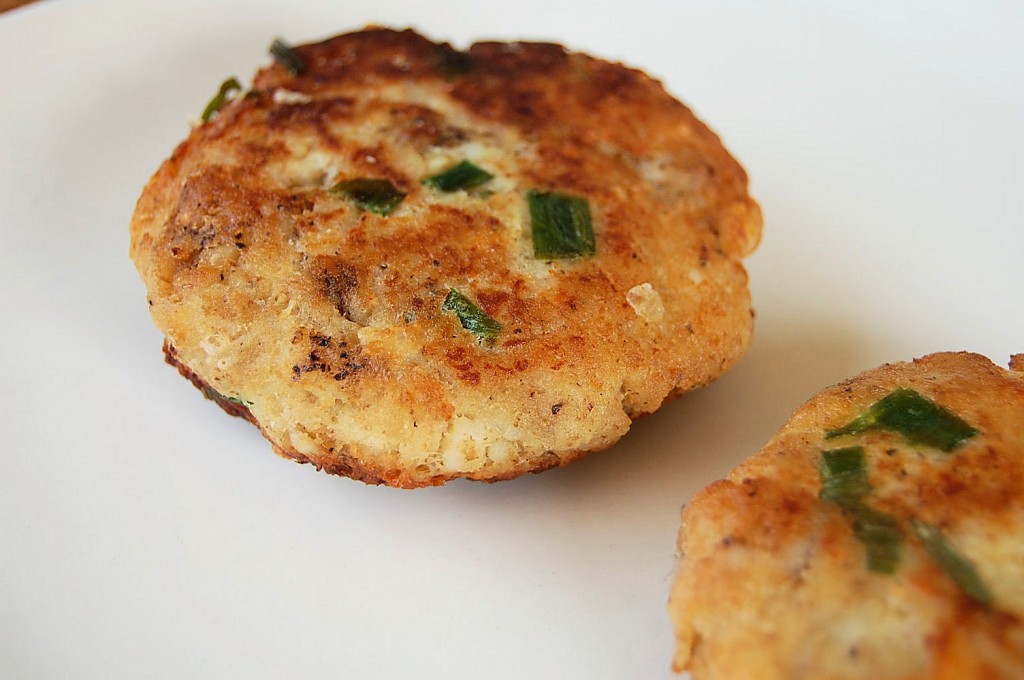 I HIGHLY suggest not doing this recipe until you have leftover fish and mashed potatoes-because why go through all that trouble to make fish and potatoes just to mash them up? If you need a great flavorful fish recipe please try my Blackened Tilapia. You say cod, I say tilapia. Its like saying tomato in the north or south. It doesn't really matter with these cakes. That is the beauty of this dish. Any fish will do as long as you have some FLAVA! Herbs are great with fish as well as curry and fruity flavors like mango and pineapple. Just be sure you aren't combining mango and lime flavored fish with buttery cheesy mashed potatoes! For the potatoes- try mixing it up and use a garlic mashed potato recipe or perhaps even pesto mashed potatoes. Those would go great with herbed flavored fish!  Now that I hope to have your creative juices flowing- Let's get in the kitchen and Be Fearless. Remember: my recipe below is from leftovers. Use what you have and be creative- as long as you have the correct measurements as outlined below you can't go wrong!
Before you go! I must tell you about my exciting news. I have been asked to be a curator for Kitchen Daily. It is an amazing food site loaded with one of a kind recipes and recipe ideas with a focus on cooking tips and menu ideas. I for one am an avid fan and always enjoy browsing the latest dishes so I was honored to asked to be apart of Kitchen Daily. Last week they featured my Hot Chocolate Oreo Muffins! Perfect timing with the arrival of fall. Do this gal a favor and check it out!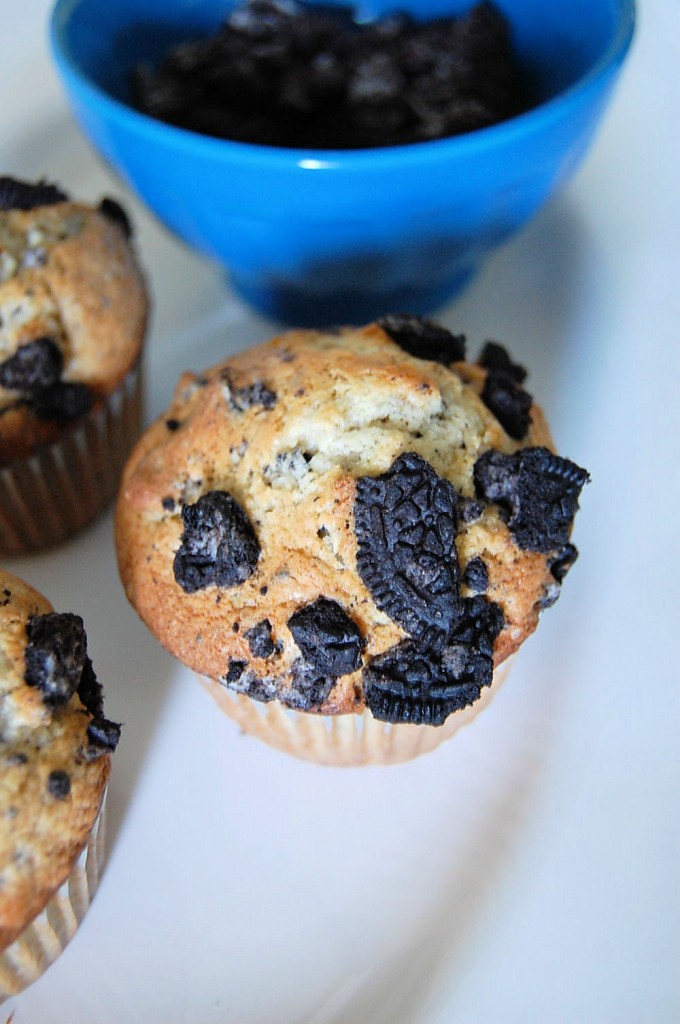 Crisp Mashed Potato Fish Cakes
Ingredients
2½ cups leftover mashed potatoes ( I use twice baked-recipe follows)
1½ cup shredded leftover fish (easier to shred at room temp)
1 egg
2 cups panko
½ tsp cracked black pepper (cracked not regular)
½ tsp cajun seasoning
sprinkle of paprika
¼ cup grated parmesan cheese
Twice Baked Potatoes:
4-5 pound bag of golden yukon potatoes or 4 large russet potatoes, I leave skin on- this is your choice
½ cup shredded Monterrey cheddar cheese
½ tsp salt and pepper each
¼ tsp garlic powder
¼ cup green onions, chopped
½ cup milk
½ cup sour cream
3 TBSP butter
Instructions
Mash together your potatoes and fish. Add in the seasonings then the egg and panko. Mix well. Form into small patties, approximately 2-3 inches. Cover and refrigerate for 30 minutes or all day. I like to do this in the morning so I can can breathe as dinner approaches knowing I already have it all together.
In a large skillet over medium heat, add ¼ cup oil. Once the oil is hot ( you can drop a small crumb from your patties to see if the oil sizzles, if so then your ready) and pan-fry the patties 2-3 minutes on each side until they reach a golden brown. You may have to do this in batches of 3-4 patties as you don't want to overcrowd the pan.Serve hot and enjoy!
For the potatoes:
Boil potatoes in a large stockpot until you can insert a fork easily into the center of a potato. Drain, toss in the butter, cheese, seasoning, sour cream, green onions and milk. Mash until everything is combined.
Side Note:
 I like to prepare the patties in the morning so I can can breathe as dinner approaches knowing I already have it all together and just need to cook it. Warning- don't go overboard and forget you still need to cook them. DO NOT serve the patties uncooked. Not only is it unsafe but it can cause family members to question your sanity! Just sayin…..