A cake in a skillet? A cake with a few instructions, easy to whip together and bakes in less than 30 minutes. A cake that looks as rustic as it sounds but tastes if not more delicious than its counterparts? That my friends is a Skillet Chocolate Sheet Cake! It can be whisked together while you are cooking dinner and baked in the oven while you are eating. Easy Peasy!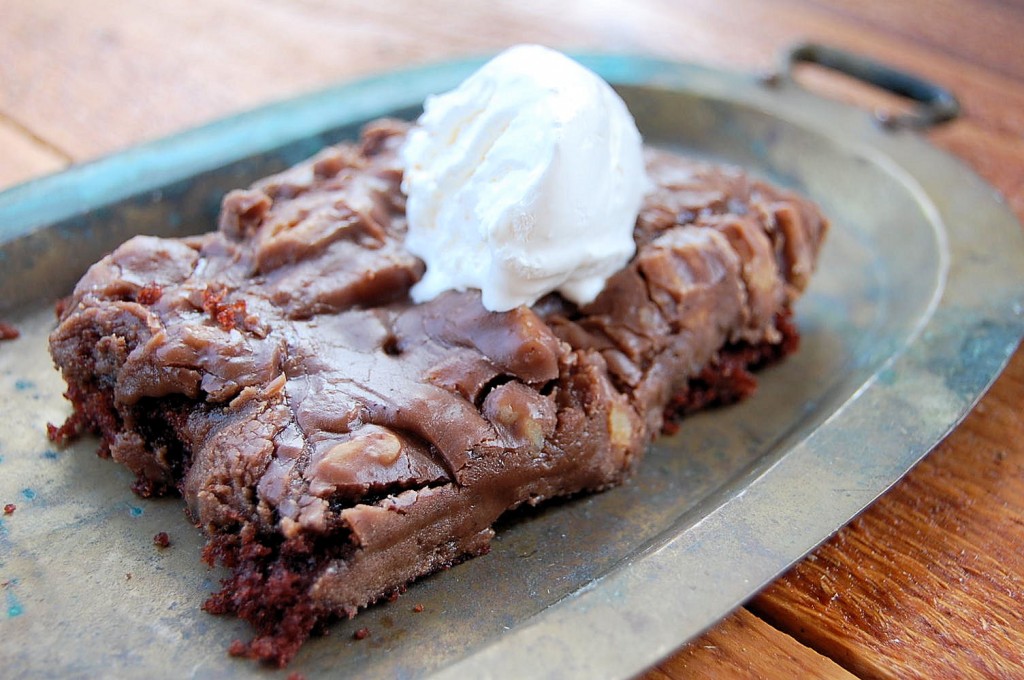 Repeat after me- YOU MUST HAVE ICE CREAM WITH THIS! Say it again! YOU MUST HAVE ICE CREAM WITH THIS! Okay, good- glad we are on the same page.
This is not any ordinary chocolate cake. It is a sheet cake with a rich, sinful crunchy glaze/topping that just melts in your mouth. The cake itself has a texture similar to a brownie and the topping is reminiscent of chocolate powdered sugar with a crunch. Sounds funny huh but that is exactly what I feel like I am eating with every bite. The glaze is sugary, sweet, nutty and crunchy from the walnuts and silky. Simple silky and delicious. Take my word for it- This will change your life!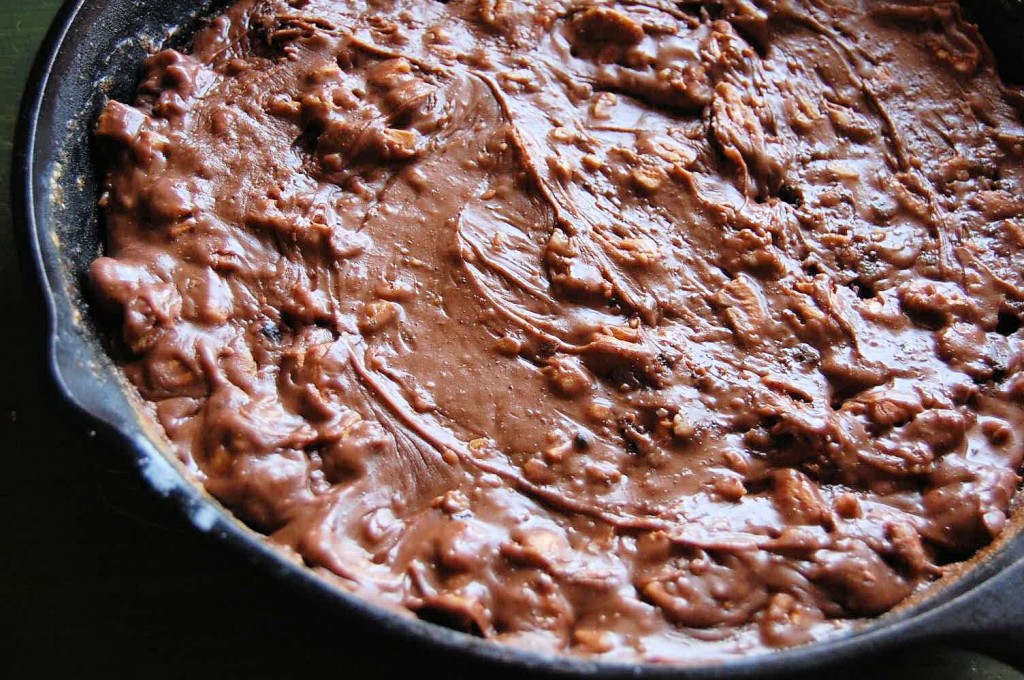 I actually do two types of desserts in my good old cast iron skillet. A chocolate chip cookie and this cake. The chocolate chip cookie is divine and over the top but that recipe seems to be floating around the web a little too much lately so I opted to share my skillet sheet cake with you instead. If you are not into chocolate (the horror) then my all means omit the cocoa and use extra vanilla and maybe hints of almond extract, orange or lemon flavors to give the sheet cake a nice fresh taste. Now don't be alarmed in the process of making this cake when you realize that your wet and dry ingredients are not quite coming together and a nice orderly fashion. The first time I made a skillet cake I thought I had done something wrong or missed a step because once I added in my egg, the mixture was so small and lumpy. I learned to just go with it! Keep forging and whisking and push/spread out the batter to the edges of the pan and pat it down. I can't promise it will look perfect but I can promise you haven't messed up and the end result will be extraordinary.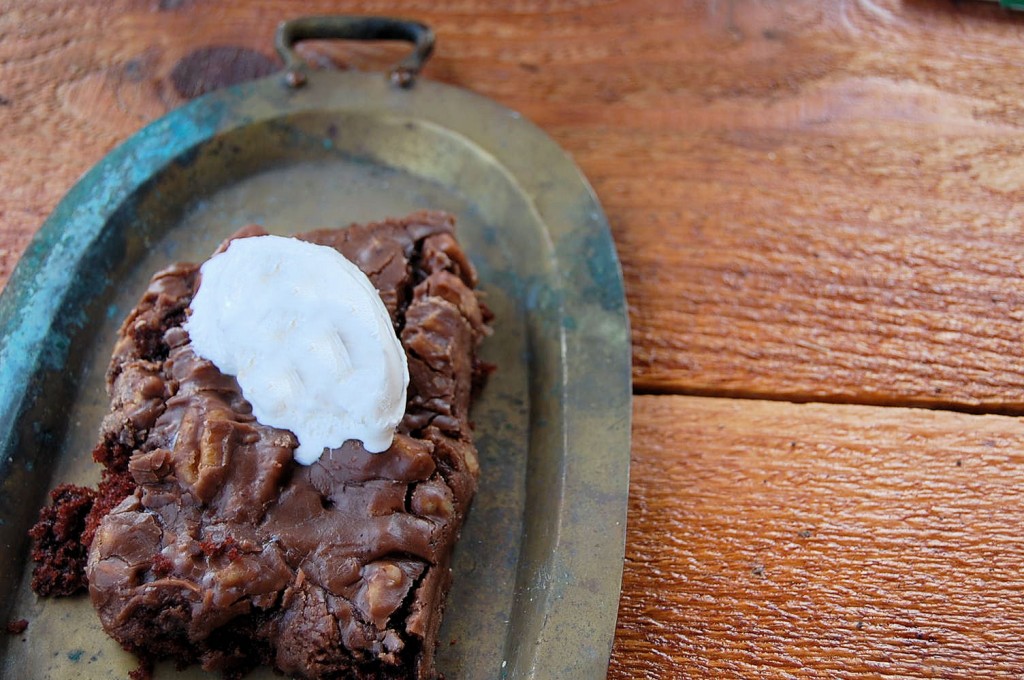 So where have I been? I have heard from so many wonderful and sweet bloggers inquiring if everything is okay. Thank you all for your concern. You see, my schedule postings used to be 3 days a week and they have recently diminished to 1 or at most 2. I can joyfull say ALL IS GREAT! I am just enjoying watching my 9 month old grow, my 3 yr old tackle life and loving my family and friends through service and fellowship. I have not and will not take a break- I just needed a little extra room to breath (which if you are a blogger you know exactly what I mean). However, with my 3 yr old back in Mommy's Day Out I have "room to breath" and I will be returning to your normally scheduled programming! So stay Tuned! There is more to come and you don't want to miss it!
Skillet Chocolate Sheet Cake
Ingredients
For the Cake:
1 cup flour
½ teaspoon baking soda
1 cup sugar
dash salt
¼ cup (1/2 stick) butter
¼ cup vegetable oil
2 tablespoons cocoa powder
½ cup water
¼ cup buttermilk
1 egg
½ teaspoon vanilla
For the Topping:
¼ cup (1/2 stick) butter
2 tablespoons cocoa
3-4 tablespoons milk (as needed for consistency)
½ cup pecans, chopped
2 cups powdered sugar
½ teaspoon vanilla
Instructions
Preheat the oven to 350 degrees F. In a large bowl, whisk flour, baking soda, sugar, and salt together and set aside.
In a 10-inch cast iron skillet, bring the butter, vegetable oil, cocoa powder, and water to a boil. Remove it from the heat and whisk in the dry ingredients well. Mix in the buttermilk, egg, and vanilla. Bake the skillet cake at 350 degrees F for about 15-20 minutes or until a toothpick comes out with just a few moist crumbs.
While the cake starts to cool, make the frosting. In a medium saucepan, bring the butter, cocoa, and milk to a boil. Remove them from heat and add the icing sugar, nuts, and vanilla. Stir to combine. Pour over the warm cake, spread with a spatula.
Notes
recipe from |Willow Bird Baking[http://willowbirdbaking.com/2012/04/25/gooey-chocolate-skillet-cake-ice-cream-sundae/]