Who can resist an ice cream sandwich? What if I told you that you could eat an ice cream sandwich everyday and feel good about it? I don't lie! With my zucchini "ice cream" yogurt sandwiches you are getting a dose of veggies, calcium and the perfect balance of sweetnes with a hint of brown sugar and cinnamon. What more could you ask for? A lot more huh? Well, the best I can do today are these sandwiches- take it or leave it! LOL! You may be wondering why I call these "ice cream" yogurt sandwiches? Word play my friends! Ice Cream is Yogurt- or haven't your heard:) I have a 3 yr old- Nuh Said!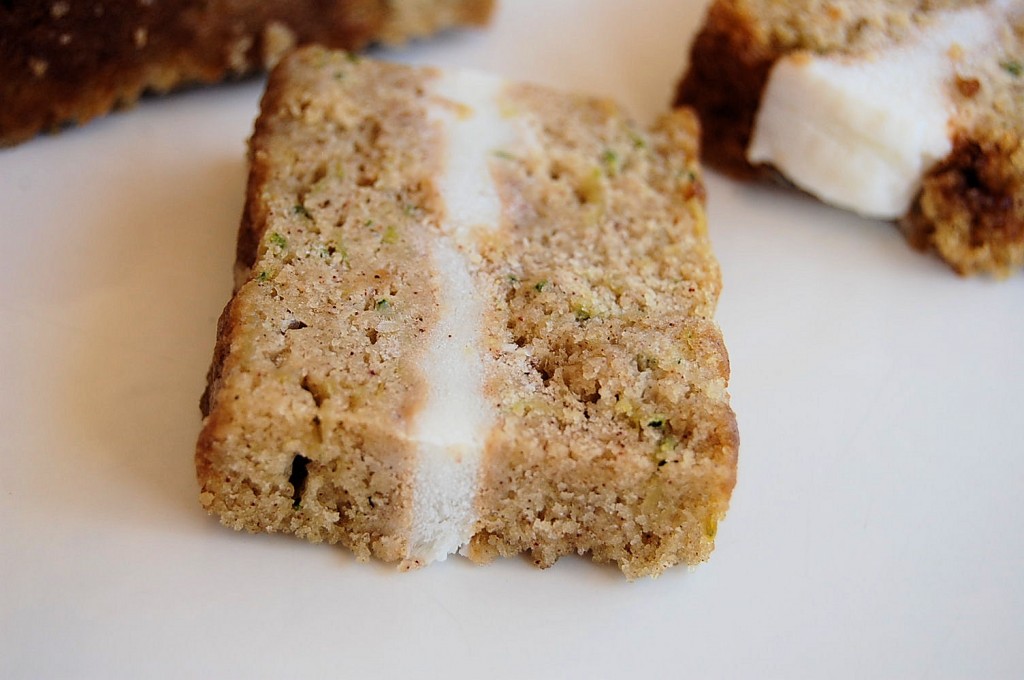 I got the idea because my son (like his momma) thoroughly enjoyed his cookies and cream ice cream sandwich we had as a treat one extremely HOT day last week. Although very very yummy it wasn't the healthiest choice I could have chosen. So I decided to make my own version of an ice cream sandwich but replace the ice cream with sweet yogurt and the "cookies" with miniature zucchini cakes sliced really thin. It was perfect! My favorite part about an ice cream sandwich is those first few bites. The ones where the cookie part is so firm and cold and the ice cream is so icy that you get a little crunch factor by biting into it. That is exactly what I tried to mirror with my zucchini yogurt cakes and indeed I succeeded.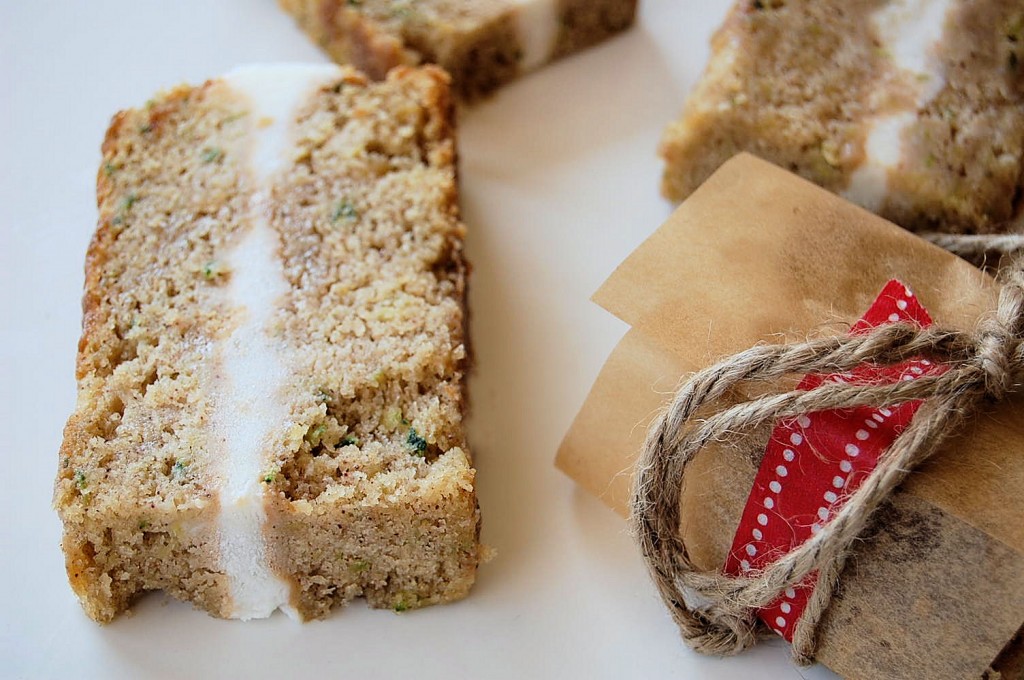 GO crazy! Use carrots instead of zucchini, cocoa along with the flour or even chocolate chips in the mix. The  miniature cakes lend themselves perfectly to a variety of yogurt flavors like strawberry, pineapple, blueberry, even chocolate. The possibilities are endless.I stored the leftovers in ziploc bags and we have been eating a zucchini "ice cream" yogurt sandwich every morning and afternoon for the past week! Summer- I LOVE IT!
Zucchini "Ice Cream" Yogurt Sanwiches
Ingredients
2 cups unbleached all-purpose flour
1 teaspoon baking powder
½ teaspoon baking soda
1 teaspoon kosher salt (sounds like a lot, but you want it all)
1½ teaspoons ground cinnamon
1 teaspoon ground ginger
½ teaspoon freshly ground nutmeg
3 large eggs
1¾ cups granulated sugar
1 cup extra-virgin olive oil
2 teaspoons pure vanilla extract
2½ cups grated zucchini
18 ounces of your choice of frozen yogurt- you may use refrigerated yogurt if you would like
Instructions
Preheat the oven to 350° F. Spray 2 8x8 pans with cooking spray then place parchment paper in the pan pressing so it sticks well to the bottom and sides.
Whisk the flour, baking powder, baking soda, salt, and spices into a medium bowl and set aside. In an electric mixer fitted with the paddle attachment, beat the eggs, sugar and olive oil together on medium speed until light and fluffy, about 3 minutes, then beat in the vanilla extract. Scrape down the sides of the bowl as needed. Beat in the dry ingredients all at once on low speed until they are thoroughly combined, then switch to medium speed and mix for 30 seconds. Mix in the zucchini until completely incorporated.
Pour the batter into the prepared pans, smoothing the top with a spatula. Bake the cakes for 40 to 45 minutes or until a tester inserted in the cakes comes out clean and the cakes have begun to pull away from the sides of the pans. Once the pans are cool, place them in the freezer for 15-30 minutes. Meanwhile, take out your frozen yogurt and allow it to come to room temperature so it evenly spreads.
Remove one pan and spread the yogurt on top of the zucchini cake. You can do as much or as little yogurt as you prefer. Place the pan back in the freeze for an hour. Now remove both pans and pull out the second zucchini cake from the pan using the parchment paper to help you get it out. Invert it on top of the yogurt layer and press down slightly. Wrap the whole pan with plastic wrap and freezer overnight. You can either cut out your 'sandwiches' in the pan itself or remove the whole zucchini cake from the pan using the parchment paper and cut out your sandwiches.( That is what I did)
Store in ziploc freezer bags for up to 2 week- if that last that long.