Seafood, Veggies
Crispy Salt and Pepper Calamari Salad with Wasabi Orange Vinaigrette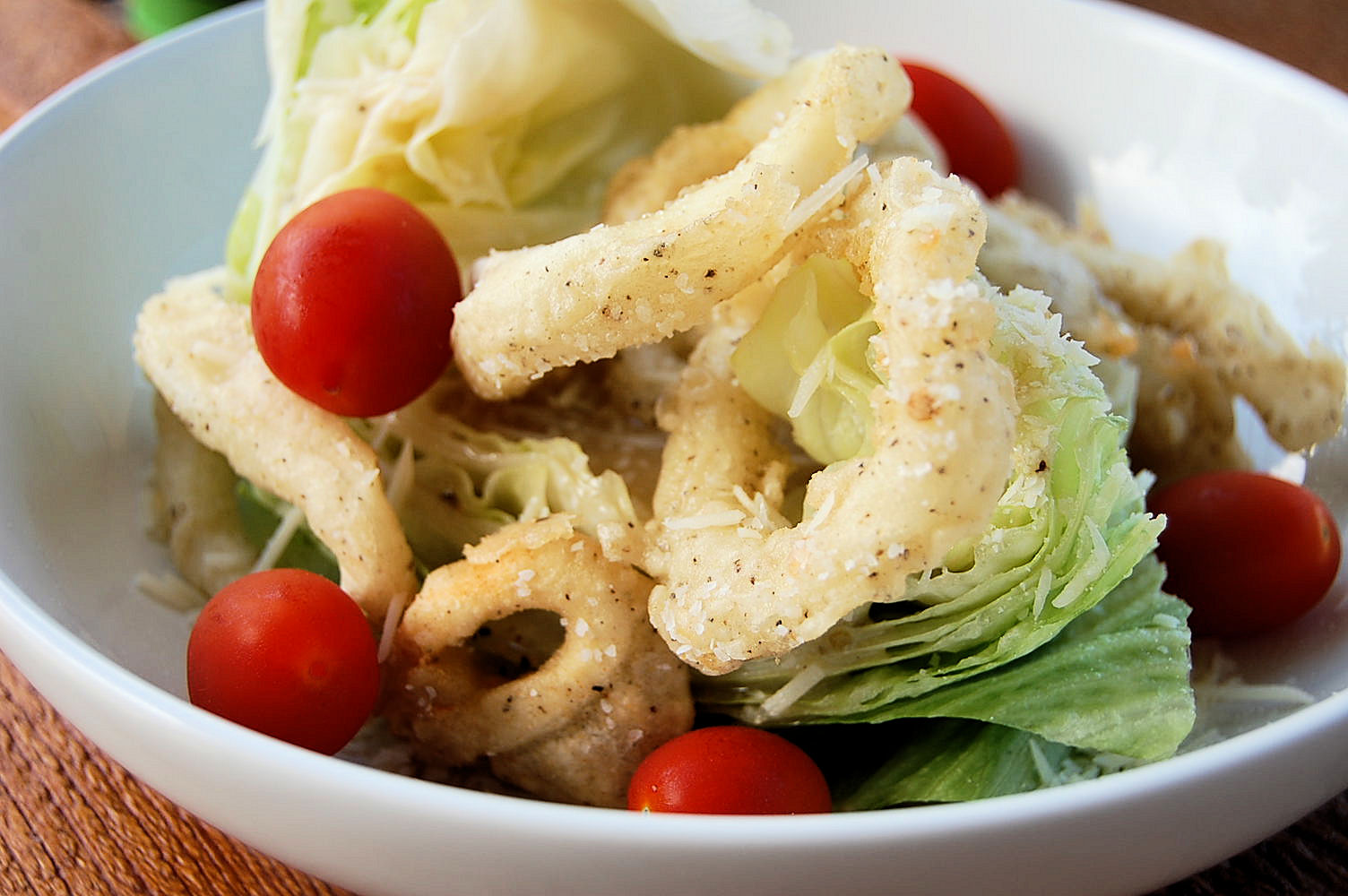 We love salads. Every week like clock work we have salads on Tuesday night alongside a nice chunk of buttery moist bread and our favorite dressing. Sometimes the word salad can bring tension to a family especially one with small kids or if you have a certain husband (not mentioning any names:) that needs MEAT to survive. Thankfully, I have rewired convinced my husband with my endless supply of flavorful and unique salad creations that not all salads are boring and tasteless .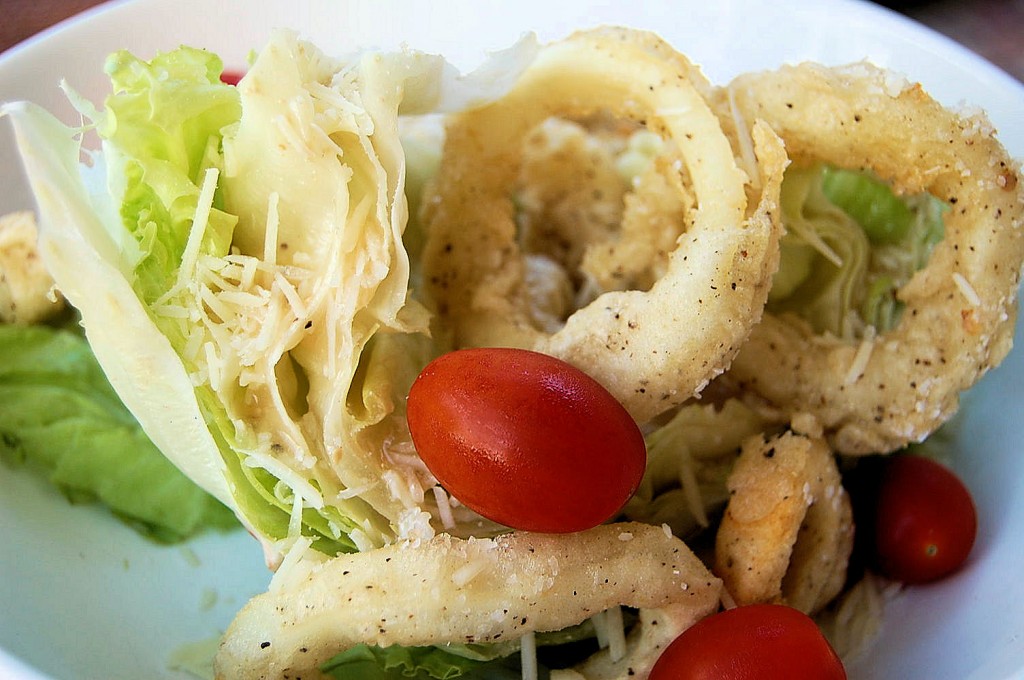 This past week I brought home the gold (hence the anticipation of the Olympic games)and used my freshly purchased calamari rings to liven up crispy ice-burg lettuce, creamy wasabi orange vinaigrette and hints of romano cheese.  The calamari were bathed in a nice bath of buttermilk and srichacha sauce ( just because I love using buttermilk when frying)  then dredged in a bubbly generous amount of tempura batter made with ice cold seltzer and freshly cracked sea salt and black pepper. The outcome was incredible, the seltzer keeps the batter from getting soggy, leaving you with an outrageously crispy golden crust. The crispy calamari and crispy ice-burg lettuce were a match made in heaven and the vinaigrette added the perfect sweetness with hints of orange and spicy wasabi. Don't let the taste of summer pass you by- make this salad- you deserve it!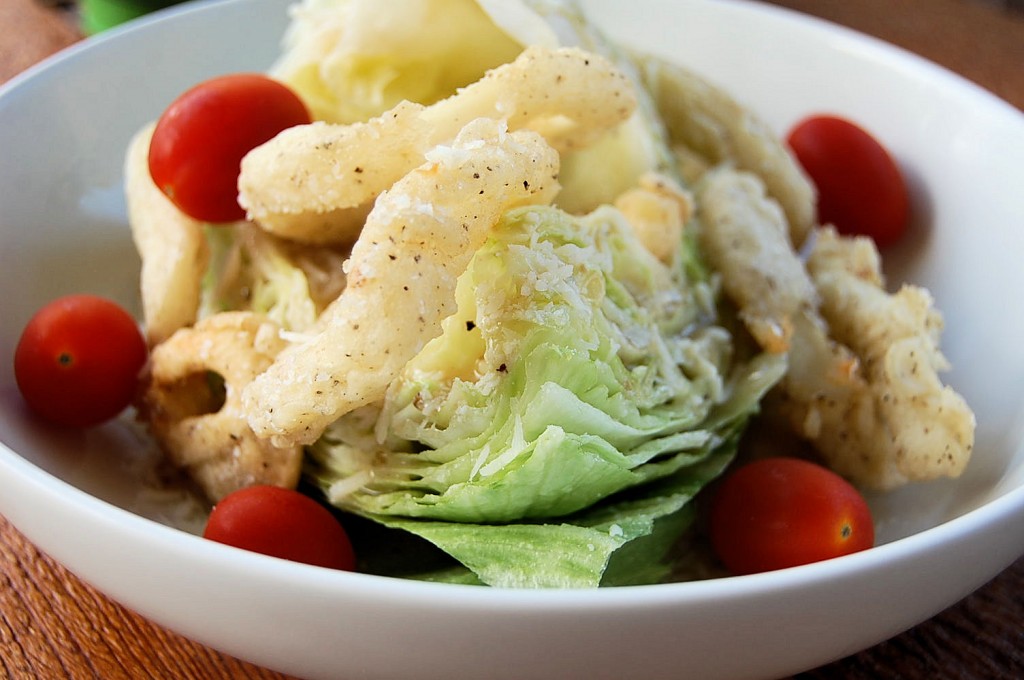 Crispy Salt and Pepper Calamari Salad
Ingredients
1 pound of fresh calamari rings
⅓ cup of AP flour
¼ cup of cornmeal
½ cup of cornstarch
1 TBSP freshly cracked black pepper
1 TBSP freshly cracked sea salt
¼ tsp red pepper flakes
1 cup of buttermilk
a dash of srichacha sauce
8-10 ounces of ice cold seltzer
Wasabi Orange Vinaigrette: courtesy of Emeril
2 teaspoons wasabi paste
1 tablespoon honey
¼ cup rice wine vinegar
½ cup vegetable oil
½ cup sesame oil
1 tsp grated orange zest
1 tablespoon chopped fresh cilantro leaves
Salt and pepper to taste
Instructions
Mix together in a large bowl the buttermilk and srichacha sauce. Place the squid in the bowl and cover. Refrigerate for 30 minutes. Remove, drain and pat dry. Set aside
Mix together in a separate large bowl the flour, cornmeal, cornstarch, salt, pepper and red pepper flakes. Slowly pour in the seltzer water stirring vigorously until all is combined. Batter should be as thick as pancake batter. Dredge the calamari rings in the tempura batter, scraping off excess batter on the sides of the bowl before placing them into 375 degree hot oil. Fry for 2-3 minutes until golden brown. Serve alongside crispy salad and wasabi orange vinaigrette.
Wasabi Orange Vinaigrette:
In a mixing bowl, combine the wasabi, honey and vinegar. Whisk well. Slowly drizzle the oils into the bowl, whisking until the dressing emulsifies. Season with salt and pepper. Stir in the cilantro.