Everyone needs a go to side dish for those nights when the last thing you want to think about is "What's For Dinner".  The perfect side is something that is versatile and can compliment any main dish from seafood, meats and chicken to casseroles and soups. It has to be light but yet hearty enough to stand up on its own. And when we are referring to veggies as the side what is better than vegetables hot and bubbly with cheese and bread crumbs? Nothing- Absolutely nothing is better! With all this said my Roasted Broccoli and Pecan Gratin is the PERFECT side!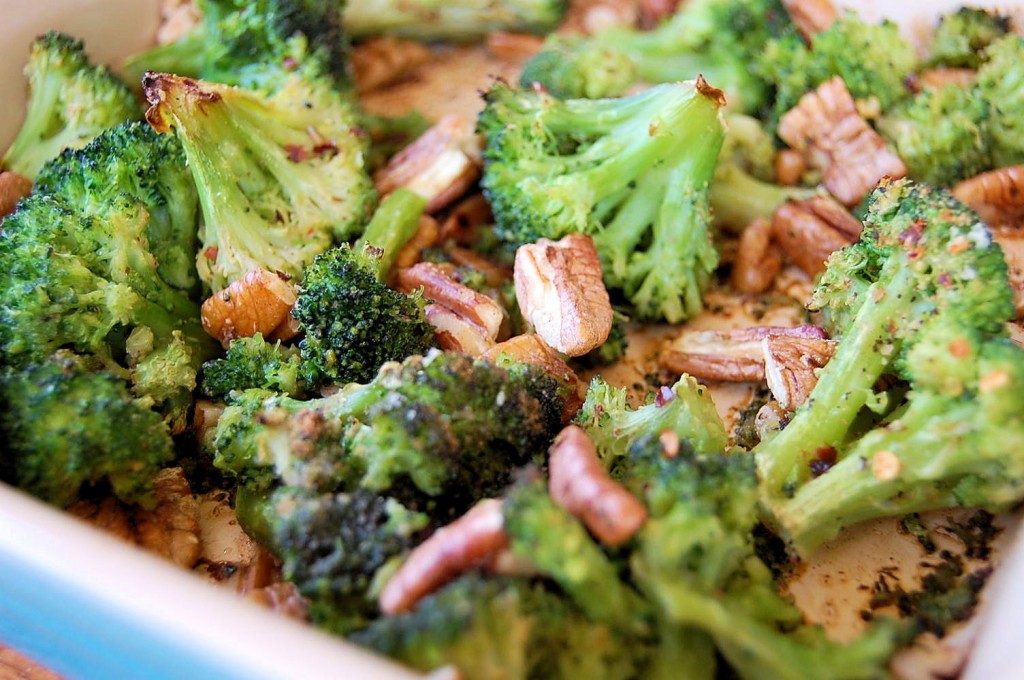 One of my favorite things to do when I cook is to treat each part of the dish as its own dish. By that I mean, if I make chicken noodle soup for instance, I like to roast the chicken with nice seasonings before adding it to the stock, I like to roast my bananas before making banana nut bread, I like to fry my chickpeas before including them in a nice pasta salad. You get the picture……So I thought a nice roasted garlic flavor for the broccoli would be nice and the extra crunch of roasted pecans would make this gratin extra special. It has everything you need. Veggies, crunch, cheese and bread crumbs- what's not to love! Find me a kid who doesn't like their broccoli and I will turn them into a broccoli lover!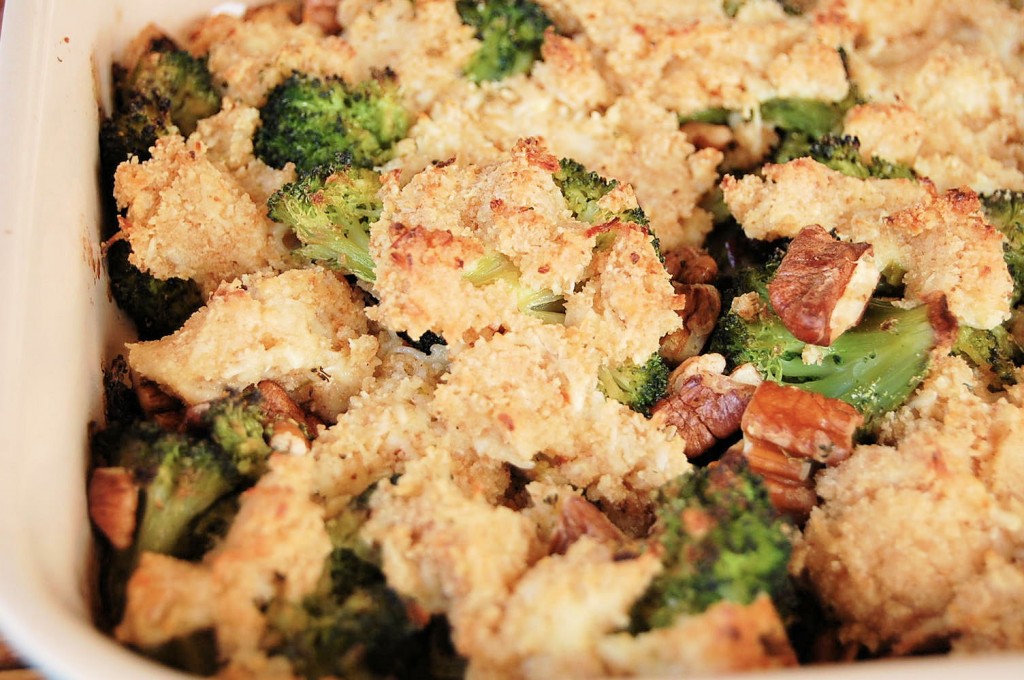 You know I like to have my "secret" ingredients and I bet you can't or (maybe you can if you have stuck around here long enough)- what my secret ingredient is? MUSTARD! The use of Dijon mustard alongside the creme fraiche, cheese and breadcrumbs adds a fantastic punch to the topping and one you would least expect. I used lemon Dijon mustard but really any variety would do- for a little extra spice try chipotle mustard ( Saucy Mama has a great one) or maybe horseradish mustard or rich brown mustard. Either way you go you can go wrong!
Roasted Broccoli and Pecan Gratin
Ingredients
1½ to 2 pounds broccoli, trimmed, the stems cut into pieces
⅓ cup of creme fraiche
¼ cup mayonaise
½ cup pecans, chopped
1½ tsp lemon dijon mustard
½ tsp salt and pepper each
¼ tsp red pepper flakes
2 cloves garlic, minced
½ cup bread crumbs
¼ cup of parmesan cheese, grated
Instructions
Put the broccoli and pecans in a bowl, drizzle with olive oil, toss with minced garlic, sprinkle with salt and pepper and red pepper flakes and transfer to a gratin dish or casserole dish. Cook until the tops are browning and the stems are crisp-tender, 10 to 15 minutes.
Remove from the oven and set aside. Mix together in a large bowl the remaining ingredients. Place small mounds of the cheese mixture on top of the broccoli, gently pressing down. Return to the oven and cook until the cheese is bubbling and the bread crumbs are golden. Serve hot or warm.