It is to good to be true. The crunch you love of a fry and the creamy goodness of an avocado slice together at last! It has to be the most unbelievably amazing pairing and way to easy to even be called a recipe. I wish I was the brains behind this but just give thanks for my friend Pinterest. I pinned these babies late one night and at that time I don't think I truly realized what I had stumbled upon. Way better for you then regular "fried" fries or even oven baked fries because they have that "good fat"  (isn't that a.k.a for- Eat as much as you want??????). Don't you just love that word- "Good Fat". Let's say it one more time before we go on- "Good Fat"……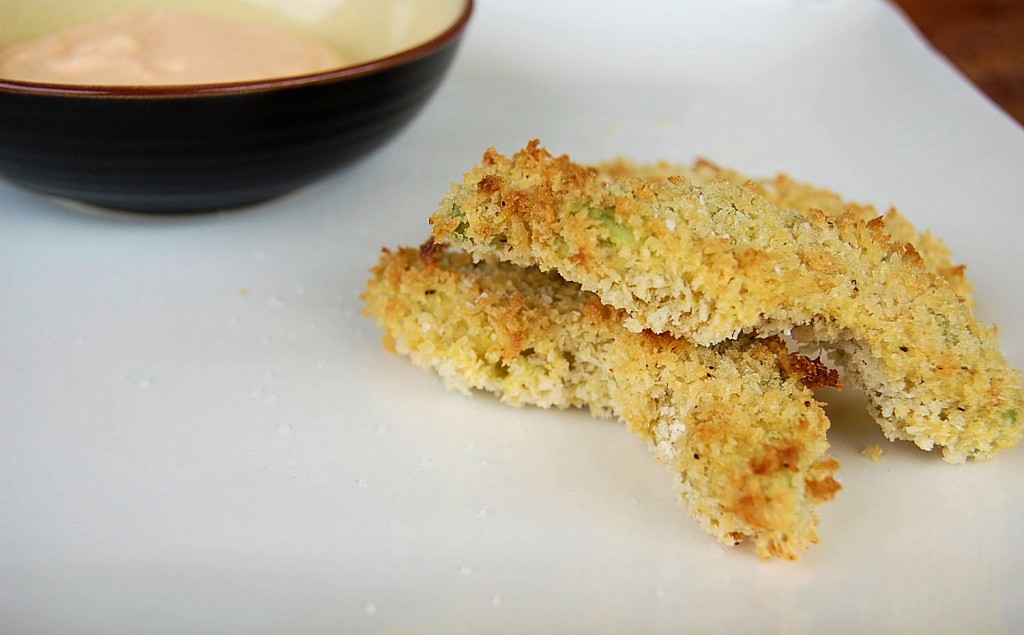 Want to know how to make them? Do I even need a recipe card? Get this- dip them in flour then egg then Panko- bake! Repeat after me- Flour, Egg, Panko-BAKE! It is really that simple. Now you know I like my southern Cajun spices so if you want to get all fancy you can do what I did and add a dash of paprika and cayenne pepper to the flour and a hint of garlic powder to the Panko but really- must we get so detailed. Just repeat the mantra above and go get you some avocados!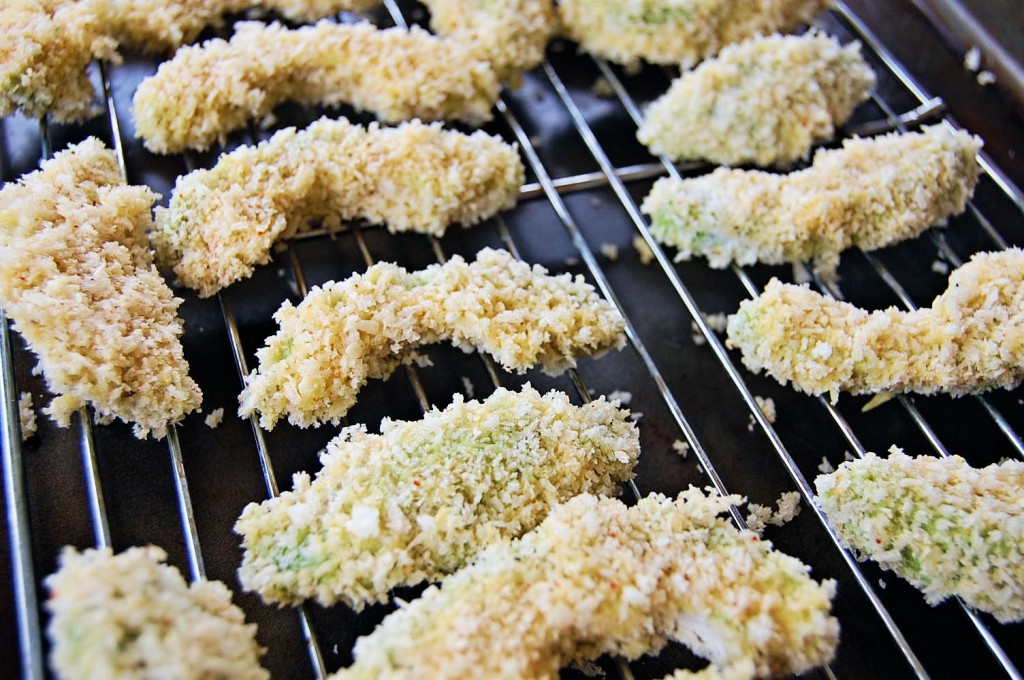 Here is a little trick for cutting avocados into nice pretty slices, cut the avocado in half, remove the pit by gently taking your knife and tapping the seed so that the blade lodges into it. Then give it a slight twist of the wrist and the seed should easily pop out. Usually avocados intended for sandwiches, salads or guacamole are best if very ripe but in order for the avocados to hold up in the baking process make sure you get a nice firm one.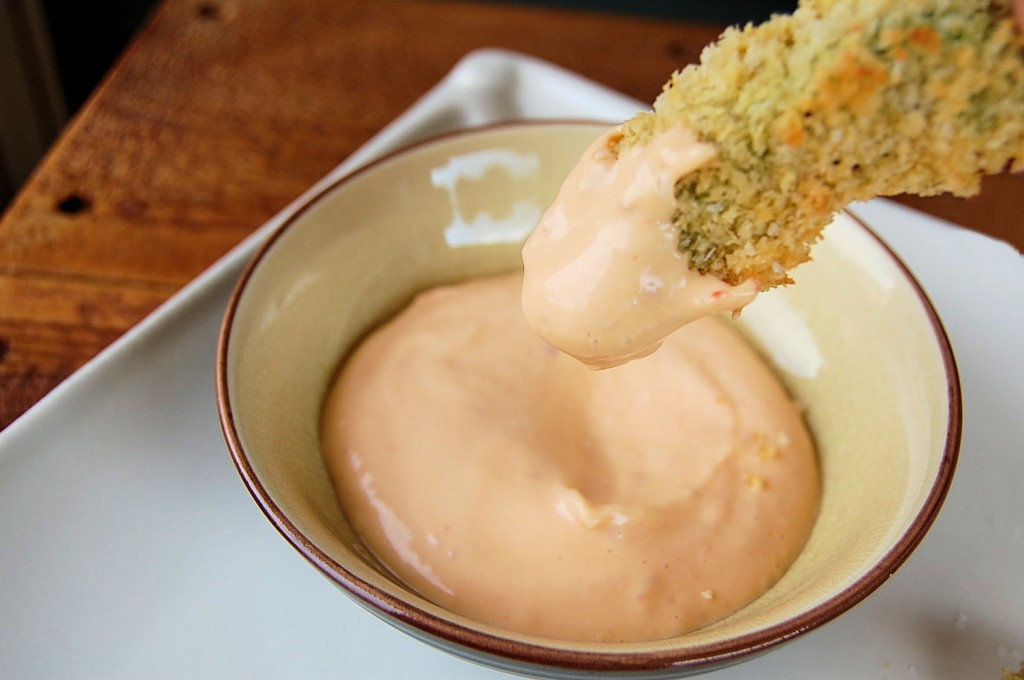 The hidden star of the dish is the Jalapeno Lime Ailoi. I used it a few weeks back with my Fried Shrimp Po-boy and I feel in love with it so much that I knew the aioli would be the perfect accompaniment to these fries. The extra kick of the jalapeno is nice against the creamy green goddess herself and the lime brings some freshness to it. With each bit you get crunch, you get creamy you get fresh and somehow you feel like you are sitting along the beach with your hair blowing in the wind enjoying a nice outdoor appetizer. Just sayin…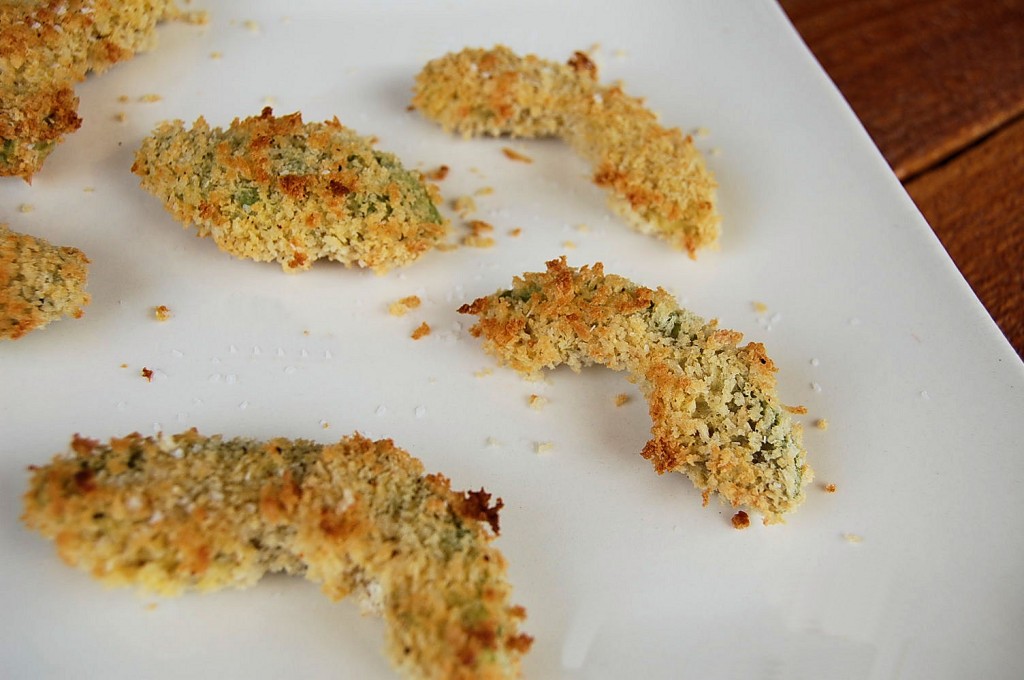 Love Cinnamon Rolls? Make sure to stop by my kids site Belleicious Kids for my recent post-Blueberry Cinnamon Rolls with Brown Sugar Cream Cheese Icing! They are phenomenal and the kids will love them- I mean you!
Oven Baked Avocado Fries with Jalapeno Lime Ailoi
Ingredients
3 slightly firm avocados
2 tsp cajun seasoning
½ tsp garlic powder
¼ tsp cayenne pepper
½ tsp paprika
¼ tsp each of kosher salt and black pepper
1 cup panko breadcrumbs
2 large eggs
1 tablespoon olive oil
½ cup flour
Instructions
Remove pit from avocados. Slice and peel. Preheat oven to 450. Spray rack with cooking spray and place on a baking pan.
Mix together the flour with 1 tsp cajun seasoning and the paprika and cayenne pepper. Mix together in a separate bowl the eggs and 1 tsp of cajun seasoning with the salt and pepper. In the third separate bowl mix together the garlic powder and panko. Dip each avocado in the flour then the egg then the panko. Transfer to a the baking rack and cook for 15-20 minutes. Serve with my Jalapeno Lime Ailo