Ahh! The egg! It is such a small ingredient yet packs a powerful punch. It might be single handily the only ingredient that is so controversial as how to cook it. You would be hard pressed to find anyone who doesn't have their "preferred" way of eating an egg. Baked, fried, scrambled or hard-boiled, an egg is not just an egg! Now I can honestly eat eggs almost everyday of the week but they do tend to get a little boring and that is why I am so excited to share this recipe with you today.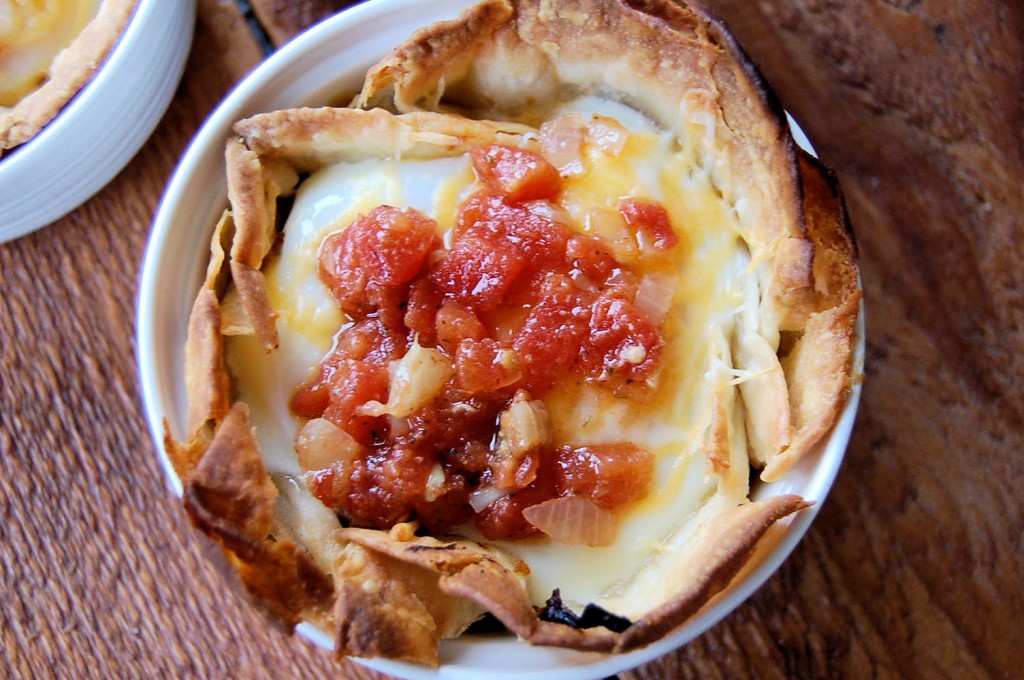 A spicy tomato sauce with origins from a can and cute little ramekins were the perfect base to create the most amazing eggs you have ever put in your mouth. Traditionally, huevos rancheros are fried eggs served on hot corn tortillas and smothered in cooked salsa. I took this idea and re-created the dish in individual portions while keeping the tradition alive and well. I first lightly fried the tortillas in oil until they were slightly crispy and puffy yet still pliable. Then I created my spicy tomato sauce (a.k.a. the salsa) using a can of diced tomatoes, garlic, lime, Mexican adobe powder and onions. Finally I brought it all home with a mouth-watering layer of tortillas, spicy sauce, cheese and egg.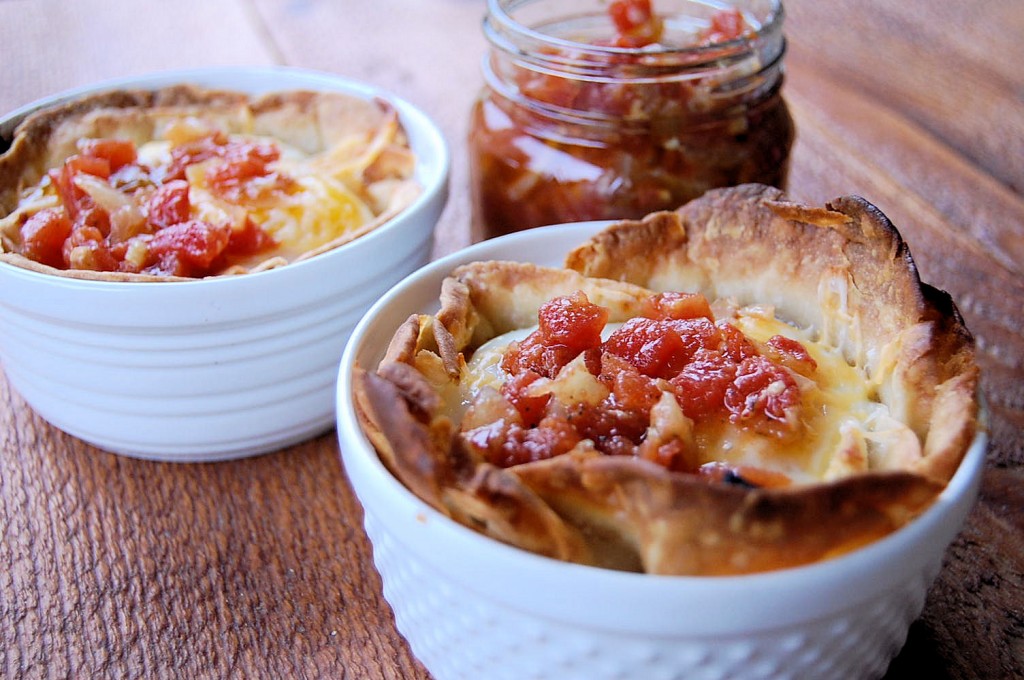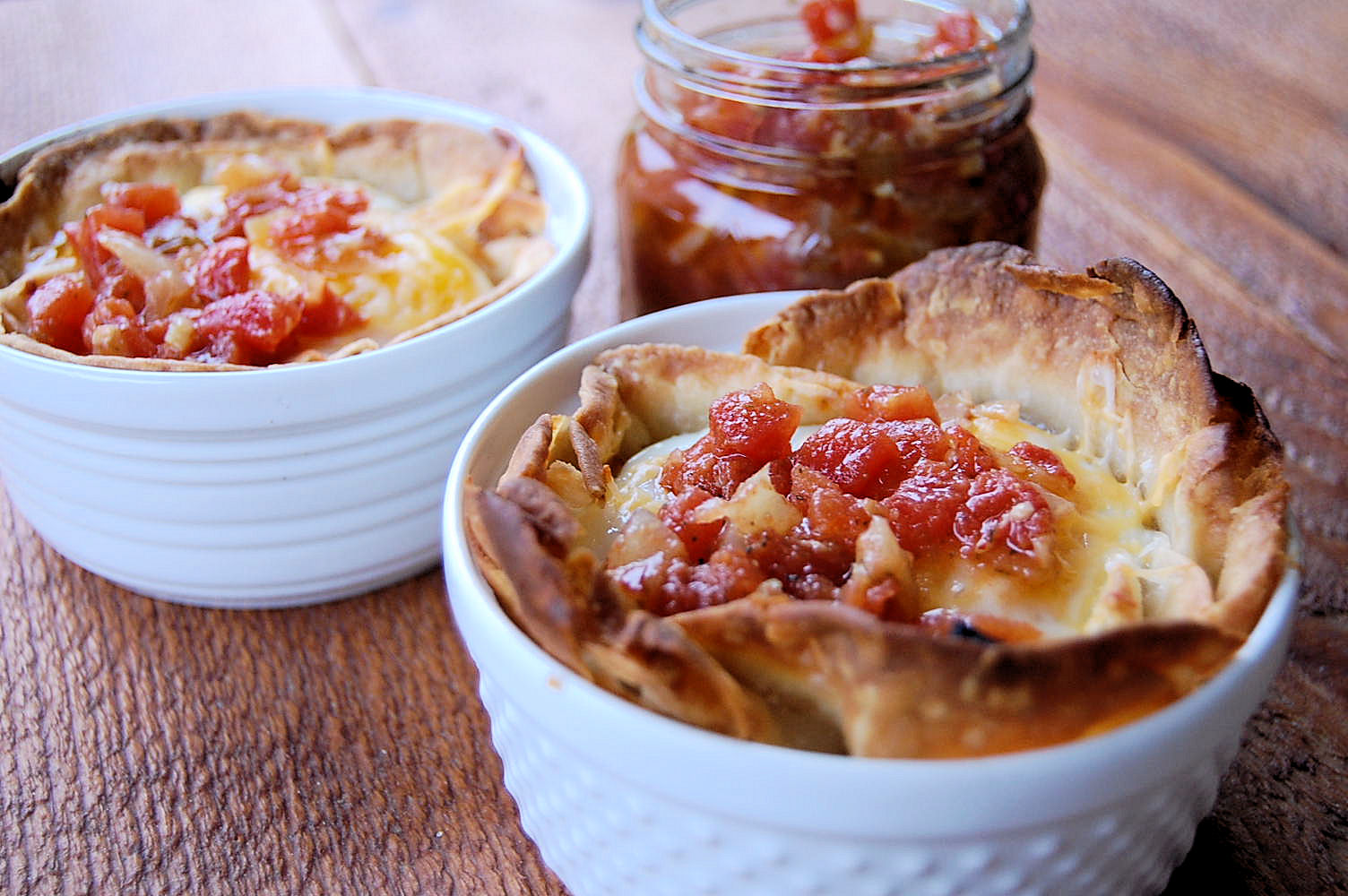 Amazing. They were simply amazing and my favorite part was breaking off a piece of my lightly fried tortilla and dipping it into the egg and sauce. Spell-bounding! It is a perfect brunch and vegetarian dish and this recipe makes enough spicy tomato sauce to leave you with just the right amount to use on top of my chicken and avocado grill cheese sandwiches I will be showing you next week! Stay tuned!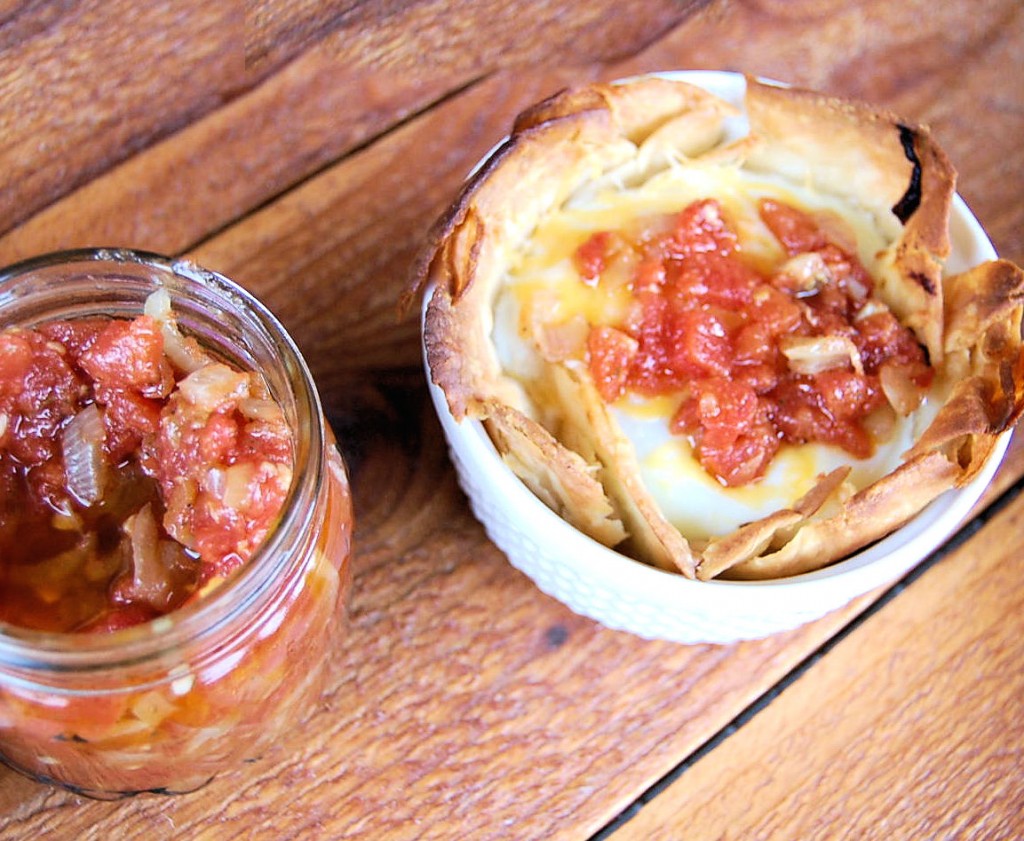 Baked Huevos Rancheros with Spicy Tomato Sauce
Ingredients
4 eggs
1 can of diced tomatoes
1 tsp minced garlic
½ tsp salt and pepper each
1 tsp Mexican adobe powder
½ onion, chopped
1 TBSP olive oil
2 TBSP canola oil
4 tortillas
1 cup of shredded cheese ( of your choice )
Instructions
First prepare the spicy tomato sauce. Heat the olive oil in a medium saucepan and cook the onions and garlic for 5-6 minutes. Add in the can of diced tomatoes, salt, pepper, adobe powder, cumin and oregano. Cover and turn to medium-low. Cook for 10-15 minutes. Set aside.
Meanwhile, heat the canola oil in a large skillet and lightly fry the tortillas one at a time until slightly brown on each side. Set aside.
To assemble, place the tortilla in the bottom of each ramekin and push down to make a bowl shape. Place a heaping spoonful of the spicy tomato sauce in the bottom. Next add in some cheese then crack the egg on top. Bake at 375 for 10 minutes. Remove and place remaining shredded cheese on top and a spoonful of the spicy tomato sauce. Return to the oven and turn oven to broil-bake until cheese is melted- 1-2 minutes.