A few weeks back I graced this blog with an out of this world- better than the original- Oatmeal Pie Cookie recipe and now I can't wait to show you my new favorite- Homemade Nutter Butters. I really didn't set out to up one on the grocery store snack isle but when it hits me it hits me hard and after watching my 3 year old scarf down his first handful of nutter butters I was determined to make my own. After all my second motto for Kitchen Belleicious, other than "fearless in the kitchen" is "Anything they can make I can make too" and make I did.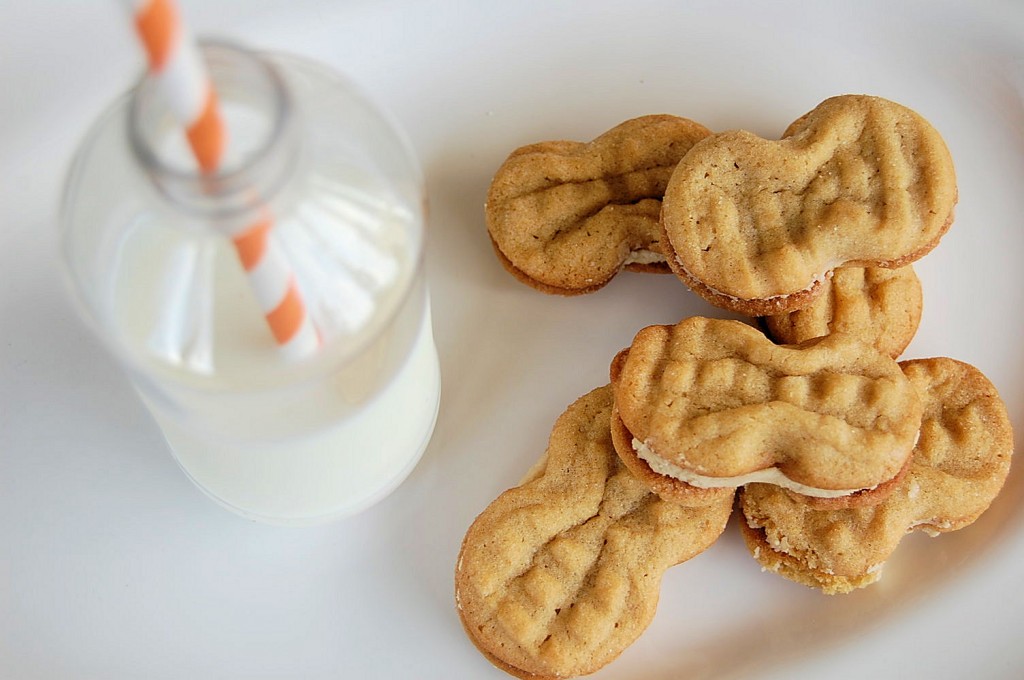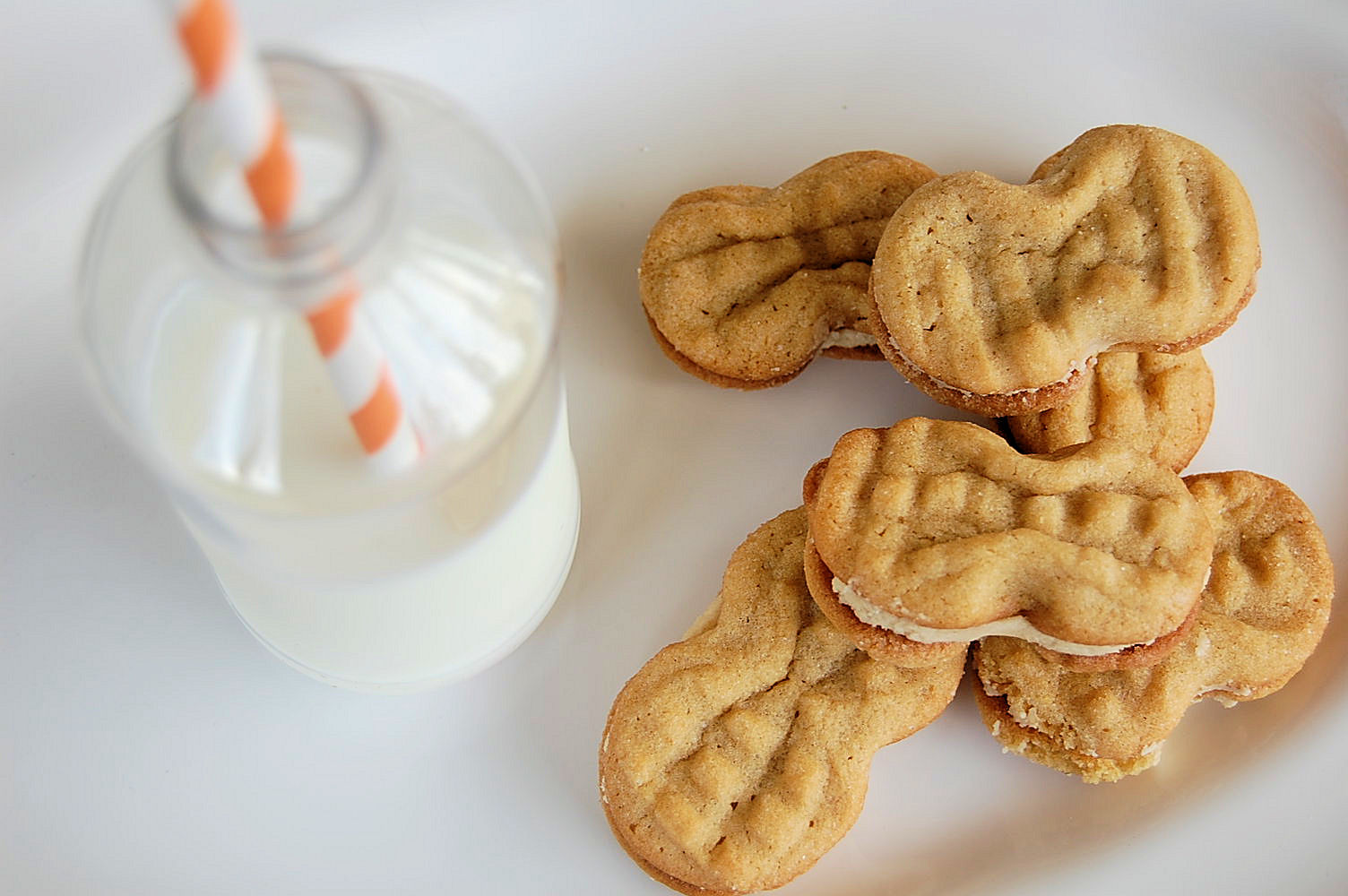 They were amazing! Buttery, nutty, creamy, soft, chewy, delicious- PERFECTION! They are like the ultimate Peanut Butter Cookie but with a cute little peanut shape and a decadent rich filling. I love a good crunch and I opted to use crunchy peanut butter in the filling instead of creamy but do what makes you happy. Now seeing as how these nutter butters were such a hit I grabbed a jar of white chocolate almond butter to use for the filling in my second batch of cookies and it was unbelievable. A fancy nutter butter for kids and adults. I promise you won't be disappointed in these babies. The kids are out of school and what better way to keep them busy and full then to have them help you in the kitchen and fill up on homemade snacks rather than the store-bought versions.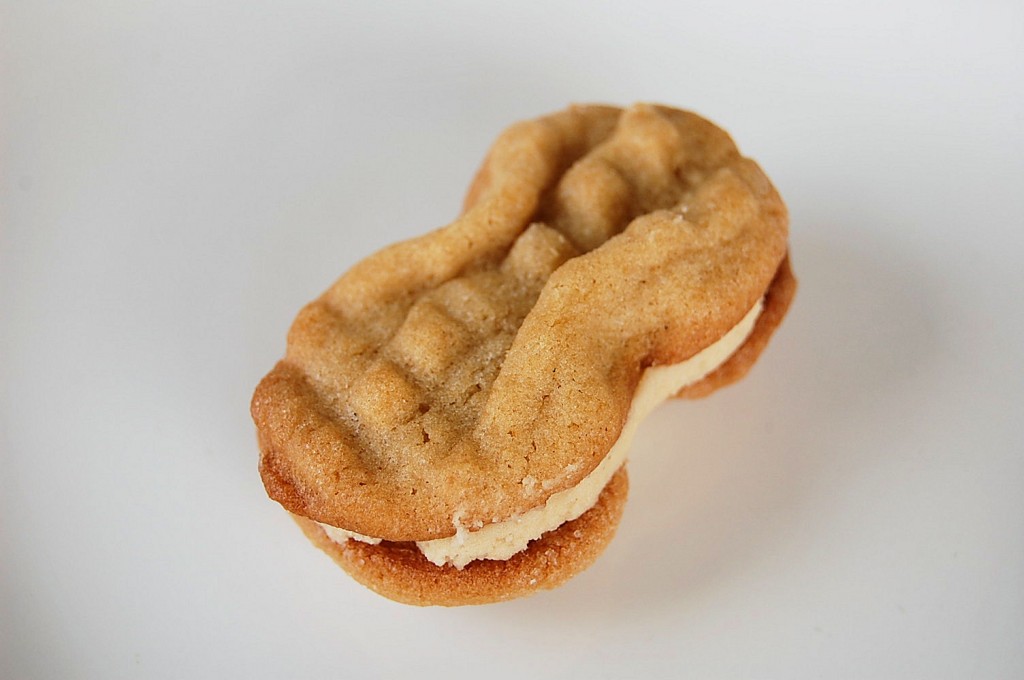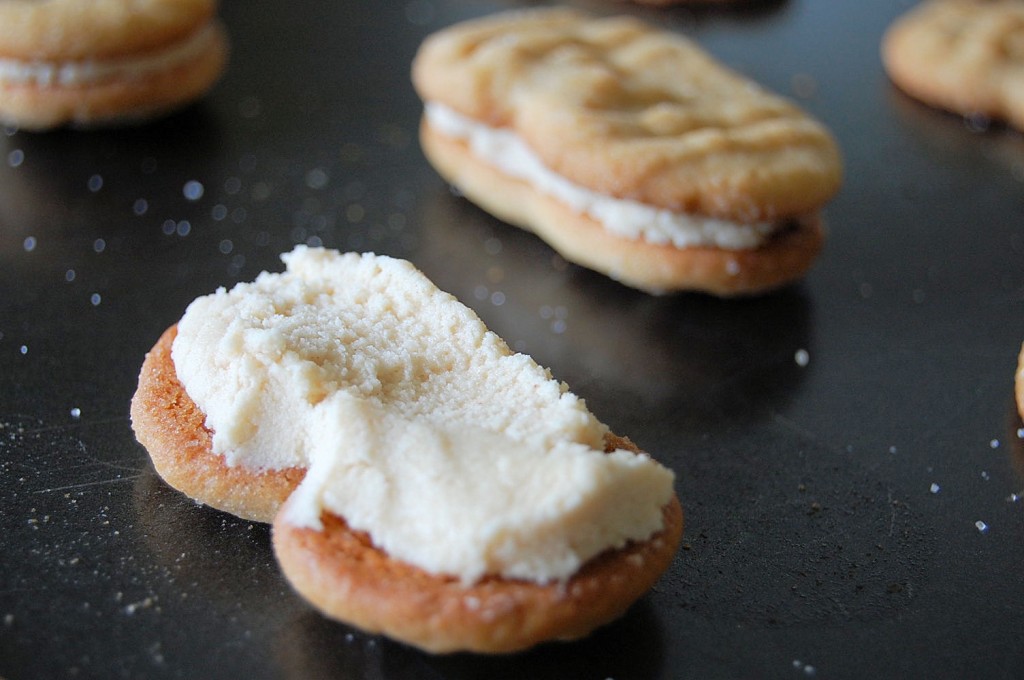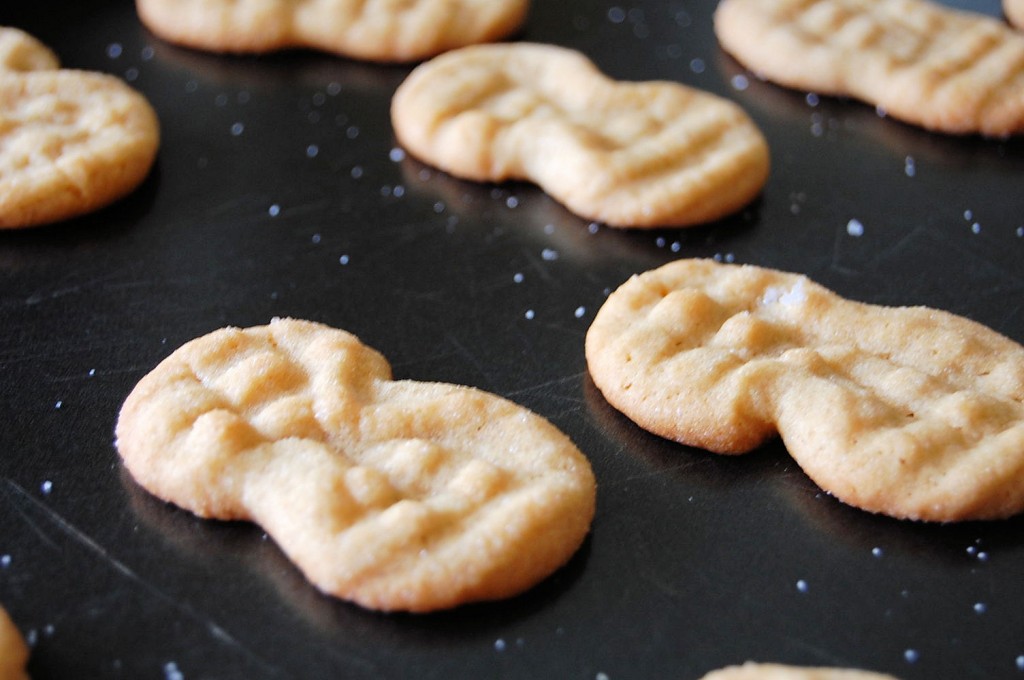 Now don't get all antsy on me and pop the cookies in the oven once you roll them out- I know your getting hungry but patience is a virtue! This dough must have time to "chill" out in the refrigerator before its oven time or else they will spread and you will be left with these huge weird looking shaped peanut butter cookies. Believe me, I know! Of course you don't have to make them into the iconic shape they are so widely known for,but seriously- what is a nutter butter if it doesn't look like a nut? Think about it….. This recipe makes a million nutter butter cookies (small version) so follow my lead and just store your leftover dough in the freezer to whip out a quick snack for the kids. The cream filling only keeps for a week but it also only takes a few minutes to make so don't let that stop you.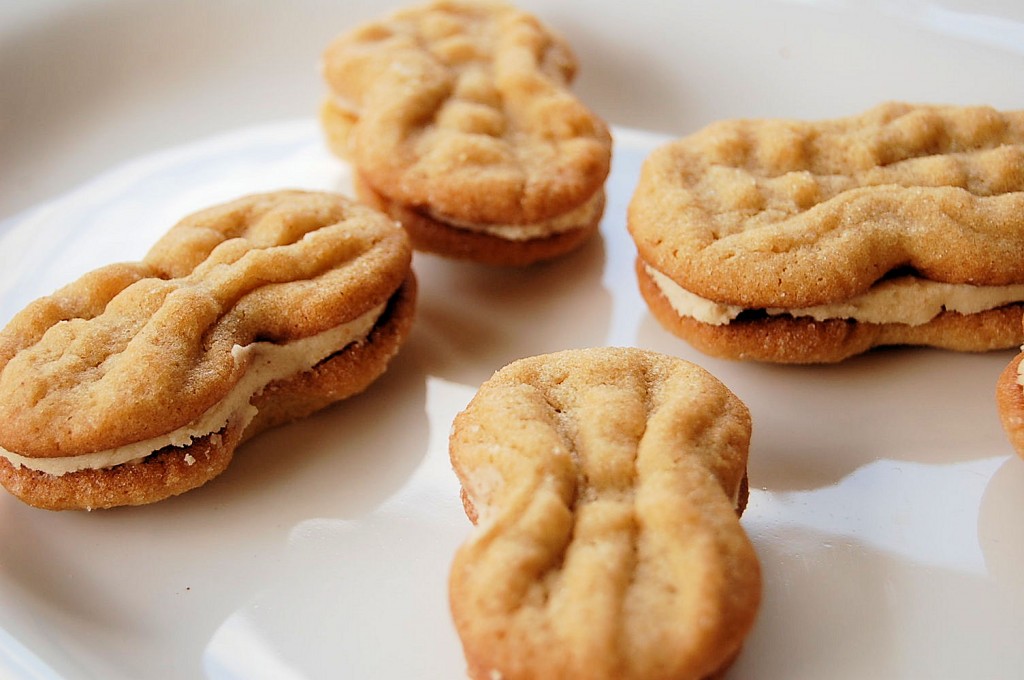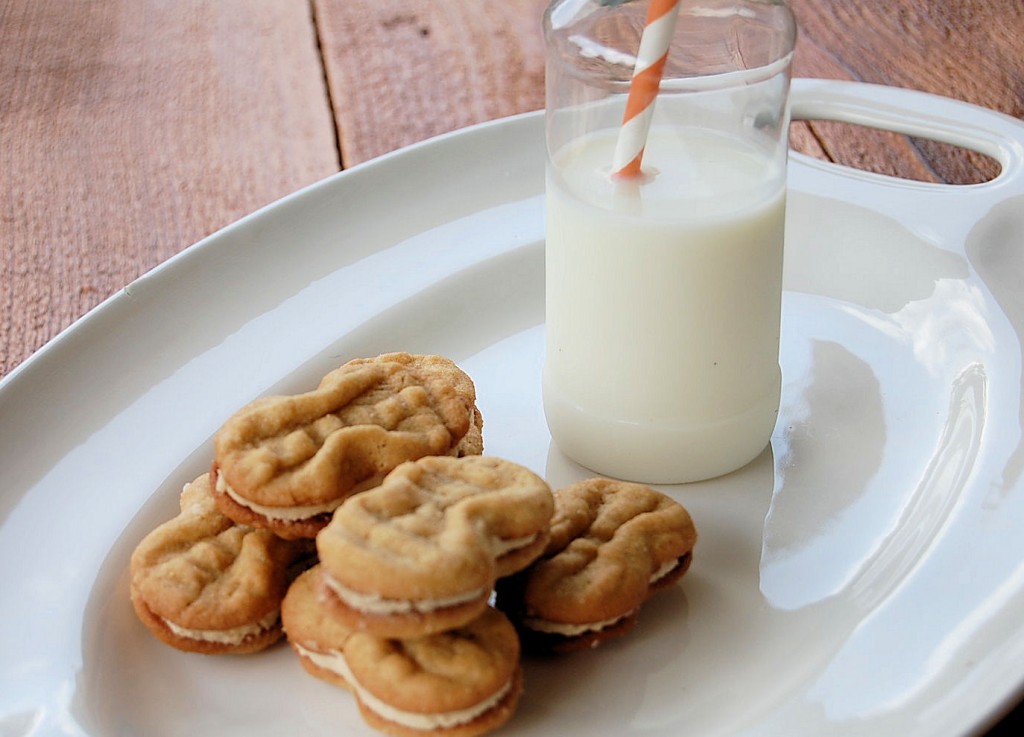 Homemade Nutter-Butters
Ingredients
Cookies:
1 cup butter, room temperature
1 cup creamy peanut butter
1 cup granulated sugar
1 cup light brown sugar, packed
2 eggs
2 tsp vanilla
2½ cups flour
1 tsp baking soda
1 tsp baking powder
approx ⅓ cup extra sugar for rolling
Filling:
1 cup butter, room temperature
1 cup crunchy peanut butter, room temperature
4 cups powdered sugar
2-3 tablespoons milk
Instructions
1.In a large bowl with mixer beat butter, peanut butter, and sugars until light and fluffy, about 30 seconds on medium-high speed. Lower mixer to medium and add eggs and vanilla continuing to mix until combined. Turn mixer to low and add in flour, baking soda and baking powder. Mix until combined. Refrigerate dough for 1 hour. Preheat oven to 375°
2.Form chilled dough first into 1 inch balls and then form into a log shape. Roll the log-shaped dough in extra granulated sugar and place on baking sheet about 2 inches apart. Using a fork press down on cookie creating a criss-cross pattern. Pinch the center to create the peanut shape.
3.Bake for 6-8 minutes until edges are lightly golden. Cool on baking sheet 2-3 minutes and then transfer to wire rack to continue cooling.
4.For the Filling:In a large bowl beat butter and peanut butter together until smooth. Slowly add in your powdered sugar and turn mixer speed up to medium and beat until filling is smooth. Add your milk, one tablespoon at a time until desired consistency is reached.Spread a heaping tablespoon of filling onto the bottom of one of the peanut butter cookies and then top with another cookie to create sandwich.
Notes: store in an airtight container for up to 5 days.