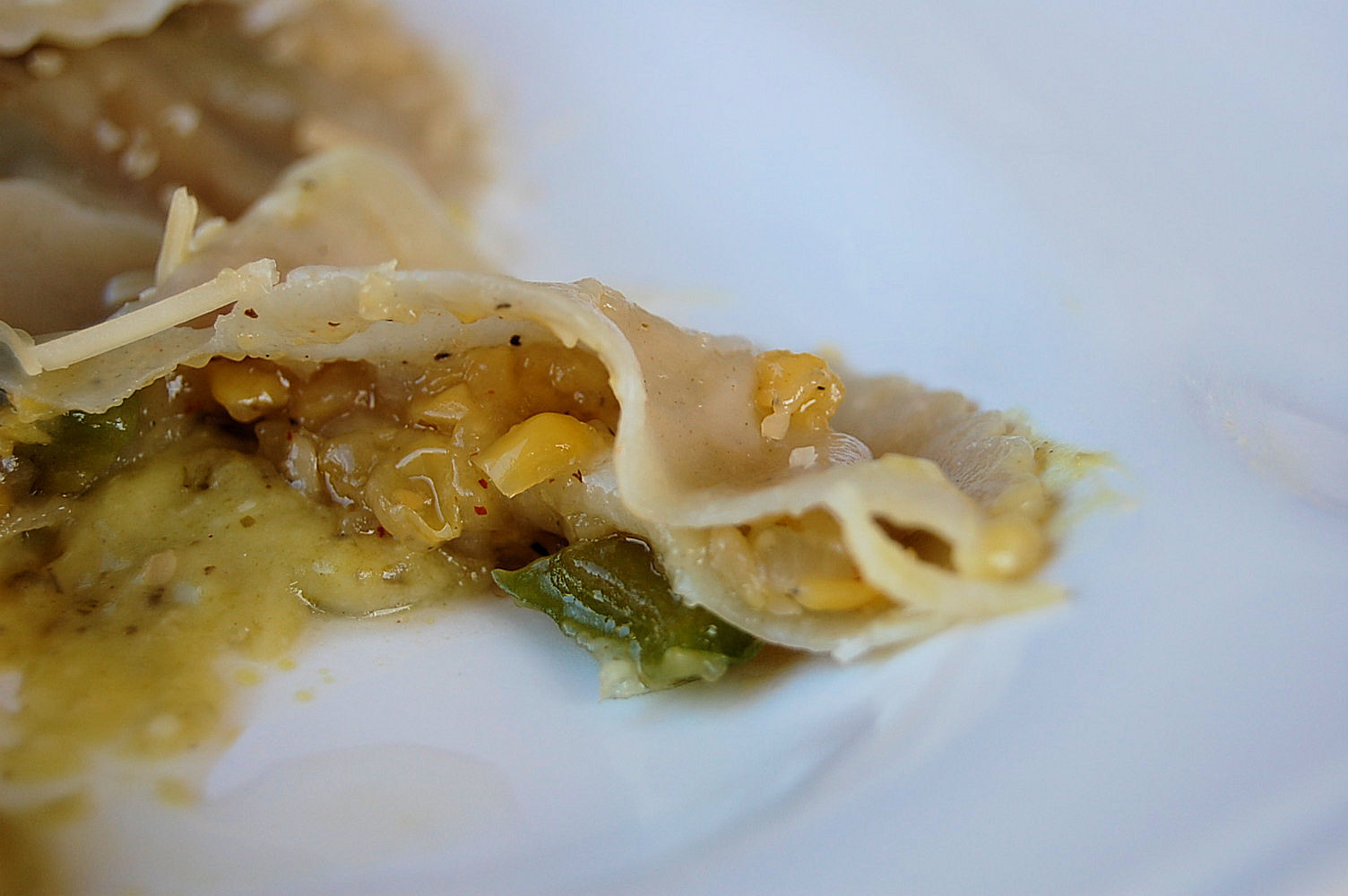 Ravioli. Homemade Ravioli. Two words that have forever been etched in my mind to create myself but for some reason I just haven't found the time to do it. After researching homemade ravioli recipes I had a revelation. There is no need!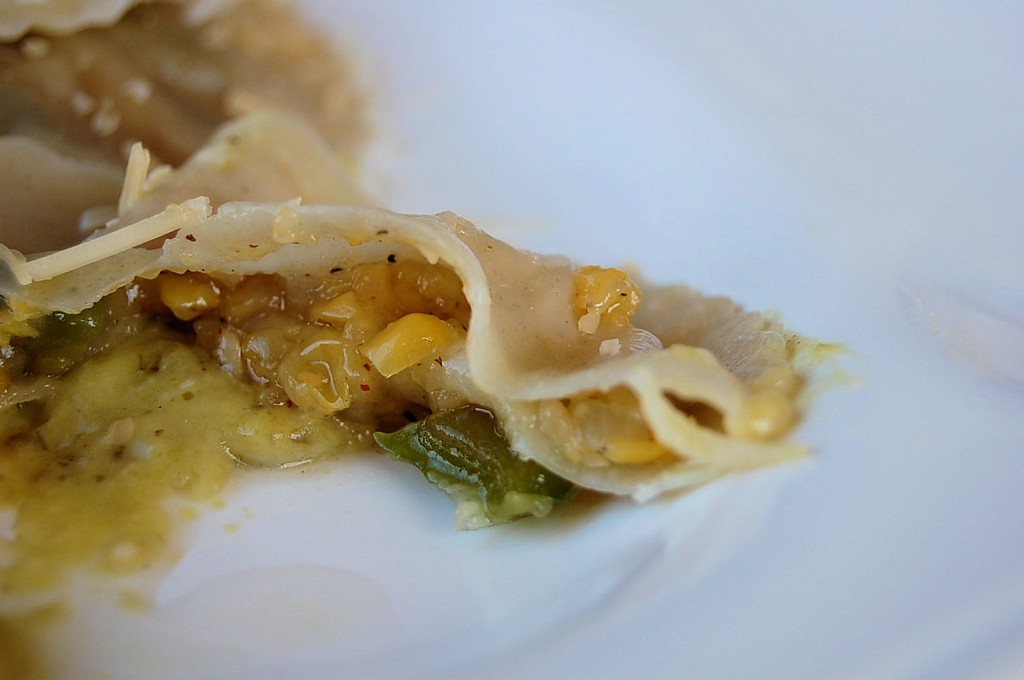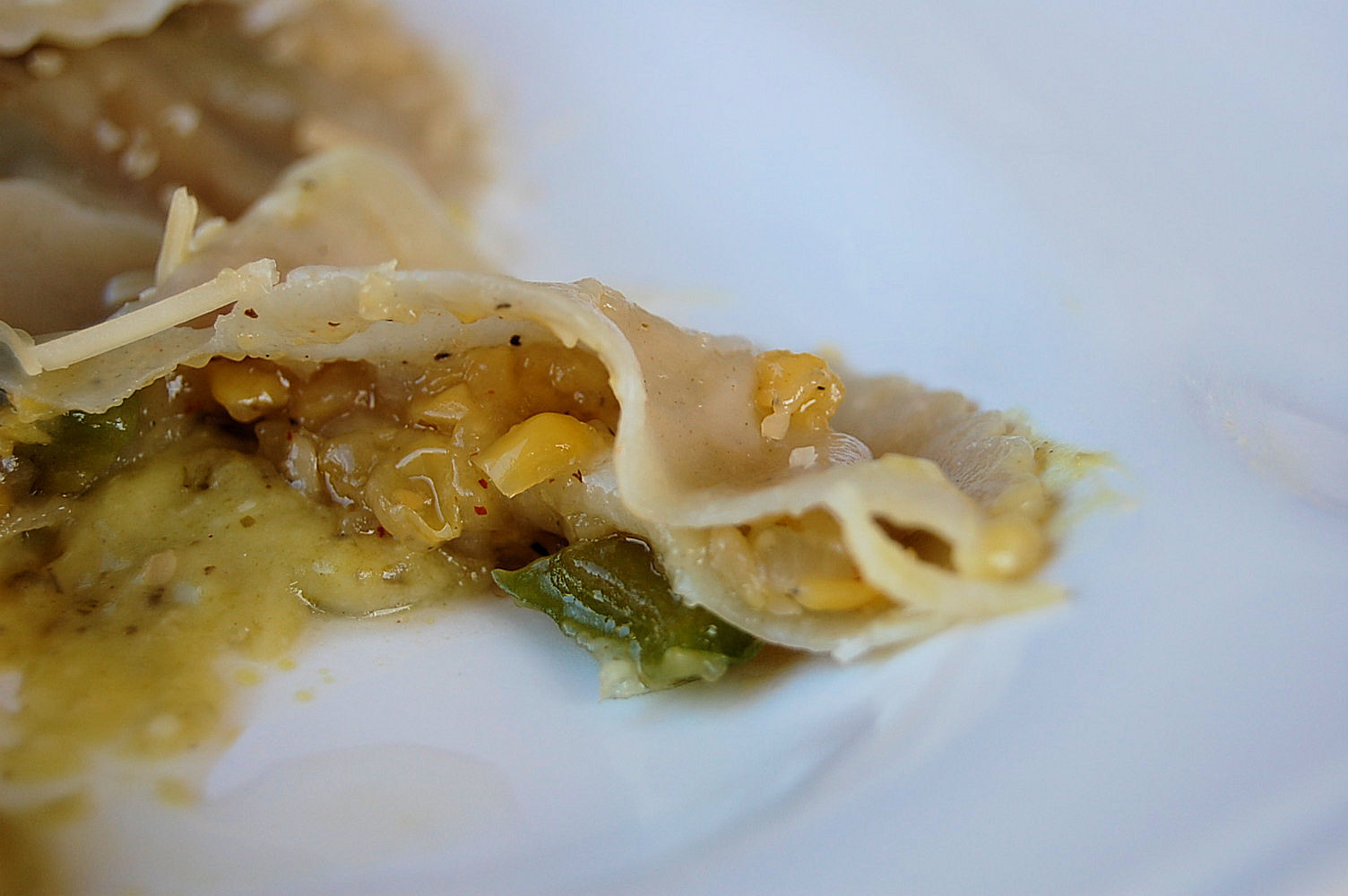 No need to make your own ravioli dough other than you just want to. Yes, of course homemade pasta dough is extraordinary and there is and will never be any comparison but there is an easier way to create the same "effect"  using wonton wrappers. For this busy mom of two wonton wrappers was like my shining star and I now have a new found love for these little gems.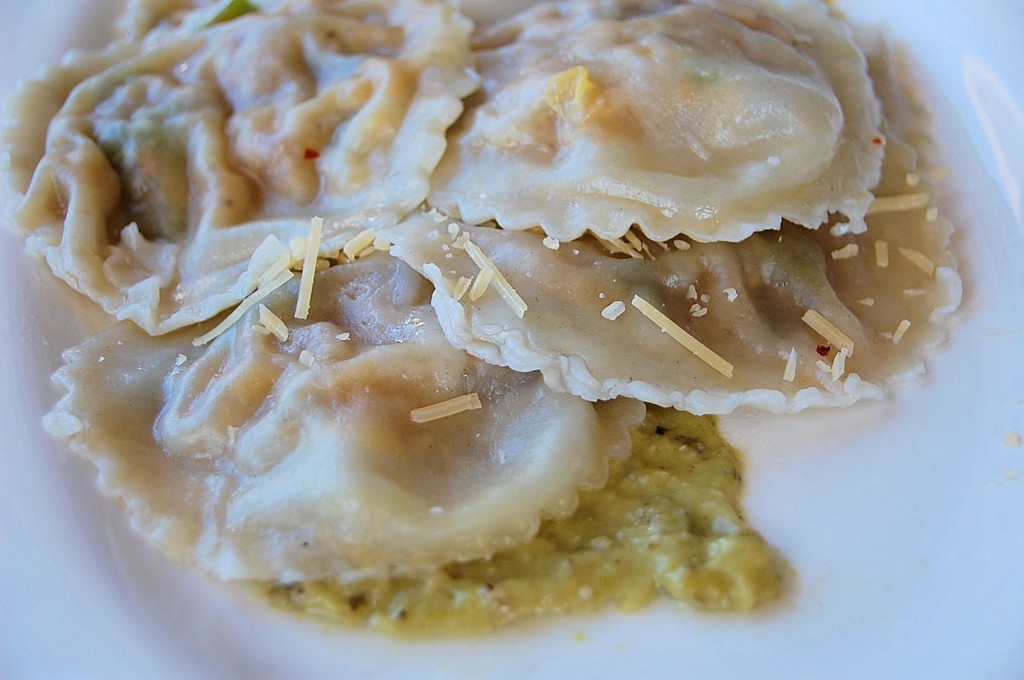 We all know I have a love for corn and with the arrival of spring I have been ready to use this amazing ingredient in a new and exciting way. What is more exciting than stuffing dough with a delicious spicy corn concoction? Nothing I say! Nothing!I used 1 cup of fresh corn and 3/4 cup of creamed corn (Gasp! from a can!). With hints of green chiles, red pepper flakes and roasted garlic the corn filling was so intoxicating that by the time I finished assembling the ravioli I found myself just eating the corn filling by the spoon. No one was around to see me!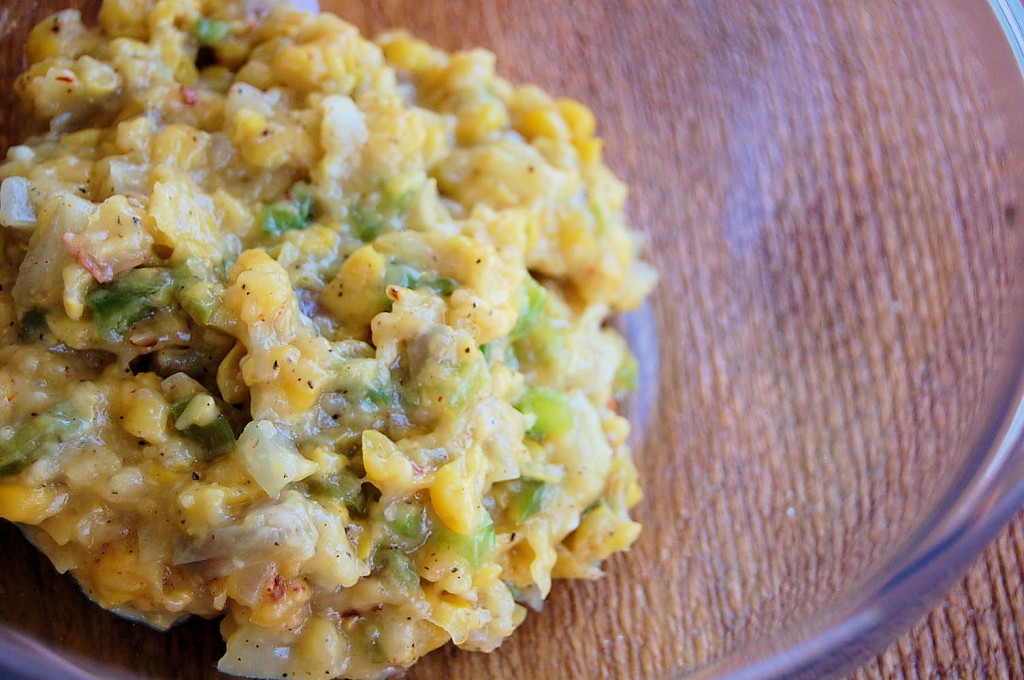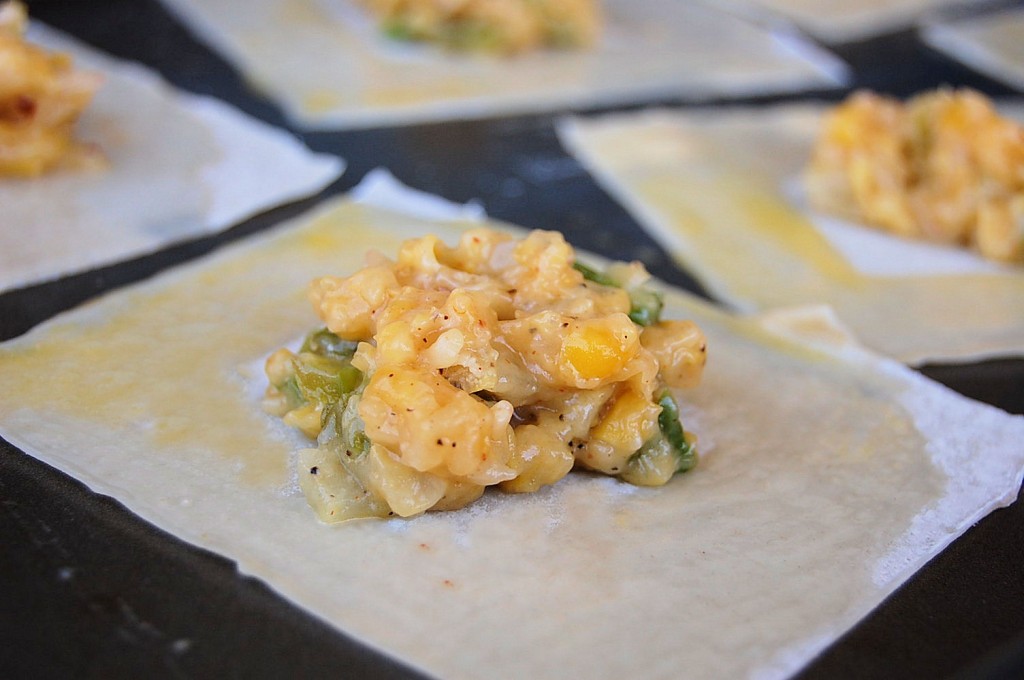 By using the wonton wrappers in place of homemade ravioli making this recipe is a far cry from being hard. The extra special sauce lends itself perfectly against the spicy corn filling with the refreshing flavor of cilantro, lime and cream. I had an idea for the sauce after receiving a bottle of Whole Fruit Persian Lime Devo Olive Oil. It was the exact thing this dish needed and Warning: this is not going to make sense: the lime flavor was so intense yet subtle that it left you licking your plate for every last drop of the sauce and wishing you had more!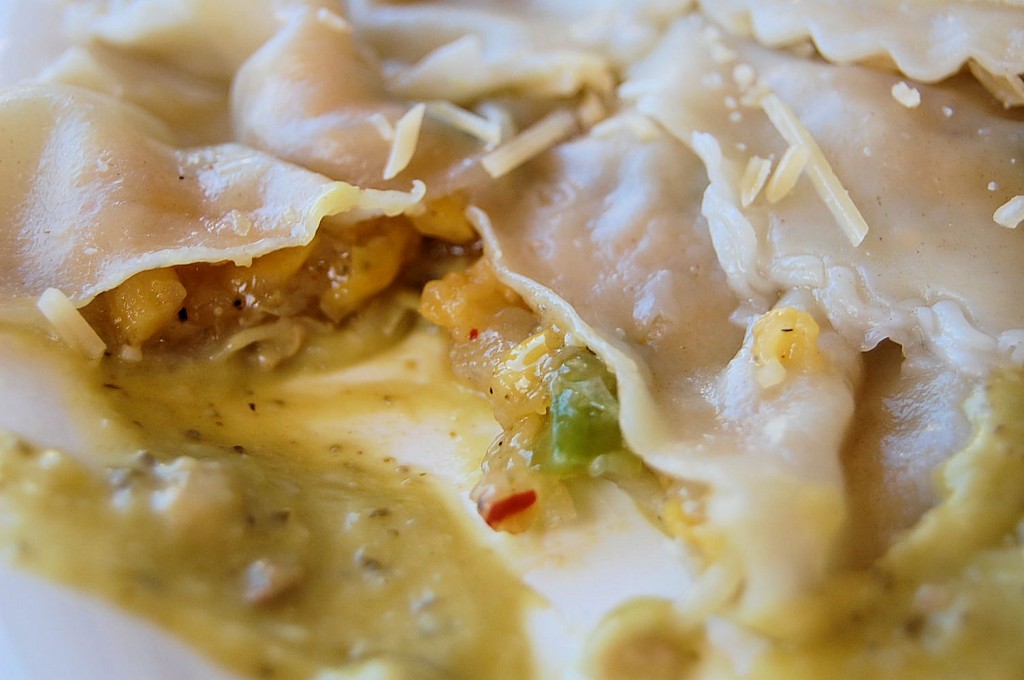 Do something fun, new and delicious this spring and make your own stuffed ravioli. I can see different variations of this recipe in my future like stuffed ravioli with roasted red peppers or goat cheese and poblanos or even with eggplant.
I am thrilled to mention that the food site Around the Plate has done a feature on my Corn Stuffed Ravioli. I would love for you to visit and read it! It would mean so much!
Corn Stuffed Homemade Ravioli with Lime Cilantro Cream Sauce
Ingredients
Filling:
1 cup of fresh corn off the cob
¾ cup cup of cream corn from a can
½ tsp red pepper flakes
½ tsp salt and pepper each
½ tsp nutmeg
½ cup chopped onion
1 can of green chiles
2 cloves of garlic, minced
2 TBSP of butter
¼ cup heavy cream
Sauce:
3 TBSP of Whole Fruit Persian Lime Devo Olive Oil (organic)
2 TBSP of basil
1 TBSP cilantro
1 TBSP of butter
¼ of heavy cream
1 tsp salt and pepper each
½ cup of parmesan cheese, shredded
1 package of wonton wrappers
Instructions
Melt butter in saute pan, add in corn, onion,garlic, green chiles and red pepper flakes. Let saute for 5-7 minutes. Add in the salt, pepper, nutmeg and heavy cream. Being to a simmer and slowly stir in the corn starch, stirring constantly for 3-4 minutes until mixture has thickened. Set aside to cool.
Place wonton wrappers down (three at a time works) and in the center of each, place 1½ t filling. Brush exposed wrapper with egg yolk, carefully place a second wrapper on top and carefully seal edges, making sure to get out any air bubbles. Cut with star cutter, work fingers around edges to make sure seal is tight. Set aside on floured baking sheet and continue to assemble.
When finished, boil water and gently add raviolis a few at a time, cooking for 2 minutes or until they float. Carefully remove and drain.
For the Sauce:
In a food processor or blender, pulse together the cilantro, basil and Lime Olive Oil. Transfer to a saute pan and add in the butter, salt and pepper. Turn heat to medium low and stir in the heavy cream and parmesan cheese, reduce til thickened. Serve over or with the ravioli.